Ok, you asked for it, a lot, so here it is—my favorite recipe for red velvet cupcakes, and just in time for Valentine's Day. I've tried quite a few recipes over the years that were ok, but not perfect, and you know how much I need everything to be perfect. But then a few weeks ago I met with my friend Avihu who makes these over-the-top desserts that kind of make you hate him a little bit. If you just met him you'd think he's a pastry chef, but he's actually a software engineer, although I keep telling him that I was once, too. He always brings something sweet with him, and this time he brought the MOST AMAZING red velvet cupcakes. So naturally I begged him to meet with me for a baking day to make these red velvet lovelies, just for you. And they came out perfect!
This is a classic recipe that you'll fall for instantly. It's incredibly moist, tender, and flavorful. The two unique ingredients in red velvet cupcakes are distilled vinegar and red food coloring. I highly recommend using apple cider vinegar, which gives it the best flavor. The food coloring has no taste so you can leave it out if you prefer, but if you do use it, the amount is up to you. I used 1 tablespoon and got a dark red color which I find to be enough, but if you prefer a stronger red color, use 2 tablespoons. The cupcakes rise quite a lot, so fill your liners less than usual, that way you get 11-12 cupcakes.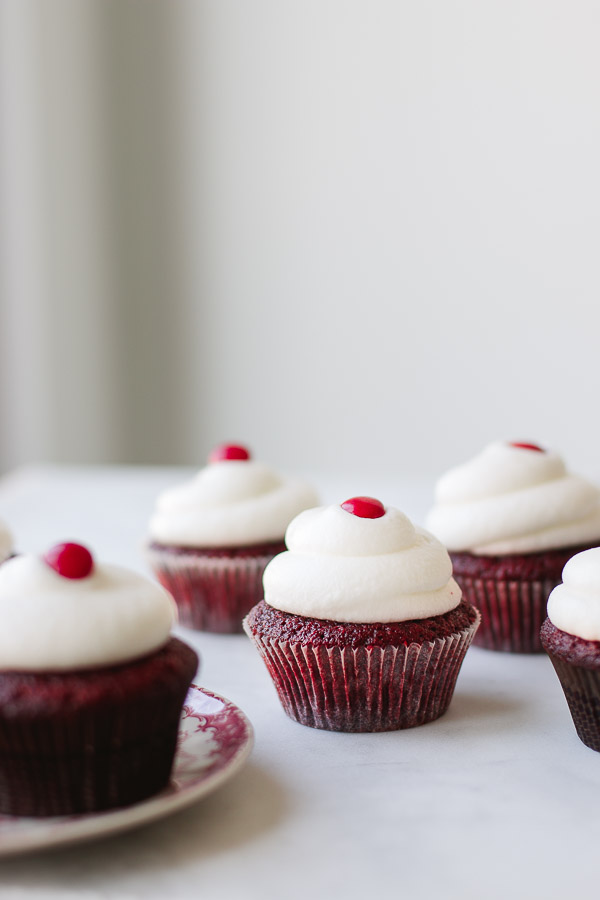 Red Velvet Cupcakes
---
Ingredients
1

cup

(130g) all-purpose flour

1 and 1/2

tablespoons

(10g) cocoa powder

1/2

teaspoon

baking soda

1/2

teaspoon

salt

1/2

cup

(1 stick/115g) unsalted butter, softened room temperature

3/4

cup

plus 2 tablespoons (170g) granulated sugar

1

large

egg

3/4

teaspoon

vanilla extract

1-2

tablespoons

red food coloring

(liquid or gel)

1/2

teaspoon

apple cider vinegar

(or distilled white vinegar)

1/2

cup

(120 ml) buttermilk
Cream Cheese Frosting:
2/3

cup

(150g) full-fat cream cheese, at room temperature

1/2

cup

(1 stick/115g) unsalted butter, softened to room temperature

2

cups

(240g) powdered sugar, plus more as needed

1/2

tablespoon

vanilla extract

Pinch

of salt

, optional
Instructions
Preheat oven to 350F/180C. Line muffin tin with liner papers. Set aside.

In a medium bowl, sift together flour, cocoa powder, baking soda, salt. Set aside.

In a standing mixer fitted with the paddle attachment, beat together butter and sugar on medium speed until light and fluffy, 3-5 minutes. Scrape down the sides and bottom of the bowl as necessary. Add egg and mix to combine. Add vanilla, food coloring, and vinegar, and beat until combined. On low speed, beat in flour mixture in 3 additions, alternating with the buttermilk in 2 additions, starting and ending with the flour. Do not over mix.

Divide batter evenly between liners, filling them about 2/3 full. Bake for 15-20 minutes, until a toothpick inserted into the center comes out clean. Allow cupcakes to cool for 10 minutes, then remove from pan and allow to cool completely on a wire rack.

To make the frosting: In the bowl of an electric mixer fitted with the paddle attachment, beat butter and cream cheese on medium-high speed until smooth and creamy, 2-3 minutes. Add sugar in 2 additions, beating well after each addition until smooth. Add vanilla and keep beating until smooth and fluffy. You can add more sugar as necessary until desired consistency (thick enough to pipe). You can also add a pinch of salt to cut sweetness. Pipe frosting onto cupcakes.

Frosted cupcakes can be kept for up to 3 days at room temperature or in the refrigerator in an airtight container. Unfrosted cupcakes can be kept in the freezer for up to 2 months, then thawed overnight in the fridge. Frosting can be kept in an airtight container in the fridge for up to 3 days. It doesn't freeze well. Before using, bring to room temperature and whisk by hand for a few seconds until smooth.
SaveSave
SaveSave