These fudgy brownies are perfect for chocolate lovers! Rich and fudgy red velvet chocolate brownies get swirled with a tangy cheesecake for a decadent dessert.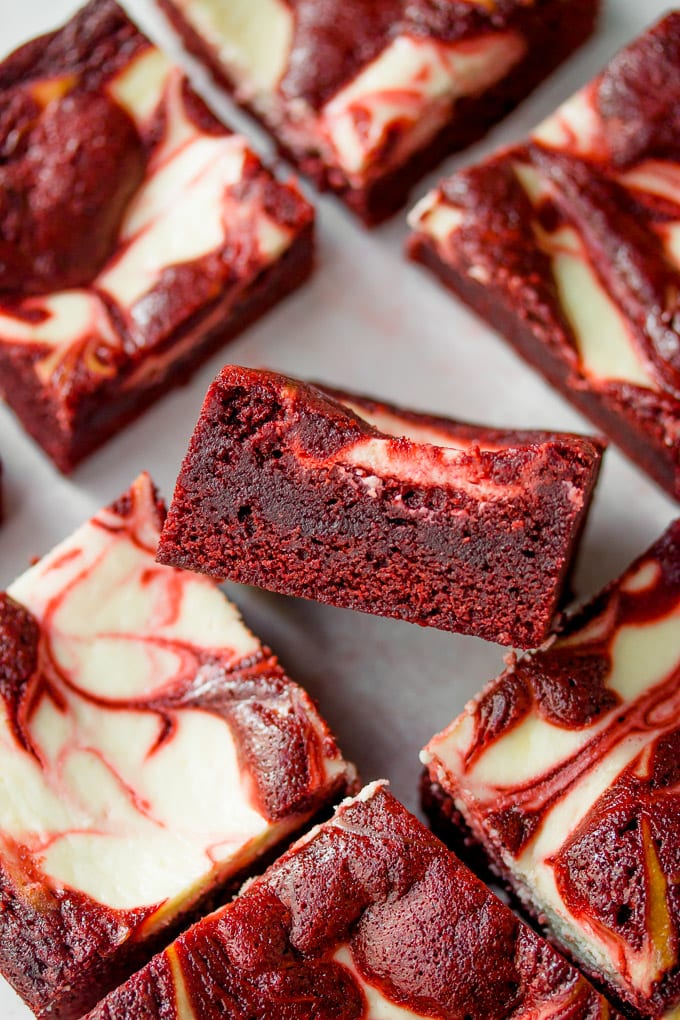 Some of my favorite desserts are cheesecakes, brownies and red velvet cake. I love a creamy or fudgy texture in my baked goods – be it a cream cheese frosting, gooey brownies or a smooth cheesecake filling. I've played around with combining some of these desserts, making soft and chewy Red Velvet Chocolate Chip Cookies and dreamy Cheesecake Brownies but never put all three together, until now.
What's more delicious than a combination of red velvet cake, cheesecake and brownies? These Red Velvet Cheesecake Brownies combine all three flavors in every bite, giving you three desserts for one! Everyone loves a fudgy brownie and these red velvet cheesecake bars are the perfect way to take a simple treat to the next level.
Making the Red Velvet Brownie Batter
The base of these fudgy brownies is a simple red velvet brownie recipe. My favorite brownies use cocoa powder and butter to give them a rich chocolatey flavor. To make them red velvet, I add apple cider vinegar (optional) and red food coloring. I prefer to use gel food coloring since it doesn't add extra liquid to the batter.
This easy brownie recipe can be made using the microwave and only dirties up one bowl. You'll simply melt the butter, cocoa powder and salt together, then add in the sugar, whisking until everything is combined. Next, add your liquid ingredients (eggs, vanilla and vinegar), again whisking until you have a smooth, lump-free batter. Add in your food coloring until the desired color is reached.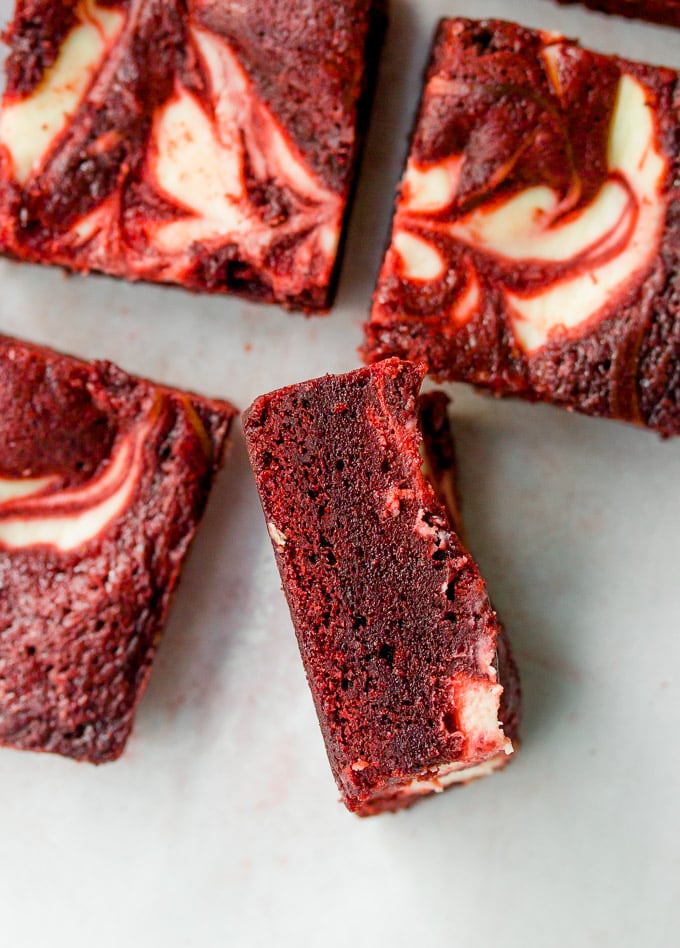 The last step is to fold in the flour. I do this last, using a spatula, since you don't want to overmix your batter. You want fudgy and soft brownies, not dry and dense, so be careful to only mix until just combined. Set aside ⅓ cup of the batter and pour the rest into your prepared pan before moving onto the cheesecake portion of these red velvet cream cheese brownies.
Making the Cheesecake Batter
My favorite part of red velvet cake is the tangy cream cheese frosting. Instead of making a traditional frosting for these red velvet cheesecake bars, I make a cheesecake batter that gets swirled and baked together with the red velvet brownie batter. This means you can enjoy the brownies sooner and not have to wait for them to cool before frosting!
For the cheesecake batter I use similar ingredients to a cream cheese frosting, adding in an egg for extra richness and using only granulated sugar. It's easy to make, and like the red velvet brownie batter, can all be done in one bowl.
In a mixer or with a hand whisk, beat together the cream cheese and sugar until smooth. Scrape down the sides and bottom as needed, making sure everything gets well combined. Add in the egg and vanilla extract and beat until evenly mixed.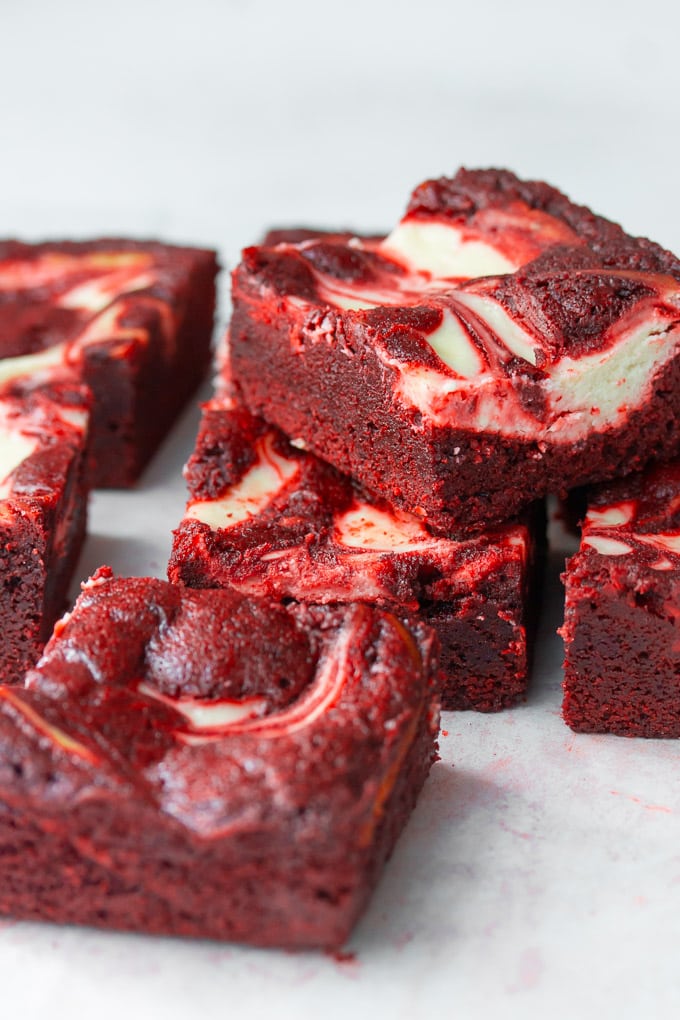 Swirling the Batters
Dollop spoonfuls of the cheesecake batter over the pan with the brownie batter, making sure they are evenly distributed. Spoon the reserved ⅓ cup of the brownie batter over the combined red velvet cheesecake bars.
Once you have all your batters in the pan, take a knife and gently swirl the two together. This will create a beautiful marble effect for your red velvet swirl cheesecake, ensuring each bite is full of all three flavors.
Tips for Perfect Red Velvet Cheesecake Brownies
Having years of experience making red velvet cake, cheesecake and brownies I've picked up a few tricks to make perfectly fudgy, creamy, and chocolatey Red Velvet Cheesecake Brownies.
Don't overbake your brownies: The #1 mistake people make in brownies is overbaking them. Timing is everything — you want a fudgy center that's still a bit gooey when you take it out of the oven so start checking early at the 25 minute mark for doneness.
Make in advance: Just like cheesecake, these brownies are best after resting for a day (they get even more fudgy) so try and plan ahead when making these red velvet bars.
Swirl, don't mix, your batters: You may be tempted to swirl your batters together so much that they end up mixing into one combined batter. Have restraint when swirling your batters, otherwise you won't get that beautiful marble appearance.
This red velvet brownie recipe is so easy to make and you don't even have to worry about whipping frosting or water baths. The creamy cheesecake filling swirls together with a rich red velvet brownie layer for a burst of flavor and texture in every bite. Full of chocolate, tangy cream cheese and a vibrant red color, these Red Velvet Cheesecake Brownies are the simplest way to get all my favorite desserts all at once.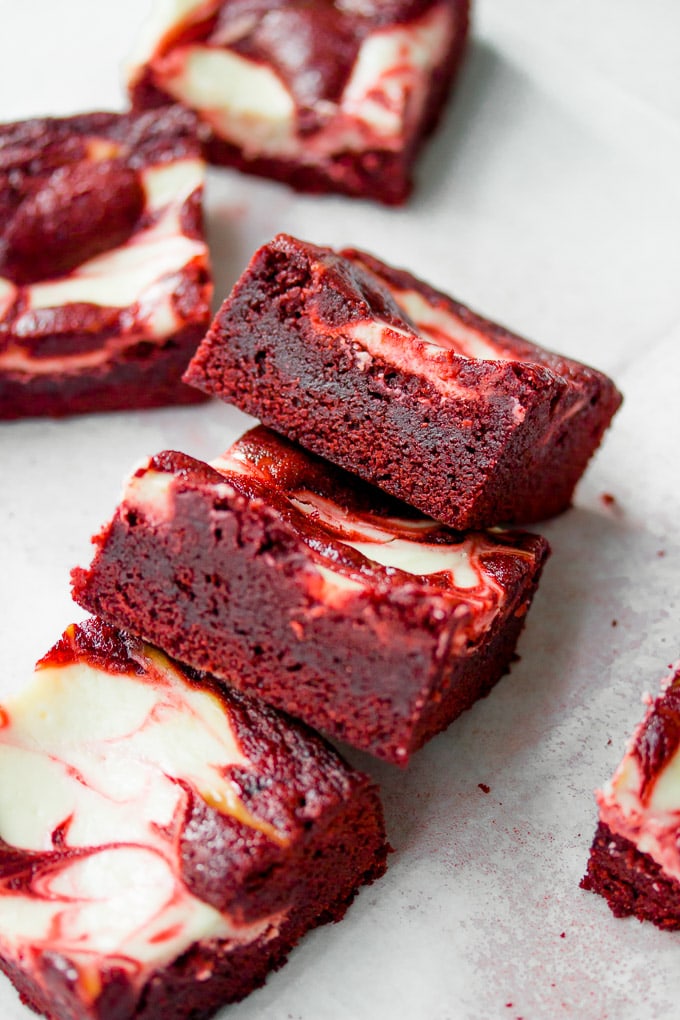 Other Brownie Recipes: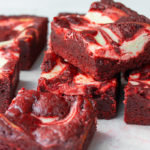 Red Velvet Brownies
---
Ingredients
Red Velvet Brownies
1/2

cup

(1 stick/115g) unsalted butter, melted

3

tablespoons

(20g) unsweetened cocoa powder

1/4

teaspoon

salt

3/4

cup

plus 2 tablespoons (175g) granulated sugar

2

large eggs

3/4

teaspoon

vanilla extract

1/2

teaspoon

apple cider vinegar

(or distilled white vinegar), optional

2-3

teaspoons

red food coloring

(I use gel)

2/3

cup

(95g) all purpose flour
Cream Cheese Layer
8

ounces

(225g) full-fat cream cheese, room temperature

1/4

cup

(50g) granulated sugar

1

large egg

1/2

teaspoon

pure vanilla extract
Instructions
Preheat the oven to 350°F/180°C. Line an 8×8-inch baking pan with parchment paper.

Make the brownie batter: In a large heat-proof bowl, place butter, cocoa powder, and salt. Microwave in 30-second intervals, stirring in between each interval, until melted. Add sugar and whisk until combined. Add the eggs, vanilla extract, and vinegar, and whisk until combined. Add red food coloring, until desired color is reached. Add flour and fold, using a rubber spatula, just until combined. Set aside 1/3 cup of the batter and pour the rest into the prepared pan. Smooth the top.

Make the cheesecake batter: Using a mixer or hand whisk, beat the cream cheese and sugar (on medium speed if using a mixer) until smooth. Scrape the sides and bottom of the bowl as needed. Add egg and vanilla extract and beat until combined. Dollop spoonfuls of the cheesecake mixture over the brownie batter.

Take the reserved 1/3 cup of brownie batter and spoon dollops over the batter. With a knife or a skewer, gently swirl the two batters together, to get a marble effect.

Bake for 25-30 minutes until the cheesecake filling is set, slightly puffed and a toothpick inserted into the center of the brownies comes out with moist crumbs (from the brownie batter), not dry. Let the brownies cool completely and then refrigerate for at least 2 hours until they are firm enough to cut. Once firm, lift them out of the pan using the parchment paper and cut into squares. The brownies taste even better the day after they're made.

Store brownies in the fridge in an airtight container for up to 5 days.