This is the best red velvet cake you'll ever have. This classic cake is unbelievably moist, fluffy, flavorful, and perfectly red. It's the real thing!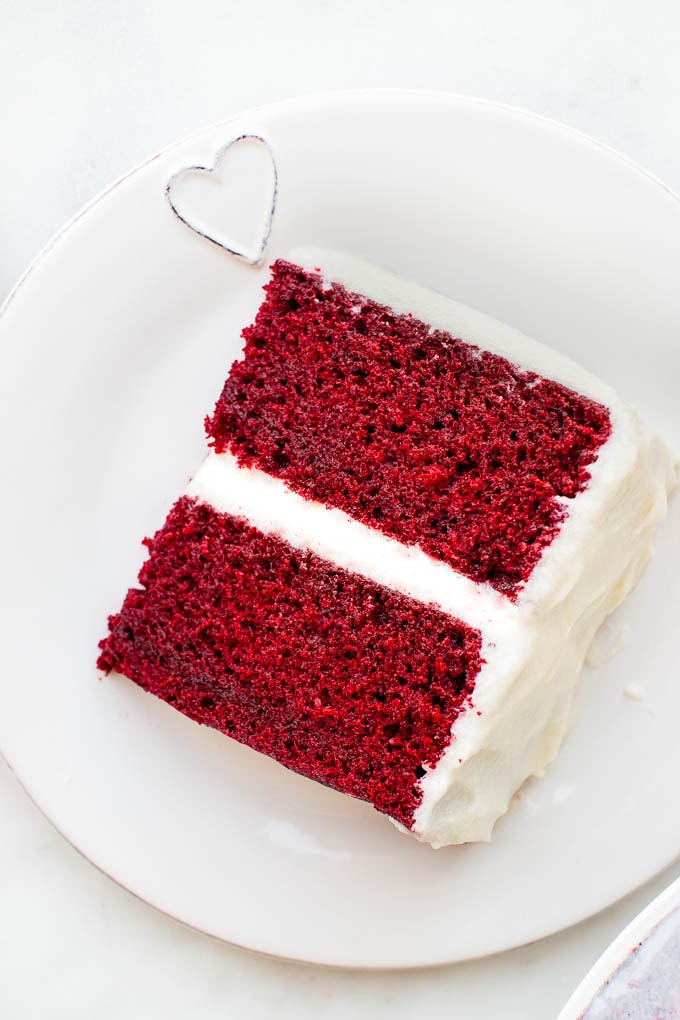 You know how much I love sharing my kitchen adventures on Instagram stories, and after sharing my homemade red velvet cake that I made last week, I got so many requests for the recipe, that my inbox almost exploded. I love to see you get excited about a cake like that! I can totally relate. So of course, I had to share the recipe.
I'm not even gonna tell you how many red velvet cake recipes I've tried in the past few months to get to the very best one, because then you'll know how many cakes I ate, which is quite embarrassing.
This is my absolute favorite red velvet cake recipe!
This is a classic, old-fashioned 2-layer red velvet cake. It is so moist, it will melt in your mouth! And it's frosted with the ultimate rich and creamy cream cheese frosting. It's not just me who's in love with this cake. Every single person I brought a piece to, said wow on the first bite.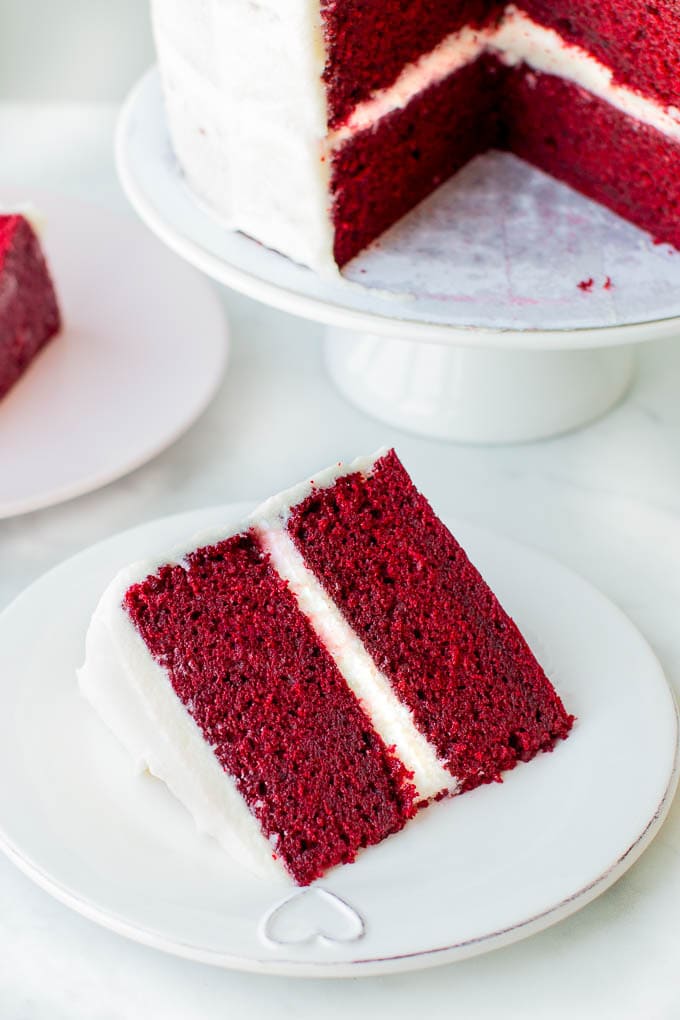 What is Red Velvet Cake
Red velvet cake is a classic American dessert, but it's becoming more and more popular outside of the US, and for a good reason – it's so festive and delicious.
Is red velvet a chocolate cake? Although there's cocoa powder in the recipe, the amount is rather small and the flavor of chocolate is subtle, so it isn't meant to be a chocolate cake. Actually, the cocoa powder is there mainly to provide a slight red color.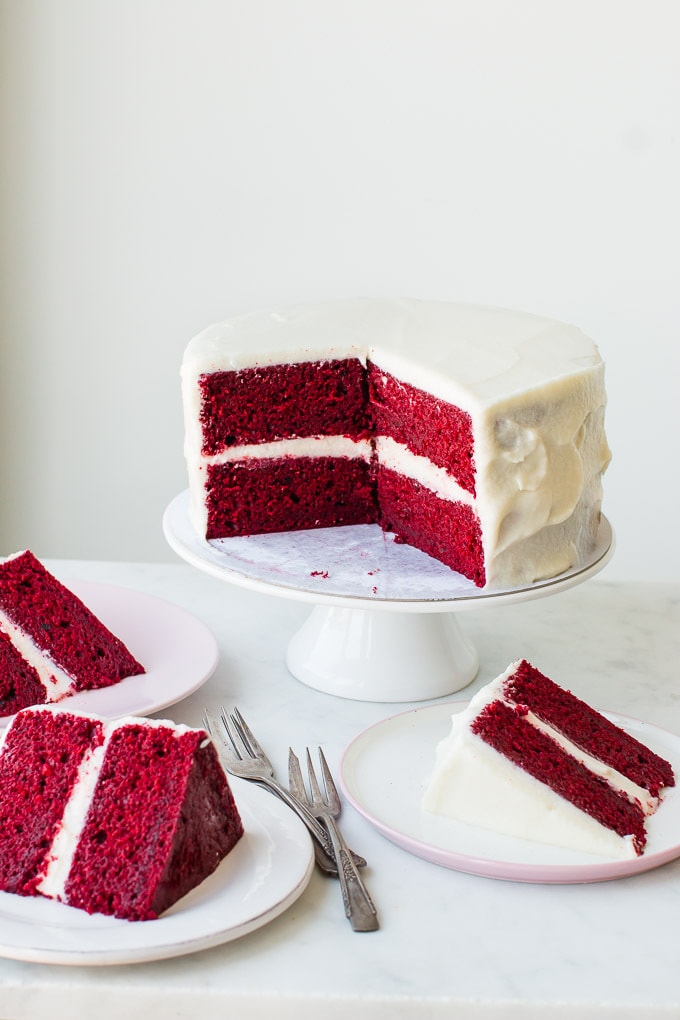 How to Make Red Velvet Cake
A combination of ingredients such as vinegar, red food coloring, cocoa powder and buttermilk is what makes this cake so unique. It's easy to make, I promise.
Red Velvet Cake Ingredients
All-purpose flour or cake flour? Although cake flour is usually used for classic red velvet recipes to make it light, I wanted to stick to all-purpose flour in my recipe, so that everyone can make it. I use a combination of all purpose flour and cornstarch, so the cake turns out tender and delicious. If you prefer using cake flour use 3 cups of it.
Red food coloring: what makes red velvet cake red is the food coloring. If you don't use it, the cake will have a dark reddish-brown color.
Cocoa powder: I use 2 tablespoons in my recipe, which is just right to get the color and flavor that I look for. Some recipes use 3 tablespoons or more for a bit more chocolatey flavor, but in this case, I like to stick to the classic. Both Dutch-process or natural cocoa powder work here.
Oil or Butter? The first cakes I tried were only with butter, because, well, I love butter. But once I started using oil (after I saw that Southern recipes use only oil, and I got curious), I realized my cake was less dry. To enjoy both worlds I use some butter for flavor, and oil for the fluffiest texture and extra moist cake.
Vinegar: I use apple cider vinegar, but any white vinegar would work, like the ones you use for a salad dressing.
I use a classic cream cheese frosting for this red velvet cake.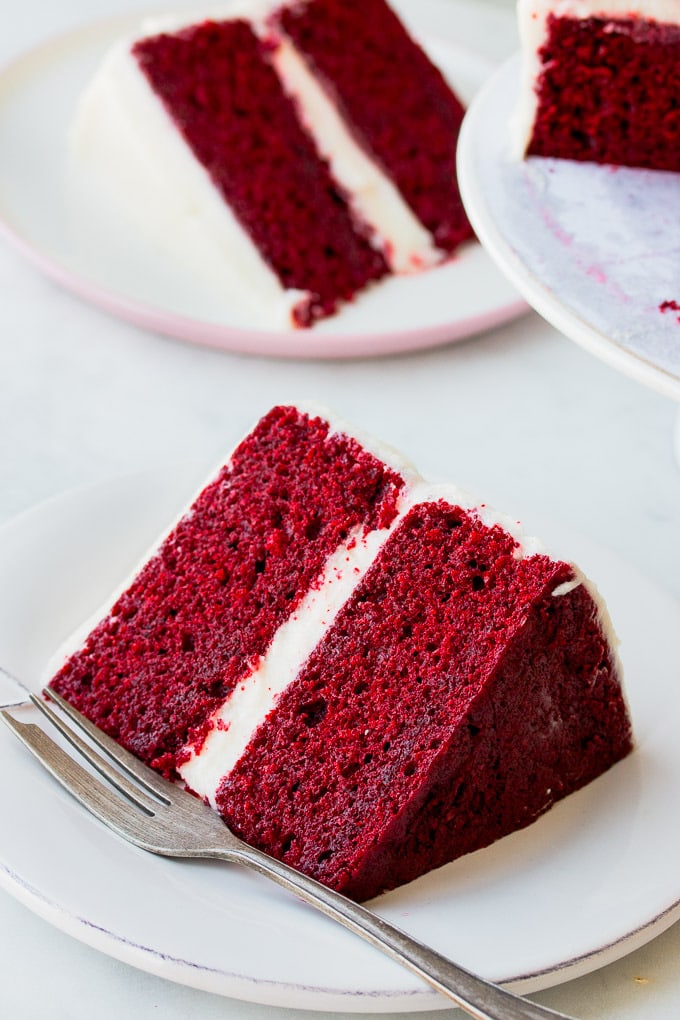 Products I use to make this cake
9-inch cake pans – these high quality cake pans help my layer cakes bake beautifully. Some of you asked me on Instagram how come my cakes are so flat. There are a few tricks for it, and you can read about it in this helpful guide, but I'll be honest that I don't bother with this. I get good results with these cake pans, and if the cakes have a dome, I slice it off with a sharp knife. It's less trouble, and no one would notice.
Red food coloring – I always prefer using gel than liquid. I've tried many and this one has the best vibrant red color.
Try my Red Velvet Cupcakes and Chocolate Chip Red Velvet Cookies next!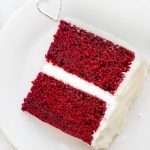 Red Velvet Cake Recipe
---
Ingredients
Cake:
2 and 1/2

cups

(340g) all-purpose flour

1/4

cup

(35g) cornstarch

2

tablespoons

(12g) unsweetened cocoa powder (any kind works)

1

teaspoon

baking soda

3/4

teaspoon

salt

1/2

cup

(1 stick/115g) unsalted butter, softened to room temperature

2 and 1/8

cups

(425g) granulated sugar

1

cup

(240 ml) vegetable or canola oil

3

large eggs

2

teaspoons

vanilla extract

1 and 1/4

teaspoons

distilled wine vinegar

2-3

tablespoons

red food coloring

1

cup

(240 ml) buttermilk
Cream Cheese Frosting:
16

oz.

(450g) full-fat block cream cheese (not spread), at room temperature

2 sticks/225g unsalted butter

, softened to room temperature

4

cups

(480g) powdered sugar, sifted

2

teaspoons

vanilla extract

Pinch

of salt

, optional
Instructions
To make the cake: Preheat oven to 350°F/180°C. Grease two 8-inch or 9-inch cake pans that are at least 2-inches high, and line the bottom of the pan with a round piece of parchment paper.

In a medium bowl, sift together flour, cornstarch, cocoa powder, baking soda, and salt. Set aside.

In a standing mixer fitted with the paddle attachment, beat together butter and sugar on medium speed until light and fluffy, 3-4 minutes. Scrape down the sides and bottom of the bowl as necessary. Beat in oil. The batter might look a bit curdled, that's ok. Add eggs, one at a time, mixing well between each addition. Add vanilla and vinegar and beat until combined. Add red food coloring, until desired color is reached. With the mixer on low speed, add half of the dry ingredients and beat just until combined. Add buttermilk, followed by the rest of the dry ingredients. Do not over mix.

Divide batter evenly between pans. Bake for 30-35 minutes or until a toothpick inserted into the center comes out clean. Allow cakes to cool in the pan on a wire rack until they're easy to handle, then remove from pan and allow to cool completely on a wire rack.

To make the frosting: In the bowl of an electric mixer fitted with the paddle attachment, beat butter and cream cheese on medium-high speed until smooth and creamy, 1-2 minutes. Add sugar in 2 additions, beating well after each addition until smooth. Add vanilla and salt and keep beating until smooth and fluffy.

Assembling the cake: Set one layer on a plate with the flat side facing up (or, if your cake rose too much, cut its rounded top with a knife to make it flat). Evenly spread a thick layer of the frosting over the cake to the edge. Top with the second cake layer, rounded side up. Spread the remaining frosting over the top and sides of the cake.

Store cake in an airtight container in the fridge for up to 5 days. I like to remove it from the fridge 15-20 minutes before serving so that it's soft.