Sweet and salty, fudgy, chewy chocolaty cookies stuffed with Snickers. I think that pretty much says it all.
Let's talk about Snickers for a second.
It's one of the top-selling candy bars in the U.S. (of course it is!)
It's salty. It's sweet. It's made of chocolate, peanuts and caramel.
And right now it's inside my chocolate cookie. And it should be in yours too.
Last week I went to the grocery store to buy milk. I came back home with other ingredients, including 3 Snickers bars (at my defense, they were on sale), but with no milk. Forgetting to buy what I went to the grocery store for happens quite a lot lately (such as with my Cheesecake Brownies). I should be worried. But I'm not.
Luckily, the store is just across the street, so the story has a good ending (i.e. Erez went to buy milk).
As I put all the groceries away, I looked at the Snickers bars sitting on the counter. It was like they were calling my name. I think I almost convinced myself not to eat them. Really. I ended up using them to make cookies. And ate them instead. Does that count?
The cookies.
If you're a cookie monster and like sweet and salty desserts, than you're going to love these cookies.
They are thick, fudgy, dense and chewy. On their own they are insanely good. Add to them pieces of Snickers and you'll win everyone's heart.
To use them in the cookies, cut a standard-size Snickers bar to pieces, or use Snickers bites.
Instead of folding Snickers pieces into the batter, I stuffed the cookies with them. That way the caramel and chocolate doesn't melt all over the cookie.
I demonstrate how it's done in my Oreo Stuffed Chocolate Chip Cookies.
Take one tablespoon of dough and make a ball. Press a piece of Snickers into the middle to top part of the dough ball and top with another dough ball, also the size of one tablespoon, to seal it. Watch me in action:
Don't forget to sprinkle the cookies with some sea salt before putting them in the oven.
To learn more about how to make these cookies, check out my Double Chocolate Cookies Post. It's the same cookie batter and I have elaborated there how to make them.
If you thought you can't live without Snickers, wait until you try these cookies.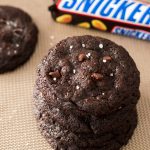 Snickers Stuffed Chocolate Cookies
Sweet and salty, fudgy, chewy, dense, chocolaty and stuffed with snickers. I think that pretty much says it all.
---
Ingredients
1

cup

(125 grams or 4.4 ounces) all-purpose flour

1/2

cup

(42 grams or 1.5 ounces) unsweetened cocoa powder

1/2

teaspoon

baking soda

1/4

teaspoon

salt

1/2

cup

(1 stick or 113 grams) butter, softened

1/2

cup

(100 grams or 3.5 ounces) brown sugar

1/2

cup

(100 grams or 3.5 ounces) granulated sugar

1

large egg

1

teaspoon

vanilla extract

3/4

cup

(130 grams or 4.5 ounces) chocolate chips

16-18

pieces

of Snickers or Snickers bites

coarse sea salt

, to sprinkle (optional but recommended)
Instructions
In a large bowl sift together the flour, cocoa, baking soda and salt. In a stand mixer fitted with the paddle attachment, beat butter and sugars for at least 3 minutes until fluffy. Beat in the egg and vanilla extract and mix until combined. Add the dry ingredients and beat on medium-low speed just until combined, or mix by hand with a wooden spoon. Don't overmix – mix just until combined. Fold in Chocolate Chips. The batter will be thick and sticky.

Chill the dough in the refrigerator for at least 1-2 hours or overnight. This will help your cookies stay thick and spread less while baking.

Preheat oven to 350F/180C degrees. Line pans with parchment paper.

Using a tablespoon (size) ice-cream scoop (or a heaping tablespoon instead), take one scoop of cookie dough and press the Snickers on top of it. Take another scoop of dough and place on top of the snickers (see post for demonstration). Press the edges of both sides until sealed together and cover the snickers. Place cookies on prepared baking sheet. Sprinkle with sea salt if you like. Bake cookies for about 8-10 minutes, just until the edges start to set. Leave to cool for 10 minutes in the pan and then carefully transfer to a wire rack to cool completely.
Recipe Notes
- Store cookies in an airtight container for up to 4 days.
- Cookies can be frozen for up to a month.