Fudge-like, irresistible brownies, marbled with a creamy, luscious cheesecake. One bite and you're in heaven.
I am in love. With a brownie. Does it make any sense?
This week I had a craving for cheesecake. I went to the grocery store to buy ingredients, but it turns out I forgot one – the cheese. You can already imagine where we might have a small problem.
Unfortunately, I didn't realize that I forgot the most important ingredient until the following day when I was ready to start baking. Yes – I could have easily solved the issue by just going to the grocery store, which is two minutes walk from where I live to buy some cream cheese, but to me that wasn't really an option. I just wanted to stay in my pajamas.
I love pajamas.
Luckily, I found a container of cream cheese hiding in the fridge (which I really don't remember buying), so it wasn't a total loss.
With only a small 8 ounce container of cream cheese, I couldn't make a whole cake.  All I could think of was to make cheesecake batter and use it as a thin layer, in a two-layer dessert.  For the other layer, I decided to go with brownies.
Shocking, I know.
How do I begin to describe how good these cheesecake brownies are? I used a variation of my Fudgy Brownies Recipe as the base. The brownies are dense and very chocolaty – almost like fudge. On top, I added the creamy cheesecake batter and swirled the two together to get a beautiful marble effect, similar to my Orange Chocolate Marble Cake.
Both mixtures (brownies and cheesecake) are very easy to make. Just one bowl for the brownies and one (mixer) bowl for the cheesecake. If you don't have a mixer, whisk the ingredients by hand.
To read more about how to make the brownies, check out my Brownies Post.
The cheesecake is a simple, basic recipe. The only thing I added was heavy cream. I love the taste and the creamy texture it adds, but you can leave it out if you prefer (without changing anything else in the recipe). For cheesecakes, always use room temperature ingredients (cheese, eggs) for the best results.
Start by making the batter for the brownies. Set aside 1/2 cup of the batter to be used at the end for the swirled top. Pour the rest into a pan and spread it out evenly. Smooth the top. Next, make the cheesecake batter and pour it over the brownies mixture. Spoon dollops of the reserved brownies batter on top of the cheesecake batter. Lastly, swirl the layers gently together (swirl just the cheese and brownie layers on top, without touching the lower brownie layer) with a knife or a skewer. Avoid swirling to a point where the two layers turn into one.
See how pretty they are?
I took these to a family event, but I did save one for myself for later. I mean for now.
Yum.
Yum.
Yum!
I could eat this every day for the rest of my life.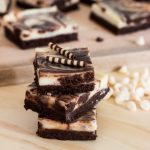 Cheesecake Brownies
Fudge-like, irresistible brownies, marbled with a creamy, luscious cheesecake. One bite and you're in heaven.
---
Ingredients
For the brownies layer
4

ounces

(113 grams) bittersweet chocolate, coarsely chopped

6

tablespoons

(85 grams or 3 ounces) butter, cut into small pieces

3/4

cup

(150 grams or 5.3 ounces) granulated sugar

2

large eggs

1

teaspoon

vanilla extract

1/2

cup

(70 grams or 2.5 ounces) all-purpose flour

1/4

teaspoon

salt
For the cheesecake layer
8

ounces

(227 grams) full fat cream cheese, at room temperature

1/4

cup

(50 grams or 1.7 ounces) granulated sugar

1/2

teaspoon

pure vanilla extract

1

large egg

, at room temperature

2

tablespoons

heavy cream

(optional)
Instructions
Start with making the brownies:

Preheat the oven to 350F/175C. Line a 8×8-inch baking pan with parchment paper.

In a large heat-proof bowl, put the chocolate and butter and melt in the microwave in 20 second-intervals, stirring in between each interval, until melted (or set it over a saucepan of simmering water, stirring occasionally). Add the sugar and whisk until combined. Add the eggs, one at a time, and whisk just until combined. Add the vanilla and stir. Do not over mix. Sift the flour and salt over the chocolate mixture and fold, using a rubber spatula, just until mixed.

Set aside ½ cup of the batter and pour the rest into the prepared pan. Smooth the top.

To make the cheesecake:

Using a mixer, beat the cream cheese on medium speed until smooth. Add the granulated sugar and beat just until light and smooth. Scrape the sides and bottom of the bowl as needed. On low speed, beat in the egg and vanilla extract until combined. Add heavy cream and beat just until combined. Pour into the pan, on top of the brownie batter.

Take the reserved ½ cup of brownies batter and spoon dollops on top of the cheesecake batter. With a knife or a skewer, swirl the two batters together, to get a marble effect.

Bake for 30-40 minutes until the cheesecake filling is set, slightly puffed and just beginning to brown. A toothpick inserted into the center of the brownies should come out with a few moist crumbs. Let the brownies cool completely and then refrigerate them for at least one hour until they are firm enough to cut. Once firm, lift them out of the pan using the parchment paper and cut into squares.
Recipe Notes
-Store brownies in the fridge, in an airtight container for up to 5 days.
-Brownies can be frozen for up to 2 months. Thaw them on the counter, still covered, or overnight in the fridge.
More Chocolate Recipes: