Sticky, sweet, and full of flavor, this unique pistachio cake tastes just like pistachio marzipan.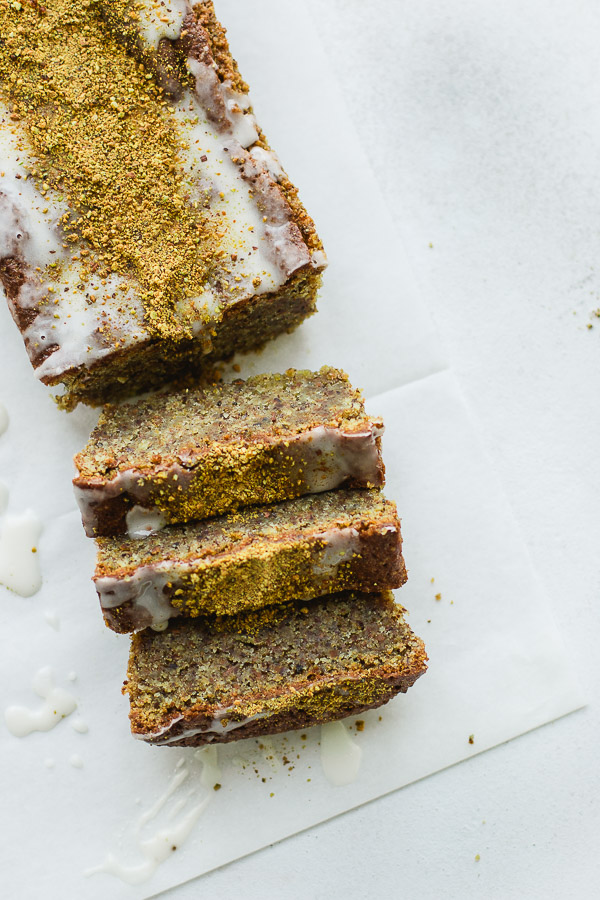 Although I own many cookbooks and follow countless food blogs, I'll be honest that it's been a long time since I've made someone else's recipe, and that's probably because I jump on every opportunity I have to try to create new recipes for you. But after baking a few cakes from my favorite cookbooks lately, I've realized just how much I miss it and that I should do it more often so that I can share these recipes with you because they are delicious. Take today's recipe for example.
This recipe is taken from the beautiful and delicious book Molly on the Range by my sweet friend Molly Yeh, and is just one of her many unique recipes with unique ingredients. This cake was the first to catch my eye because I love pistachios and there are very few recipes I know of that use them.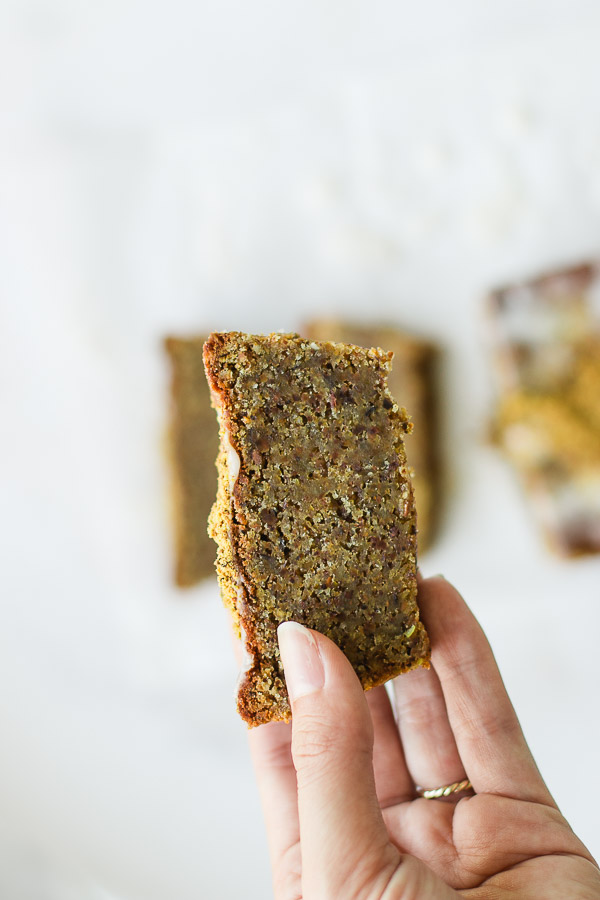 The cake is really simple to make and the result is a sticky, almost candy-like cake with an absolutely incredible pistachio flavor. If you love pistachios then you'll fall in love with this cake. It is on the sweet side and quite dense, but at the same time it's not heavy and pairs perfectly with coffee or tea. I even noticed one of my friends taking three pieces, one after the other, and later claiming she only took one. I love that girl.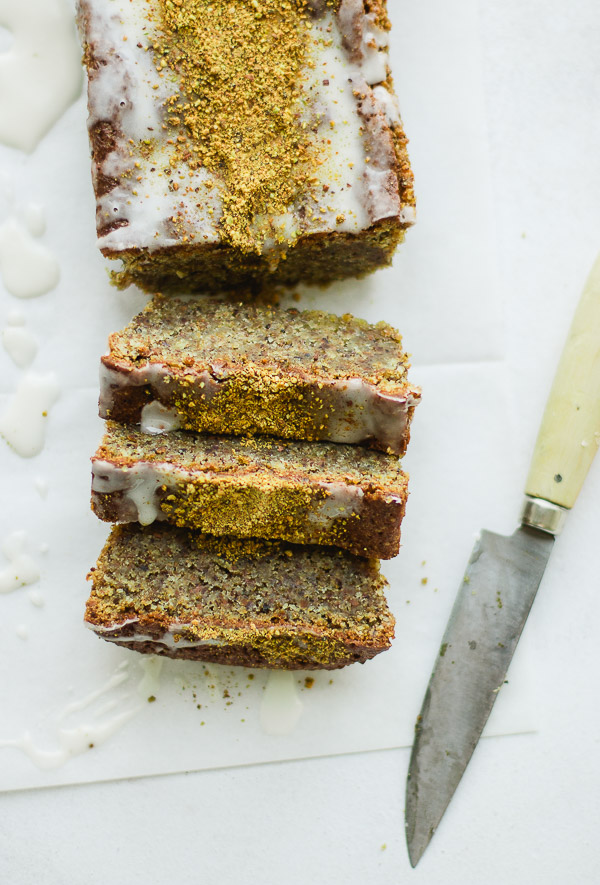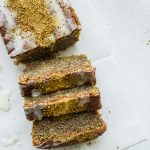 Sticky Pistachio Cake
Sticky, sweet, and full of flavor, this unique pistachio cake tastes just like pistachio marzipan.
---
Ingredients
1½

cups

unsalted roasted pistachios

½

teaspoon

salt

½

cup

(70 g/2.5 oz) all-purpose flour

½

cup

ground almonds

1

cup

(2 stick/227 g) butter, at room temperature

1½

cups

(300 g/10.5 oz) granulated sugar

4

large eggs

zest of ½ lemon

½

teaspoon

almond or vanilla extract
Glaze:
1

tablespoon

freshly squeezed lemon juice

½

cup

powdered sugar
Instructions
Preheat oven to 350F/175C. Grease a 9×4-inch loaf pan, and line the bottom and sides with parchment paper, leaving enough overhang on the sides for lifting the cake out after baking (cake is sticky so it will make it easier to release it from pan).

In a food processor, grind the pistachios to a fine crumb. Be careful not to overprocess or else you will end up with pistachio butter. Measure out 1½ cups of the mixture and transfer to a medium bowl. set aside the remaining crumbs for the cake topping. Add the salt, flour, and ground almonds to the bowl with the ground pistachios, and mix to combine.

In a stand mixer fitted with the paddle attachment, beat together the butter and sugar for a few minutes until light and fluffy. Scrape down the sides and the bottom of the bowl as needed. Add the eggs, one at a time, beating well after each addition. Beat in lemon zest, and almond/vanilla extract. With the mixer on low speed, add the flour mixture and beat just until combined. Do not overmix.

scrape the batter into prepared pan and smooth the top. Bake until a toothpick inserted into the center comes out clean. Begin checking for doneness at 45 minutes. Let cool in the pan for 10 minutes and then turn out onto a wire rack to cool completely.

To make the glaze: in a small bowl, whisk together the lemon juice and powdered sugar and pour it over the cake. Top with reserved ground pistachios.

Cake keeps well in the fridge well-covered for several days.
SaveSave
SaveSave