This is my favorite recipe for classic strawberry shortcake – a dessert made of sweet, juicy strawberries and whipped cream layered in a perfectly rich biscuit.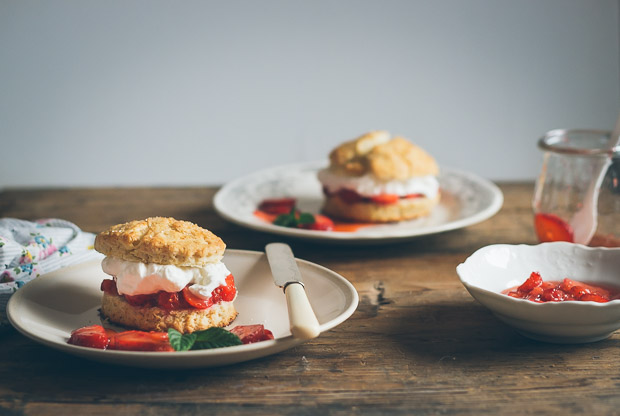 I've just booked tickets to Spain, and I'm so excited that any attempt I've made in the last 10 minutes to type words such as "strawberries" or "biscuits" have ended up as "sangria", "paella", or "churros". That's all I see in my head right now. Especially churros.
In case you haven't noticed, traveling is one of, if not the biggest passion in my life. Take me anywhere (well, almost) and I'll be happy. I'll also be forever grateful. So when are we going?
And about that strawberry shortcake… I'm getting there.
Strawberries and cream are a great pair, but what if you sandwich them on a rich biscuit? Let me tell you, only great things can happen. The delicious biscuit adds both flavor and a crunchy texture. Erez suggests these look more like strawberry hamburgers, and while he has a point, shortcake is always a gorgeous dessert. It looks fancy, but is actually pretty casual, and you can enjoy it either as a snack or after a meal.
There are 3 components to this dessert:
Biscuit: These are more like scones actually in that that they are sweeter, more buttery, and richer than traditional biscuits. They're crispy on the outside, but light on the inside. Use cold ingredients here, especially the butter, so that the dough is easier to work with. Biscuits taste best at the same day they're made, and you can rewarm them in the oven before serving.
Strawberries: Several hours before serving (or at least 30 minutes), crush a portion of the strawberries and mix with sugar and the remaining fresh strawberries. This lets the strawberries macerate and release their juices. It tastes so much better than simply using fresh strawberries, and only takes an extra minute of work.
Whipped Cream: We use a simple soft whipped cream recipe that is just lightly sweetened and flavored with vanilla. Read here how to store whipped cream properly if you want to prepare it ahead of time.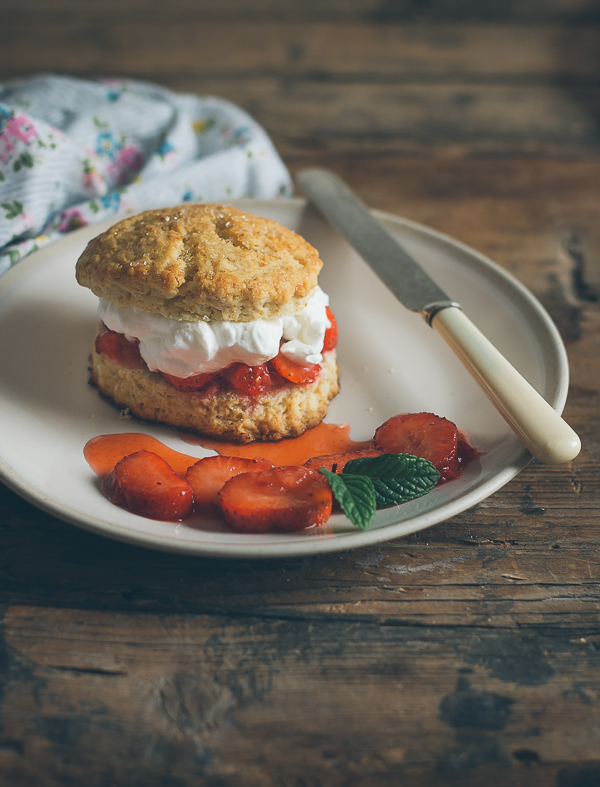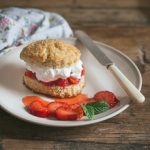 Strawberry Shortcake
---
Ingredients
Biscuits:
2

cups

(280g/10 oz.) all-purpose flour, sifted

1

tablespoon

baking powder

1/4

teaspoon

salt

6

tablespoons

(75g/2.6 oz.) granulated sugar

1/2

cup

(115g/1 stick) butter, chilled and cut into 1/4-inch pieces

1

large egg

1/2

cup

(120ml) heavy cream, plus 1 tablespoon for brushing the tops

1

teaspoon

pure vanilla extract

Coarse/turbinado/demerara sugar

, for sprinkling (optional)
Strawberries:
2

pounds

(900g/6.5 cups) fresh strawberries, hulled

5

tablespoons

(60g/2 oz.) granulated sugar
Whipped Cream:
1

cup

(240ml) heavy cream, chilled

2

tablespoons

granulated sugar

1

teaspoon

pure vanilla extract
Instructions
For the biscuits: Preheat oven to 400F/200C. Line a large baking sheet with parchment paper or a silicone baking mat. Set aside.

In a large bowl, mix together flour, baking powder, salt, and sugar until combined. Cut in butter using a pastry blender until mixture resembles coarse meal. Alternately, you can pulse the ingredients in a food processor. Having uneven pieces of butter throughout is ok.

In a small bowl, whisk together egg, 1/2 cup heavy cream, and vanilla extract, then add it to the flour mixture. Gently toss with a rubber spatula until dough begins to form. Avoid over mixing. Transfer dough to a floured surface and knead gently, about 5-6 times, until a ball forms (if dough is too sticky, add a bit more flour). Pat dough into a 9x6-inch rectangle, about 3/4-inch thick. Using a 2.5-inch (6.5cm) biscuit cutter, cut out 6 rounds. Press the leftover dough into another ¾-inch thick piece and repeat the process to get 2-3 more biscuits.

Place biscuits on prepared baking sheet. Brush tops with heavy cream and sprinkle with coarse sugar. Bake for 15-18 minutes, or until golden brown and a toothpick inserted into the center comes out clean. Transfer baking sheet to a wire rack and allow to cool for 10 minutes. While biscuits are still hot, sprinkle again with coarse sugar for extra crunchiness.

Biscuits are delicious either warm or at room temperature. They are best eaten the same day they're made, but can be frozen for up to 1 month. Reheat in the oven before serving if you want to serve them warm.

For the strawberries: Place 1/3 of the strawberries in a bowl and crush them using a potato masher or fork. Slice the remaining strawberries into quarters or smaller cubes and add them, along with the sugar, to the crushed strawberries. Let sit for at least 30 minutes (or several hours) at room temperature to let the strawberries macerate and release their juices.

For the whipped cream: In a mixer bowl fitted with the whisk attachment, whisk heavy cream, sugar, and vanilla on high speed until stiff peaks form. Avoid overbeating.

Assembling the shortcakes: Cut each biscuit in half, and place the bottom of each half on a serving dish. Spoon on strawberries and whipped cream, then top with the other half of the biscuit. Serve immediately.