These chocolate chip cookies are crispy on the outside with a perfectly thick, chewy and chocolate-filled interior. The nutty flavor of the tahini amplifies the chocolate, giving these cookies the ultimate flavor.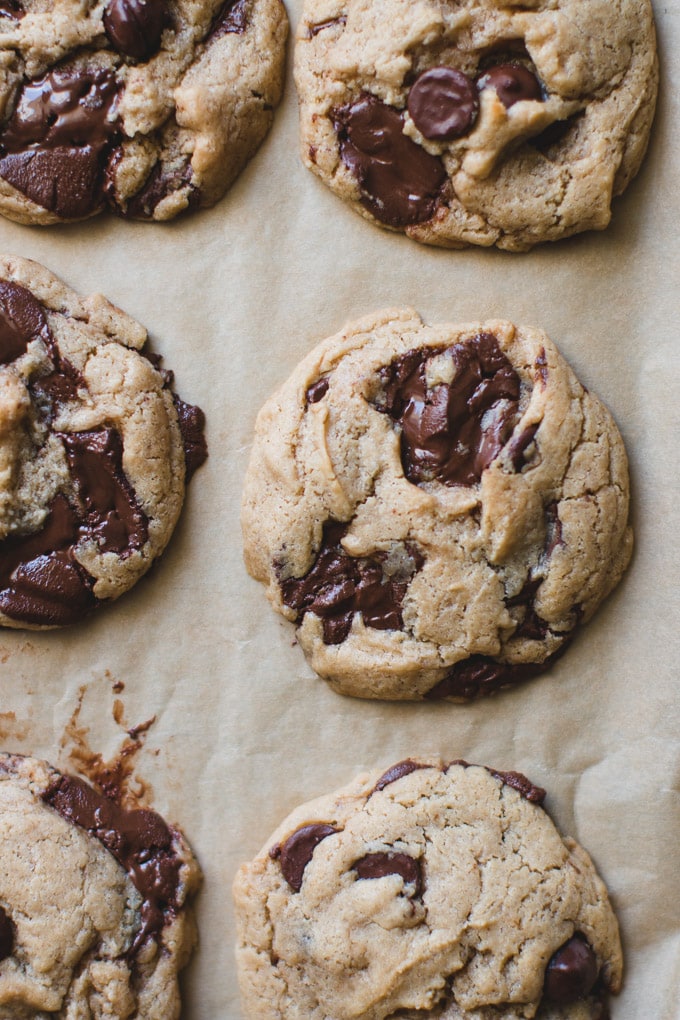 Tahini
Every once in a while I get a new ingredient and put it in everything I make – this week it was tahini. I've been on a baking spree, putting tahini in some of my favorite recipes like banana bread, cake, shortbread and finally chocolate chip cookies. Once I added tahini to my favorite chocolate chip cookie recipe I knew I had to share them with you, even if there weren't many left on the tray to share with my own family!
Tahini is a condiment made from toasted ground hulled sesame seeds. If you've ever had hummus then you've enjoyed this nutty paste. A staple in Mediterranean cooking, tahini is often used in dips, dressings, sauces and even a candy called halva. With a similar consistency to a natural nut butter, tahini has a mild nutty flavor that elevates the other ingredients it is paired with. The smooth, creamy consistency of tahini also adds moisture and richness to baked goods, which is why it is perfect for my tahini chocolate chip cookies.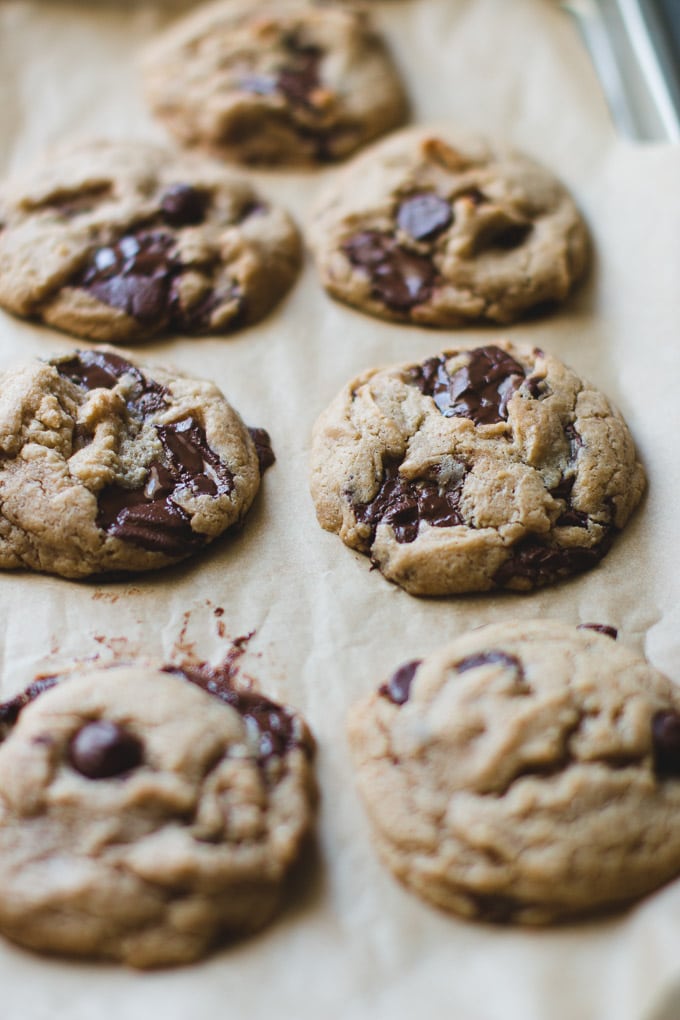 Making the cookie dough
These cookies are easy to make – they require no refrigeration and use basic ingredients you have in your house with the exception of tahini, but after you make these you will always want a jar on hand.
A note about the chocolate: it's important to use chocolate chunks instead of chocolate chips. This is one of my secrets for perfect chocolate chip cookies. Good quality chocolate chunks (I use bars and cut them into chunks) melt much better than chips and give your cookies that irresistible melty chocolate swirl in every bite.
The dough uses a combination of butter and tahini to create a beautiful cookie that doesn't spread too much, so that it has that nice crispy outside with the thick and chewy middle you look for in a perfect chocolate chip cookie. I beat the two together in a mixer until light and fluffy, only adding in the dry ingredients at the end to make sure they don't get overmixed. This is a crucial element to the perfect cookie – overmixing your batter will make the cookies tough and won't give you that soft and chewy texture you're looking for.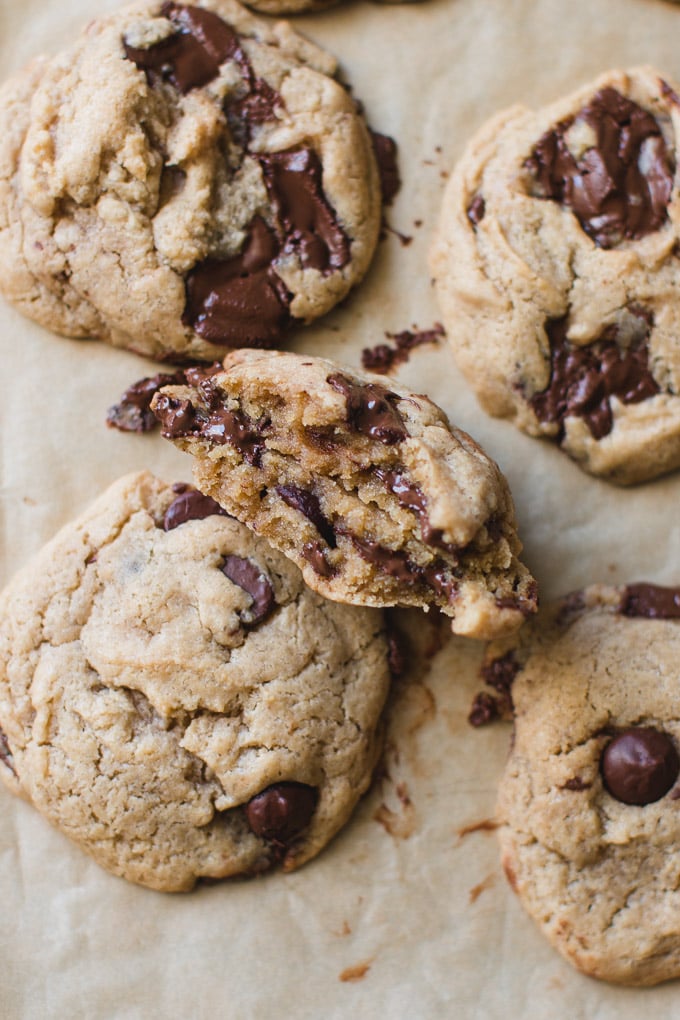 Baking the tahini chocolate chip cookies
Once your dough is made you are only minutes away from freshly baked tahini chocolate cookies! These tahini cookies don't require any refrigeration before baking like many other recipes, making them perfect for a last-minute cookie craving or for making with kids.
It's very important to keep a close eye on the tahini chocolate chip cookies in the oven so you don't overbake them. I scoop the dough into 2 tablespoon sized balls (I use an ice cream scoop), sprinkle with some sea salt (an optional step) and get exactly 24 cookies. Each tray bakes for 11-12 minutes, until the cookies just begin to brown at the edges but the center is still soft.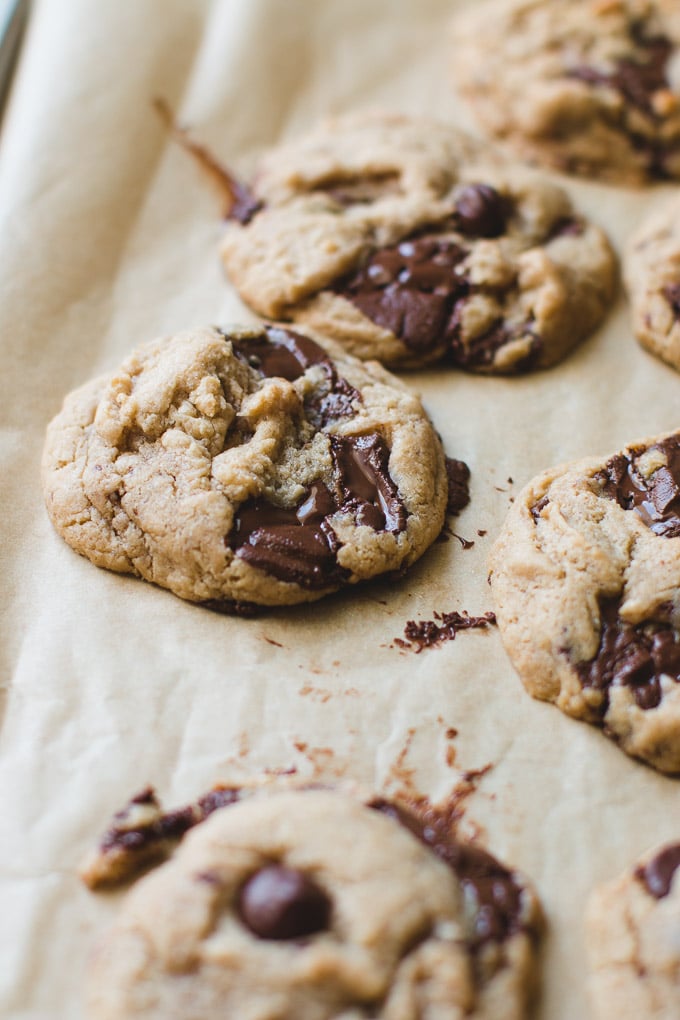 You want to remove the cookies from the oven when they are slightly underbaked, since they continue baking while cooling in the pan for 10 minutes before transferring to a wire rack to cool completely. This step is important to get chewy cookies with a soft and melty chocolate center.
Once you make this tahini chocolate chip cookie recipe you, too, will understand my recent obsession with tahini. The flavorful condiment adds a nutty flavor and perfect texture to my favorite chocolate chip cookie recipe. The best part – you can have freshly baked cookies in 30 minutes!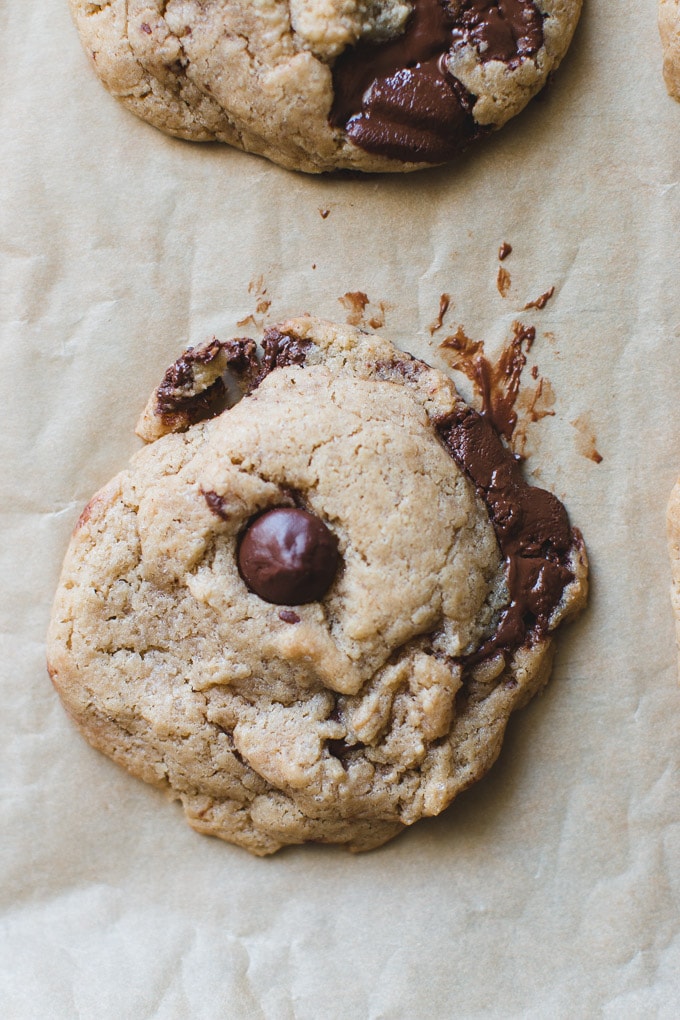 More Amazing Chocolate Chip Cookies: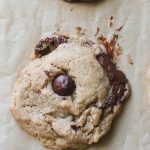 Tahini Chocolate Chip Cookies
Ingredients
2

cups

(280g) all-purpose flour

¾

teaspoon

baking soda

½

teaspoon

salt

¼

cup

(½ stick/55g) unsalted butter, at room temperature

¾

cup

tahini

¾

cup

(150g) granulated sugar

½

cup

(100g) muscovado or brown sugar (preferably dark)

2

large eggs

1 ½

teaspoons

vanilla extract

1 ½

cups

(260g) chocolate chips or chunks (I prefer chunks cut from high quality chocolate bars)

coarse sea salt

, to sprinkle on top, optional
Instructions
Preheat oven to 350F/180C degrees. Line 2 pans with parchment paper.

In a medium bowl whisk together flour, baking soda and salt. Set aside.

In a mixer bowl fitted with the paddle attachment, beat butter, tahini, granulated sugar, and brown sugar on medium speed for 4-5 minutes until well combined. Beat in the eggs, one at a time, until combined. Beat in vanilla extract. Add flour mixture and beat on low speed just until combined (avoid overmixing). Add chocolate and beat just until combined.

Drop rounded balls of dough onto prepared baking sheet, the size of 2 tablespoons each or about 2-inch in diameter, (I use this ice-cream scoop, and get exactly 24 cookies out of the dough). Bake for 11-12 minutes, until cookies just begin to brown at the edges, but the center is still soft. Sprinkle cookies with coarse sea salt, if desired. Leave to cool in pan for at least 10 minutes or until the cookies are easy to transfer without breaking. Transfer to a wire rack to cool completely.

Store cookies at room temperature in an airtight container for up to 3 days, or in the freezer for up to 2 months, then thaw overnight in the fridge.