Moist, dense, and flavorful, this cake is perfect as a snack or as a base for celebration cakes.
I have no idea why mud cakes are called that, do you? All I know is that it has chocolate in it, and lots of it, which is pretty much all I need to know. Yesterday I found a pound of white chocolate hiding in my pantry that was just about to expire, so throwing the whole thing into one cake seemed like the right solution. Instead of searching zillion of white chocolate mud cake recipes like I would usually do, I took this recipe because I had a good gut feeling about it. And my gut was right, as it usually is when I'm hungry.
I couldn't stop taking photos of this cake because it's so pretty! I baked it in an 8×8-inch pan, which isn't big, yet the cake is tall and rich and enough to serve 16. Flavor wise, it has a subtle white chocolate flavor, which might be surprising considering there are 300 grams in it, but that's the nature of white chocolate cakes. It is very flavorful though, and the flavor even improves over time. A day later it tasted much better, but 2 or even 3 days later it tasted absolutely amazing. There's also the white chocolate ganache that I highly recommend not skipping. In the original recipe there was double the amount of ganache you'll find in my recipe; I cut it down because I thought it was a bit too sweet, and you won't hear me say that very often. The texture is moist yet dense, and while I usually don't like dense cakes, this one is a keeper for sure. You can store this cake in the fridge, but make sure you serve it at room temperature for the best results.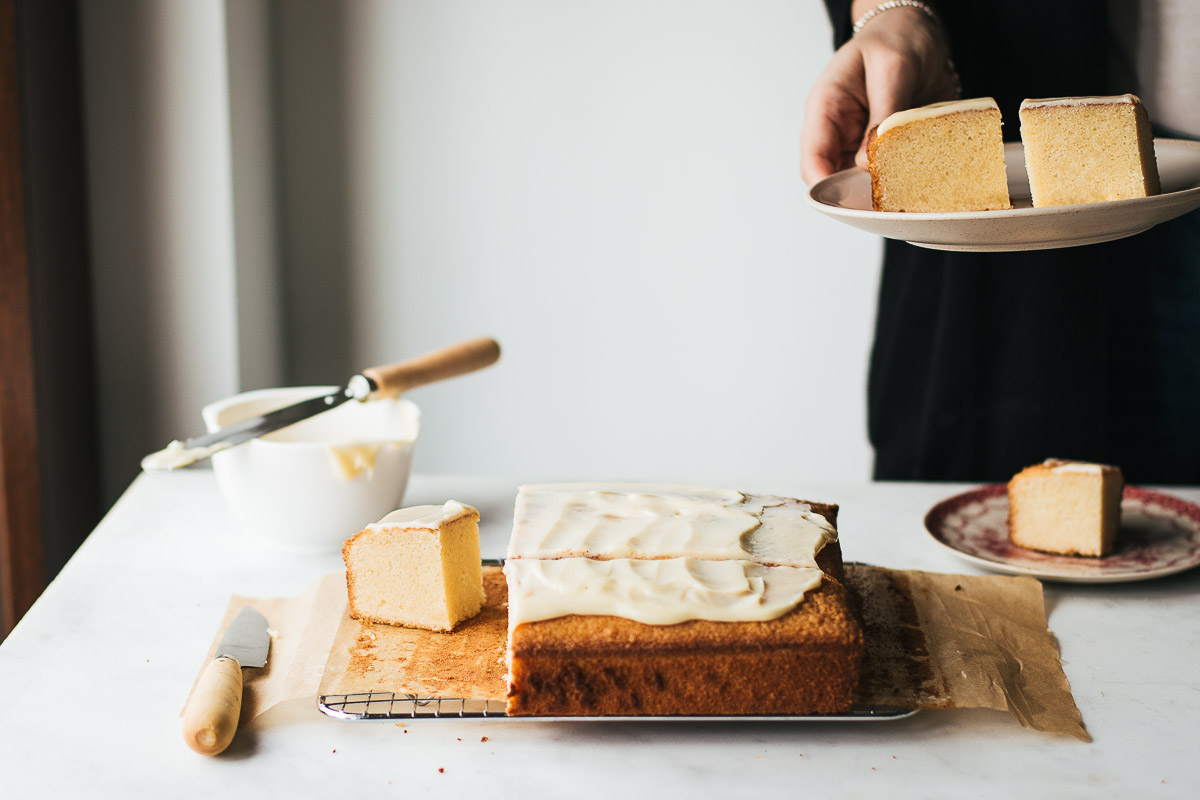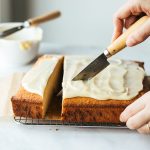 White Chocolate Cake (aka Mud Cake)
---
Ingredients
Cake:
300

g/10.5 oz white chocolate

200

g/7 oz butter

1

cup

(240 ml) milk

¾

cup

plus 1 tablespoon

(165 g/6 oz) granulated or caster sugar

2

teaspoons

pure vanilla extract

2

large eggs

, lightly beaten

1¾

cups

(240 g/8.5 oz) all-purpose flour, sifted

1

teaspoon

baking powder

¼

teaspoon

salt
Sour Cream and White Chocolate Ganache:
100

g/3.5 oz white chocolate

3

tablespoons

sour cream
Instructions
Preheat oven to 325F/160C. Grease an 8-inch/20cm square pan and line the base and sides of the pan with parchment paper.

Place chocolate, butter, milk, and sugar in a bowl and set the bowl over a saucepan of simmering water, making sure the water doesn't touch the bowl, and stir occasionally. Remove from heat when chocolate and butter have melted, and stir mixture until completely smooth. Allow mixture to cool at room temperature for 15 minutes.

Add vanilla and eggs to chocolate mixture and stir until well combined.

In a large bowl mix together flour, baking powder, and salt. Add one cup of chocolate mixture to the flour and stir until a smooth paste forms. Repeat with another cup of the chocolate mixture. Add remaining chocolate mixture and stir until mixture is smooth. This gradual method of combining the wet and dry ingredients helps to prevent lumps. Pour mixture into prepared pan.

Bake for 45 to 60 minutes, until a toothpick inserted into the center of the cake comes out clean without any batter. If the cake is browning too much while baking, cover it loosely with aluminum foil. Allow cake to cool on a wire rack to room temperature.

To make the ganache: Place white chocolate in a bowl and set the bowl over a saucepan of simmering water, making sure the water doesn't touch the bowl, and stir occasionally. When chocolate has completely melted, remove from heat and quickly stir in sour cream. Use immediately to frost cake, or if the ganache is quite runny, set it aside at room temperature to thicken slightly before using.

Store cake in an airtight container in the refrigerator. Bring to room temperature before serving. The cake is suitable to freeze with or without icing.
Recipe source: www.exclusivelyfood.com.au
SaveSaveSaveSaveSaveSaveSaveSaveSaveSaveSaveSaveSaveSaveSaveSave