The easiest, quickest, most superb no-bake pie you'll ever make! Banoffee pie is made of 4 simple layers: cookies, caramel, fresh bananas, and whipped cream.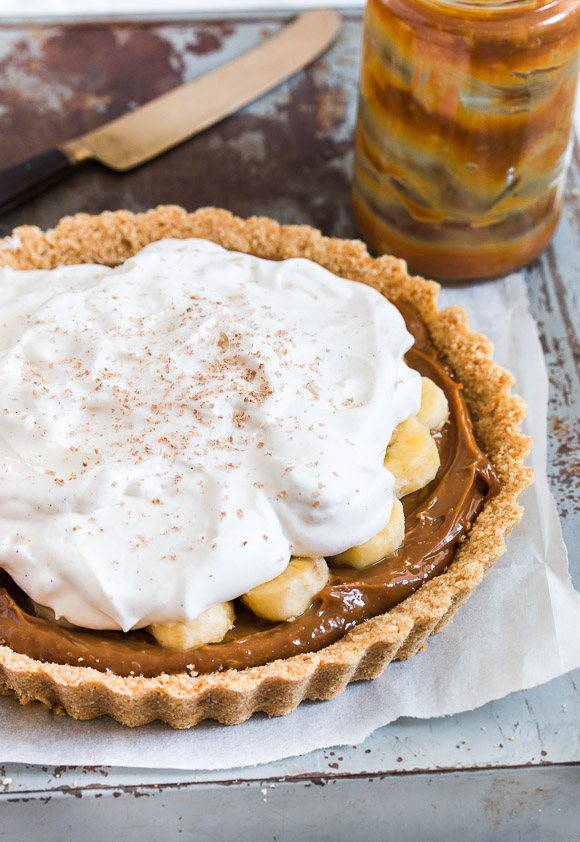 When my friend Rene got back from India, all she could talk about was the popular (and "most amazing thing I've ever had in my life!") banoffee pie that she ate countless times while staying there. She said that a whole new world opened to her when she took her first bite. And honestly, once she made it at home and let me try some, it opened up to me as well. Rene now makes this pie at least 20 times a year for her family, who asks for it ALL THE TIME. They never seem to get enough of it!

Banoffee pie gets its name from a combination of toffee and bananas. For the toffee flavor, we use dolce de leche. With the addition of cookies, it really doesn't get any better than that. Plus, it's a quick no-bake dessert that's nearly effortless to make.
The amount of bananas, dulce de leche, and whipped cream is really up to you. My recipe is a classic version with what I believe to be a good balance between those three ingredients, but if you feel like adding more or less of any of them, then by all means go for it.
You don't have to bother with making your own dulce de leche at home because, talking from experience, a store-bought one is just as good.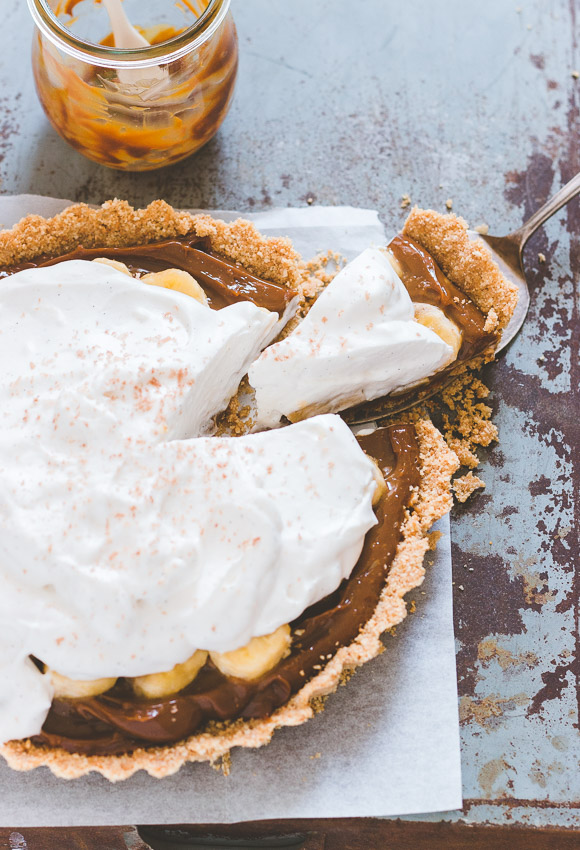 Store-bough dulce de leche is sold in cans or jars. If you're unable to find it, then you can make an easy homemade version.
There are a couple of different ways to make it:
The classic way, which calls for cooking milk and sugar.
Cooking a can of condensed milk until it turns into a thick, golden dulce de leche. This can be done by cooking it in boiling water over the stovetop for 2.5-3 hours, or by cooking it in the oven for about 1.5 hours. While it takes time to cook, it doesn't involve much effort.
For a great detailed instructions on the processes above you can click both here and here.
If you like, you can also add a top layer of shredded coconut, chopped pecans, or grated chocolate (about ½ cup). For a salted caramel version, you can mix a pinch of salt, preferably course sea salt, into the dulce de leche.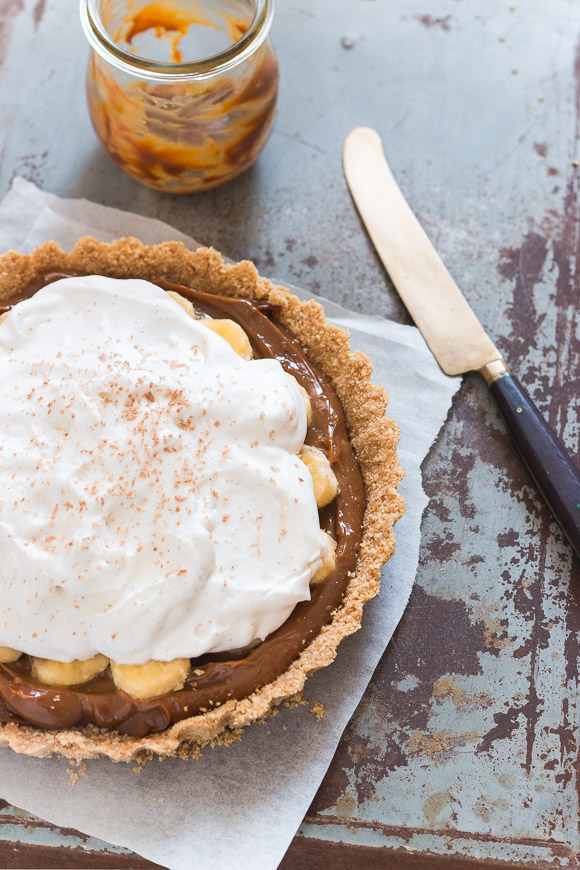 Banoffee Pie
The easiest, quickest, most superb no-bake pie you'll ever make! Banoffee pie is made of 4 simple layers: cookies, caramel, fresh bananas, and whipped cream.
Ingredients
For the crust:
150 g/5.3 oz (1½ cups) digestive biscuit crumbs*
⅔ stick (75 g/2.6 oz) unsalted butter, melted
For the filling:
1 – 1¼ cups (300 – 400 g depending on the brand) store-bought dulce de leche
3 ripe yet firm (not overripe or black) bananas
1 – 1¼ cups (240 – 300 ml) heavy cream
2 tablespoons granulated sugar
1 teaspoon vanilla extract
½ cup grated chocolate/shredded coconut/chopped pecans for topping (optional)
Instructions
In a medium bowl, stir together crumbs and melted butter until combined and moistened. Using your fingers (or the bottom of a glass), press the mixture into the bottom of a 9-inch pie pan and up the sides to form an even layer. Cover with plastic wrap and place in the fridge to chill for about an hour, until firm.
Spread dulce de leche gently on top of the crust and smooth the top.
Slice bananas thinly and lay them over the dulce de leche in one even layer.
Using a mixer fitted with the whisk attachment, whisk together heavy cream, sugar, and vanilla extract on high speed until soft peaks form. Avoid overbeating.
Refrigerate for at least 2 hours before serving.
Pie will keep 1-2 days in the fridge.
* To make crumbs, pulse biscuits in a food processor until finely ground. You can make a graham cracker crust instead by using the same amount of crumbs and butter, but adding 2-4 tablespoons granulated sugar. Pulse the sugar along with the biscuits in the food processor.
* For a homemade version of dulce de leche, refer to the above post.