Learn how to make this classic creamy homemade caramel or salted caramel sauce.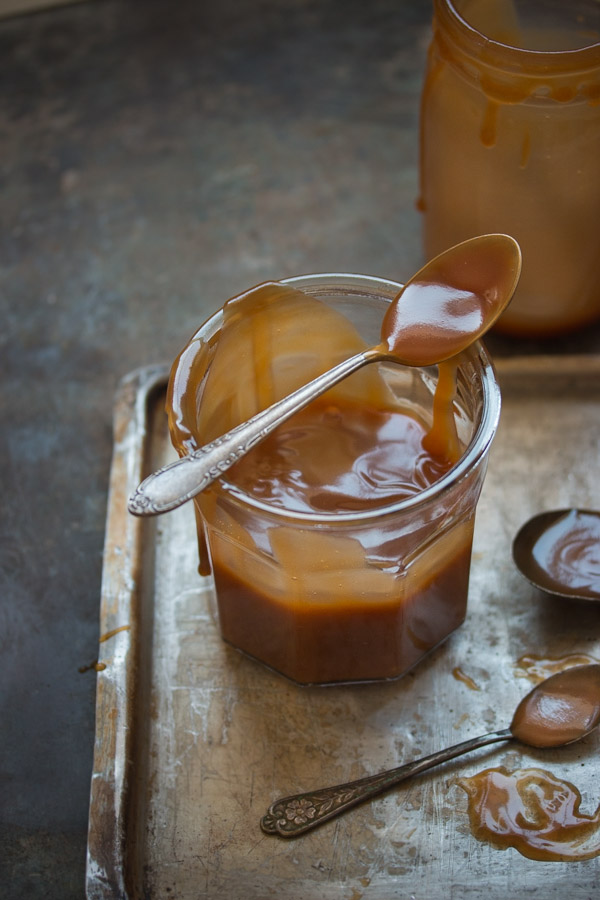 As an Amazon Associate, I earn from qualifying purchases. I endorse products that I love and use daily.
If there's one thing a novice baker is intimidated by other than yeast, it's making caramel. The problem is usually timing – a caramel can turn from a beautifully deep brown to dark and burnt in just a few seconds. But if you leave your fear aside and watch the sauce carefully the entire time it cooks, then there's no reason why you can't make your own perfect caramel sauce.
If you fail to make a perfect caramel the first time, don't worry! It's so fast and simple to make, and sugar is so relatively cheap (plus, you can always practice with half batches), that you're not losing much by messing up. Once you have your first successful attempt, it will become easier for good.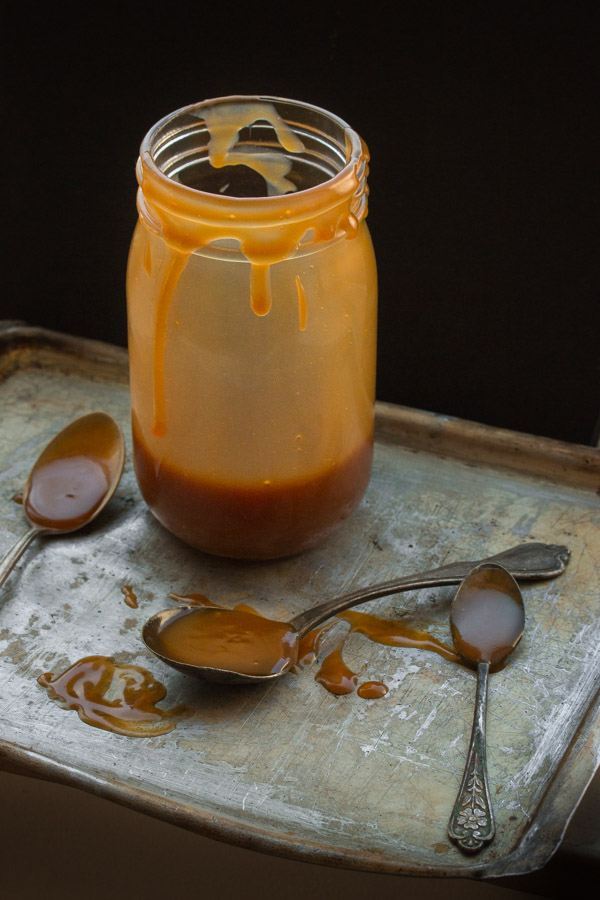 Flavor
Once all the sugar melts, it will start getting that signature caramel brown color and will turn from a light shade to a dark shade fairly quickly. There is a wide range of flavors you can get in caramel, all dependent on when you add the butter (which stops the caramel cooking process). Golden, amber, reddish – each one will produce a different taste. Darker browns will have a richer caramel flavor, while lighter ones will have a subtle toffee flavor. It's best to add the butter once the color is amber, meaning a deep brown but not so dark that it's almost black. Once you master this, you can try to add the butter to a deeper brown color (about 15-20 seconds after the amber color appears).
What about corn syrup (or lemon juice or cream of tartar)?
You may find these ingredients in some recipes. It helps to reduce crystallization and therefore makes the process easier, which is great, but definitely optional. Unless I have it on hand, I won't use it.
Dry or wet method?
There are 2 ways to cook caramel: cooking just sugar by itself (dry caramel) or cooking the sugar with water (wet caramel). I recommend the wet method for a novice baker. I had good results with it when I was learning and I still use it. For this method you'll need to add water to the pan along with the sugar. In both methods, the resulting caramel will be the same since the water will evaporate while cooking, but in order to let it evaporate, wet caramel will take a few minutes longer.
To stir or not to stir?
When using the dry method, you can and should stir the sugar in order to prevent burning. While in some recipes, it's suggested to stir the sugar constantly, I suggest stirring only occasionally and when necessary because whisking encourages lumps and makes the mixture crumbly. You can't always avoid lumps, but don't worry as they will eventually melt. In the wet method, stirring will encourage crystallization and clumping, so avoid doing this. Instead of stirring, you can gently swirl the pan.
The process
The sugar should dissolve within a few minutes. Once the sugar liquefies to a caramel, watch it carefully, because it can turn from deep brown to burnt within seconds.
Once it turns amber in color, add the butter. Be very careful, adding it gently and keeping your face away from the pan. The caramel is HOT and will bubble up. For that same reason, it's recommended to warm up the whipping cream slightly before adding, to reduce the high difference in temperature.
For salted caramel, you can use either 1/2 teaspoon fine sea salt or 1 teaspoon coarse sea salt, to taste. You can also use 1 teaspoon of 'fleur de sol', a high quality flaky sea salt.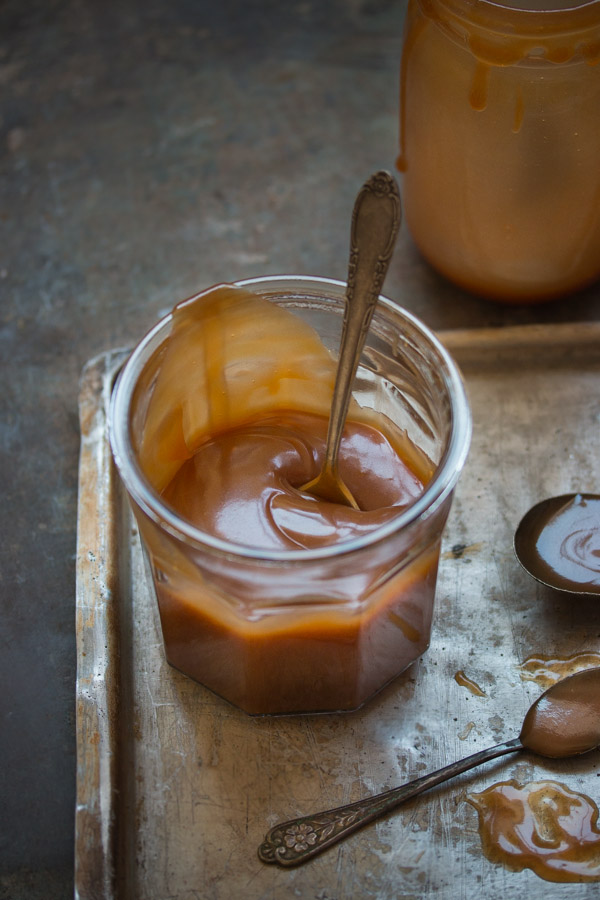 Disclaimer: As an Amazon Associate, I earn from qualifying purchases. I endorse products that I love and use daily.
How to Make Caramel Sauce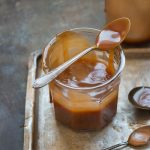 Caramel Sauce
All the tips you need for a perfectly rich and creamy homemade caramel sauce. No thermometer needed.
---
Ingredients
1/4

cup

water

1

cup

(200g/7oz) granulated sugar

1/3

cup

(75g/2.6oz) butter

1/2

cup

(120ml) heavy whipping cream, slightly warmed in the microwave

A pinch of salt

, or 1 teaspoon coarse sea salt for salted caramel
Instructions
Have all of your ingredients measured, ready, and close to the pan so that they can be added immediately when it's time. Keep a constant eye on the stove. The temperature of the caramel will be very high, so keep your face and body away from the pan.

In a medium heavy-bottomed saucepan (large enough to coat the surface with an even thin layer of sugar), heat water and sugar over medium heat. Make sure all of the sugar is evenly moistened from the water and there are no dry spots. It's important to NOT stir the mixture, and instead gently swirl and shake the pan occasionally so the caramel will cook evenly and won't burn. The caramel will usually start to brown at the edges first. In that case, push the liquefied sugar towards the middle of the pan using a heatproof utensil such as a whisk, spatula, or wooden spoon.

Once all the sugar has melted, pay careful attention and watch the pan, swirling it occasionally until the caramel turns a deep amber color. Add the butter very carefully, keeping your face away from the pan (mixture will bubble up!), and whisk vigorously until butter has melted and fully combined.

Remove from heat, then carefully add cream and keep whisking until combined. Add salt immediately after. Transfer carefully to a heatproof jar and let cool until warm before using.

Caramel can be refrigerated for up to 2 weeks, or frozen for up to 2 months. Before using, warm it up for a few seconds in the microwave.