This quick beetroot hummus recipe is my new go-to appetizer. It has a refreshing flavor of hummus and beets, and is delicious as a dip or healthy spread for an appetizer or on sandwiches.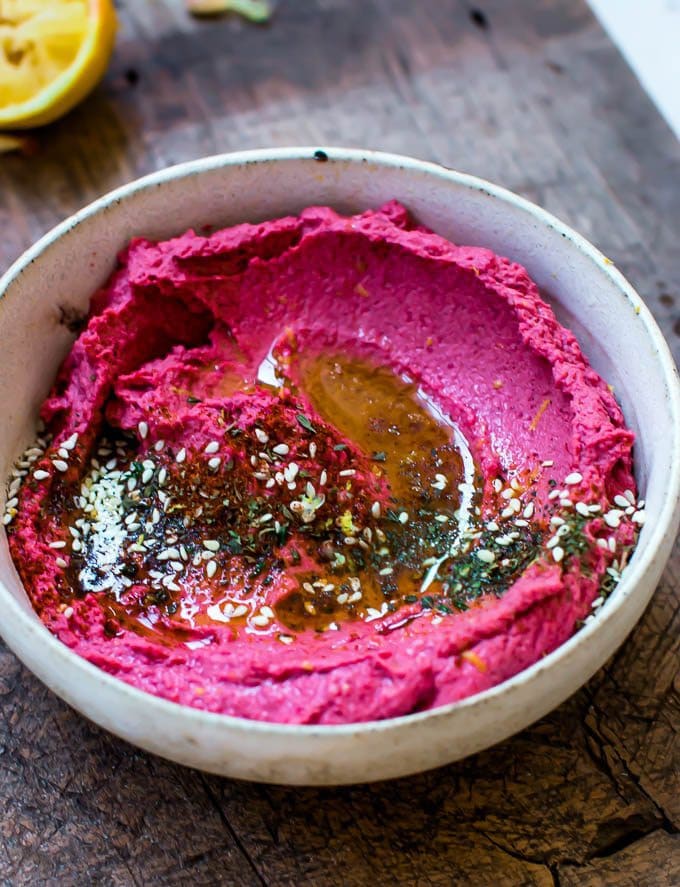 Ever since I discovered this beetroot hummus recipe, it has been my favorite appetizer. I'm making it A-L-L the time. It always disappears minutes after I serve it! I highly recommend you make a double batch if you're feeding more than 6 people.
How to cook fresh beetroot?
You need to use cooked beets for this recipe. To speed the process, instead of cooking them yourself, you can buy cooked beets that are vacuum-packed. They are found it in the refrigerated aisle in grocery stores.
To cook your own beetroots, you could bake or boil them. I like to bake mine. To bake the beets, cut off any tops and wash or scrub the root clean. You don't need to peel beetroot before baking. Wrap beets in aluminum foil, place on a baking sheet, and place in a 375°F/190°C preheated oven until cooked through and very tender. This can take 60 minutes or longer, depending on their size. Let cool slightly, then peel and slice into  thick slices.
How do you make hummus without tahini, or what can be used instead of tahini?
Tahini has become very popular lately, so it can be found in large supermarkets. If you still can't find it, you can just leave it out. It gives a wonderful taste to the hummus, but more than flavor, it makes the texture much more silky and smooth, which is the main reason why I love using it in hummus. If your hummus is dry without it, You can thin it out with water. I know that some people who are allergic to sesame use nut butter (such as sunflower seed butter or peanut butter) as a substitute, but I recommend adding a little at a time, to make sure you like the flavor.
Can you freeze hummus?
I get asked this a lot. Personally, I don't recommend freezing homemade hummus, because the flavor and texture won't stay the same.
How long can you keep homemade beetroot hummus?
Homemade hummus will stay fresh for 3-5 days in the fridge. The less garlic or lemon juice you use, the longer the hummus would stay fresh. I think that they add so much flavor though, so I recommend using them anyway.
More Delicious Appetizer Recipes:
Homemade Hummus From Scratch – extra smooth and creamy!
Caprese Salad with Pesto 
Easy Guacamole
5-Ingredient Sweet Potato Fritters
Cheese Stuffed Mushrooms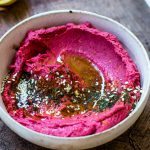 Quick Beetroot Hummus
---
Ingredients
1

can chickpeas

(430 g/15 oz), drained and rinsed

2

medium cooked beetroots

(read above post on how to cook them), cut into quarters

2

cloves

garlic

zest and juice from 1 medium lemon

2-3

tablespoons

tahini

2-3

tablespoons

olive oil

¼

teaspoon

salt

½

teaspoon

ground cumin
Instructions
Place the beetroots, chickpeas and garlic into a food processor and process for 1 minute until ground. Add all the remaining ingredients and process until creamy. It should have some grainy texture, that's ok. If it's dry or you want to thin it out and make it more creamy, add more tahini or water, until you like the consistency.

Adjust seasonings, adding more salt, cumin, olive oil, or lemon juice if needed.

Refrigerate or use immediately. I like to serve it at room temperature.

Beetroot hummus will keep in the fridge, covered well, for 4-5 days.