These deviled eggs taste even better than the ones your grandma used to make. They aren't runny, sloppy, or too mustard-y. The consistency is made perfect with the addition of cream cheese. I also like to elevate deviled eggs by putting a slice of thick bacon on the side or crunched over the tops. Creamy deviled eggs are the perfect afternoon snack or appetizer for your next holiday gathering.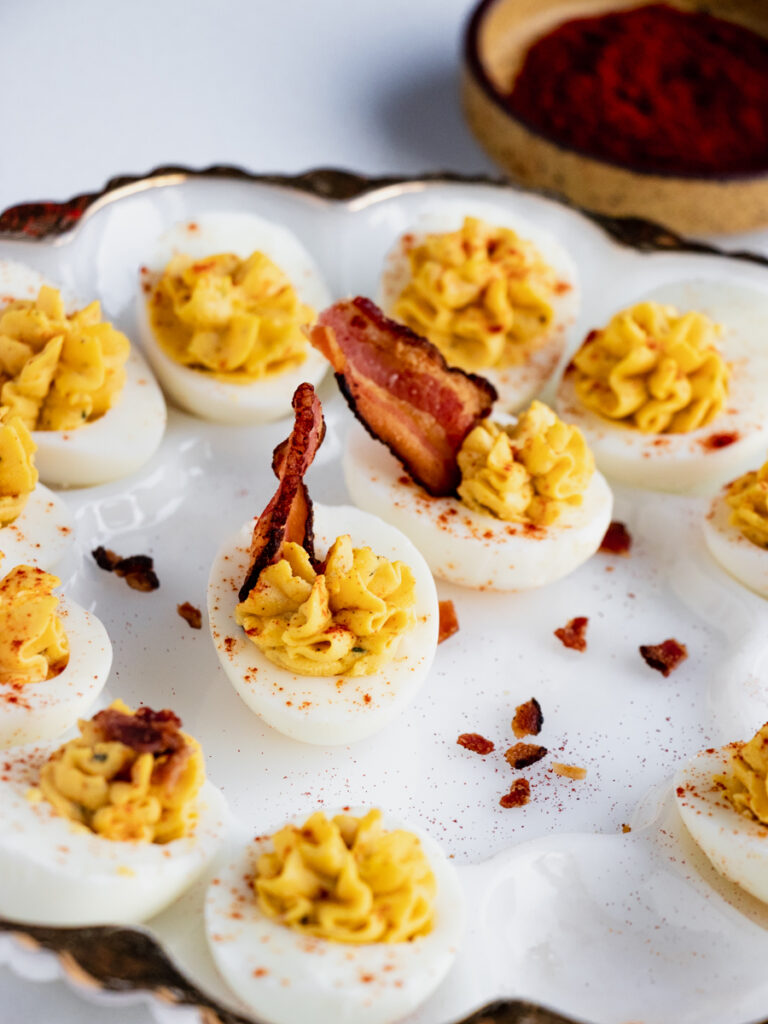 How to make hard boiled eggs
First, start by making hard boiled eggs. Most people tend to fall into two categories on their preferred method of hard boiling eggs. Category A: Submerge eggs in cold water, bring to a rolling boil, cover, and reduce heat for 10-13 minutes and remove. Category B: Submerge eggs in boiling water for about 10-13 minutes, remove. I have the best luck with Category B eggs. Whichever method works best for you, continue doing exactly that!
If you've never made hard boiled eggs before or you don't like how they turn out when you do, here are a few helpful sites to perfect your skills: How to make hard boiled eggs (Category A Style) or How to make hard boiled eggs (Category B style).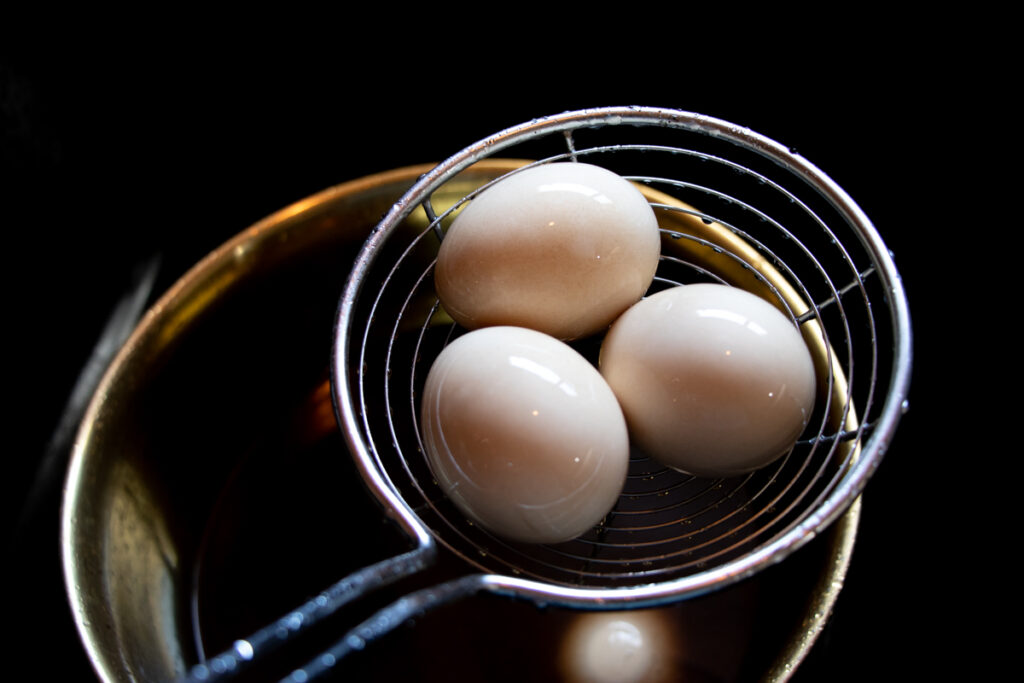 I use a stainless steel strainer spoon, similar to a spider strainer, to rescue my eggs out of the boiling water. This saves time, helping to ensure the eggs go into and out of the water at relatively the same times. Overcooking the eggs will result in gray-green yolks.
Cool and peel your eggs. I recommend peeling after 10 minutes in ice water.
Egg Peeling Technique
Crack the bottom (wider end) of the egg first on the countertop. Roll the egg so the entire outer shell has cracks all over it but is still intact. Dip the egg back in the icewater for 1-2 seconds. Remove the egg and proceed to peel. The peel should come off much easier now.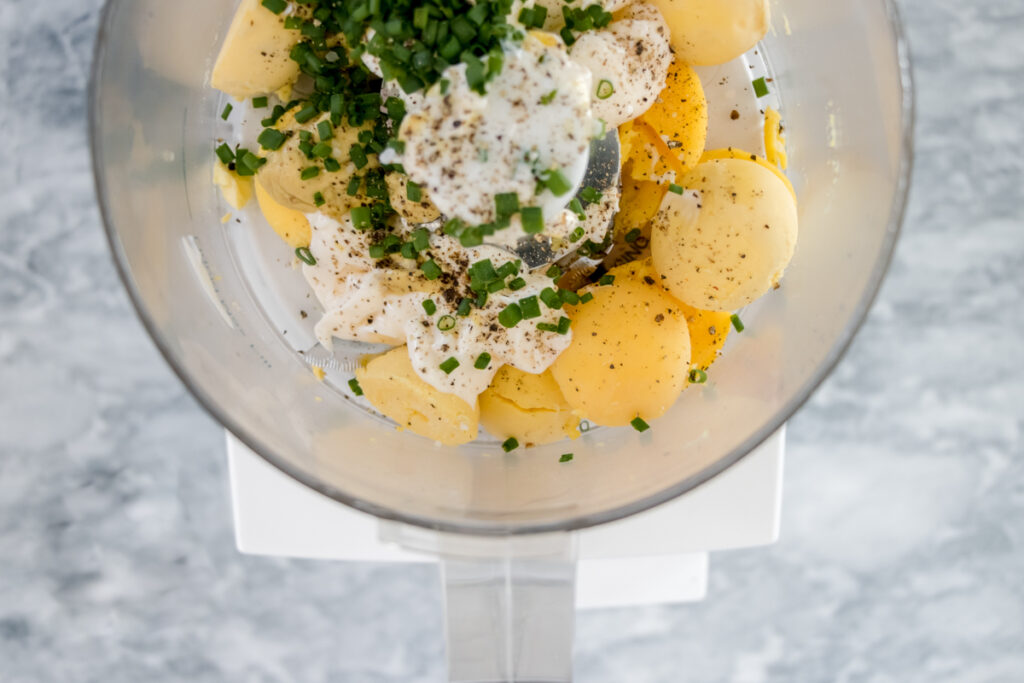 How to make deviled eggs
Cut eggs in half lengthwise. Scoop out the yolks and place them in your food processor. Add the remaining ingredients and blend together in your food processor until smooth and creamy, about 30 seconds. Using a food processor is how you get the creamiest deviled egg yolk filling. Transfer the yolk mixture to a Ziploc bag. Cut the corner of the bag to create a method of piping the mixture into the whites. Once each egg white is filled with deviled egg mixture, I add a crispy 1/4 strip of thick bacon, cooked.
Tips for making the best deviled eggs
Add a teaspoon of salt and a good splash of vinegar to the water before submerging your eggs.
After cooling your eggs in ice water and peeling them, place them in the refrigerator to cool before cutting. Warm eggs don't cut well.
Cut your chives with a pair of herb scissors to save time.
If you're transferring the deviled eggs to a secondary location for a party or event, don't cut the corner of your Ziploc bag prior to transporting the eggs. It is easier to fill the eggs quickly once you arrive at your destination.
Elevate your deviled eggs by garnishing them. Garnish options: paprika, chives, bacon, capers, crispy chicken, prosciutto, pimiento, or a sprig of dill.
Always keep your eggs cold and serve immediately when taken out of refrigeration.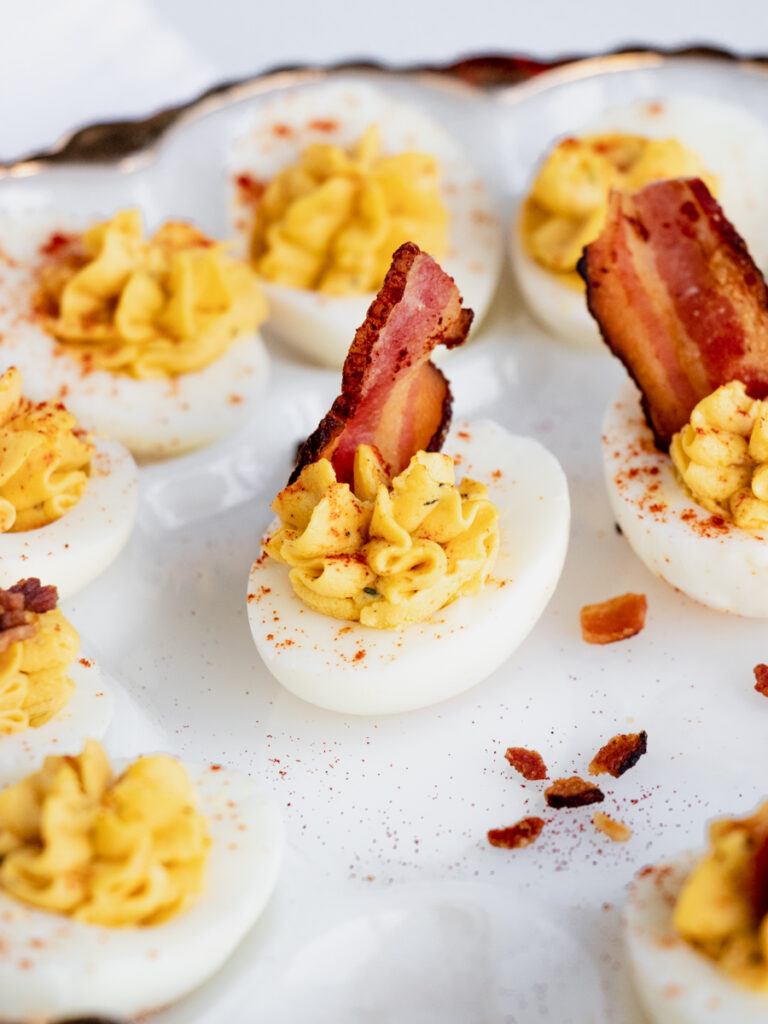 More of my favorite savory recipes
Disclaimer: As an Amazon Associate, I earn from qualifying purchases. I endorse products that I love and use daily.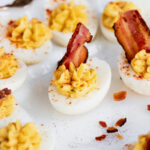 BEST Creamy Deviled Eggs
Classic deviled eggs made perfectly creamy. Elegant appetizer or afternoon snack.
---
Ingredients
6

large eggs

1

teaspoon

Dijon mustard

1

dash

salt

1/4

teaspoon

freshly ground black pepper

1

tablespoon

snipped fresh chives

1

teaspoon

dill pickle juice

or apple cider vinegar

1

teaspoon

cream cheese (block-style)

3

tablespoons

mayonnaise

paprika

(for garnish)

thick cut bacon, cooked

(for garnish)
Instructions
Hard Boiled Eggs
Fill a small pot with a little over 1 inch (3 cm) of water to a rolling boil. Add a splash of vinegar and a little salt to the water. Rinse eggs with warm water and then lower them into the boiling water. Let sit for 10-12 minutes, stirring a few times to ensure the yolks stay centered.

Remove eggs from boiling water using a slotted spoon or strainer spoon. Place eggs immediately into a large bowl of ice water to cool. Peel the eggs after 20-30 minutes. Cool in the refrigerator an extra 15 minutes if eggs are still warm.
Assemble Deviled Eggs
Cut the eggs in half lengthwise and remove the cooked yolk. Set the cooked egg whites aside. Place yolks directly into your food processor, add all remaining ingredients. Blend together for 30 seconds or until smooth and creamy.

Transfer yolk mixture into a Ziploc bag or piping bag. Cut the corner of the bag and pipe the mixture into the egg white cups. Garnish with bacon and dusting of paprika.