An addictive cookie with a secret ingredient: brown butter. These brown butter chocolate chip cookies are thick, chewy and bursting with a rich caramely flavor.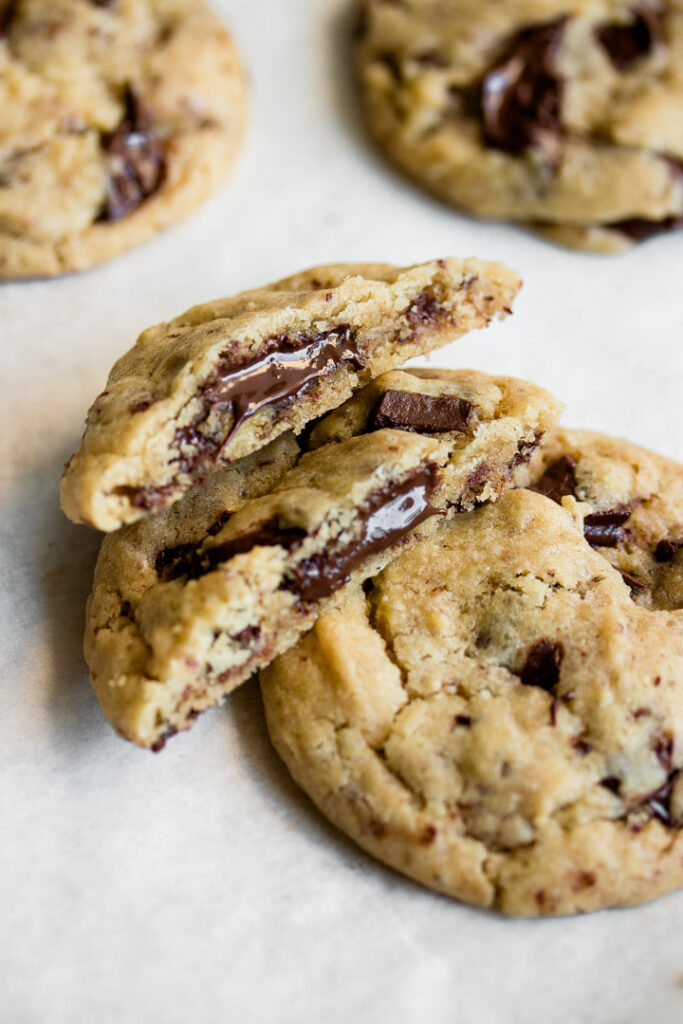 There are two things you should know about me: I absolutely LOVE chocolate and have a bit of a cookie addiction. These are both great for developing recipes, not so much for my sugar intake.
I've been playing around with brown butter recently, falling in love with the deep, rich caramel flavor it brings to baked goods. Taking the few extra minutes to brown the butter is well worth the effort, and soon you'll find yourself adding brown butter to everything just like me!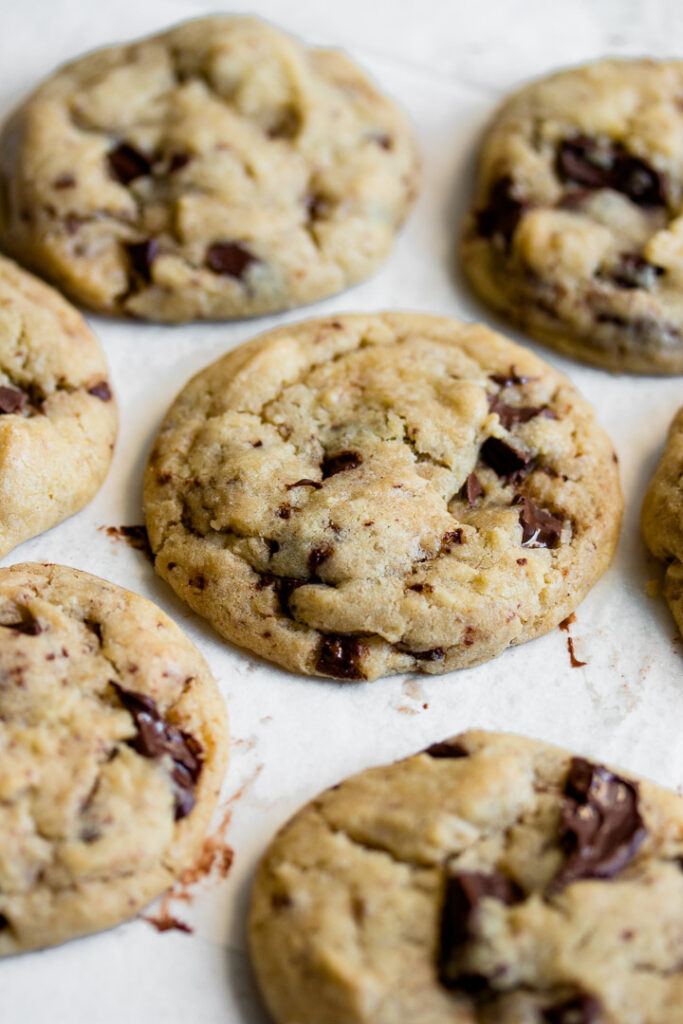 How To Brown Butter
The first, and second, and even third time I attempted to make brown butter I burned it. It's only a matter of seconds between brown and burnt, but I found that practice along with this video tutorial really helped me nail it down. Now I can make these brown butter cookies on my first attempt, which means I make them often.
Brown butter is a cooking method where you melt the butter and then continue cooking until the milk solids begin to brown. You have to keep a close eye on the butter, using your nose to smell for the nutty aroma and stirring frequently to avoid burning anything. The end result is a melted butter that adds a nutty, caramel flavor to anything it touches. Basically the best possible flavor to add to chocolate chip cookies!
This method is actually easier than the classic creaming method used in my other chocolate chip cookie recipes. You don't have to wait for the butter to soften to room temperature and you don't need a mixer. I should also mention, these brown butter chocolate chunk cookies don't require any chilling either. It's a win-win situation.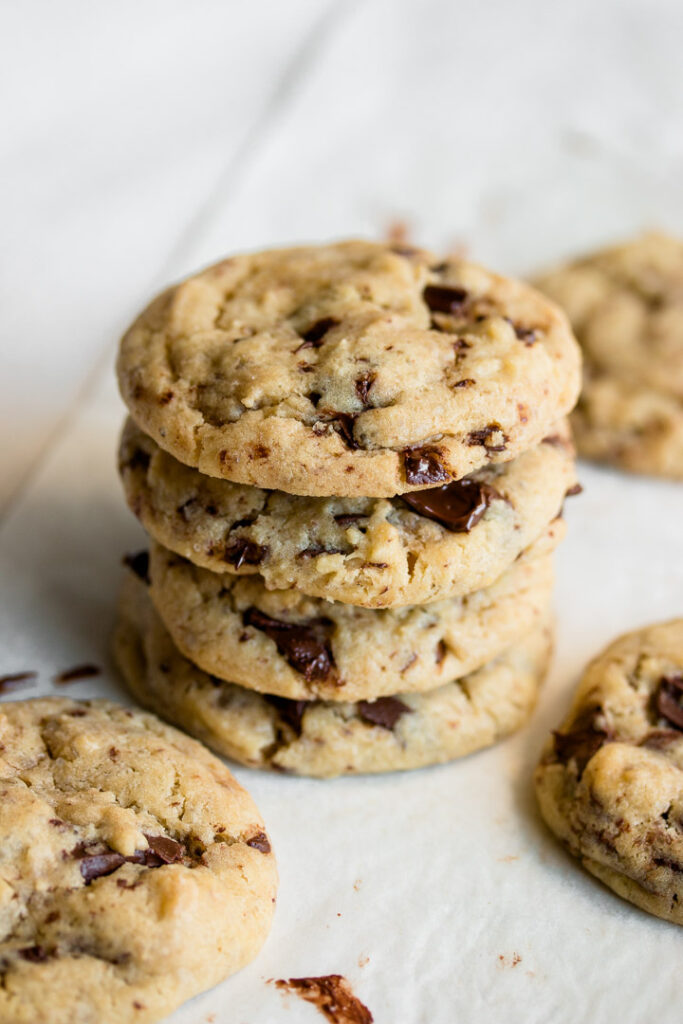 How To Make Brown Butter Chocolate Chip Cookies
Before browning your butter, make sure to get everything else in the brown butter chocolate chip cookie recipe prepared. That means preheating your oven to 350°F/180°C, lining your baking sheets, and sifting or whisking the dry ingredients.
Once you've made the brown butter, pour it into a large bowl immediately so it stops cooking. Whisk in both sugars until well blended. Add in the egg and vanilla extract, whisking until combined.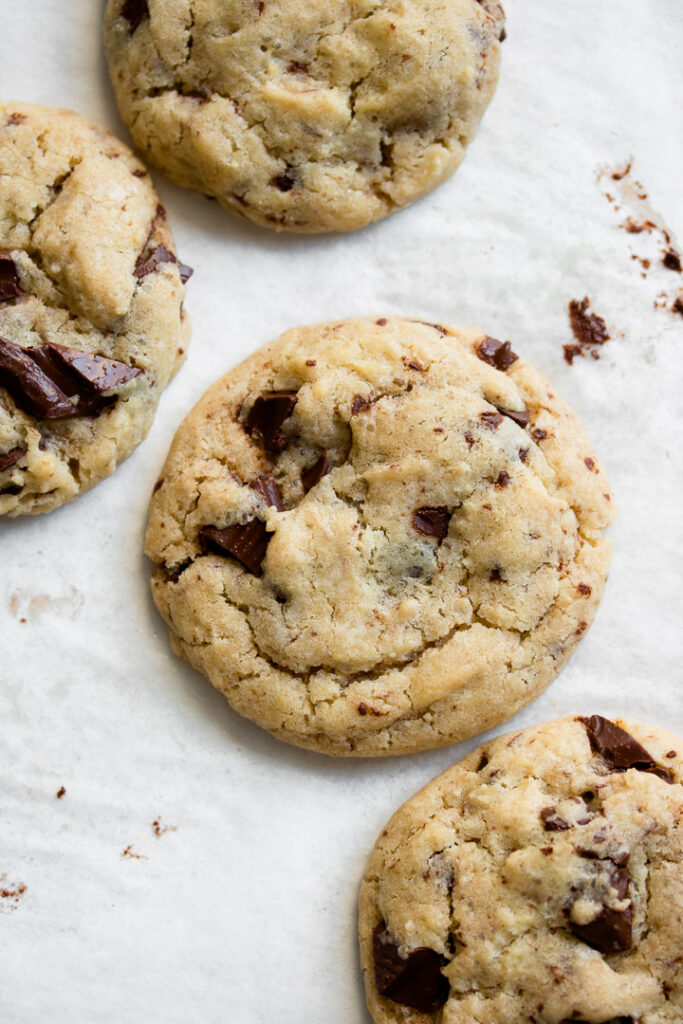 Stir in the flour mixture, being careful not overmix. I like to switch to a spatula near the end when I add in the flour and chocolate chips, which helps make sure I don't overwork the dough.
Drop rounded 1.5 tablespoon-sized balls of the cookie dough on the baking sheets (I like to use this scoop). Bake for 10-12 minutes, until the cookies just start to brown at the edges. For the best brown butter chocolate chip cookies, you want them to be slightly soft in the center when you remove them from the oven (they firm up as they cool). Transfer to a wire rack to cool completely before eating.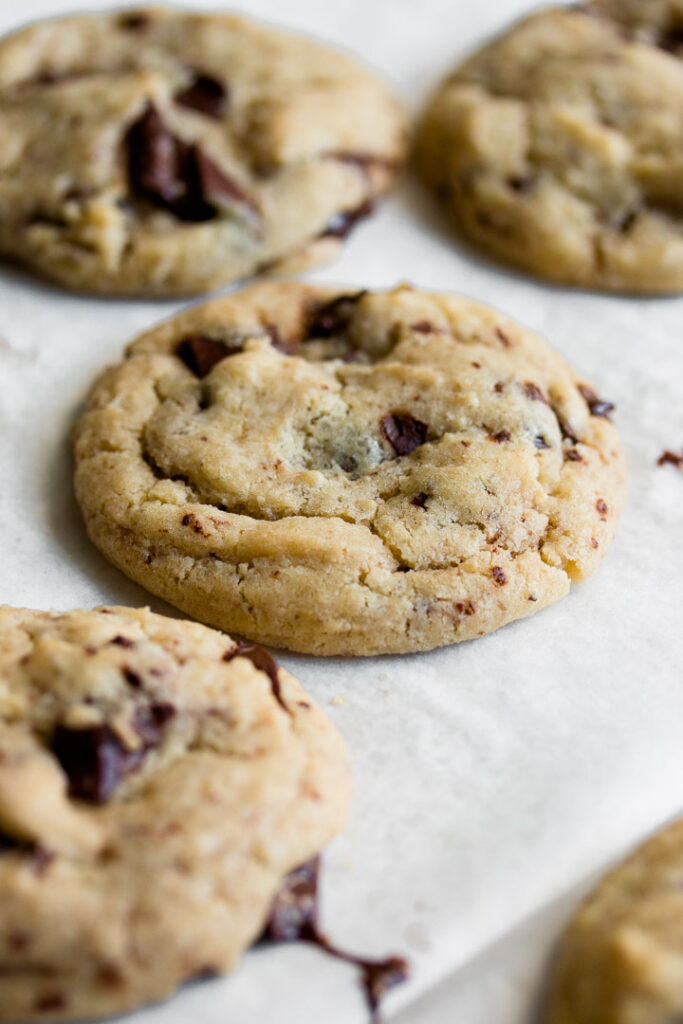 Want To Make A Brown Butter Chocolate Chip Cookie Cake?
If you're in need of a celebratory cake or just want one giant cookie, you can easily turn this recipe into a cookie cake. The only change I make is to reduce the flour to 1 3/4 cups (245g) so the cake will be slightly softer. The cookie cake doesn't spread like brown butter chocolate chip cookies do, so it's ok to have less flour.
Bake the cake in a 9-inch dish or cake pan, pressing the dough firmly into the bottom. Bake for 22-25 minutes, until the top no longer appears shiny or wet. Cool completely on a wire rack before attempting to cut into slices.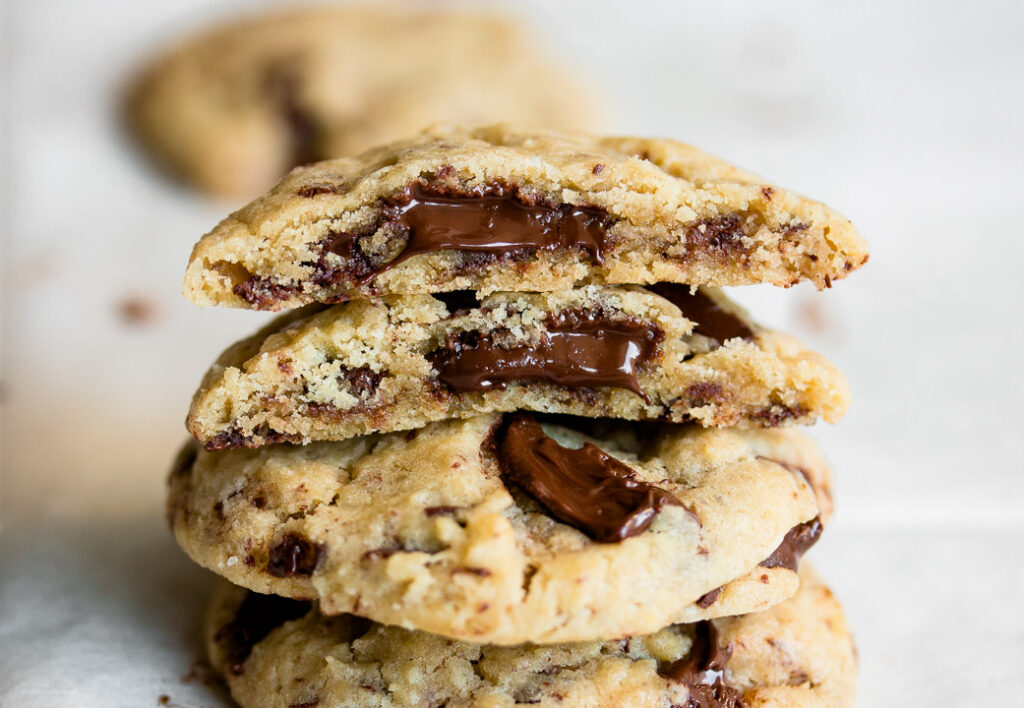 Other chocolate chip cookie recipes: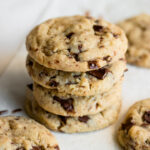 Brown Butter Chocolate Chip Cookies
---
Ingredients
1 3/4

cups

plus 2 tablespoons (260g) all-purpose flour

2

teaspoons

cornstarch

(optional, makes the cookies softer)

1

teaspoon

baking soda

1/2

teaspoon

salt

3/4

cup

(1 1/2 sticks/170 g) unsalted butter

2/3

cup

(135g) light or dark brown sugar

1/3

cup

(65g) granulated sugar

2

teaspoons

pure vanilla extract

1

large egg plus 1 egg yolk

1 1/4

cups

(200g) bittersweet or semisweet chocolate chips or chunks
Instructions
Preheat oven to 350°F/180°C degrees. Line 2 baking sheets with parchment paper. Set aside.

In a medium bowl whisk together flour, cornstarch, baking soda and salt. Set aside.

To brown the butter, place butter in a medium, heavy-bottomed saucepan over medium heat and melt. Keep heating just until small golden bits start to appear at the bottom, and the butter smells nutty and caramely. Watch it carefully because the butter can burn quickly at this point. Remove from the heat and immediately pour melted butter into a large bowl and allow it to cool slightly.

Add brown sugar and granulated sugar and whisk until well blended. Add egg and vanilla extract and whisk until combined. Stir in flour mixture, mixing just until combined. Don't over mix. Fold in chocolate chips.

Drop rounded balls of dough onto prepared baking sheet, the size of 1.5 tablespoons each (I use an ice-cream scoop). Bake for 10-12 minutes, until cookies just begin to brown at the edges, but the center is still soft. Allow to cool in pan for at least 10 minutes or until the cookies are easy to transfer without breaking. Transfer to a wire rack to cool completely.

Store cookies at room temperature in an airtight container for up to 2 days, or in the freezer for up to 2 months, then thaw overnight in the fridge.