These cookies are for when you can't decide between having a cookie or a brownie. With a rich, fudgy center and a buttery cookie flavor they are the best of both worlds.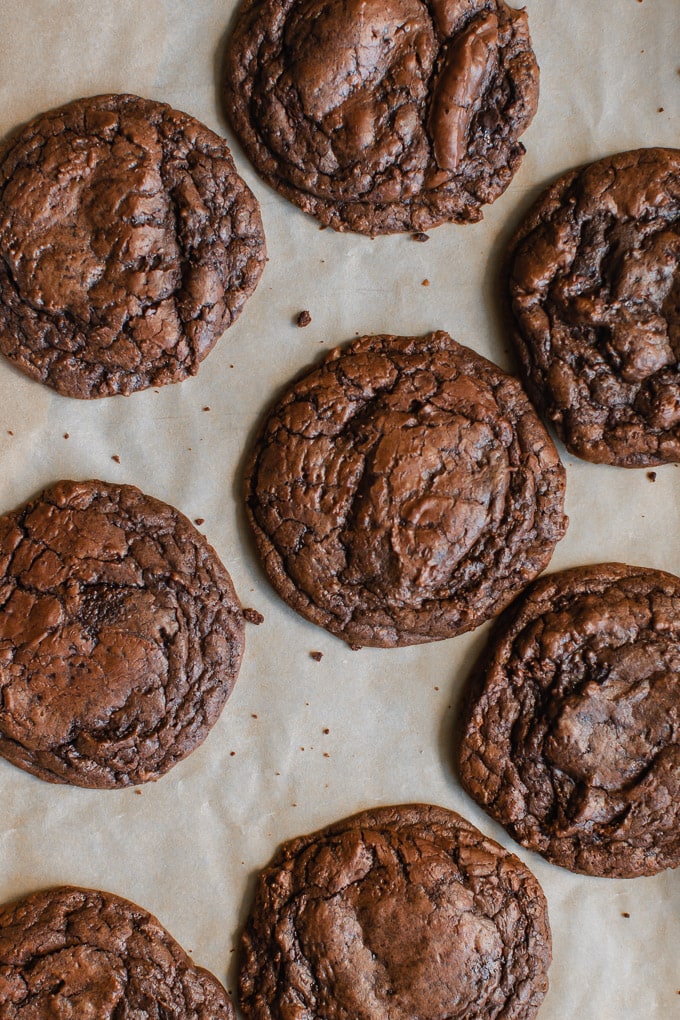 I have a bit of a cookie and brownie obsession. You'll find several recipes on my blog for brownies and cookies but this time I've combined these two sweet treats into one perfect bite. With a thick and fudgy center and a perfectly crinkled exterior, these chocolate brownie cookies are my new favorite recipe for when I can't decide what to bake.
Double the chocolate
I use both cocoa powder and chocolate in my brownie cookie recipe to get a rich chocolate flavor. I use a dark or bittersweet chocolate and I don't add a lot of sugar to the recipe because I don't want these cookies to be overly sweet. You can sprinkle the top of each cookie with flaked sea salt right before baking, which adds a bright contrast to the earthy flavors of the chocolate.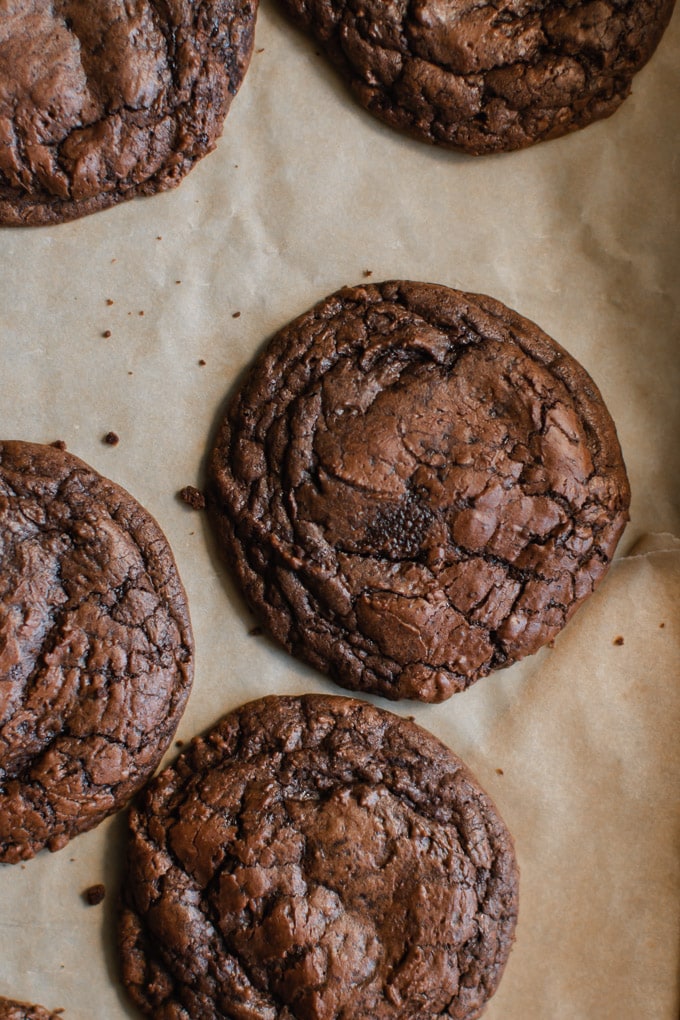 How to make brownie cookies
This easy to make recipe requires few ingredients but you do need to allow for a couple hours to chill the dough before baking. Since you want them to remain thick and fudgy and not spread in the oven, it's important to let the dough firm up and rest a bit.
The dough begins like a basic brownie recipe where you will melt the butter and chocolate together. In another bowl, whisk together the dry ingredients making sure everything is well combined. Using a stand mixer, whisk the eggs and sugar on high speed for 5 minutes. This may seem like a long time but this step is necessary to get perfect cookies. The last step is adding the chocolate and flour mixtures, one at a time, until just combined.
The dough will be very soft, which is why it needs to rest in the refrigerator for at least 20 minutes until firm. If you skip this step the brownie cookies will spread a lot in the oven and won't have a thick fudgy center.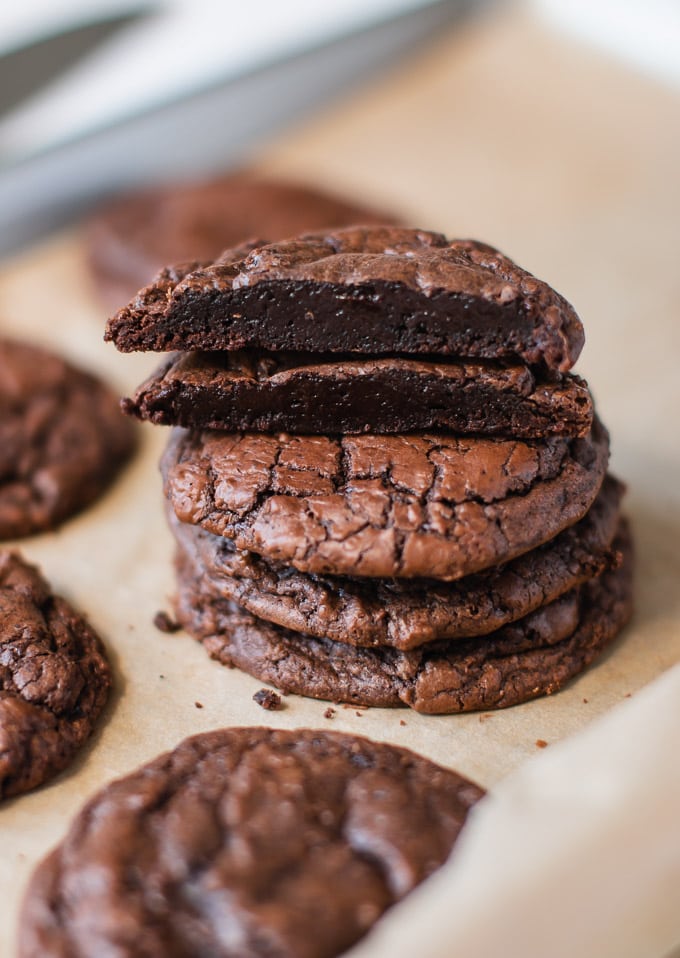 Baking the cookies
Once firm, preheat your oven to 350º F and drop rounded balls of dough onto a prepared baking sheet. I like to use an ice cream scoop (or about 2 tablespoons) to make sure my cookies are all the same size. This helps to ensure an even baking in all of the brownie cookies. If you like, you can also sprinkle some flaked sea salt on top of each cookie before baking to balance the sweetness.
It's important to keep a close eye on the cookies as they bake. Since a fudgy center is what you're looking for, the cookies can easily look underdone in the center but will firm up as they cool. I bake my cookies for exactly 12 minutes, looking for cookies with a crackly exterior that are still soft in the center. Cool on baking sheets until they are easy to handle, for at least 20 minutes, then transfer to a wire rack to cool completely.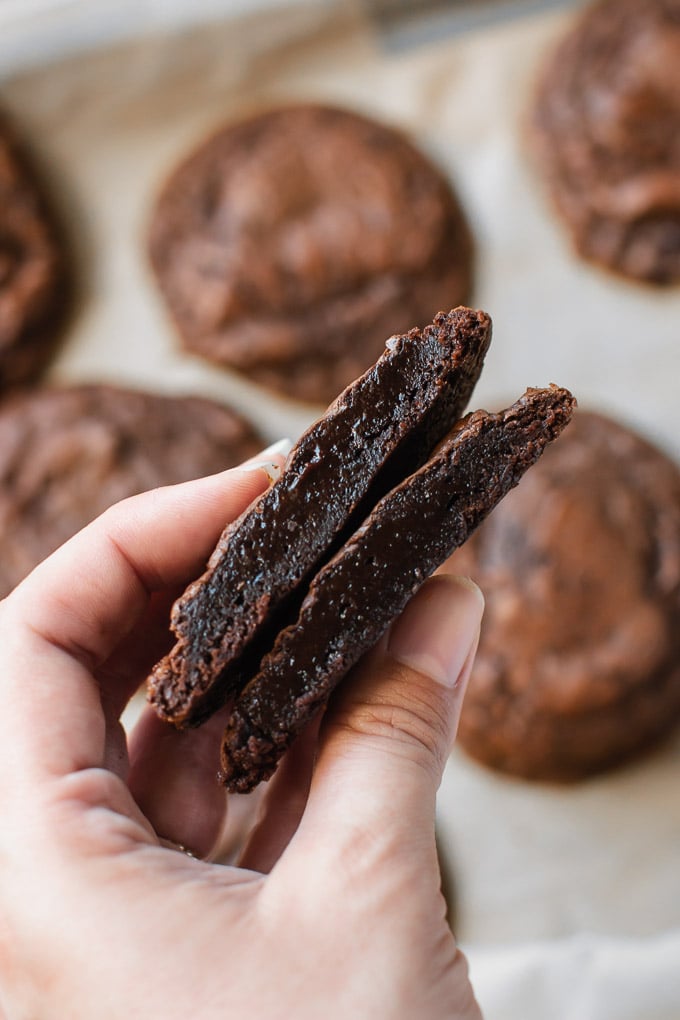 You can enjoy these cookies right out of the oven but the texture changes as they cool. The soft center firms up and becomes just like a fudgy brownie with a crackly cookie exterior. Store them in an airtight container at room temperature for up to 3 days, any longer and I would recommend keeping them in the refrigerator.
This brownie cookie recipe is for indecisive people like me who love both brownies and cookies. If you love the fudginess of a brownie but crave a buttery, melted chocolate chip cookie then these brownie cookies are perfect for you. The hardest part is waiting for the dough to chill, but I promise you it is well worth it!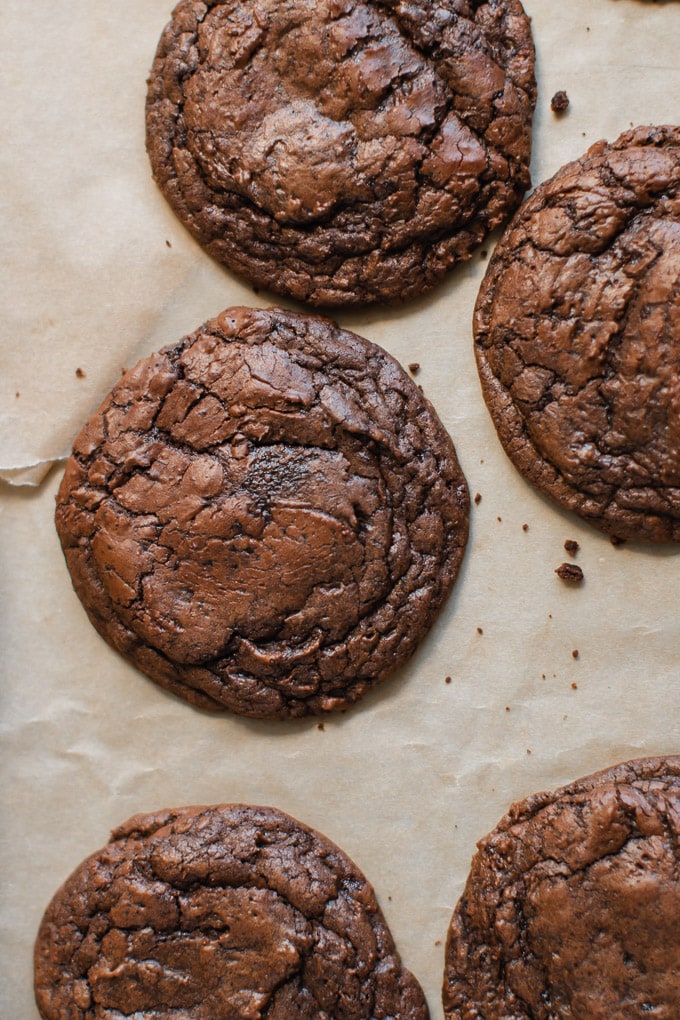 More Amazing Brownie Recipes: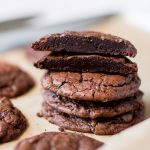 Brownie Cookies
---
Ingredients
9

oz.

(250g) dark/bittersweet chocolate

, chopped (I use 60% cocoa solids)

1/2

stick (55g) unsalted butter

1/3

cup

(48g) all-purpose flour

2

tablespoons

(13g) cocoa powder (I use dutch processed)

1/2

teaspoon

baking powder

1/2

teaspoon

salt

2

large eggs

1

cup

(200g) light or dark brown sugar
Instructions
Put butter and chocolate in a heat-proof bowl and microwave in 30-second increments, stirring between each, until melted.

In another bowl, whisk together flour, cocoa powder, baking powder and salt. Set aside.

Using a stand mixer fitted with a whisk attachment or a hand mixer, whisk eggs and brown sugar on high speed for 4-5 minutes. Add chocolate mixture and mix on low speed just until combined. Add flour mixture and mix just until combined. Use a rubber spatula to scrape the sides and bottom of the bowl. The mixture will be soft, so place it in the fridge for 20-30 minutes until it firms up a bit (if the dough stays in the fridge longer than that, it will start to lose its shine, and you're less likely to get shiny crackly cookies, however if it's not an issue for you, you can keep it in the fridge for longer or overnight).

Preheat oven to 350F/180C degrees. Line 2 baking sheets with parchment paper. Set aside.

Using an ice cream scoop drop rounded balls of dough (or about the size of 1.5 tablespoons, you should get approximately 20 cookies) onto a prepared baking sheet, leaving 3 inches between each cookie to allow spreading. Sprinkle each cookie with a little flaked sea salt, if desired.

Bake until cookies are crackly yet soft in centers, 10-12 minutes (I bake the two pans separately). Allow cookies to cool on baking sheets until they are easy to handle (they will be soft, so give it at least 20 minutes), then transfer cookies to a wire rack to cool completely.

Cookies can be stored in an airtight container at room temperature for 2 days, in the fridge for 5 days, or they can be frozen for up to 2 months. Thaw them on the counter, still covered, or overnight in the fridge.