Fudgy and thick with deep chocolate flavor, this is the ultimate brownie recipe, loaded with chewy and melty snickers bites.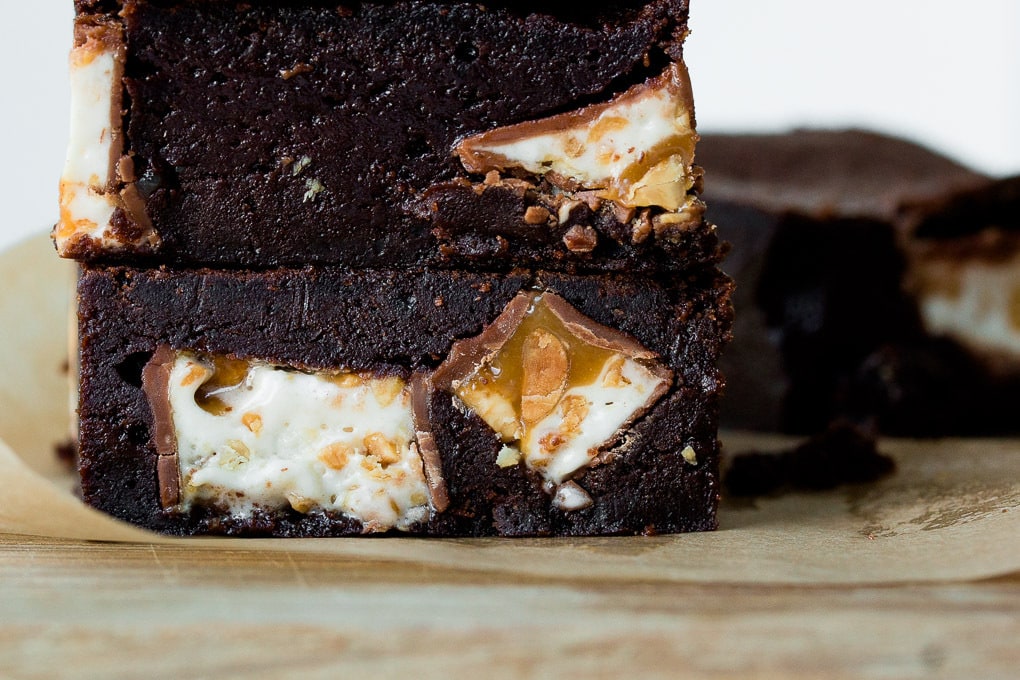 There are some big changes in my life right now, and I mean literally BIG. So if it looks like I've been eating too many brownies lately then (1) I have, and (2) I'm having a baby!
I like to connect with readers and share my daily life on my social accounts, mostly on Instagram, but most of my blog posts are focused on detailed recipe instructions and my kitchen experiences and less about my personal life. But in the last few months my life revolved around this one little thing, so I couldn't wait to share the big news with you.
These last months have been pretty overwhelming to say the least! The baby has taken most of my energy and it has forced me to take things slowly. The beginning wasn't easy and lots of strange things happened to my body, but now that I'm finally getting my energy back and my belly is getting bigger and bigger, the idea of this new life ahead of me starts to sink in and I feel happy, at peace and excited.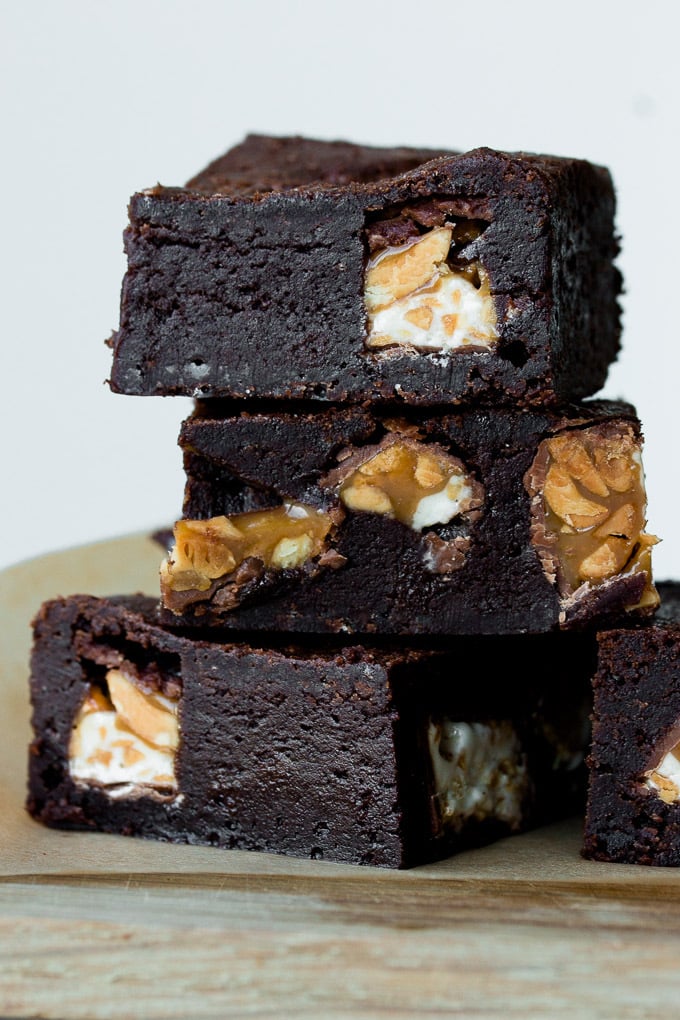 If you're here for the brownies, don't worry, we're getting there soon. I just want to share the weirdest pregnancy symptom I've been having so far that I'm sure many moms-to-be are experiencing, and that is the difference in appetite. I still enjoy food, but I'm not craving sweets as I used to. That's unfortunate because now I actually have an excuse to eat for two! I do get cravings every now and then, but most of the time, I can't eat more than one piece of cake. Weird! Usually I can eat like 5 pieces of cake in a row, and I'm not even kidding.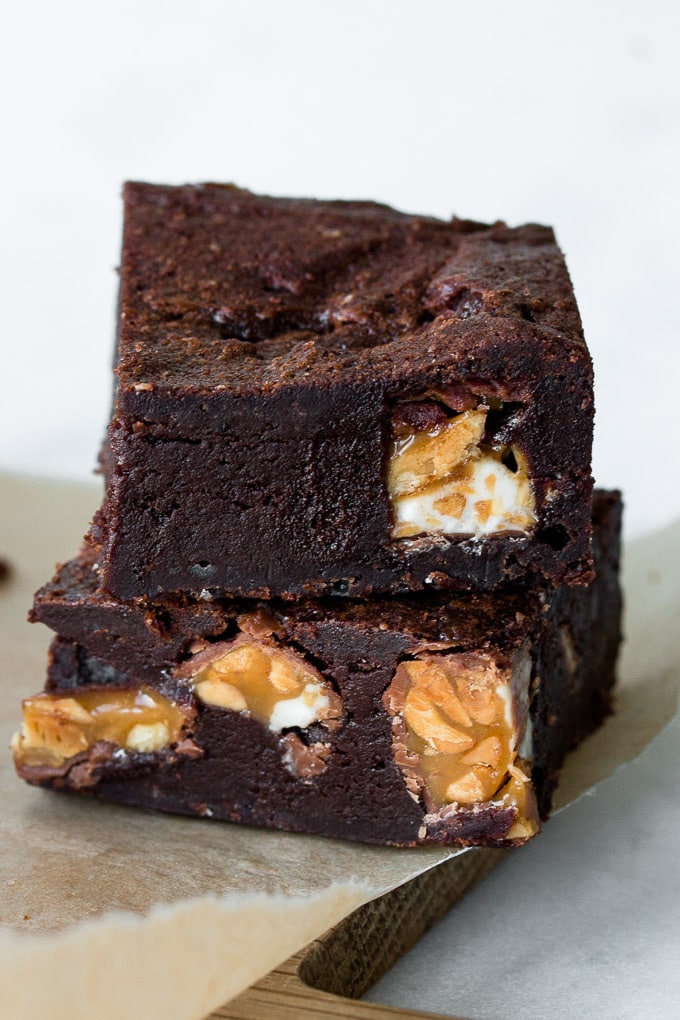 Anyway, brownies! Yesterday my mom and I talked about brownies for 10 minutes, and that made me so hungry that I needed a brownie right at that moment, so I quickly made a batch of these unbelievably delicious brownies. I had a few Snickers bars laying on my counter that were about to expire, so I threw them into the batter, and it was magic!
The brownies are thick and fudgy, with intense chocolate flavor and chewy, gooey bites of Snickers pieces. They taste out of this world! These Snickers brownies are exactly what any pregnant woman needs. Or anyone, actually.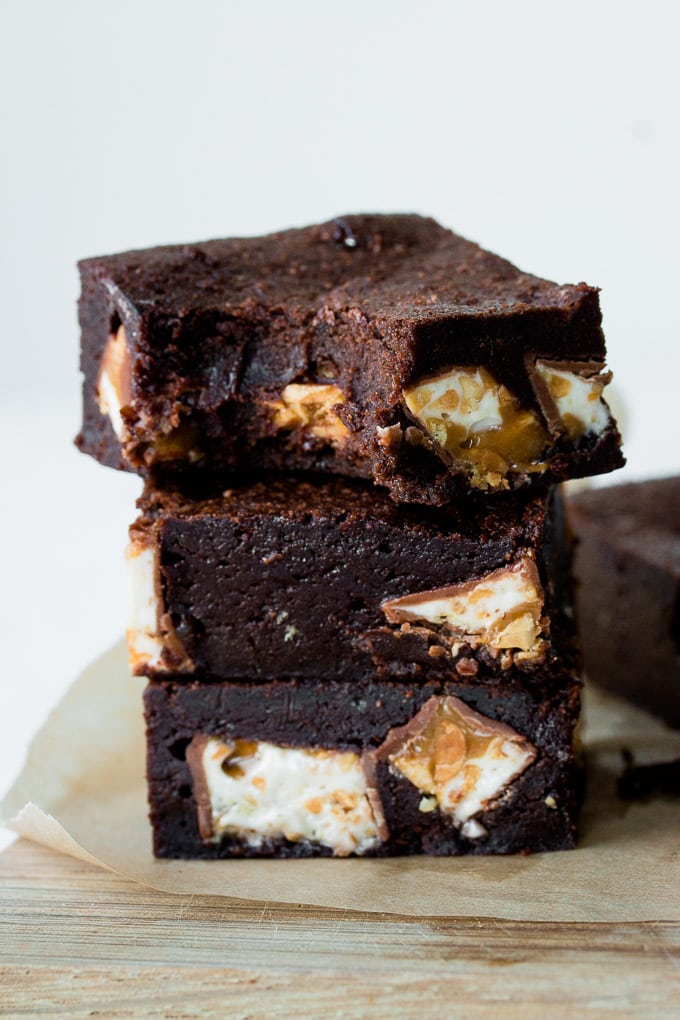 More Brownies Recipes: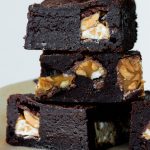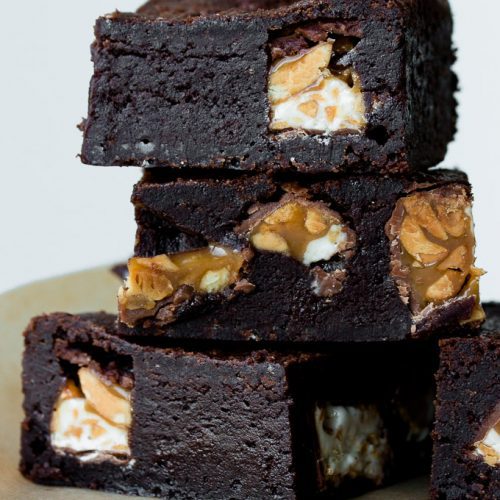 Snickers Brownies
Snickers bars can be chopped small or larger to get large chunks of Snickers in every bite. Don't chop them too large though. I usually add 2-3 tablespoons of cocoa powder along with the flour, to deepen the chocolate flavor. I use Dutch-process cocoa powder, which makes the brownies extra dark.
---
Ingredients
200 g/7 oz.

bittersweet chocolate

, coarsely chopped

150 g/5.3 oz

(1 and 1/3 sticks) unsalted butter

, cut into pieces

3/4

cup

(150 g/5.3 oz) granulated sugar

3

large eggs

1

cup

(140 g/5 oz.) all-purpose flour, sifted

1/2

teaspoons

salt

8

fun size Snickers bars (18 g each), or 2-3 large bars, cut into small pieces
Instructions
Preheat oven to 350°F/180°C. Line an 8×8-inch baking pan with parchment paper or aluminium foil, leaving enough overhang on the sides for lifting the brownies out after baking.

In a large heat-proof bowl, place chocolate and butter. Heat in the microwave in 20-30 second intervals, stirring in between each interval, until melted (or set it over a saucepan of simmering water, stirring occasionally). Add sugar to chocolate mixture and whisk until combined. Whisk in eggs, one at a time. Add flour and salt and fold, using a rubber spatula, just until combined. Do not overmix. Fold in Snickers pieces.

Pour batter into prepared pan and smooth the top. Bake for 18-22 minutes, until the edges are set but the center is still very soft. Be careful not to overbake. A toothpick inserted into the center of the brownies should come out with moist crumbs, not dry. Let brownies cool completely on a wire rack, then refrigerate until set for easy cutting. Lift brownies out of the pan using parchment paper and cut into bars.

Store brownies at room temperature or in the fridge in an airtight container for up to 4 days. Brownies can be frozen for up to 2 months. Thaw them overnight in the fridge.