These outrageous brownies are rich, fudgy and full of chocolate. Nutella gets added to both the batter and stuffed in the middle, guaranteeing a taste of my favorite hazelnut spread in every bite.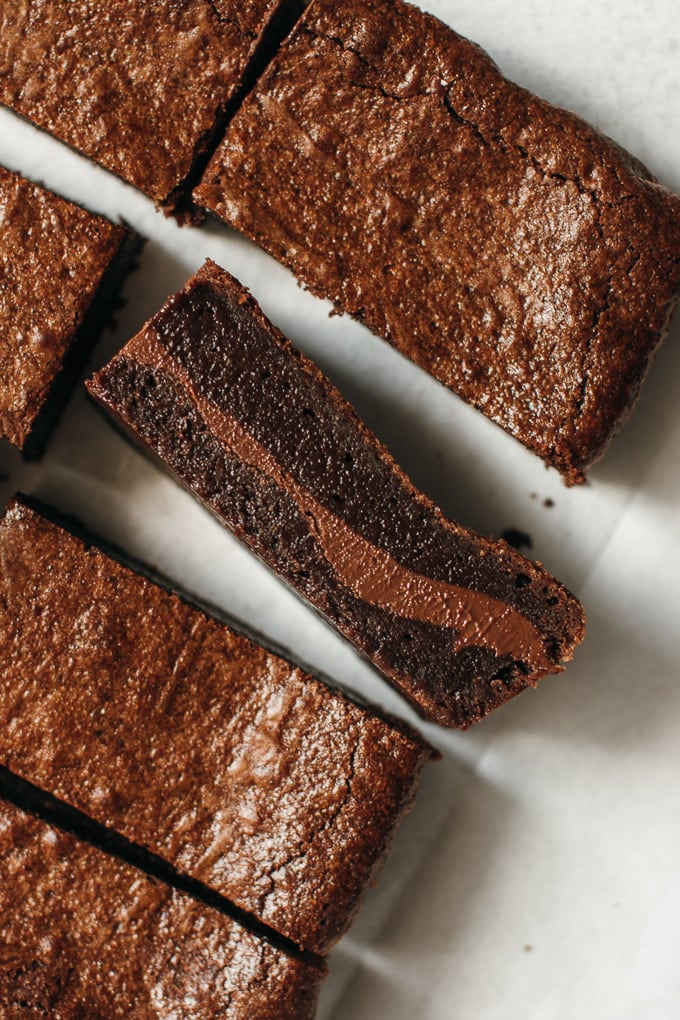 Brownies were the start of my baking journey. The first recipe I ever made by myself was brownies – a disaster in my toaster oven – and since then I have made dozens of brownies to create the best brownie recipe. I've published several brownie recipes already like my simple One-Bowl Fudgy Brownies, Snickers Brownies and creamy Peanut Butter Swirl Brownies. I love the versatility of brownies and how you can easily add other ingredients to make them even better.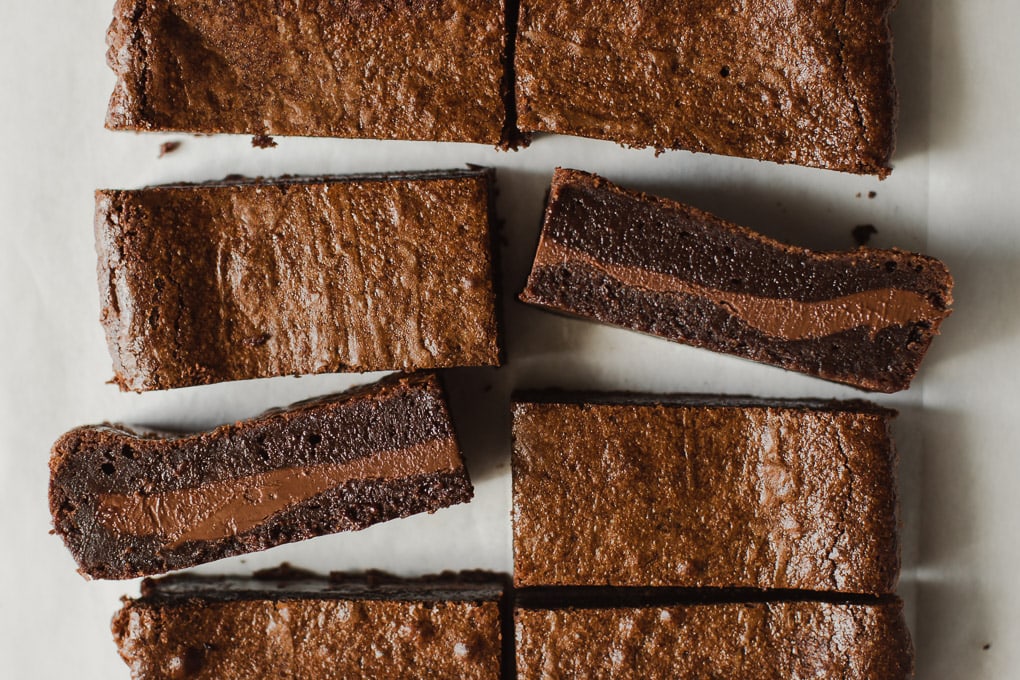 It's not a secret that I'm a fan of Nutella (I even have my own homemade Nutella recipe on the blog). I've stuffed it inside Banana Muffins, turned it into creamy frosting for Nutella Cupcakes and even made a batch of Nutella Fudge. I love the creamy, chocolatey flavor of the spread and the richness it adds to baked goods.
Once I added it to my favorite brownie recipe I found myself with a new favorite: my Best Nutella Brownies. It's a classic brownie recipe boosted with Nutella in the batter and stuffed in the middle. For any chocolate and Nutella fans like me, this Nutella brownie recipe will become your new favorite as well.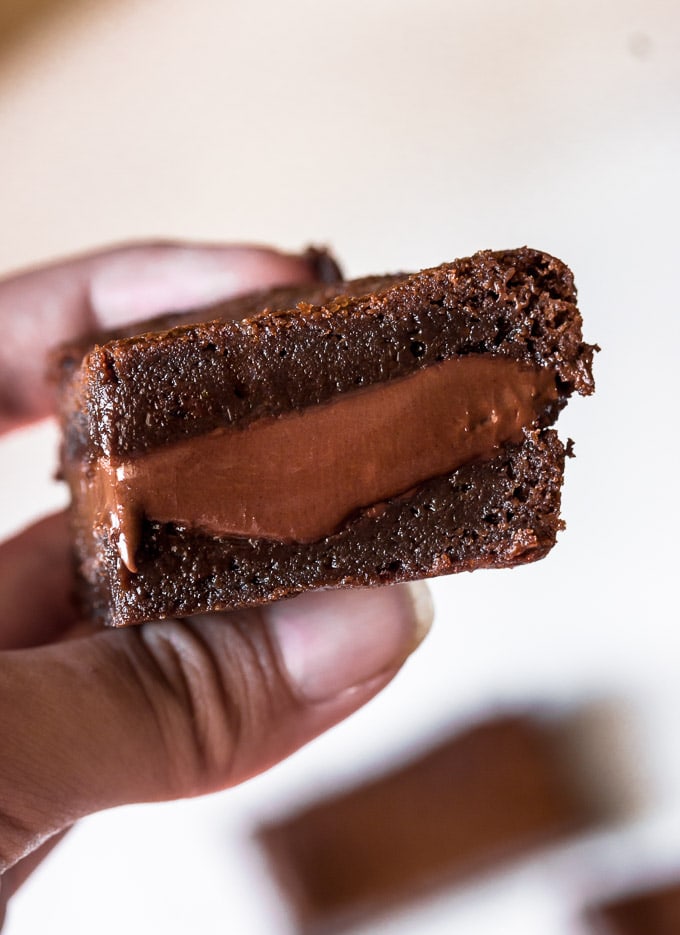 Prepare the Nutella filling
The secret to this recipe is the Nutella filling stuffed inside the batter. This layer of Nutella provides a creamy center for each brownie, giving these brownies an extra rich and fudgy texture. You'll need to do this at least an hour in advance of baking the brownies so the Nutella has a chance to firm up to be placed in the middle of the brownies.
To begin, you will spread 350g of Nutella onto an 8×8-inch pan lined with parchment paper and place it in the freezer for 1 hour or until firm. If using the same pan for baking the brownies, you will need to transfer the frozen Nutella onto a plate and put it back in the freezer while preparing your batter. Otherwise, keep the Nutella in the freezer until the final step before baking.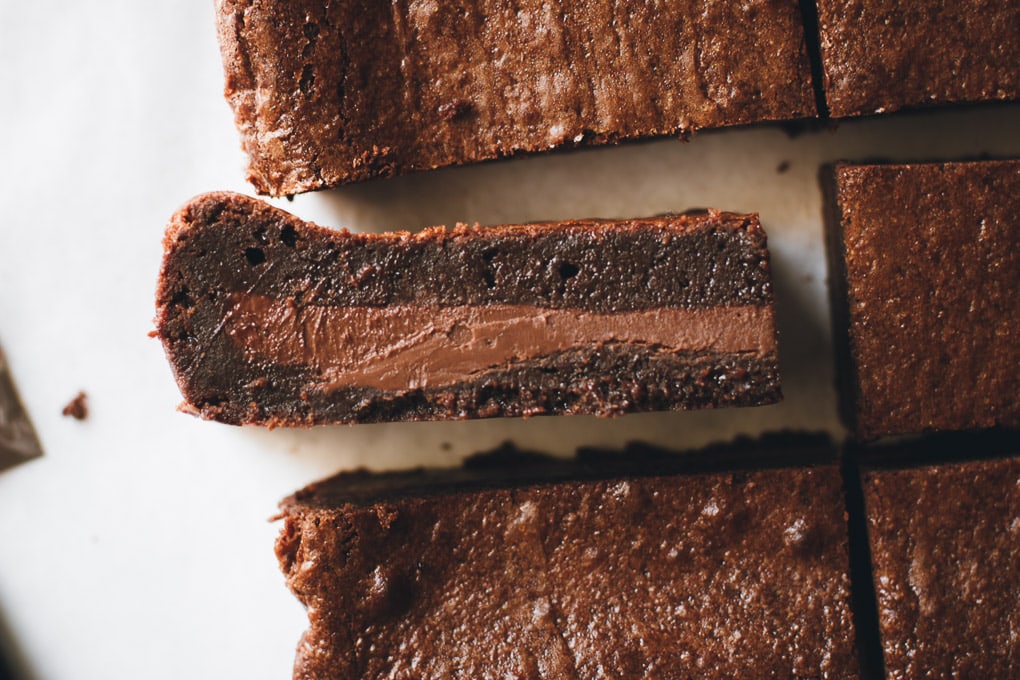 How to make Nutella Brownies
After preparing the Nutella layer you can move on to the brownies. I use my favorite brownie recipe in this Nutella brownie recipe, adding in some Nutella to the batter. It's an easy one-bowl recipe that has you melt the chocolate, butter and Nutella (you can do this in a microwave or in a saucepan over simmering water). Once combined, you add in your sugar, eggs, flour and salt and fold until just mixed. You don't want to overmix your batter as that results in tough, dense brownies and not the rich and moist ones that you want in these best Nutella brownies.
With the batter made, it is time to add in the Nutella filling. Pour half of the batter into the pan, smoothing the top so that it is flat. Add the solid Nutella layer followed by the rest of the brownie batter.
Bake the brownies for 25-30 minutes, or until a toothpick inserted into the center comes out with moist crumbs. It won't come out clean since these fudgy brownies are extra gooey from the added Nutella in the middle.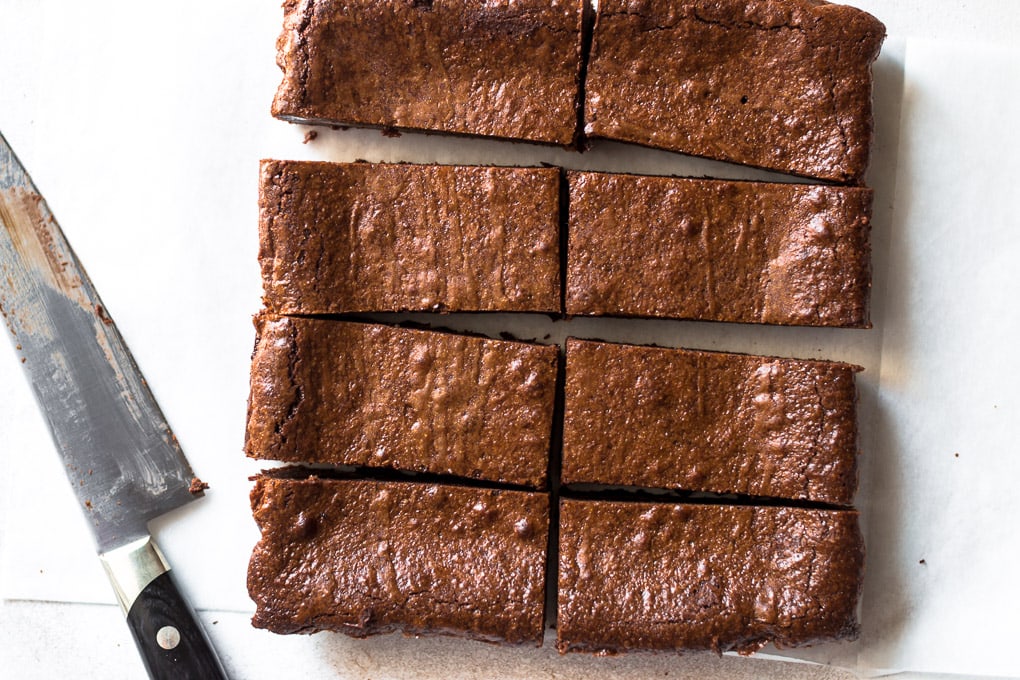 You will need to refrigerate your Nutella brownies for at least 4 hours, to ensure the Nutella center sets and won't run out when you cut into them. Once cooled, you can now slice them into 16 squares but be sure to store any leftovers in an airtight container in the refrigerator. Since they have more than a cup of Nutella in them, you'll want to make sure they stay fudgy and moist and not a melted mess.
For my Best Nutella brownies I take no shortcuts in using Nutella in every step of the process! From mixed into the batter to having a Nutella layer in the middle, these Nutella brownies are guaranteed to satisfy any Nutella craving. The added moisture makes these brownies outrageously rich, fudgy and gooey – exactly what you want in the perfect brownie. With these Nutella brownies, I have definitely improved my brownie baking skills than with the first batch in my toaster oven!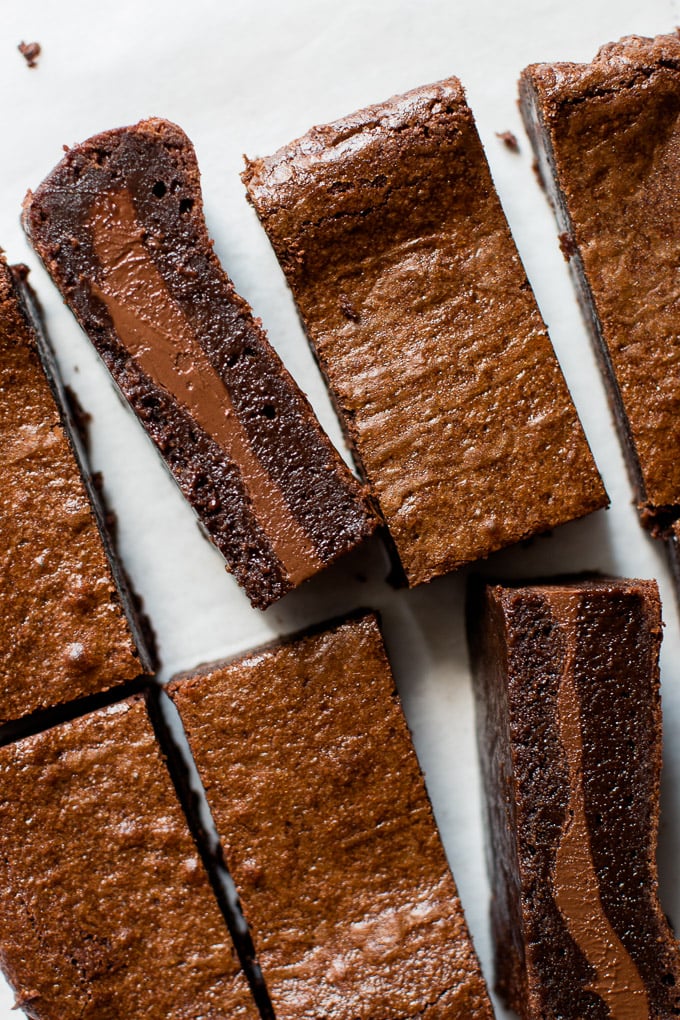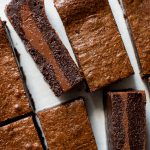 Nutella Brownies
---
Ingredients
1

cup

plus 2 tablespoons (350g) Nutella

200

g/7 oz. dark/bittersweet chocolate

, coarsely chopped

200

g/7 oz. unsalted butter

, cut into pieces

1/2

cup

(150g) Nutella

3/4

cup

plus 2 tablespoons (175g) granulated sugar

3

large eggs

3/4

cup

(105g) all-purpose flour

1/2

teaspoons

salt
Instructions
Spread 350g Nutella onto a 8×8-inch pan lined with parchment paper. Freeze for 1 hour or until firm. Remove frozen Nutella with the paper onto a plate, and put back into the freezer (you only need to do this if you want to use the same pan for the brownies. If you have another pan, you can use it instead).

Preheat oven to 350°F/180°. Line the 8×8-inch pan with parchment paper or aluminum foil, leaving enough overhang on the sides for lifting the brownies out after baking.

In a large heat-proof bowl, place chocolate, butter, and nutella and melt in the microwave in 20-30 second-intervals, stirring in between each interval, until melted (or, set it over a saucepan of simmering water, stirring occasionally). Add sugar and whisk until combined. Add eggs, one at a time, and whisk vigorously for a few times until well combined. Add flour and salt and fold, using a rubber spatula, just until mixed.

Pour half of the batter into the prepared pan and smooth the top. Remove frozen nutella from the paper and place on top. Top with the rest of the brownie batter.

Bake for 25-30 minutes. A toothpick insterted into the center of the brownie should come out with moist crumbs, but this will be a bit tricky to tell because of the liquid Nutella in the middle. If your baked goods are usually baked quickly then bake for 25 minutes, otherwise bake for 30 or even 35 minutes.

Refrigerate for at least 4 hours until set, then slice into 16 squares.

Because the brownies are fudgy, it's better to keep them in the refrigerator, in an airtight container, for up to 3 days. They can also be frozen for up to 2 months. Thaw them overnight in the fridge.