This is my favorite butter cookie recipe. Buttery and crumbly, with a melt-in-your-mouth texture. So delicious and super easy to make!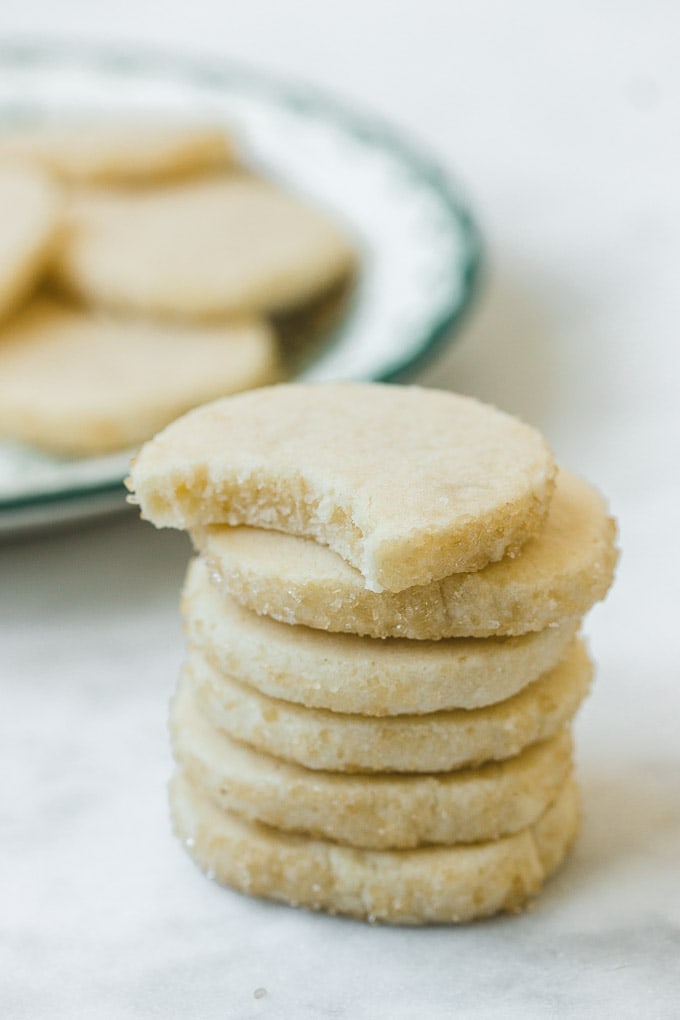 My favorite thing to do in the kitchen is take a simple classic recipe and make it again and again and again until it's perfect. And to me, perfect cookies mean soft rather than crunchy and big on flavor. Butter cookies may not sound like the most exciting cookies, but they're so satisfying when eaten with a cup of coffee. This leads to my recent experiment, making different butter cookie recipes and figure out how to make this simple cookie really really good.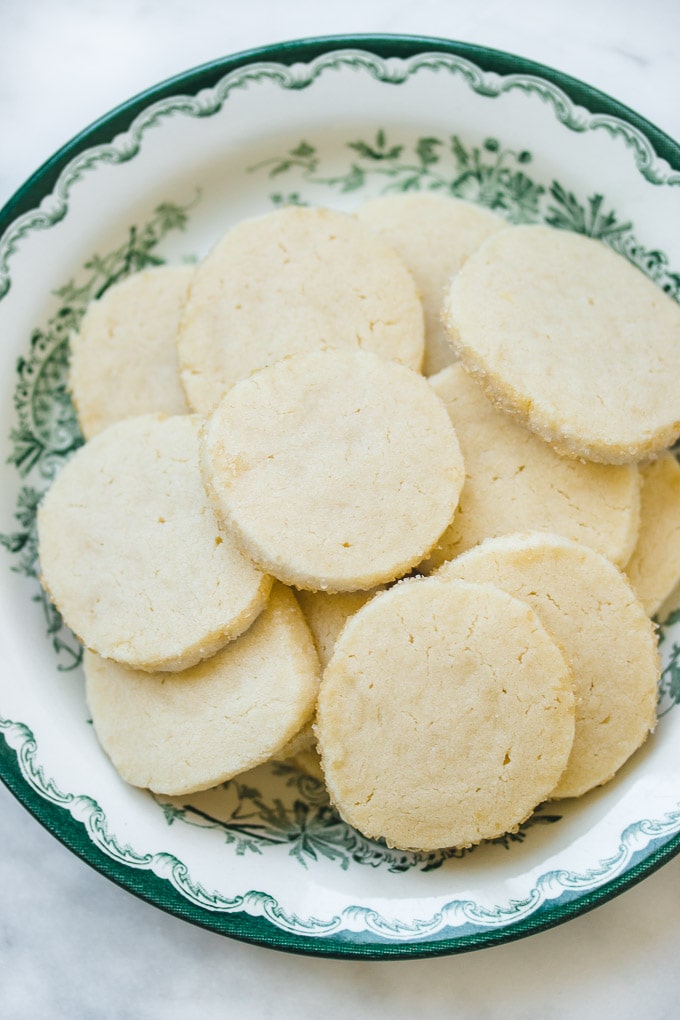 Ingredients
To make classic shortbread or butter cookies you only need flour, butter, and sugar. To make them more flavorful but still keep things simple I add vanilla extract and a bit of salt. I also use egg yolk and powdered sugar. These 2 ingredients make the cookies extra tender with a melt-in-your-mouth texture. You can add lemon or orange zest for a refreshing twist.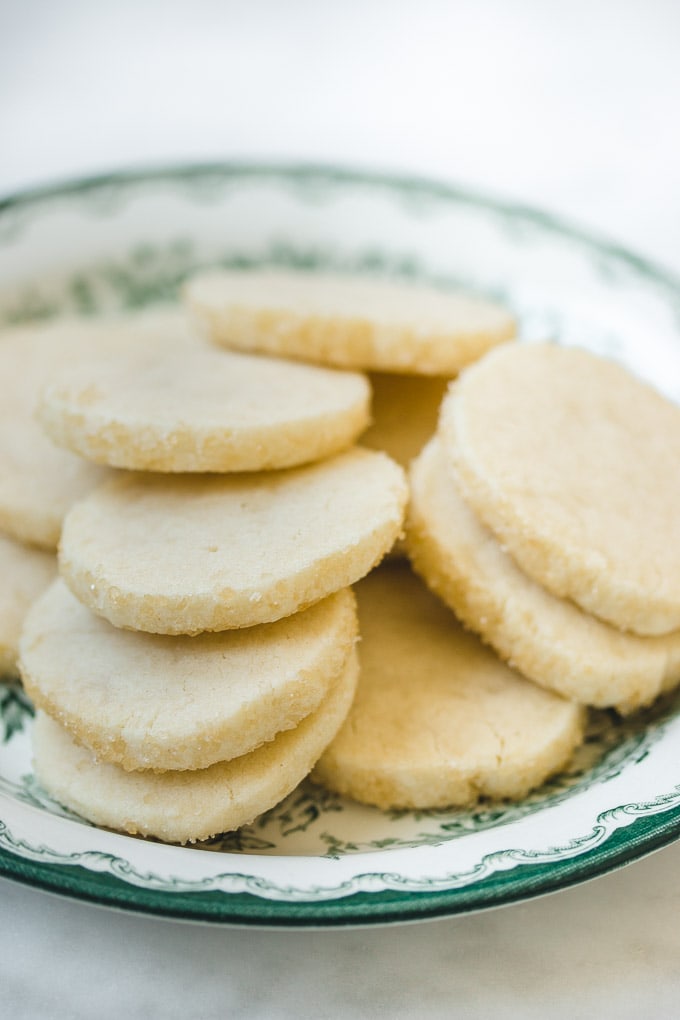 How to Shape The Cookies
An easy method is to shape the dough into a log, refrigerate, then slice into rounds. My cookies were about 1.5-inch in diameter and 1/4-1/2 inch thick, and they were ready in about 10 minutes. You can make smaller rounds for mini cookies and bake them for less time. Depending on your oven and the size of your cookies, they may need longer or shorter baking time. If over baked, they will lose their tenderness.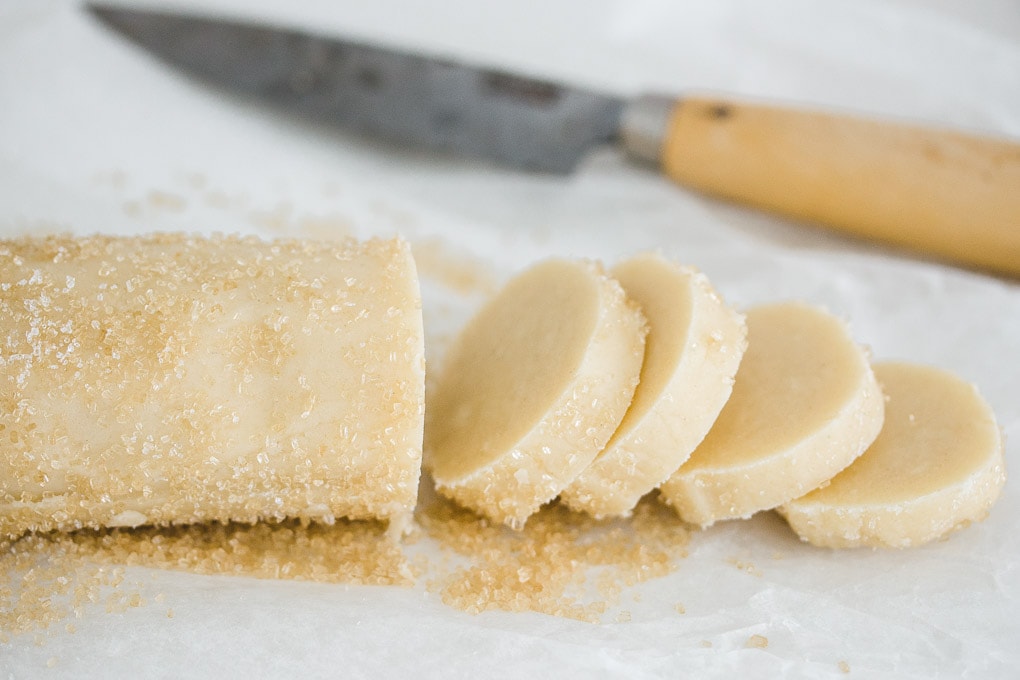 Refrigerate the Dough
Refrigerating or freezing the dough logs can help cut them into neat rounds, and freezing especially will keep the cookies from spreading during baking. After shaping the dough into logs, you can refrigerate them for up to 3 days before baking or freeze for up to several weeks if you don't want to bake it right away.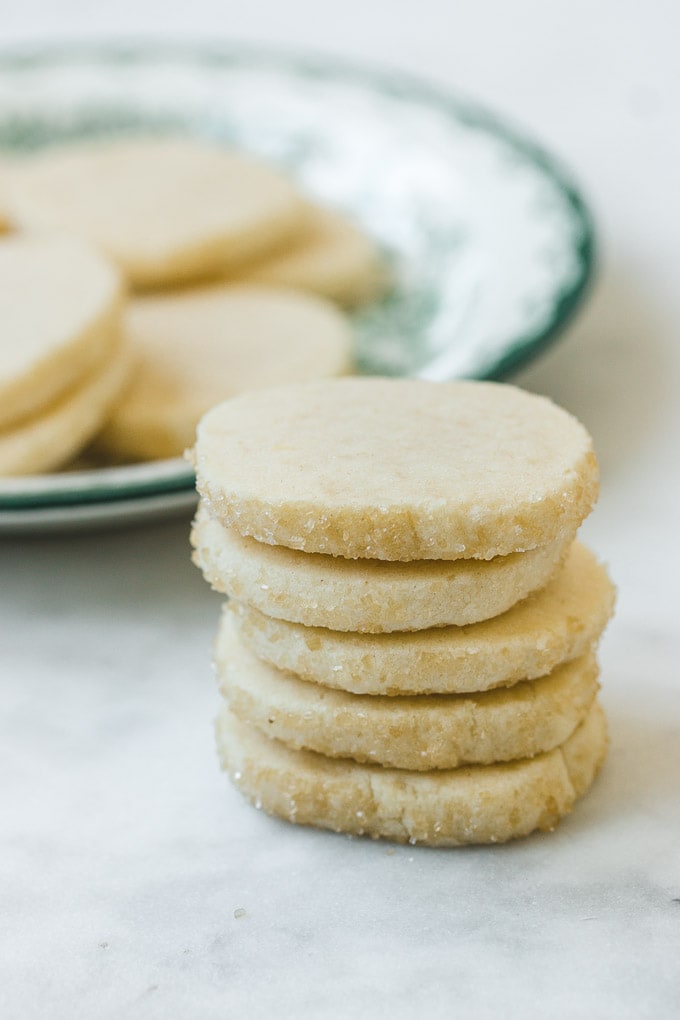 More Delicious Buttery Cookies:
Melt-in-Your-Mouth Cookies
Lemon Cookies
Amazing Chocolate Sable Cookies
Super Soft Sugar Cookies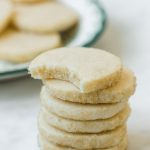 Butter Cookies
---
Ingredients
200g

(1 and 3/4 sticks) unsalted butter, softened to room temperature

1

cup

(115g) powdered sugar

1/4

teaspoon

salt

1

large

egg yolk

1

teaspoon

pure vanilla extract

2

cups

plus 2 tablespoons (300g) all-purpose flour, sifted

Demerara sugar, for rolling, optional
Instructions
In a mixer bowl fitted with the paddle attachment, beat butter, powdered sugar, and salt on medium speed for 2 minutes until creamy. Add egg yolk and vanilla extract and beat for about 30 seconds until combined. Add flour and beat on low speed just until combined. Do not over mix the dough. If dough is too dry, add water, 1-2 teaspoons at a time. To check if the dough is done, take a piece of dough and press it between your thumbs – the dough should stick well together without feeling dry.

On a lightly floured surface, work the dough until it comes together, then divide in half. Shape each half of dough into a log that is 1.5 inches in diameter. Roll logs into demerara sugar (if the dough is too soft and hard to handle, do this after refrigeration). Wrap logs in plastic wrap and refrigerate or freeze for at least 1-2 hours until firm. Dough can be left in the refrigerator for up to 3 days or in the freezer for 2 months.

Preheat oven to 350F/180C. Line 2 pans with parchment paper.

Once the dough is cold enough, and use a sharp knife to slice the logs into 1/4 to 1/2-inch thick rounds. If the dough is too crumbly and breaks, leave it for a few minutes to soften and squeeze any broken bits back into each cookie.

Arrange cookies on prepared baking sheets, placing them 2 inches apart. Bake for 10-12 minutes or until slightly golden brown around the edges. When done, the cookies should appear soft and bright. Allow cookies to cool on a wire rack.

Store cookies at room temperature in an airtight container for up to 5 days or in the fridge for up to 2 weeks, bringing to room temperature before serving. Cookies can also be frozen for up to 2 months.