With an intense chocolate flavor, these classic French cookies are crumbly, tender, and take shortbread to a whole new level.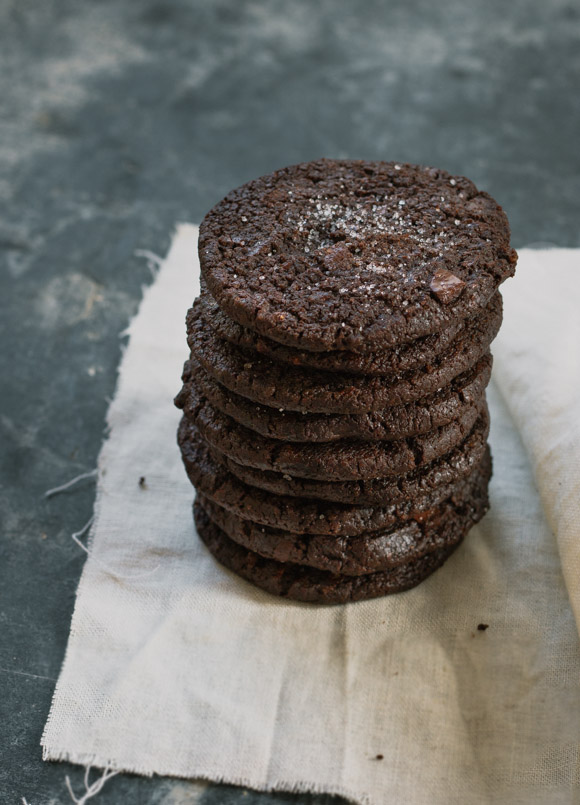 The first time I tasted chocolate sable cookies, I wasn't actually in France, but in Miette's Bakery in San Francisco. It was love at first bite, and let me tell you why. I'm usually not dying over "regular" butter cookies because, although I find them nice next to my morning coffee, they don't blow my mind. These cookies, though, are quite tender with an intense salty chocolate taste throughout. The flavor is a knock out!
Fast forward a few years and 30 cookies later (tasting them from more amazing places such as Balthazar and Pierre Herme), and I've finally made these cookies at home. My friend was asking me the other day why don't I ever make butter cookies so she has something to snack on alongside the coffee, and every time someone asks me why I don't ever make something, the next morning I will. Get what I mean?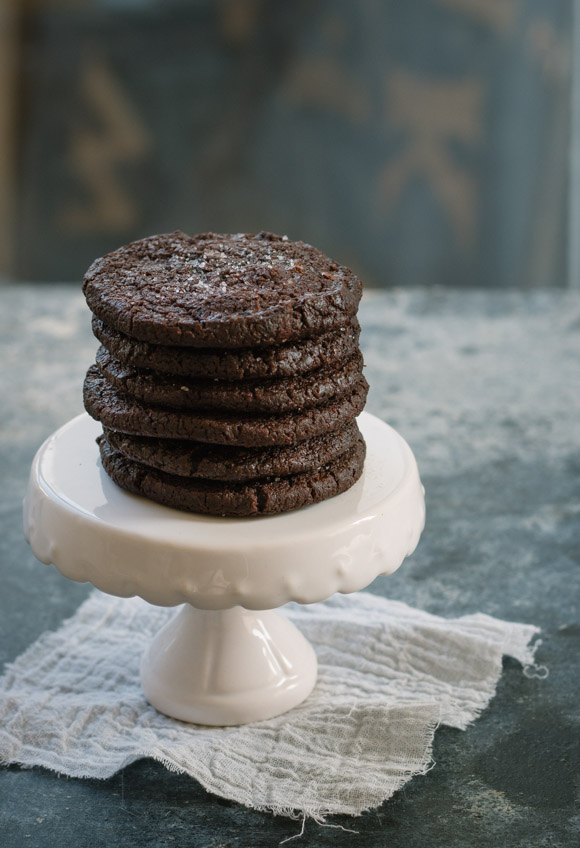 Sable means sandy in French, which is a perfect description of this cookie's crumbly yet delicate texture. The less you work with the dough, the more tender and delicate the cookies will be. They are basically shortbread cookies with a deep, intense chocolate flavor – the absolute best part of this recipe. Not only is cocoa added, but also grated chocolate. These cookies are not too sweet. In fact, you can feel the saltiness in every bite, which enhances the chocolate's bitterness and flavor. Good quality chocolate, about 70% cocoa, will work best here. Baked chocolate goods are all about the chocolate. I didn't want to believe it for quite some time, being the simple girl that I am, but it honestly does make a difference.
These cookies are very simple to make. The only thing that takes some time here is grating the 100g of chocolate. As I've already mentioned, though, this what gives the cookies a unique chocolaty taste, so don't despair; it really isn't that bad at all. Still, if you're really not up to it, there's also the option of cutting the chocolate into very small pieces, like mini chocolate chips.
Now, a word about the salt: I won't dive into why sea salt is better in this case than other varieties, such as table salt, but I will say that sea salt kind of has a "cleaner" and "sweeter" taste that better compliments baked goods. You can use either ¼ teaspoon fine sea salt, or ½ teaspoon coarse sea salt. You can also use ½ teaspoon of 'fleur de sel', which is a flaky sea salt that's considered to be of high quality.
There are 2 options to shape the cookies. The first one is mentioned in the recipe: shape the dough into a log, refrigerate, then slice into rounds (imagine slicing bread). I find this process to be the easiest. The second option is to roll out the dough on a floured surface until it's ½-inch thick, then cut the dough into squares using a knife (or use a cookie cutter to cut any shape you like). If you shape the cookies to a different size than what's mentioned in the recipe, make sure to adjust the baking time accordingly. My cookies were about 1-1.5 inch in diameter and ½ inch thick, and they were ready in 10 minutes. If over baked, they will lose their tenderness.
This recipe is adapted mostly from Miette's recipe, but also from Pierre Herme and Dorie Greenspan's, the latter of which uses more butter and sugar and doesn't grate the chocolate. They actually refer to these cookies as 'world peace cookies' and I can totally get why.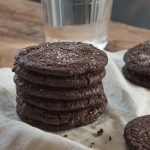 Chocolate Sable Cookies
With an intense chocolate flavor, these classic French cookies are crumbly, tender, and take shortbread to a whole new level.
Ingredients
1

cup

(140 grams/5 ounces) all-purpose flour

⅓

cup

(30 grams/1 ounce) natural unsweetened cocoa powder

½

teaspoon

baking soda

½

cup

(1 stick/113 grams) butter, at room temperature

⅓

cup

(65 grams/2.3 ounces) granulated sugar, plus more for sprinkling

⅓

cup

(65 grams/2.3 ounces) light brown sugar (or granulated sugar)

¼

teaspoon

fine sea salt

(see post for substitutions)

¾

teaspoon

pure vanilla extract

3 ½

ounces/100 grams high-quality bittersweet chocolate

, grated
Instructions
In a medium bowl, sift together flour, cocoa, and baking soda. Set aside.

In a mixer bowl fitted with the paddle attachment, beat the butter on medium speed for 30 seconds until creamy. Add sugars, salt, and vanilla and beat for 2 more minutes until smooth. Add flour mixture and grated chocolate, and beat on low speed just until combined and the mixture is crumbly with large pieces of dough. Work the dough as little as possible, being careful not to over mix.

On a lightly floured surface, work the dough until it comes together, then divide in half. Shape each half of dough into a log that is 1-1.5 inches in diameter. Wrap logs in plastic wrap and refrigerate or freeze (my preference) for at least 30 minutes. Dough can be left in the refrigerator for up to 3 days or in the freezer for 2 months.

Preheat oven to 350F/180C. Line 2 pans with parchment paper.

Once the dough is cold enough, use a very sharp knife to slice the log into ½-inch thick rounds. If the dough is too crumbly and breaks, leave it for a few minutes to soften or just squeeze any broken bits back into each cookie.

Arrange cookies on prepared baking sheets, placing them 1-2 inches apart from each other. Sprinkle lightly with granulated sugar. Bake for 10-12 minutes. When done, the cookies should still appear quite soft, not firm. Allow cookies to cool on a wire rack.

Serve cookies warm or at room temperature.

Store cookies at room temperature in an airtight container for up to 5 days. Cookies can be frozen for up to 2 months.