Brownie-like chocolate cookies with shiny crunchy tops and chewy fudgy centers. A must have recipe for chocolate lovers!
When I started this blog, I planned to post every week without exception, but let's just say I underestimated the time it actually took to prepare each post. Some of you asked me how much time it takes for me to create a post, and the truth is that there are many stages that go into making it happen.
Here is what typically goes into writing a post:
Come up with a recipe, bake it, taste it.  Make some improvements (I'm a perfectionist  – I can't help myself) to the recipe and bake it again and sometimes again and again.
Take pictures and only afterwards realize the lighting isn't good enough. Move the furniture all over the house and make a total mess, just to find that perfect natural lighting spot.
Clean up the mess and wash dishes. This deserves an entire bullet point of its own.
Edit the photos.
Write the post. Write the recipe. Review it over and over again to make sure it's precise. English isn't my first language, so it can take a while.
Upload the post, upload photos. Review it.
My favorite part – share it with you!
This week I had a hard time coming up with a new recipe since I was distracted by other things. So instead of sharing with you one of my originals, I decided to bake a classic. A recipe I know and trust, and these chocolate cookies by Martha Stewart are exactly that.
The cookies are almost like a brownie because they are soft, fudgy and chewy. The chocolate is the main ingredient here, so basically nothing can go wrong. They are the best fudgy chocolate cookies I've ever had.
How To Make These Cookies
Start by melting chocolate and butter in the microwave in 20-second intervals, stirring between each, until melted. Be careful with overheating because it can burn the chocolate. Set it aside. In a mixer bowl, beat the eggs, sugars and vanilla on medium speed until light and fluffy, 2-3 minutes. On low speed, beat in the chocolate mixture (make sure it's not very hot). Add the dry ingredients and mix just until combined. You can add 1 cup of chocolate chips/chunks, but I prefer it plain for pure fudginess.
The secret to bake these cookies to the best texture possible is to slightly underbake them. Overbaking will make them dry and tasteless. My cookies were exactly 1.5 tablespoons in size (I used this ice cream scoop) and took about 9 minutes to bake. The cookies should be shiny and crackly, but still soft in the center. Allow cookies to cool for a few minutes before you move them to a wire rack to cool completely, so they won't break.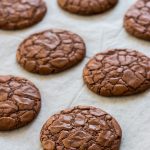 Fudgy Chocolate Cookies
---
Ingredients
8

oz/225 g semisweet chocolate

, roughly chopped

4

tablespoons

(1/2 stick/57 g) unsalted butter

2/3

cup

(90 g/3.2 oz) all-purpose flour

1/2

teaspoon

baking powder

1/2

teaspoon

salt

2

large eggs

3/4

cup

(150 g/5.3 oz) packed light brown sugar

1

teaspoon

pure vanilla extract
Instructions
Preheat oven to 350F/175C degrees. Put butter and chocolate in a heat-proof bowl and microwave in 20-second increments, stirring between each, until melted. Do not overheat.

In another bowl, whisk together flour, baking powder and salt.

In a mixer bowl, beat eggs, brown sugar, and vanilla on high speed until light and fluffy. Beat in melted chocolate on a low speed. Mix in flour mixture just until combined. If the batter is too runny, place it in the fridge for 30-60 minutes until it firms up a bit.

Drop heaping tablespoons of dough 2 to 3 inches apart onto baking sheets lined with parchment paper. Bake until cookies are shiny and crackly yet soft in centers, 9 to 12 minutes. Cool on baking sheets for 10 minutes. Transfer to a wire rack to cool completely.

Cookies can be stored in an airtight container at room temperature for up to 3 days, or they can be frozen for up to 2 months. Thaw them on the counter, still covered, or overnight in the fridge.
 Recipe adapted from Martha Stewart