The world is divided into two groups of people: those who love chocolate and those who well… just don't.  I remember when one day I handed a friend a bowl filled with fudgy, tempting, irresistible looking brownies and you know what she said to me? "Nahhh, I don't like chocolate".
PAUSE. What the fudge?! I mean, honestly, who can possibly not like chocolate?
This post is dedicated to those of you who are just like me. Those who know that when you feel like you have nothing left in this world, you can always rely on chocolate to comfort you. And I am not talking about just any chocolate. I am talking about rich, mouthwatering, fudgy chocolate. BROWNIES.
The recipe I would like to share with you today is simple and it's one of my favorites. Follow it step by step and you will end up with a fudgy, dense brownie with a shiny, crackly top. For best results, use high quality chocolate. Plus they make the best mini brownies that are the perfect little treat!
You will need a large heat-proof bowl. Just ONE BOWL for these babies. No mixer involved.
Start by melting chocolate, butter, cocoa and coffee granules together in the microwave. You can also do this by using the double boiler method if you prefer (or understand what I mean) but microwaving is just fine. Put the bowl in the microwave for 30 seconds, then take it out and stir. Repeat this 2-3 more times in 20-seconds intervals, until the batter melts and is smooth. By stirring the mixture, the chocolate continues to melt from the heat.
Next, whisk in the sugar by hand. Then, whisk in the eggs, one at a time just until incorporated. After that, stir in the vanilla. Finally, sift in the flour and salt and fold as little as possible, just until mixed.
The most crucial part of making perfect brownies is knowing when to take them out of the oven. Even if you use the exact same recipe every time, each time you make brownies, the baking time might differ slightly.
As they bake, the brownies should develop a nice shiny crust top. They should be done in about 20 minutes. Insert a toothpick into the center of the brownies to check for doneness. It should not come out clean, rather with just a few moist crumbs on it. If the consistency is still liquidy it is not done. If the toothpick comes out clean, take the brownies out of the oven immediately (you risk over cooking them).
What I love about these brownies is that they cut out beautifully. Let them cool completely before you cut them. I leave mine on the counter for one hour and then put them an additional hour in the fridge to allow them to firm up a bit (remember how fudgy they are?). For a flawless cut, take the sharpest knife you have and dip it into a cup of boiling hot water and then cut. Repeat this, dipping the knife between each cut.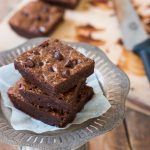 One-Bowl Fudgy Brownies
---
Ingredients
4

ounces

(115 grams) bittersweet chocolate, coarsely chopped

1/2

cup

(1 stick or 113 grams) butter, cut into small pieces

1

tablespoon

unsweetened cocoa powder

(optional)

1

teaspoon

instant coffee granules

(optional)

3/4

cup

(150 grams or 5.3 ounces) granulated sugar

2

large eggs

1

teaspoon

vanilla extract

1/2

cup

plus 1 tablespoon

(75 grams or 2.7 ounces) all-purpose flour

1/2

teaspoon

salt
Instructions
Preheat the oven to 350F/180C. Line an 8x8-inch baking pan with parchment paper, leaving enough overhang on the sides for lifting the brownies out after baking.

In a large heat-proof bowl, put the chocolate, butter, cocoa and instant coffee granules and melt in the microwave in 20 second-intervals, stirring in between each interval, until melted (or set it over a saucepan of simmering water, stirring occasionally). Add the sugar and whisk until combined.

Add the eggs, one at a time, and whisk just until combined. Add the vanilla and stir.

Sift the flour and salt over the chocolate mixture and fold, using a rubber spatula, just until mixed. Do not overmix.

Pour the batter into the prepared pan and smooth the top. Bake for about 20 minutes or until a toothpick inserted into the center of the brownies comes out with a few moist crumbs. Let the brownies cool completely, then lift them out of the pan using the parchment paper and cut into squares.
Recipe Notes
-You can double the recipe and use a 9×13-inch pan. Bake for 25-30 minutes.
-Store brownies at room temperature in an airtight container for up to 3 days.
-Brownies can be frozen for up to 2 months. Thaw them on the counter, still covered, or overnight in the fridge.