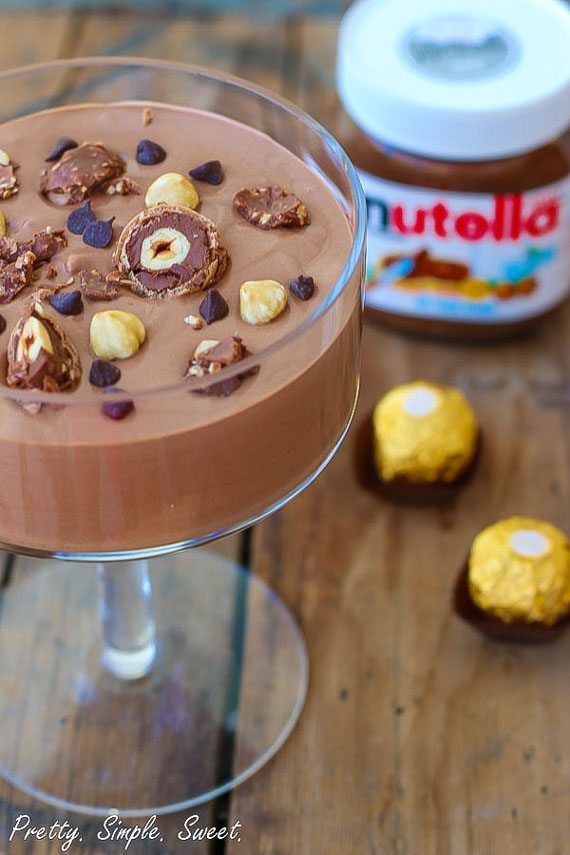 I have no words to describe my love to Nutella. You can find me at midnight eating nutella out of the jar by the spoonful, as if it were a pint of Ben & Jerry's Ice cream. I'm sure you do the same thing, right?
The 2 ingredient recipe for nutella mousse is just brilliant.
Nutella + a light, silky whipped cream = happy times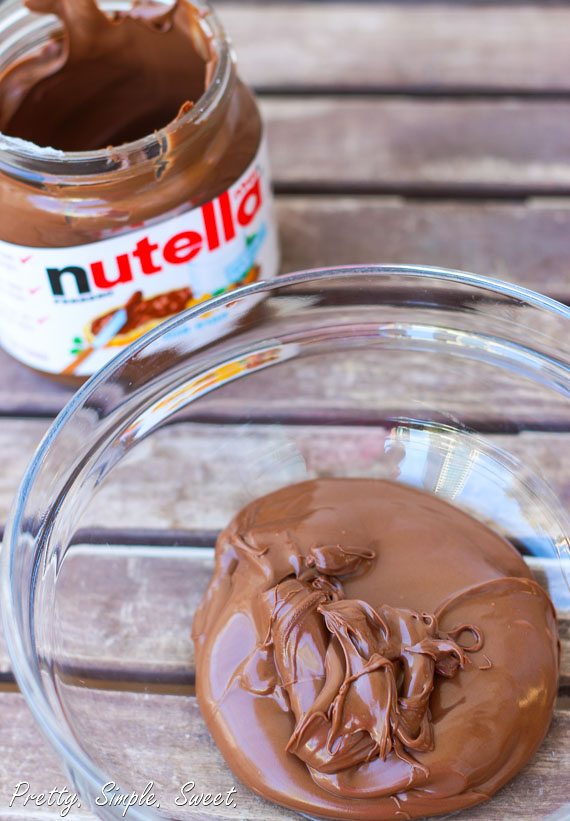 The key to success here is the nutella – whipped cream ratio. I experimented with many different ratios to get to the perfect mousse. I wanted it to be light, airy and smooth in texture, but rich in nutella flavor.
In order to get that silky, smooth texture, you need to whip the cream carefully. Over whipping will make it grainy. In my mixer, whipping one cup of whipping cream to the right texture takes about 1.5 minutes on medium high speed (but each mixer is different). Don't wait until the whipped cream is stiff. The perfect consistency is when it holds its shape, but still has soft peaks. Basically, you want it to have the texture of shaving cream.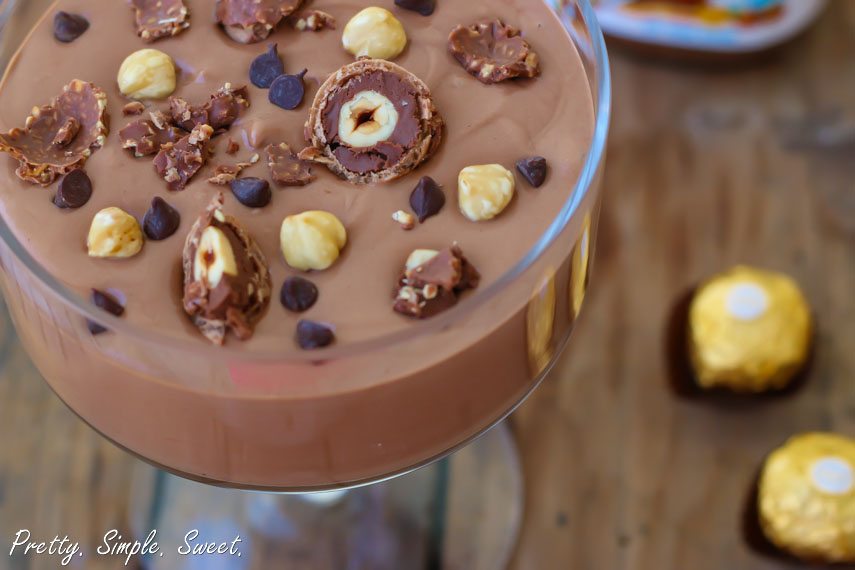 When the whipped cream is ready, add it to the nutella.  At first, only add a few tablespoons and whisk by hand to soften the nutella and make a smoother, lighter batter. Then fold the rest of the whipped cream into the batter gently using a spatula until mixed and smooth. Taste it while you mix, just because it's yummy and you can 🙂 At this point the mousse will be too soft to serve. Pour it into serving glasses and chill in the fridge for at least two hours.
I like to serve mousses in a trifle bowl, together with little cups so everyone can share and take as much as they like. Just Look at the photos, doesn't it look fancy?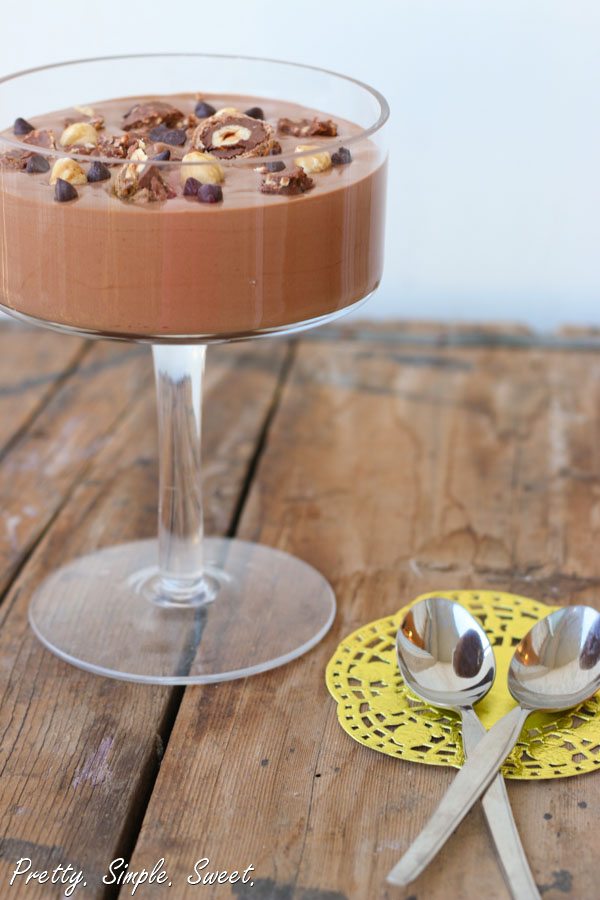 You can garnish the mousse with hazelnuts, Ferrero Rocher or chocolate chips. All these toppings compliment the flavor of the mousse and add a crunchy texture.
I was planning on sharing some photos of the mousse after it was chilled so you could see how silky it was, but unfortunately when I opened the fridge a few hours later, it was all gone! Guess the sweets fairy came to visit (=my fiancé).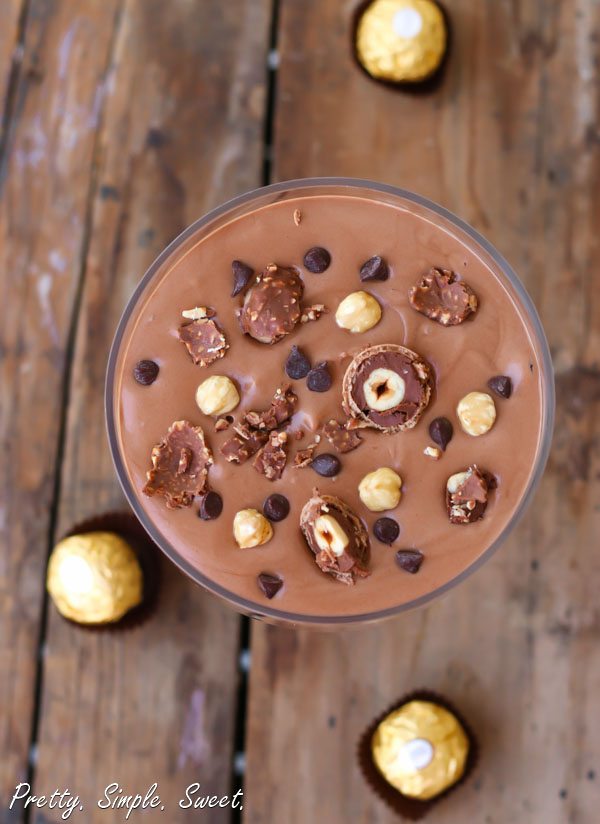 Do yourself a favor and go make this now. It took me 20 minutes, including washing the dishes!

Two Ingredient Nutella Mousse
Ingredients
1 cup Nutella (320 g/11.3 oz)
2 cups heavy whipping cream, cold
Instructions
Place the Nutella in a large bowl. If you like, microwave it for a few seconds to soften it. Then, let it cool slightly (Mine was soft enough so I didn't need to microwave it).
In a mixer bowl fitted with the whisk attachment, whisk the heavy cream until soft peaks form. Add 3 tablespoons of the whipped cream to the nutella bowl and whisk by hand until smooth. Gently fold in the rest of the whipped cream until combined and smooth.
Chill the mousse to set for at least 2 hours.
Garnish the mousse with chocolate chips/shavings, hazelnuts/nuts or Ferrero Rocher. Store in the fridge, covered, for up to 3 days.
---
Shop Related Products
SaveSave