Thick, chewy cookies that have the perfect texture once frozen. These classic ice cream sandwiches make a refreshing and delicious summer treat.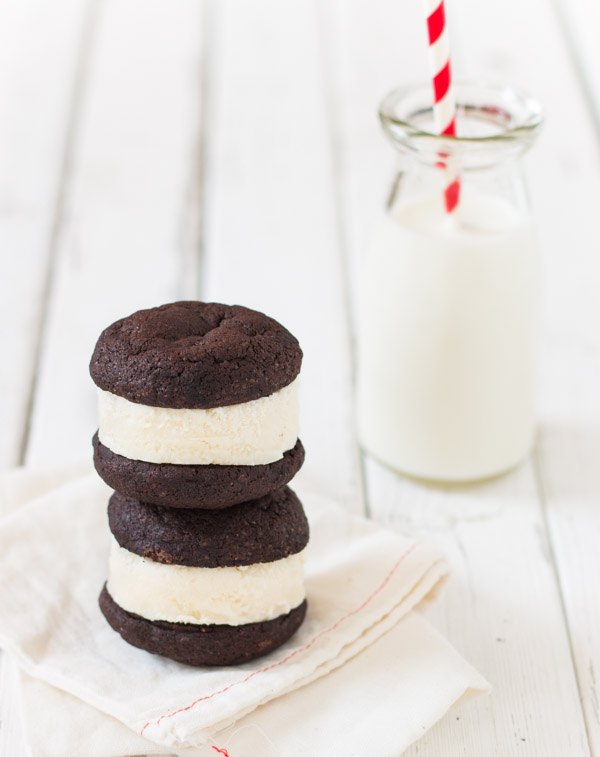 Years ago, I had the idea to make chocolate ice cream sandwiches for some guests. Most of the recipes suggested using room temperature or warm cookies, filling them with ice cream, and serving immediately. What I had in mind, though, was to freeze the sandwiches so that my guests could enjoy them straight from the freezer at their convenience. Although these sweets are perfect when using fresh cookies, they are just as delicious when put in the freezer. Simply leave them out for 5 minutes to soften before serving.
The chocolate cookies are made of basic ingredients and are very easy to bake. Once a dough is formed, don't over mix the batter or else the cookies will turn out tough, and that won't do you any good if you intend to keep them in the freezer! We want the cookies to be chewy and soft in the center rather than crunchy, so the key is to slightly under bake them, just until the cookies are slightly puffed and the top is dry. My cookies were exactly 2 tablespoons in size and I baked them for 8 minutes.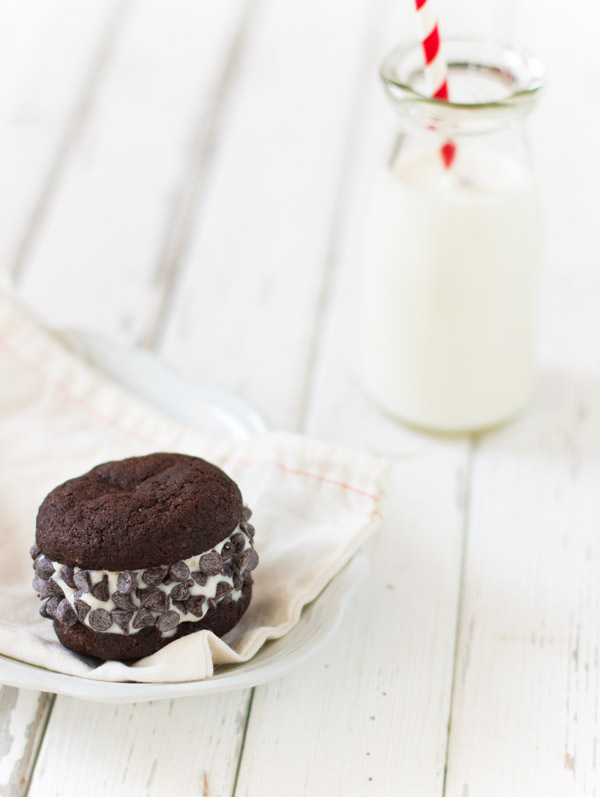 Since I like thick cookies, I always like to chill my dough. Chilling the dough, even for just half an hour, helps the cookies to spread less while baking. You can skip this step and the cookies will be just fine, but I highly recommend it.
When the cookies are ready, sandwich them with ice cream using an ice cream scoop. Use as much ice cream as you like and gently press on the cookies to flatten the sandwich. About 3 tablespoons should be fine, but it depends on the size of your cookies and your personal taste. If you want the ice cream to have a perfectly round and clean cut, use this helpful tutorial.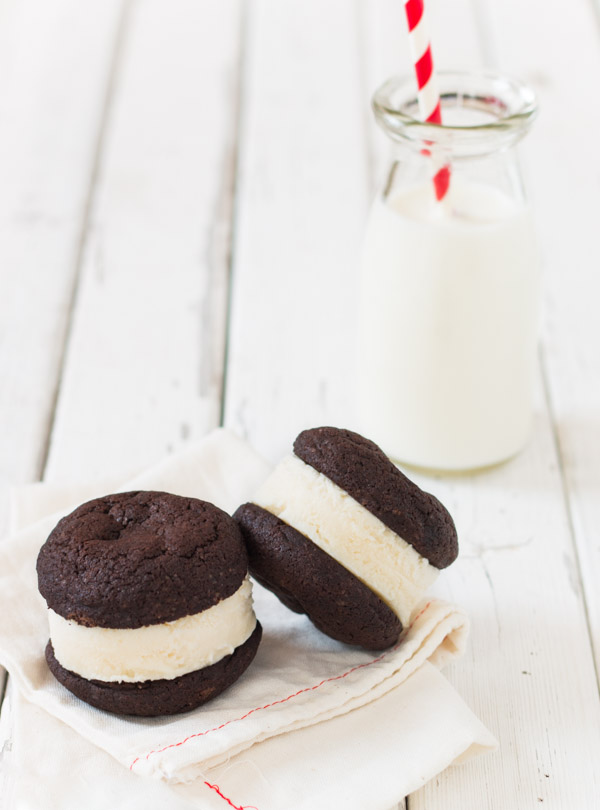 The cookies are thick, chewy, and super chocolaty, and when sandwiched with an ice cream, they are simply superb. If you let them soften for a few minutes at room temperature (keeping an eye on them to prevent the ice cream from melting), every single bite will be amazing.
Chocolate Cookie Ice Cream Sandwiches
Thick, chewy cookies that have the perfect texture once frozen. These classic ice cream sandwiches make a refreshing and delicious summer treat.
Ingredients
1

cup

(140 grams/5 ounces) all-purpose flour

⅓

cup

(35 grams/1.2 ounces) unsweetened cocoa powder

½

teaspoon

baking soda

¼

teaspoon

salt

½

cup

(1 stick/113 grams) butter, softened

¼

cup

(50 grams/1.8 ounces) brown sugar

½

cup

(100 grams/3.5 ounces) granulated sugar

1

large egg

1

teaspoon

vanilla extract
Instructions
In a large bowl, sift together flour, cocoa, baking soda, and salt. Using a mixer fitted with the paddle attachment, beat butter and sugar for at least 3 minutes until fluffy. Next, beat in the egg and vanilla extract, mixing until combined. Add the dry ingredients and beat on medium-low speed just until combined, or mix by hand with a wooden spoon. Don't over mix. The batter will be thick and sticky.

If you prefer thick cookies, chill the dough in the refrigerator for at least 30 minutes (and up to 2 days). This will help them to spread less while baking. Otherwise, skip to the next step.

Preheat oven to 350F/180C. Line two large baking sheets with parchment paper. Set aside.

Take cookies batter out of fridge. If it's too cold or hard to handle, leave it on the counter for a few minutes to soften.

Drop rounded balls of dough (roughly 2 tablespoons in size) onto prepared baking sheet, leaving about 3 inches (8 cm) between each cookie. Bake for 8-10 minutes, until the cookies have puffed slightly and the tops have dried. Leave to cool on the pan for 10 minutes. Carefully transfer to a wire rack to cool completely.

To make the sandwiches: Using an ice cream scoop, take a large scoop of ice cream and sandwich it between two cookies, pressing gently. You can roll the sides in sprinkles, crushed nuts or mini chocolate chips. Serve the sandwiches immediately or place them in an airtight container and freeze. Take the sandwiches out of the freezer 5 minutes before serving.