This easy, dairy-free, moist honey cake is an adaptation of my mom's famous recipe and a true family favorite. It will fill your house with a wonderfully inviting sweet and spicy scent that is sure to make your family's mouths' water.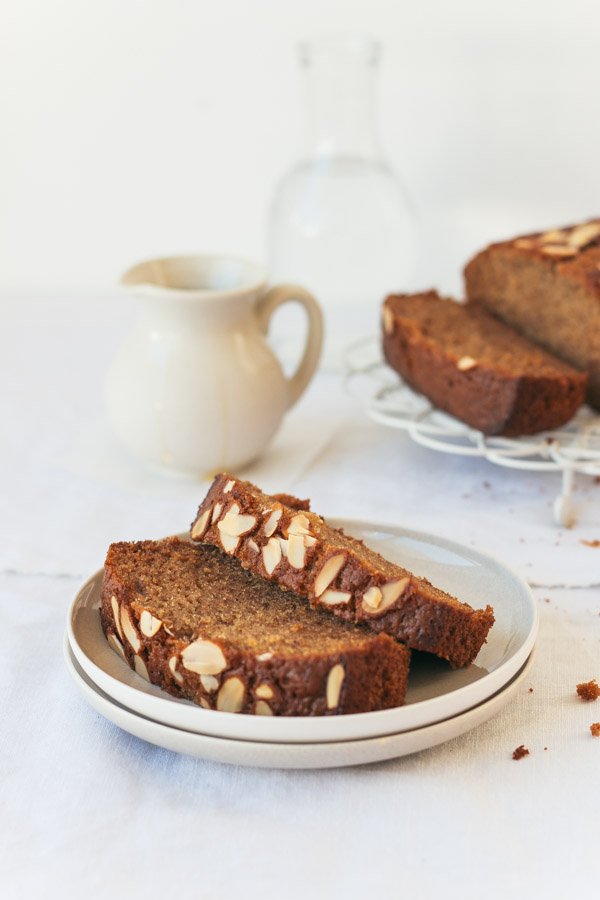 In the Jewish culture, especially in my family, there is one noticeable thing that happens during the holidays, and that is nonstop eating. There's no blame for how much food you shove into your mouth since "it's a holiday!" and it's time to celebrate.
When it comes to holidays and family events, my mom always goes over the top. She's either having trouble with math, or she deliberately makes enough food for three times the number of people actually coming for dinner (and I suspect it's the latter). Her excuse is just in case someone surprises her with a visit during the holidays, she'll have enough food for everyone. I guess it's fine, though, since she clearly secretly enjoys it. Besides, that means my fridge is full of food for an additional week since she sends me home with the leftovers.
My entire life, my mom's Rosh Hashanah honey cake has been one of my favorite dessert recipes. She makes it every single year. This is her recipe, and I wanted to share it with you all so you can enjoy it with your family, too. If you've never tried a honey cake before, the fall is the perfect time to try it since it's warm and comforting, sweet and spicy. It is perfection.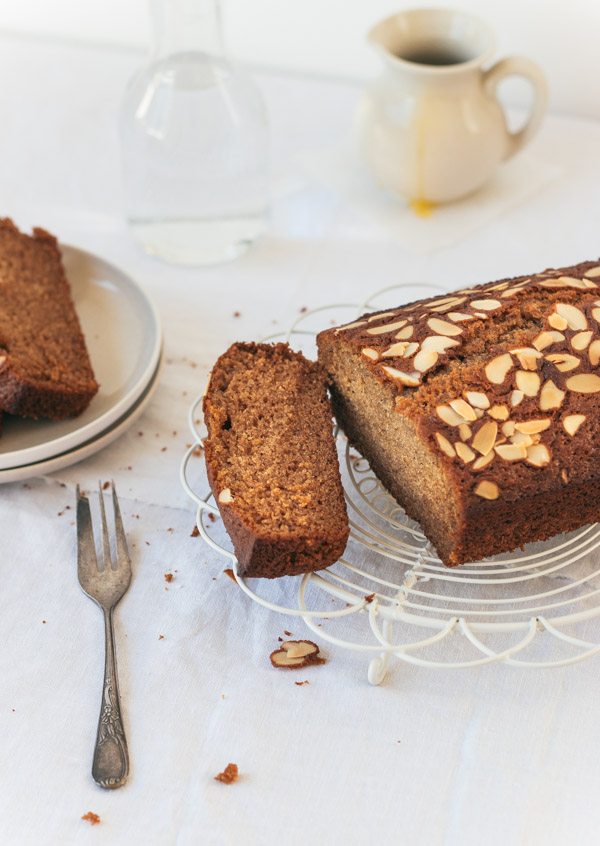 Rosh Hashanah honey cake
Rosh Hashanah, also known as the Jewish New Year, is one of the most meaningful Jewish holidays. Honey is one of the traditional Rosh Hashanah foods because it symbolizes the beginning of a sweet new year, so you see lots of honey cakes around this time. Another tradition is to eat apples and honey, which also happens to be delicious.
How to make this easy honey cake recipe
Pro tip: I highly recommend making this cake 1-2 days ahead of time. It will taste better and the flavors will be stronger. Keep it in the fridge but serve at room temperature. 
Combine dry ingredients. In a bowl, combine the flour, baking soda, baking powder, salt, and spices. Whisk together to combine.
Heat the wet ingredients together. In a saucepan, combine the honey, sugar, oil, and water and heat on medium heat until the sugar dissolves and the mixture is smooth, about 2-3 minutes. Remove from heat and allow to cool slightly. Then, add in the eggs and whisk together.
Combine. Pour the flour mixture into the wet ingredients and combine together with a whisk or spatula, being careful not to overmix the batter.
Bake the honey cake. Pour the batter into a prepared loaf pan and top with slivered almonds before placing it in a preheated 340 degree oven. Bake for about 40 minutes, but keep an eye on it in case your oven runs hot–it might be done in as quickly as 35 minutes.
Mix it up
While the honey cake is amazing on its own, I sometimes like to mix it up and add in fresh apples or bananas for different flavors. Both taste amazing!
Apples. Adding apples to this honey cakes makes it even more perfect for Rosh Hashanah. If you want to try this, cut up 2 peeled apples (I like using Granny Smith but any type will do) into 1/4-1/2-inch size pieces and fold into the batter before baking.
Bananas. Bananas give this cake wonderful added flavor and moisture, but it does increase the sweetness. If you don't like your cake too sweet, you can reduce the sugar in the recipe by 1/4 cup. Then, cut up 2 bananas into 1/4-1/2 inch pieces and fold into the batter before baking.
Flavor and texture of honey cake
The signature honey gives the cake sweetness and a delicious flavor, but it's also packed with other flavorful ingredients and is wonderfully spiced.
The edges of this cake are crisp and sticky, and the interior is moist and sweet. The honey helps to keep this cake moist for several days. The cake tastes better a day after it's made, when the flavors have had time to mellow, but it still tastes great eaten the day of, too.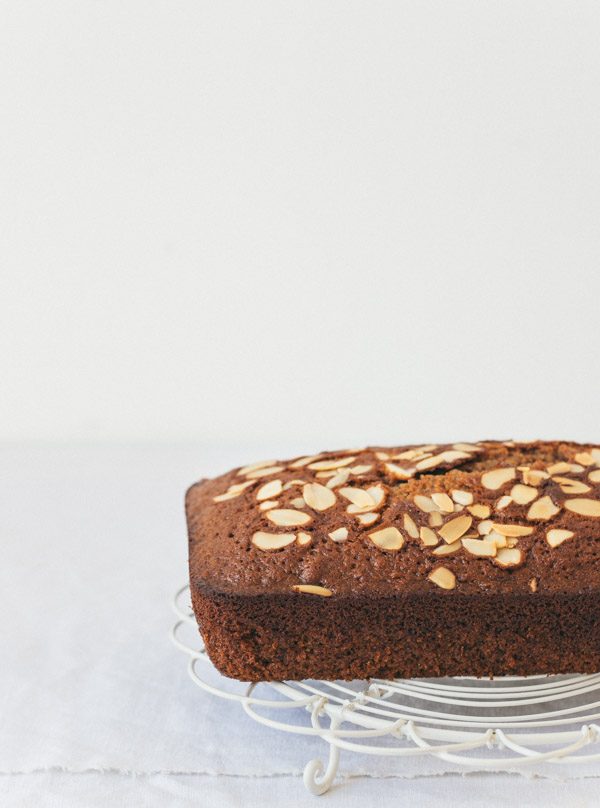 Other delicious fall recipe ideas:
*This recipe was updated on July 15, 2022 to be even simpler and easier to make! The result is an absolutely moist and delicious honey cake. The original recipe used coffee as the liquid, which I replaced with water to make the recipe even easier. However, feel free to try yours with warm coffee for a subtle coffee flavor if you'd like! I also changed the method so no mixer is required, making this cake even simpler to bake yet just as delicious.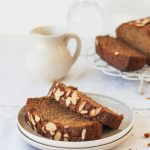 Honey Cake Recipe
This delicious honey cake is super moist, full of flavor and easy to make! It's a great cake to make ahead of time because the flavors enhance, but it tastes great made the day of, too.
---
Ingredients
1 and 1/8

cups

(160g) all-purpose flour

1

teaspoon

baking powder

1/2

teaspoon

baking soda

1

teaspoon

ground cinnamon

1/8

teaspoon

ground cloves or nutmeg

, optional

1/2

cup

(100g) light brown sugar (or granulated sugar)

1/2

cup

(180g) honey

1/2

cup

(120 ml) canola or vegetable oil

1/2

cup

water

2

large eggs

1/4

cup

(25g) sliced almonds or other nuts, for the topping, optional
Instructions
Preheat oven to 340°F/170°C. Grease a 9×5-inch loaf pan.

In a medium bowl whisk together flour, baking soda, baking powder, and spices. Set aside.

In a small saucepan over low heat, heat together sugar, honey, oil, and water for 1-2 minutes until smooth. Transfer mixture to a large bowl and allow to cool for several minutes. Whisk in eggs until combined. Add flour mixture and fold until just combined. Do not over mix.

Pour the batter into prepared loaf pan. Sprinkle with nuts. Bake for 40-50 minutes or until a toothpick inserted into the center of the cake comes out clean. If the top is browning too fast while baking, cover pan loosely with aluminum foil. Allow cake to cool for 10 minutes, then remove from pan and set on a wire rack to cool completely. 

The cake is best served at room temperature. Cake will keep for 5 days in an airtight container in the refrigerator. It's delicioues straight from the fridge but I like it better at room temperature. To serve at room

The cake will keep covered, in an airtight container, in the fridge, for up to 5 days. It's delicious straight from the fridge but best served at room temperature. Bring to room temperature about 1 hour before serving.