This fudgy, old-fashioned chocolate pudding cake is separated into two delicious layers as it bakes: a chocolate cake and a gooey pudding-like sauce. If you love the flavor and texture of a good old chocolate pudding, then you're going to love this cake!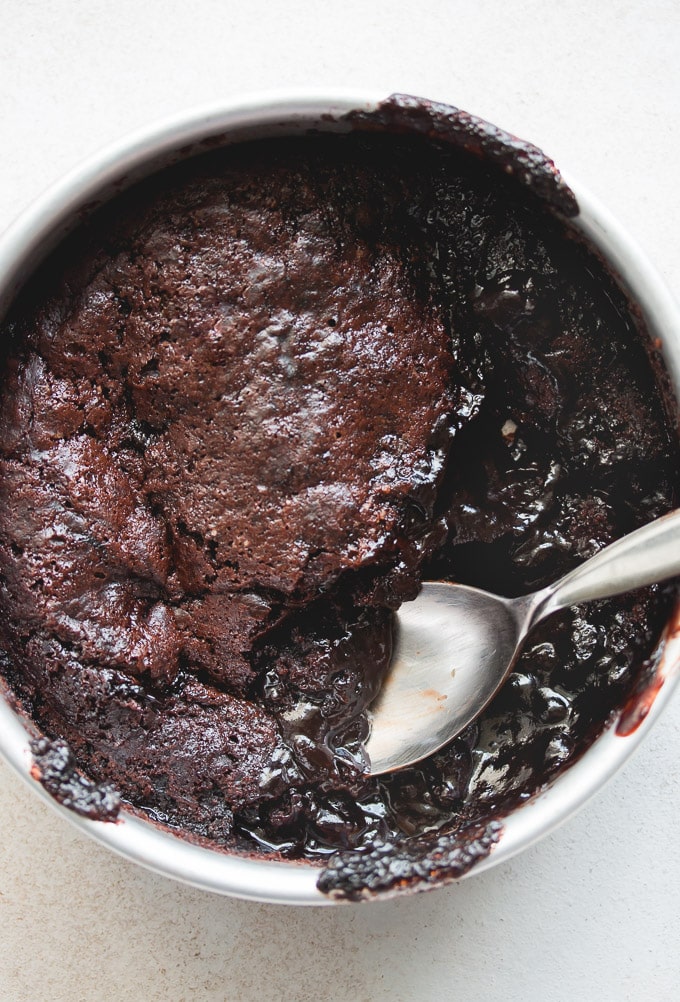 I've been invited to a few birthdays lately, which means I had quite a few cakes to make. I took one of my mom's old recipe notebooks and leafed through the pages to try and find some of our family's all-time favorite sweets. Almost every recipe consisted of notes added over the years, each in a different pen color. I then came across this pudding cake that I loved as a kid. There were no notes for this recipe, and I like to believe that's because it's perfect.
What is a Pudding Cake?
Pudding cakes offer two treats in one and consist of two layers – a comforting, gooey chocolate cake and a thick chocolaty sauce that tastes just like an old-fashioned chocolate pudding. This cake goes by many names: chocolate upside down cake, hot fudge pudding cake, brownie pudding cake, or self-saucing pudding cake.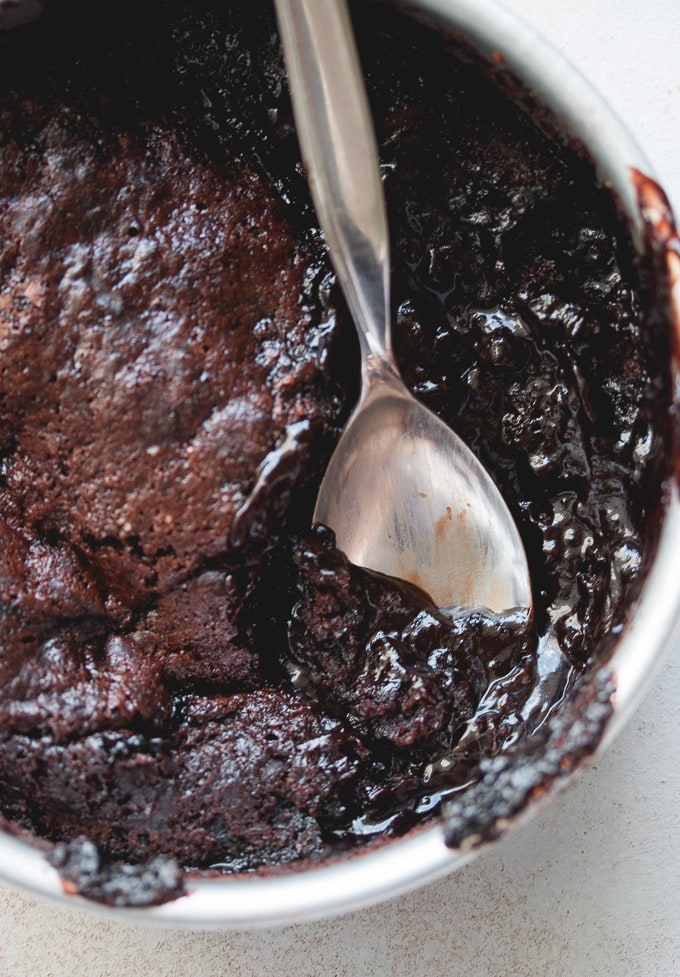 How to Make Chocolate Pudding Cake
The process of making it might seem strange at first and it consists of three layers: the cake batter, a cocoa-sugar mixture, and hot water. The last 2 parts are what ultimately create the sauce. The first layer is the cake batter, which is made by mixing together a few basic ingredients such as flour, cocoa, sugar, and milk. The second layer consists of a "dry" mixture of cocoa and sugar. We then pour the hot water evenly on top. If you want you can dissolve 2 teaspoons instant coffee powder or 1 teaspoon espresso powder in the hot water to enhances the chocolate flavor.
While baking, the water sinks to the bottom and crates a chocolate sauce, and the cake rises to the top. Spoon out slices, serving each slice upside-down, and drizzle with warm sauce. The more sauce, the better 😉
This cake is perfect for baking in individual 6-ounce ramekins. For each ramekin, pour about 1/4 cup cake batter, 2 tablespoons cocoa-sugar mixture, and 3 tablespoons coffee/hot water. Bake for 15-20 minutes.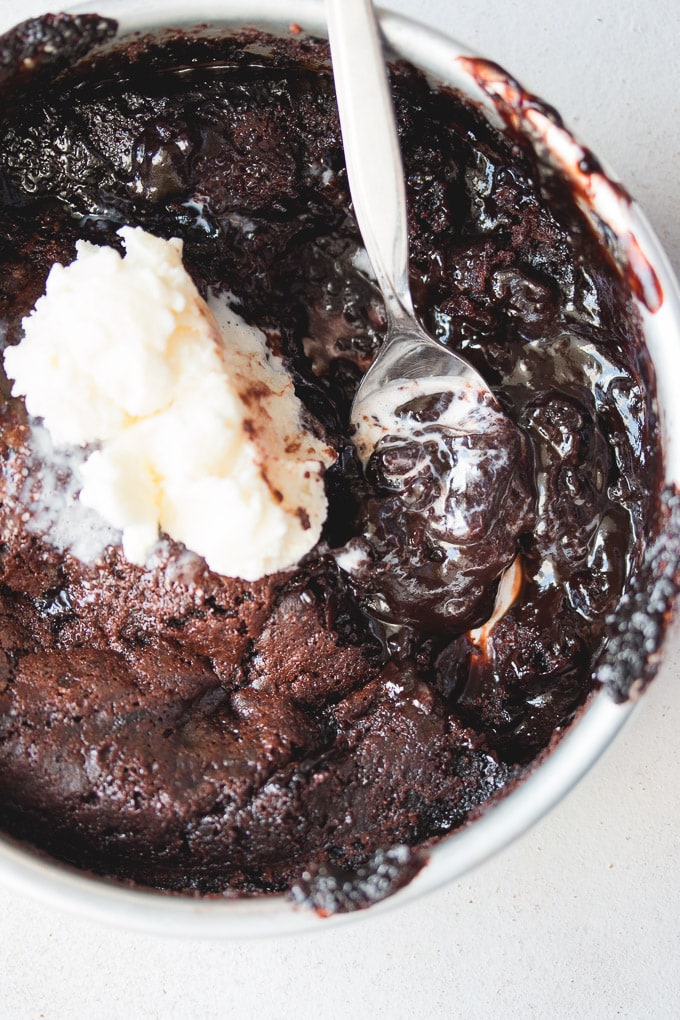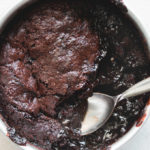 Chocolate Pudding Cake
YIELD
:
8
or 9-inch square pan
---
Ingredients
Cake:
3/4

cup

(105g) all-purpose flour

3

tablespoons

(20g) Dutch-processed cocoa powder

2

teaspoons

baking powder

1/4

teaspoon

salt

3/4

cup

(150g) granulated sugar

1/2

cup

(120 ml) whole milk

1/4

cup

(1/2 stick or 56g) unsalted butter, melted

2

teaspoons

pure vanilla extract
Pudding Sauce:
1/4

cup

(25g) Dutch-processed cocoa powder

1/3

cup

(65g) light brown sugar

1/3

cup

(65g) granulated sugar

1 1/2

(360 ml) cups boiling water
Instructions
Preheat oven to 350F/180C. Grease an 8-inch square pan.

To make the cake: In a medium bowl, sift together flour, cocoa, baking powder, and salt. Add sugar and mix.

In a small bowl, mix together milk, butter, and vanilla until combined. Pour into flour mixture and mix just until combined. Scrape batter into prepared pan and smooth the top.

To make the pudding: In a small bowl, toss together cocoa powder, brown sugar and granulated sugar until combined. Sprinkle mixture on top of batter, making sure it coats the entire surface evenly. Pour the hot water evenly on top. Leave as-is and do not stir.

Bake for 25-30 minutes, until the top is set and the cake is cracked and just beginning to pull away from the sides of the pan. Do not over bake or the cake will be dry. Allow cake to cool in the pan for 15 minutes on a wire rack.

Serve cake warm, with ice cream if you like. Serve each slice upside-down and drizzle with pudding sauce.

Cake can be kept in the refrigerator, covered, for up to 3 days. Reheat in microwave.