Easy milk chocolate mousse with crunchy hazelnuts and chocolate hazelnut ganache.
You are not going to believe how good this chocolate hazelnut mousse is. I couldn't when I first tried it! I've made the chocolate mousse base a trillion times, but the simple addition of hazelnut pieces makes it ten times better.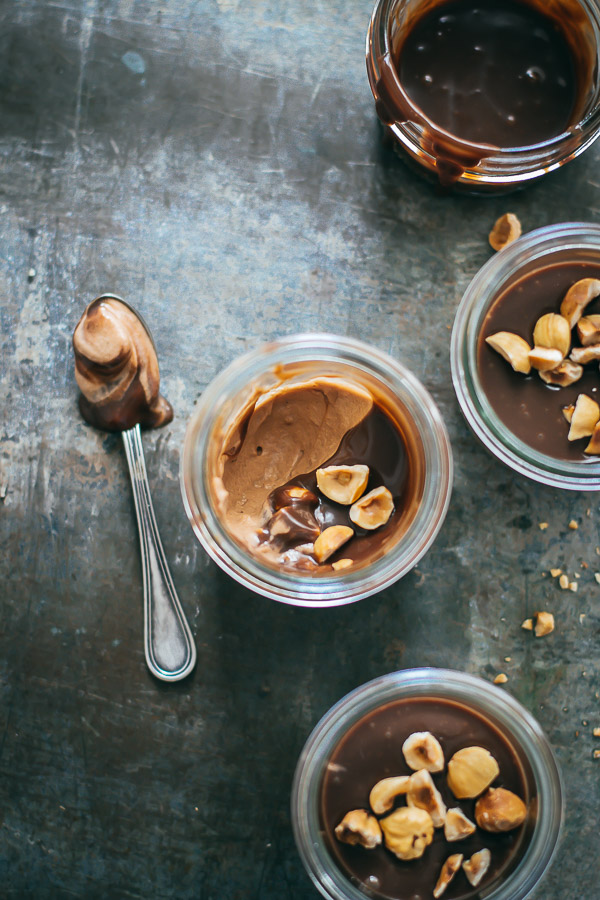 Mousse
This mousse doesn't contain eggs and is super simple to make. It's wonderfully fluffy with a cloud-like texture, and gets a slight crunch from the hazelnuts. Due to the milk chocolate, it's also sweeter than my dark chocolate mousse.
Hazelnuts
I prefer using finely chopped hazelnuts, plus some coarsely chopped hazelnuts for garnish. If you want less crunch you can use ground hazelnuts, or for more texture use coarsely chopped throughout. Toasted hazelnuts are preferable because they have a deeper and better flavor. To toast them, place them in a 350F/180C preheated oven and bake for 5-8 minutes. Pay careful attention as they can burn quickly.
Ganache
The mousse is great by itself if you want to make it on its own, but the ganache layer makes it amazing. It's perfectly smooth and creamy and gets its delicious hazelnut flavor from the hazelnut spread.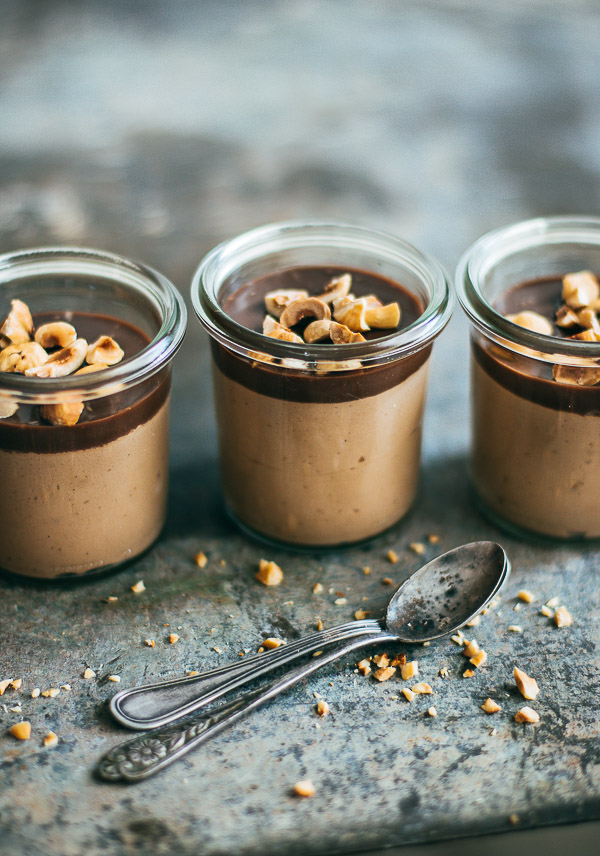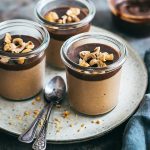 Milk Chocolate Hazelnut Mousse
---
Ingredients
Milk Chocolate Mousse:
200

g/7 oz milk chocolate

¼

cup

(60 ml) whole milk

1

teaspoon

vanilla extract

¼

cup

(25 g) toasted blanched hazelnuts, finely chopped

1

cup

(240 ml) heavy cream
Chocolate Hazelnut Ganache:
60

g/2 oz milk chocolate

¼

cup

(60 ml) heavy cream

2

tablespoons

hazelnut spread such as Nutella

¼

teaspoon

dark rum

, optional
Topping:
¼

cup

(25 g) blanched hazelnuts, preferably toasted, coarsely chopped
Instructions
To make the mousse: Place chocolate and milk in a medium heatproof bowl. Melt in the microwave or a double boiler until completely smooth. Stir in vanilla and hazelnuts. If mixture is warm, leave on the counter until it reaches room temperature.

In a mixer bowl, beat heavy cream until soft but stable peaks form. Gently fold half of the whipped cream into the cooled chocolate mixture until combined, then fold in the remaining whipped cream until combined and smooth. Divide into serving cups.

To make the ganache: Place chocolate in a medium heat-proof bowl. Set aside. In a small saucepan over medium heat, bring cream just to a boil. Immediately pour cream over chocolate and let sit without stirring for one minute. Then, whisk mixture gently until completely melted. Add hazelnut spread and rum, if using, and whisk until completely smooth. If mixture is warm, allow to cool slightly. Divide evenly between serving cups on top of the mousse. Garnish with coarsely chopped hazelnuts.

Place mousse in the refrigerator to set for at least 2 hours.

Keep mousse in the fridge, covered with plastic wrap, for up to 3 days.