This moist cake is swirled with a cinnamon-sugar mixture and frosted with a sweet white glaze that makes it taste just like cinnamon rolls – but without the extra work!
Days like these remind me of the pure pleasure of having a food blog. It's not just about baking delicious sweets, but also (actually more) about eating them. My friends usually ask me how I'm able to come up with new recipes all the time. That's an easy one – I just think of what I'm craving, and the options of it are pretty much endless.
Much like streusel, a cinnamon-sugar mixture can turn a simple cake into something that makes me really happy. While I used to make this cake without the glaze, once I added it just to make a prettier looking cake, I realized it tasted just like cinnamon rolls.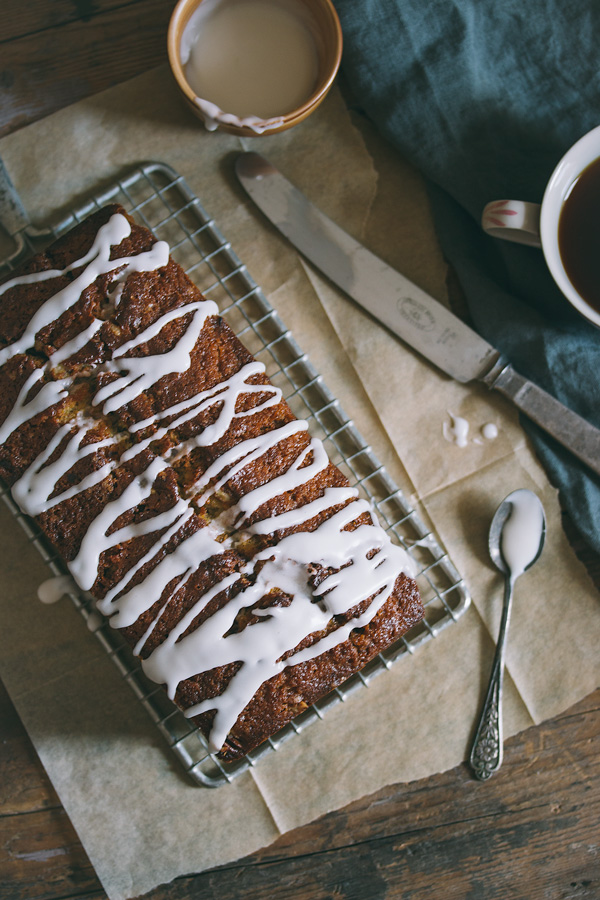 I'm not going to sugarcoat the fact that this is a sweet cake – the kind of cake that Weight Watchers probably wouldn't approve of – but I can assure you that it's worth every single calorie. Besides, what are gyms for if not to burn off the precious, well-deserved calories we had just before we got there?
This cake is moist with a wonderful taste and delicate crumb from the sour cream. The combination of the cinnamon and sweet glaze is what makes it taste like cinnamon rolls. When making the cake, pour half of the batter into the pan, then sprinkle the cinnamon-sugar mixture evenly on top, and repeat one more time. After that, insert a knife all the way down into the batter and start swirling gently, but don't overdo it. While baking, the cinnamon mixture sinks slightly and that's ok.
Usually I would tell you that you can skip the glaze, but this time, please don't! The cake is good without it, but ultimately the glaze is what makes the difference between a cinnamon swirl cake and a cinnamon roll cake.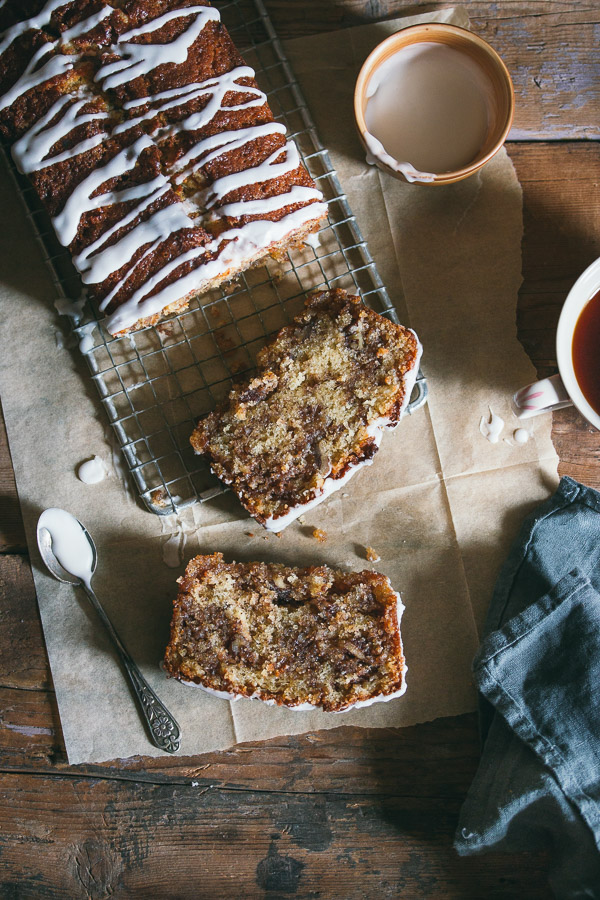 Cinnamon Roll Cake
This moist cake is swirled with a cinnamon-sugar mixture and frosted with a sweet white glaze that makes it taste just like cinnamon rolls – but without the extra work!
Ingredients
For the Cake:
1½ cups (210g/7.5 oz.) all-purpose flour
1 teaspoon baking powder
¼ teaspoon baking soda
¼ teaspoon salt
½ cup (1 stick /113g) butter, softened
¾ cup (150g/5.3 oz.) granulated sugar
2 large eggs
1 teaspoon vanilla extract
¾ cup (180ml) sour cream
For the Cinnamon Filling:
⅓ cup (65g/2.2 oz.) granulated sugar
1 tablespoon ground cinnamon
½ cup toasted pecans, coarsely chopped, optional
For the Glaze:
½ cup (60g/2 oz.) powdered sugar
1-2 tablespoons whole milk or heavy cream
¼ teaspoon vanilla extract, optional
1½ tablespoons cream cheese, optional
Instructions
Adjust oven rack to middle position and preheat to 350F/180C. Grease an 8½ x 4¼-inch loaf pan.
To make the cake: In a medium bowl sift together flour, baking powder, baking soda, and salt. Set aside.
In a mixer bowl fitted with the paddle attachment, beat butter and sugar on medium speed until light and fluffy, about 3 minutes. Beat in the eggs, one at a time, until combined. Scrape down the sides and bottom of the bowl as necessary. Beat in vanilla extract. Reduce mixer speed to low and mix in sour cream. Add the flour mixture and mix just until combined. Do not overmix.
To make the cinnamon filling: In a medium bowl, toss together sugar, cinnamon, and pecans until combined.
Pour ⅓ of the batter into the prepared pan. Sprinkle half of the cinnamon sugar mixture into pan. Pour half of the remaining batter, then the remaining cinnamon sugar, then ending with batter.
Swirl gently using a knife, but don't overdo it to the point that the cinnamon mixture is completely mixed with the batter. Bake for 40-50 minutes, or until a toothpick inserted into the center comes out clean. Allow to cool completely on a wire rack.
To make the icing: Whisk together powdered sugar, 1 tablespoon milk, vanilla, and cream cheese until combined and smooth. If the icing is too thick, add more milk; if it's too thin, add more sugar. The consistency should be thick but pourable. Drizzle icing over the cake.
Store cake at room temperature in an airtight container for up to 3 days or refrigerate for up to 5 days. Cake can also be frozen for up to 2 months. To thaw, leave on the counter, still covered, or overnight in the fridge.