Two classic loaf breads are combined for this moist and tender pumpkin banana bread. It has all the fall pumpkin spice flavors plus added sweetness from the ripe bananas. Plus it's so incredibly easy to make! Breakfast never tasted so good.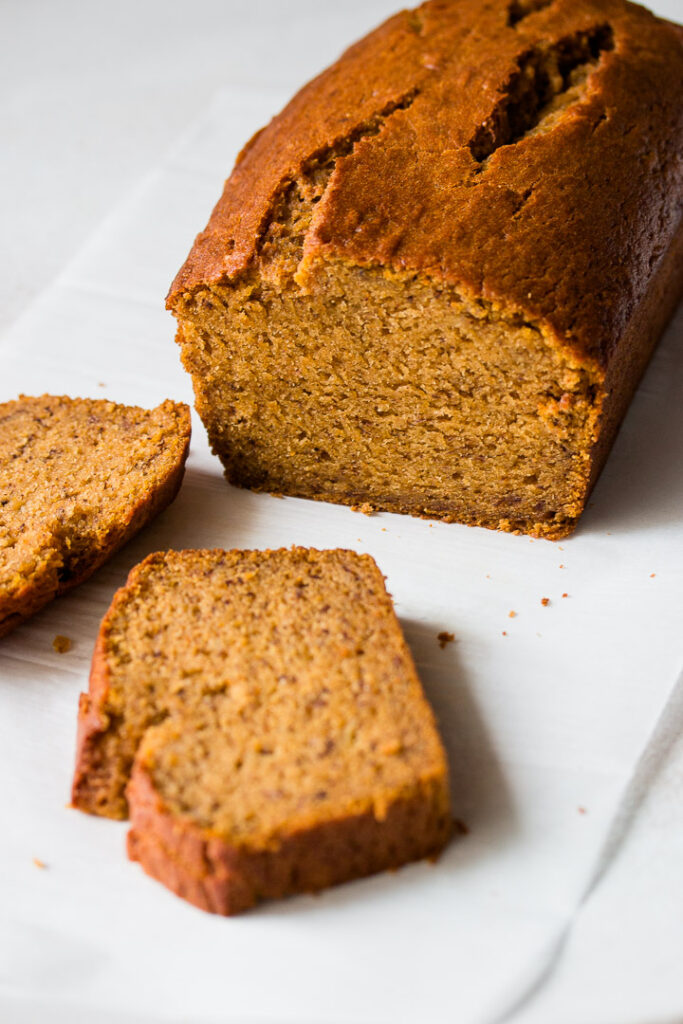 Growing up, we didn't have banana bread in my house. We had other loaf cakes, like my mom's easy orange cake, but never banana or pumpkin. It wasn't until I visited the US that I had my first taste of either one, and immediately I was hooked. So I thought: why not make a delicious cake that combines the two? That's how this banana pumpkin bread recipe was born, and it quickly became one of my favorite pumpkin dessert recipes.
I was born with a sweet tooth, so it's no surprise the sweet, tender and moist banana and pumpkin breads both appealed to me. Ever since then, both cakes have become a staple in my household. Whenever I have overripe bananas I make my favorite banana bread recipe and when fall finally arrives, it's pumpkin bread time.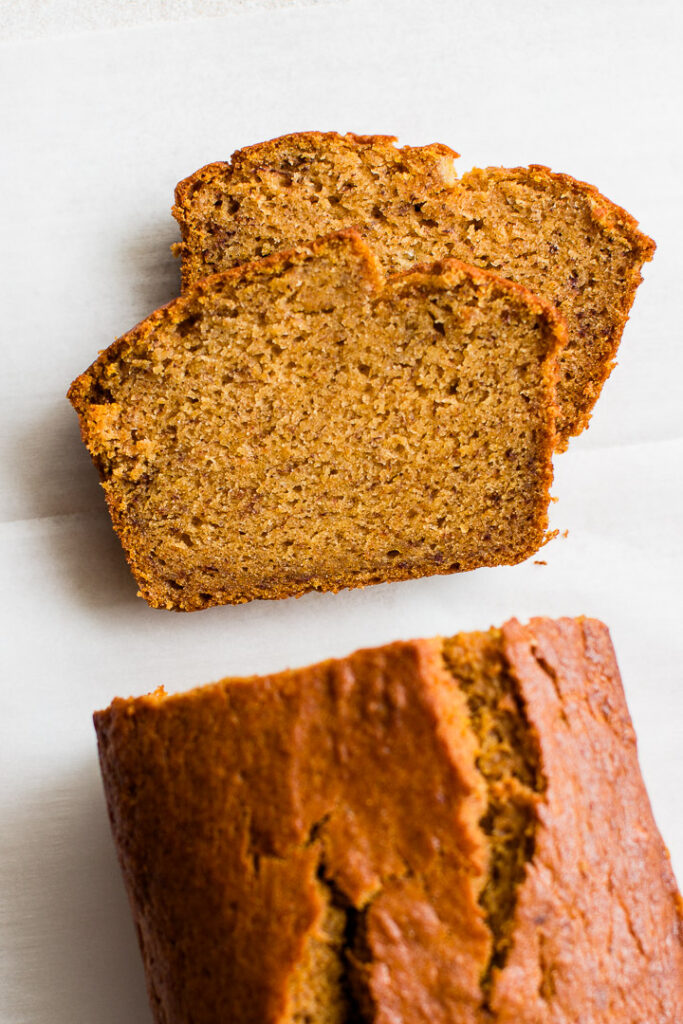 It was only a matter of time before I combined these two recipes into one incredibly moist and flavorful bread. This recipe is perfect for when you can't decide between pumpkin or banana bread, getting the best of both worlds. It's sweet from the bananas, moist from the pumpkin, and mildly spiced with fall flavors (you can always add more or substitute the spices with 2 teaspoons of your favorite pumpkin pie spice blend).
Want to know my favorite thing about this easy pumpkin banana bread recipe? It's a simple recipe that doesn't require any special equipment or long waiting. If there's one thing to make before we get to winter, this banana bread is at the top of my list. It's the perfect fall treat for the upcoming holiday season!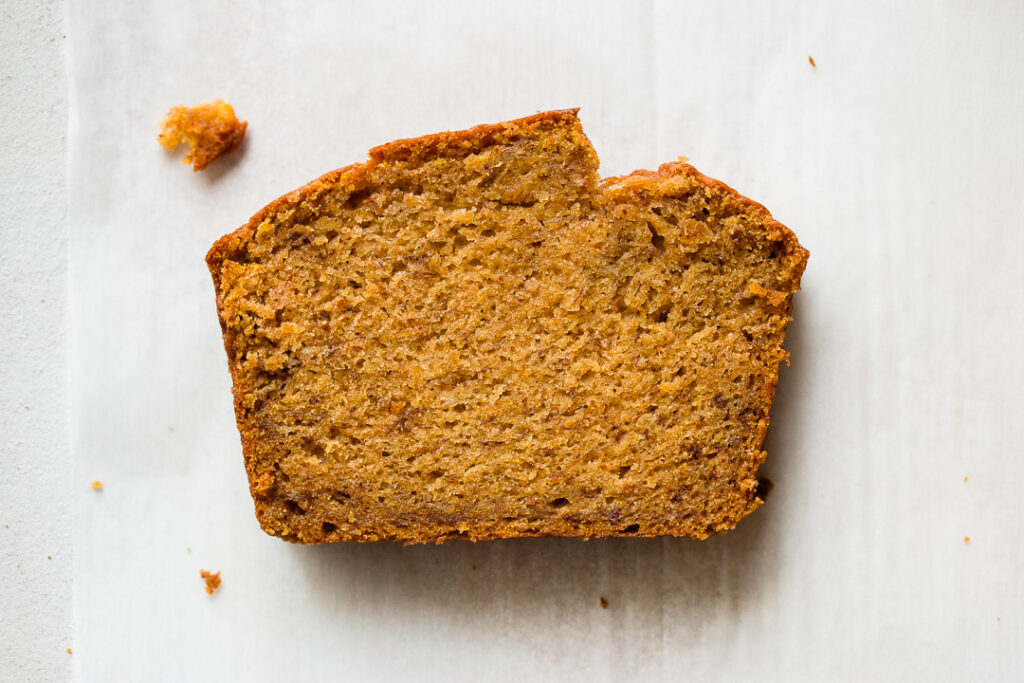 How to make pumpkin banana bread
The first step is to preheat your oven and grease your loaf pan. Doing this in advance means you can bake your cake right away once you're done mixing the batter.
In a large bowl, whisk together the flour, sugar, baking soda, baking powder, spices, and salt. In a separate medium bowl, whisk the eggs, then add in the melted butter, mashed bananas, and pumpkin puree.
While recipe testing, I found the best pumpkin banana bread to be made with melted butter instead of oil or creamed butter. It adds even more flavor and richness and makes the banana pumpkin bread extra tender. It also means you don't have to use a mixer to cream the butter.
Pour the wet mixture into the dry and fold gently with a spatula to combine. I recommend using a rubber spatula for this step, since it's very important not to overmix your batter. This will result in a dense, rubbery cake instead of a moist and tender one.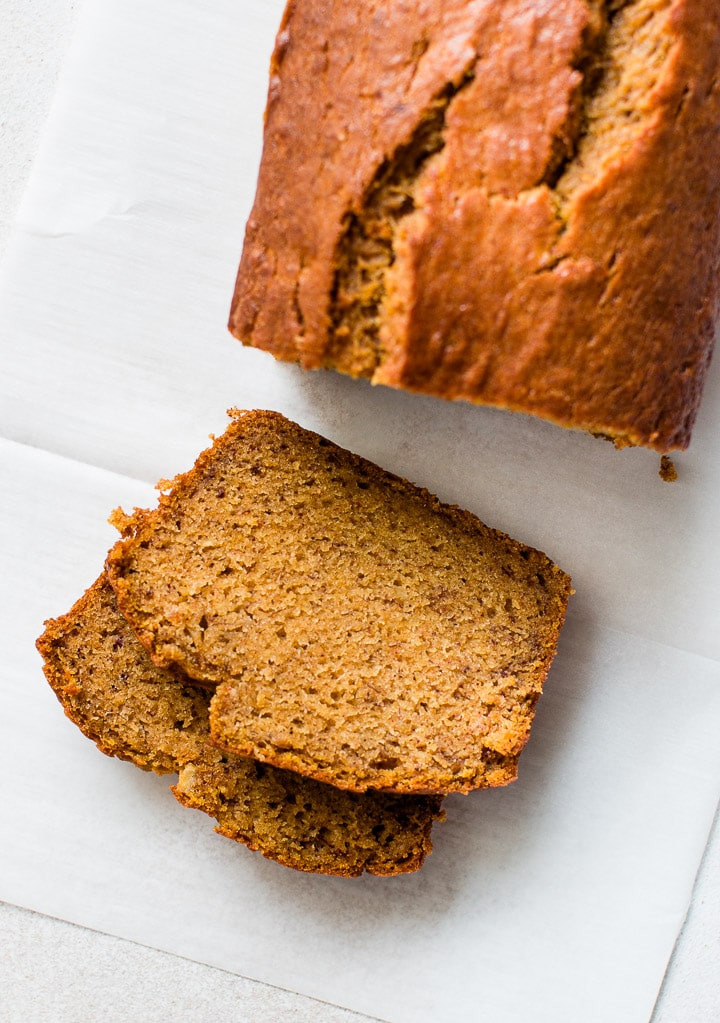 Pour the batter into the prepared pan and bake for 50-60 minutes, or until a toothpick comes out clean. Cool for 15 minutes on a wire rack before removing from the pan and cooling completely.
This pumpkin banana bread is my new favorite way to satisfy my fall cravings. It's got a hint of sweet banana flavor and pumpkin spice. When you're stocking up on pumpkin puree this Thanksgiving for pumpkin pie, be sure to grab a few extra cans to make this pumpkin banana bread recipe, too!
Tips for making perfect pumpkin banana bread
Do not overmix your batter. This will produce more gluten than desired and result in a dense, tougher bread. To avoid this, simply combine your ingredients just until they are all incorporated. Using a rubber spatula to do so helps develop less gluten.

Use slightly overripe bananas. You don't want the bananas to be rotting or brown, but soft bananas taste sweeter and mash more easily, therefore will incorporate into the batter well.

Measure your ingredients carefully. The key to perfect pumpkin banana bread is making sure all the ingredients are measured out correctly. I highly recommend using a scale to weigh your ingredients if possible, but if you don't have one, just be careful to measure all volume measurements accurately.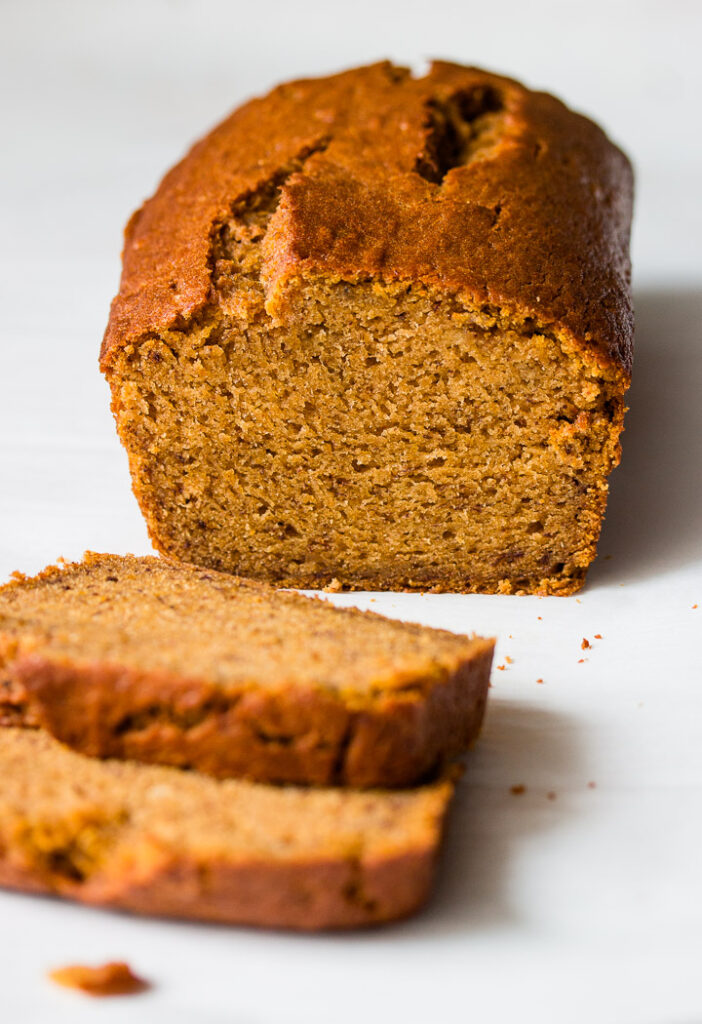 More delicious holiday loaf cakes you'll enjoy: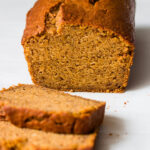 Pumpkin Banana Bread
---
Ingredients
1

cup

(200g) granulated sugar

1 1/2

cups

(200g) all-purpose flour

3/4

teaspoon

baking soda

1/2

teaspoon

baking powder

1/2

teaspoon

salt

1

teaspoon

ground cinnamon

1/4

teaspoon

ground ginger

1/4

teaspoon

ground nutmeg

2

large eggs

1/2

cup

(1 stick/115g) unsalted butter, melted and cooled

1

cup

mashed bananas

(from 2-3 bananas)

1

cup

(230g) canned pumpkin puree
Instructions
Preheat oven to 350°F/180°C. Grease an 8½ x 4¼-inch or a 9×5-inch loaf pan.

In a large bowl whisk together flour, sugar, baking soda, baking powder, spices, and salt. In another medium bowl whisk the eggs well, then whisk in melted butter, mashed bananas and pumpkin puree. Add the egg mixture into the flour mixture and fold, using a rubber spatula, just until combined.

Pour batter into prepared pan and bake for 50-60 minutes, or until a toothpick inserted into the center of the bread comes out clean. Let the bread cool for 15 minutes on a wire rack, then turn it out from the pan and allow it cool completely.

Store bread in an airtight container at room temperature for up to 2 days or in the fridge for up to 5 days. Serve at room temperature.