Incredibly fudgy and chocolaty cocoa brownies. Makes a perfect giveaway.
I always use chocolate bars to make brownies. So why did I try these cocoa brownies the first place? For the same reason you are going to. You really want to make brownies right now, but you don't have any chocolate. Luckily, you have cocoa in your pantry (right?).
I used to stick to brownies made with chocolate bars, because every time I tried cocoa brownies, they didn't compare in fudginess. But, that shows me that there's always something new to learn.
I began searching for recipes that used cocoa and came across a recipe by Alice Medrich, who I adore, which seems to be recommended by everyone. Seems trustworthy to me! It was settled. This is the one I would try.
The results were surprising. They really were. These brownies are incredibly fudgy. The flavor screams chocolate. They are delicious! However, they are more like something between a cake and a brownie – just a really fudgy one. Regardless, I LOVED it and would definitely make them again.
Now, try to count the number of times I've mentioned the word fudgy so far.
Or don't.
The brownies cut beautifully and are convenient to store and transfer, making them a wonderful giveaway gift! I attached a bite-size sample to my wedding invitations as a small gift and it was huge hit. People loved them!
To make the brownies place the butter, cocoa, sugar and salt in a bowl and melt in the microwave in 30-seconds intervals, stirring between each one. Do this until the butter is completely melted. For me it only took 2 intervals. If the mixture is hot, let it sit for a few minutes just until warm. A hot mixture can cook the eggs, which is the next ingredient we will add in. Add the eggs and vanilla and mix with a rubber spatula or a wooden spoon (or whatever you have). Mix until shiny and thick. Add flour and stir just until the ingredients are mixed. Now for the interesting part – beat the batter vigorously for 40 times (with the rubber spatula/wooden spoon). You know how I always suggest you never mix too much after adding the flour? This is an exception, since there isn't much flour in the recipe it is OK. Just listen to Alice – she knows what she's doing.
The batter will be very thick at this point. Bake it for 25-30 minutes – definitely not more than that. A skewer inserted into the center should come out with a few moist crumbs. If it's still liquidy, bake for 3 minutes more and check again.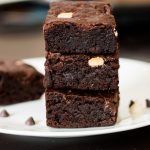 Cocoa Brownies
YIELD
:
8
*8-inch pan (16 brownies)
Incredibly fudgy and chocolaty cocoa brownies.
---
Ingredients
10

tablespoons

(140 grams or 5 ounces) unsalted butter

1 1/4

cups

(250 grams or 8.8 ounces) granulated sugar

3/4

cup

plus 2 tablespoons

(75 grams or 2.6 ounces) unsweetened cocoa powder (natural or Dutch-process)

1/4

teaspoon

salt

1/2

teaspoon

pure vanilla extract

2

large eggs

1/2

cup

(62 grams or 2.2 ounces) all-purpose flour

2/3

cup

(75 grams or 2.6 ounces) walnut or pecan pieces (optional)
Instructions
Preheat the oven to 325F/160C. Line an 8×8-inch baking pan with parchment paper.

In a large heat-proof bowl, combine the butter, sugar, cocoa and salt, and melt in the microwave in 30 second-intervals, stirring in between each interval, until the butter is melted and the mixture is smooth. (Or you can set it over a saucepan of simmering water, stirring occasionally).

The mixture will appear gritty and that is ok. If the mixture is hot, set aside for a few minutes until it's warm.

Using a wooden spoon or a rubber spatula, stir in vanilla extract. Add the eggs, one at a time, stirring after each one. Stir until the batter is thick and shiny. Add flour and stir until the mixture is mixed, then beat vigorously for 40 strokes. The batter will be very thick. Stir in the nuts, if using. Spread evenly in pan and smooth the top.

Bake until a toothpick inserted into the center of the brownies comes out with a few moist crumbs, 25-30 minutes. Let cool completely on a rack before cutting into squares (refrigerate them first for a clean, flawless cut with clean lines).
Recipe Notes
- Store the brownies at room temperature in an airtight container for up to 3 days.
- Brownies can be frozen for up to 2 months. Thaw them on the counter, still covered, or overnight in the fridge.
Recipe adapted from Alice Medrich's Bittersweet
Love brownies? You've come to the right place.