These coconut cookies are crunchy on the outside and chewy and soft on the inside and have the texture of chocolate chip cookies. They are full of coconut flavor and smell irresistible.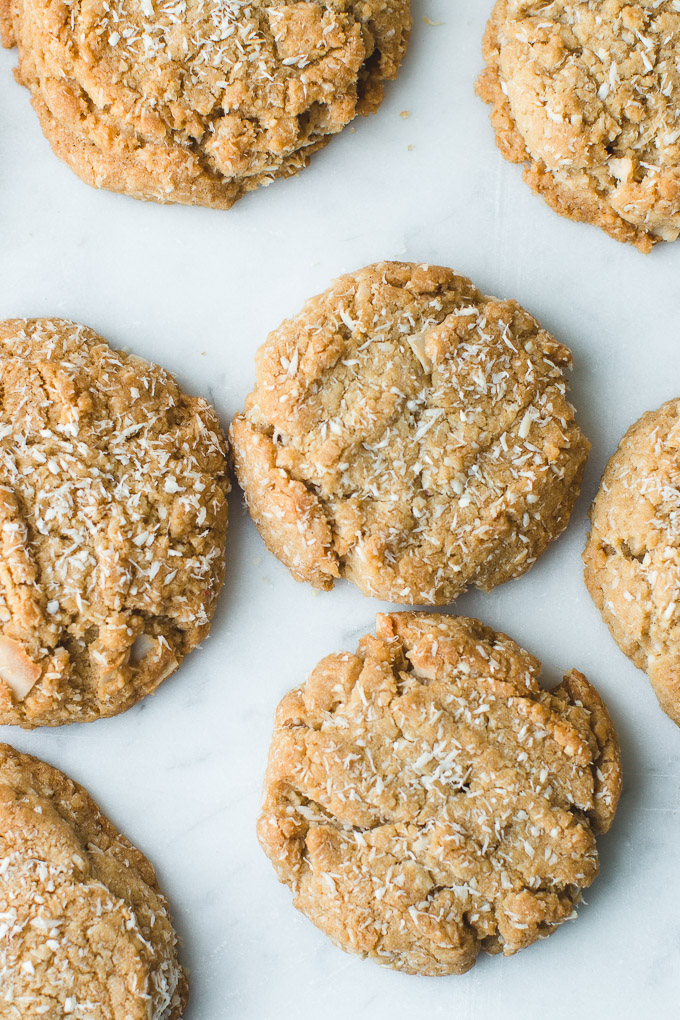 Flavor and Texture
I'm usually a big fan of soft, melt-in-your-mouth cookies, but these coconut cookies recipe uses lots of coconut which gives the cookies some crunch and chewiness, and their texture is actually better this way. The cookies taste like chocolate chip cookies, minus chocolate chips, plus strong coconut flavor. They are addictively delicious. If you want them even softer, you can adjust the recipe slightly: instead of 2 eggs use 1 egg plus 1 egg yolk. You can also reduce the flour by 1/4 cup.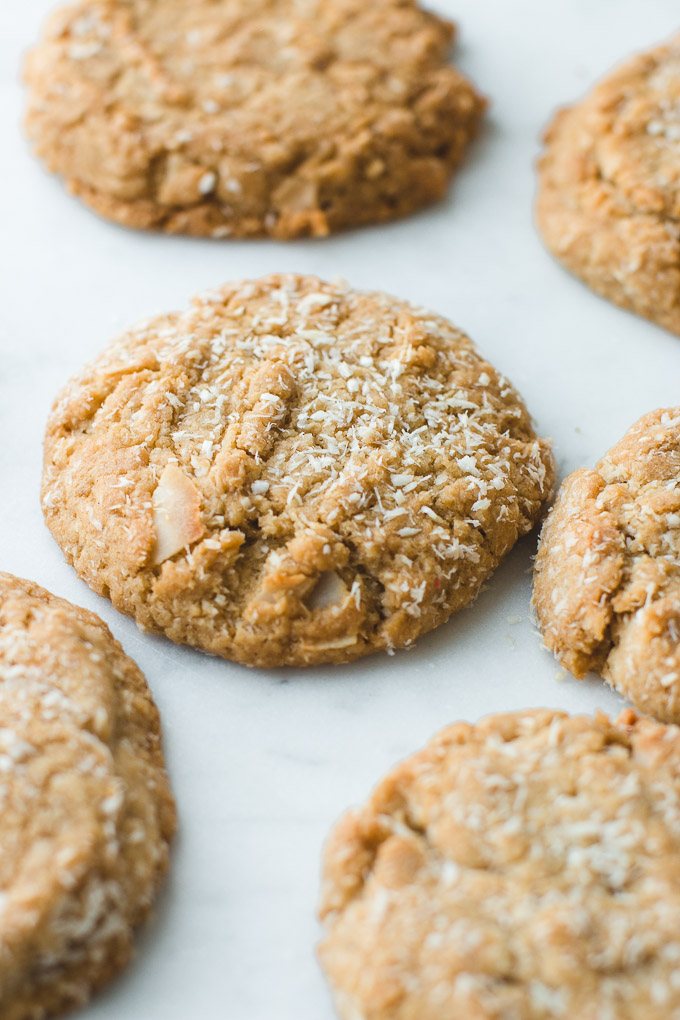 Coconut
I love lots of coconut flavor so I use 2 cups of shredded coconut in the recipe. if you want a milder flavor and softer cookies, you can use less coconut, anywhere between 1 to 2 cups, without changing anything else in the recipe. I use unsweetened shredded coconut because the cookies are sweet enough.
Toasting coconut
Toasting coconut will bring out its best flavor so I highly recommend it. You can toast the coconut in the oven or on the stove top. Oven method: To toast coconut in the oven, spread shredded coconut in a thin layer on a baking sheet. Bake at 350F/180C for 5-10 minutes, checking and stirring frequently until mostly golden brown. Remove form the oven and carefully transfer to a bowl. Stove top method: Add coconut to a skillet in an even layer. Cook over low-medium heat, stirring frequently, until golden brown. Be patient and don't turn up the heat too much because coconut is easy to burn. Immediately transfer coconut to a bowl.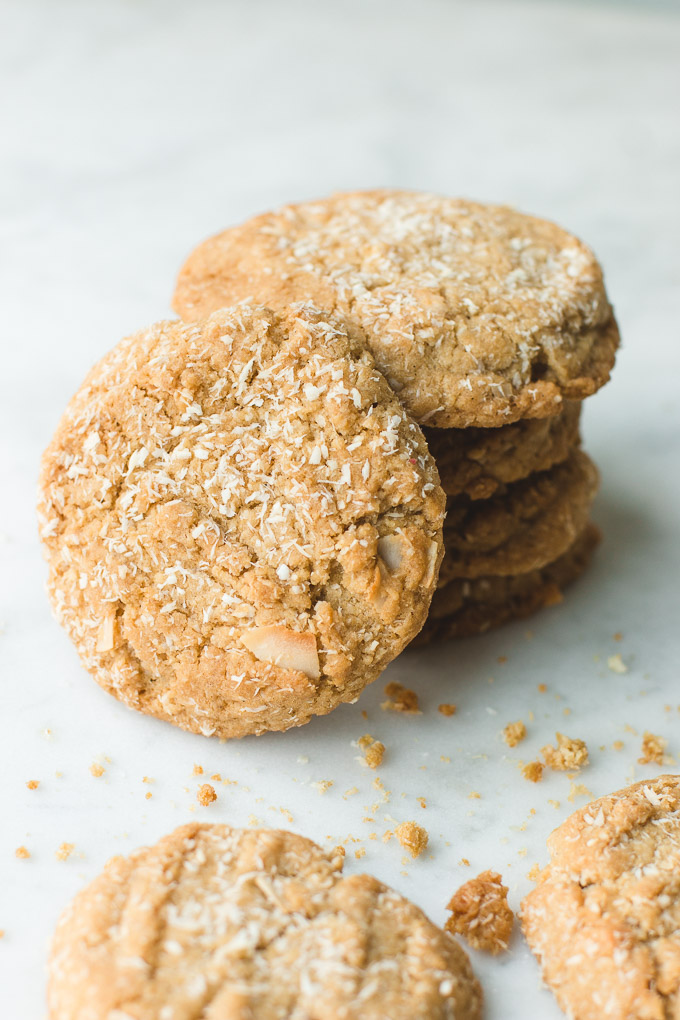 Baking time
If you want cookies that are soft on the inside, the secret is to slightly underbake them. I remove them from the oven when they just begin to brown at the edges. If you like crunchy cookies, bake them for longer until the the top of the cookie turns golden brown. If you mistakenly overbake them and they become hard, they would still taste delicious and will be great to dip in coffee. The cookies are softer when warm so you can rewarm them before serving. There's no need to chill the cookie dough before baking the cookies (like in my other chocolate chip cookie recipes) because they stay thick and don't spread much during baking.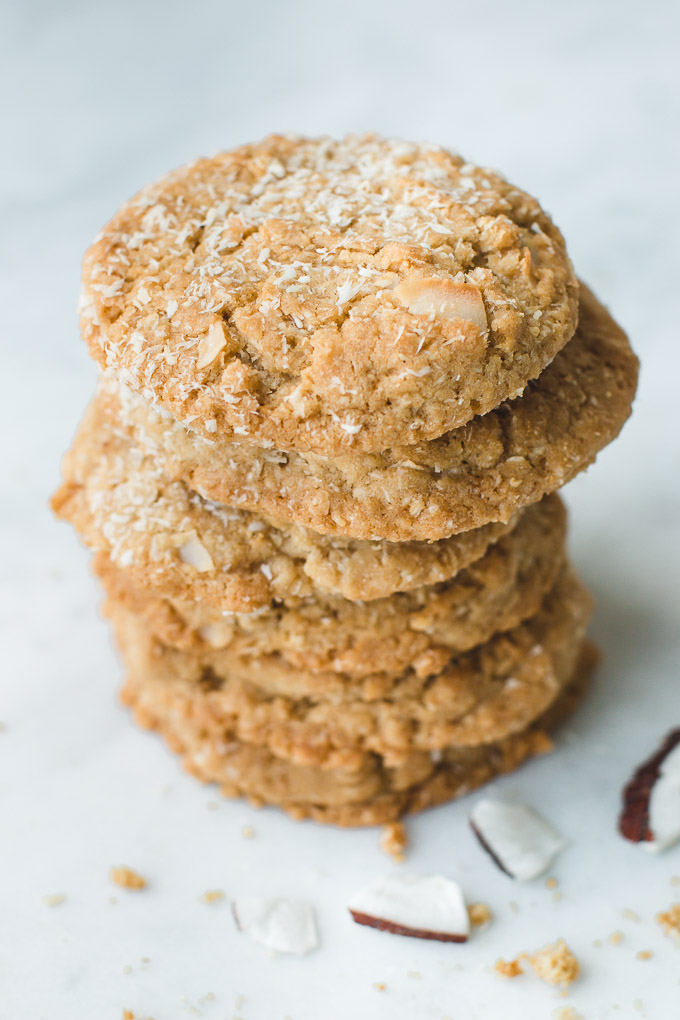 More Coconut Recipes: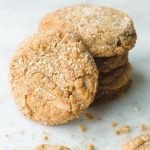 Coconut Cookies
---
Ingredients
2 and 1/2

cups

(350 g) all-purpose flour

1

teaspoon

baking soda

3/4

teaspoon

salt

1

cup

(2 stick/225 g) unsalted butter, softened to room temperature

3/4

cup

(150 g) dark brown sugar (light works too)

3/4

cup

(150 g) granulated sugar

2

large eggs

1 and 1/2

teaspoons

pure vanilla extract

2

cups

toasted shredded coconut, plus 1/4 cup more for rolling the cookies
Instructions
Preheat oven to 350°F/180°C. Line pans with parchment paper.

In a medium bowl sift together flour, baking soda, and salt. Set aside.

In a mixer bowl fitted with the paddle attachment, beat the butter on medium speed for one minute until creamy. Add brown sugar and granulated sugar and beat on medium speed for about 3 minutes, until light and fluffy. Beat in the eggs, one at at time. Beat in vanilla extract. Add flour mixture and mix just until combined. Add coconut and mix slowly just until combined. Do not overmix.

Place 1/4 cup shredded coconut in a small bowl.

Roll dough into balls, using about 1.5 tablespoons of dough per cookie, roll in coconut, and place onto prepared baking sheet (it's easy to do this with an ice-cream scoop). Press the cookies down slightly since they won't spread much as they bake. Bake for 9-12 minutes, until cookies just begin to brown at the edges, but the center is still soft. It's important not to overbake the cookies or they will become hard. Remove from the oven and allow cookies to cool on the baking sheet for 5-10 minutes before transferring to a wire rack to cool completely.

Store cookies at room temperature in an airtight container for up to 3 days. Serve warm or at room temperature. Cookies can be frozen for up to 2 months.