These amazing, chewy coconut cookies are crunchy on the outside and soft on the inside. Made with toasted coconut flakes, they're bursting with coconut flavor and have an unbelievable texture!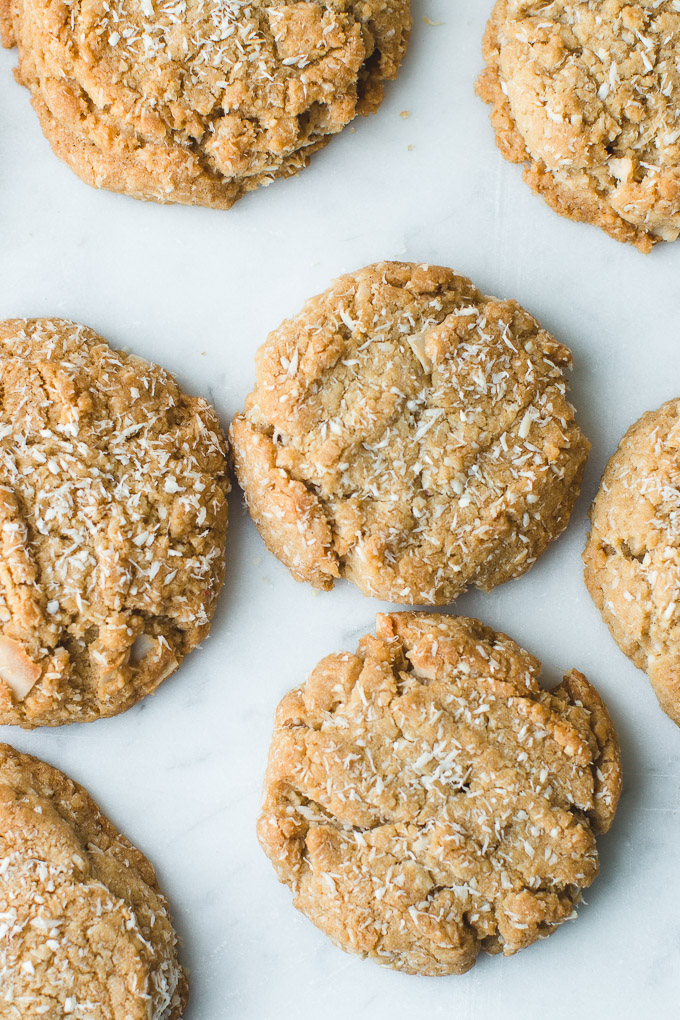 These coconut cookies are absolutely amazing. It's as simple as that. With a slight crunch on the outside and chewy interior, they're a perfect midday or after dinner treat (or let's be honest, really anytime you have a cookie craving). Coconut is one of my favorite ingredients to bake with and I am obsessed with these cookies, as well as my coconut cream pie and coconut cake. Keep reading to learn how to make these delectable, irresistible cookies!
How to make coconut cookies
Toast the unsweetened coconut flakes. This really brings out the best flavor so I highly recommend not skipping this step. You can toast the coconut in the oven or on the stove top.Oven method: To toast coconut in the oven, spread shredded coconut in a thin layer on a baking sheet. Bake at 350°F/180°C for 5-10 minutes, checking and stirring frequently until mostly golden brown. Remove form the oven and carefully transfer to a bowl to cool.Stove top method: Add coconut to a skillet in an even layer. Cook over low-medium heat, stirring frequently, until golden brown. Be patient and don't turn up the heat too much because coconut is easy to burn. Immediately transfer coconut to a bowl to cool.
Combine the dry ingredients. Whisk together flour, baking soda, and salt in a bowl and set aside.
Cream butter and sugar. In an electric mixing bowl fitted with the paddle attachment or using a handheld mixer, cream together the butter and sugars until light and fluffy, about 3-4 minutes.
Add eggs one a time. Make sure to combine each egg with the butter-sugar mixture before adding the next one, using a rubber spatula to scrape down the sides of the bowl to incorporate all the ingredients. Add vanilla extract.
Combine the dry ingredients. Gently mix in the dry ingredients, being careful not to overmix.
Fold in the toasted coconut flake. Make sure they are cooled before doing this so they don't melt the butter in your cookie dough.
Form cookie dough into balls. I like to use about 1.5 tablespoons of dough per ball using this ice cream scoop. Once you've rolled into your dough, roll each ball in the remaining toasted coconut. Place on a parchment-lined sheet pan and press down on each cookie dough ball slightly.
Bake. Bake for 9-11 minutes until the edges are slightly browned. Allow to cool slightly before eating.
Tip: I like these cookies with a slight crunch on the outside, but if you want them even softer, you can adjust the recipe slightly: instead of 2 eggs use 1 egg plus 1 egg yolk. You can also reduce the flour by ¼ cup.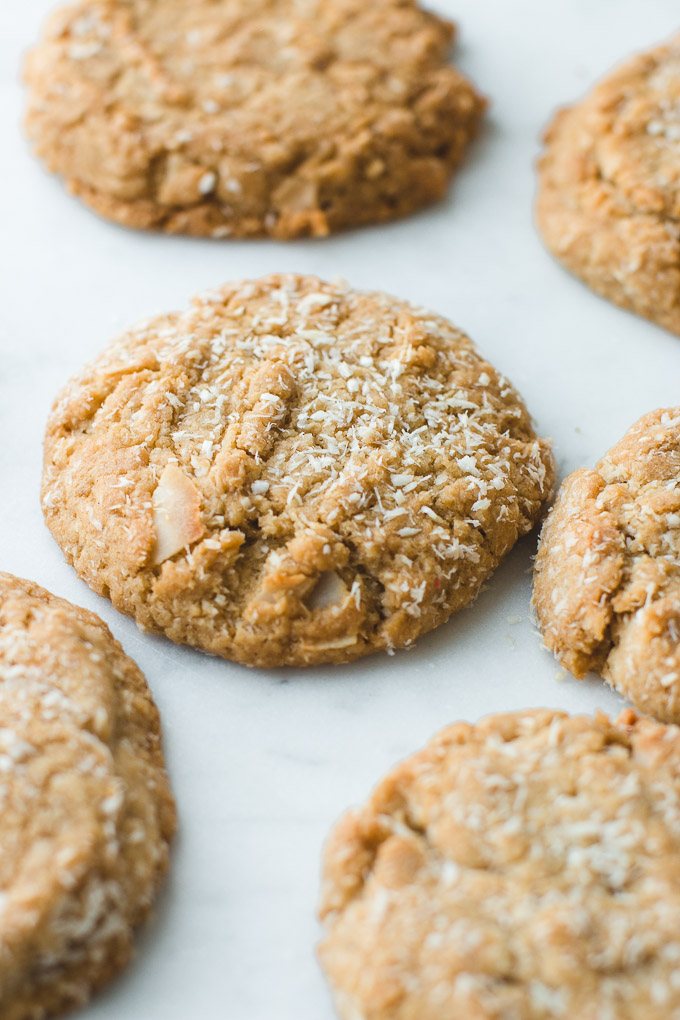 Tips for making chewy coconut cookies
Don't overmix your cookie dough. This can result in tougher cookies, and we want them soft and chewy.
I love lots of coconut flavor so I use 2 cups of shredded coconut. If you want a milder flavor, you can use less coconut, anywhere between 1 to 2 cups, without changing anything else in the recipe.
The secret to soft and chewy cookies is to slightly underbake them. I remove them from the oven when they just begin to brown at the edges. If you like crunchy cookies, bake them for longer until the the top of the cookie turns golden brown.
No chilling required! There's no need to chill the cookie dough before baking because they stay thick and don't spread much during baking.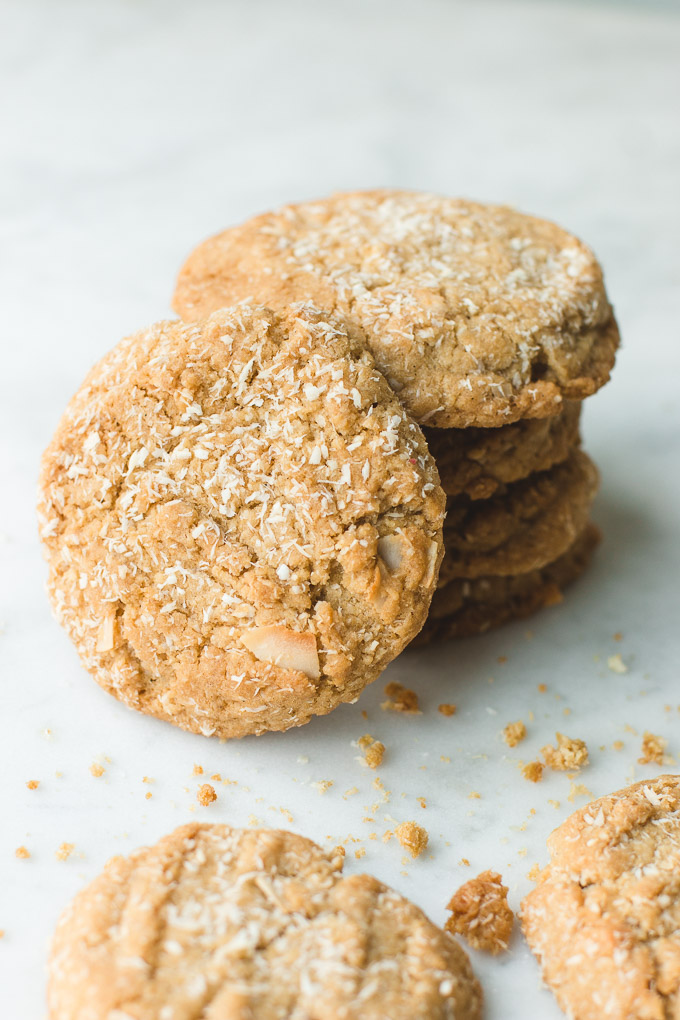 Commonly asked questions
Are you sure I don't need to chill the cookie dough before baking?
Yes. This cookie dough is thick enough that you don't need to chill it before baking.
Can I make the coconut cookie dough ahead of time and refrigerate or freeze it?
Yes! You can definitely chill the cookie dough, you will just need to add an extra few minutes to the baking time. And don't forget to press down on the cookie dough balls to flatten the tops before baking so get a perfectly round cookie.
Why do I need to toast the coconut flakes?
Toasting the coconut flakes amplifies their flavor, so I highly recommend not skipping this step.
Can I freeze baked coconut cookies?
Absolutely. Just be sure to place them in an airtight container or wrap securely in plastic wrap to prevent freezer burn. The cookies will stay fresh in the freezer for 2-3 weeks.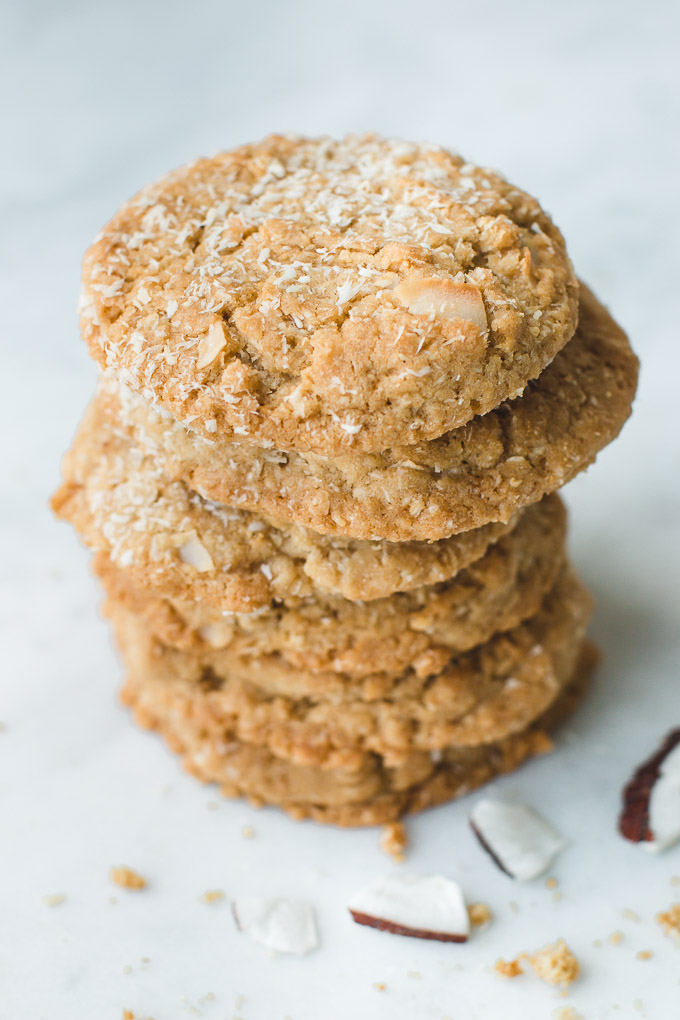 More of my favorite cookie recipes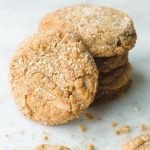 Coconut Cookies
These soft and chewy coconut cookies have a slight crunch around the edges are absolutely sensational.
Ingredients
2 and ½

cups

(350g) all-purpose flour

1

teaspoon

baking soda

¾

teaspoon

salt

1

cup

(2 sticks/225g) unsalted butter, softened to room temperature

¾

cup

(150g) dark brown sugar (light works too)

¾

cup

(150g) granulated sugar

2

large eggs

1 and ½

teaspoons

pure vanilla extract

2

cups

(200g) toasted shredded unsweetened coconut, plus ¼ cup more for rolling the cookies
Instructions
Preheat oven to 350°F/180°C. Line pans with parchment paper.

In a medium bowl sift together flour, baking soda, and salt. Set aside.

In a mixer bowl fitted with the paddle attachment, beat the butter on medium speed for one minute until creamy. Add brown sugar and granulated sugar and beat on medium speed for about 3 minutes, until light and fluffy. Beat in the eggs, one at at time. Beat in vanilla extract. Add flour mixture and mix just until combined. Add coconut and mix slowly just until combined. Do not overmix.

Place ¼ cup shredded coconut in a small bowl.

Roll dough into balls, using about 1.5 tablespoons of dough per cookie, roll in coconut, and place onto prepared baking sheet (it's easy to do this with an ice-cream scoop). Press the cookies down slightly since they won't spread much as they bake. Bake for 9-12 minutes, until cookies just begin to brown at the edges, but the center is still soft. It's important not to overbake the cookies or they will become hard. Remove from the oven and allow cookies to cool on the baking sheet for 5-10 minutes before transferring to a wire rack to cool completely.

Store cookies at room temperature in an airtight container for up to 3 days. Serve warm or at room temperature. Cookies can be frozen for up to 2 months.