This light and fluffy coconut cake has a delicate crumb that is full of flavor and not dry at all. With a slight crunch and subtle coconut flavor, it pairs amazingly well with tropical flavors such as citrus and rum.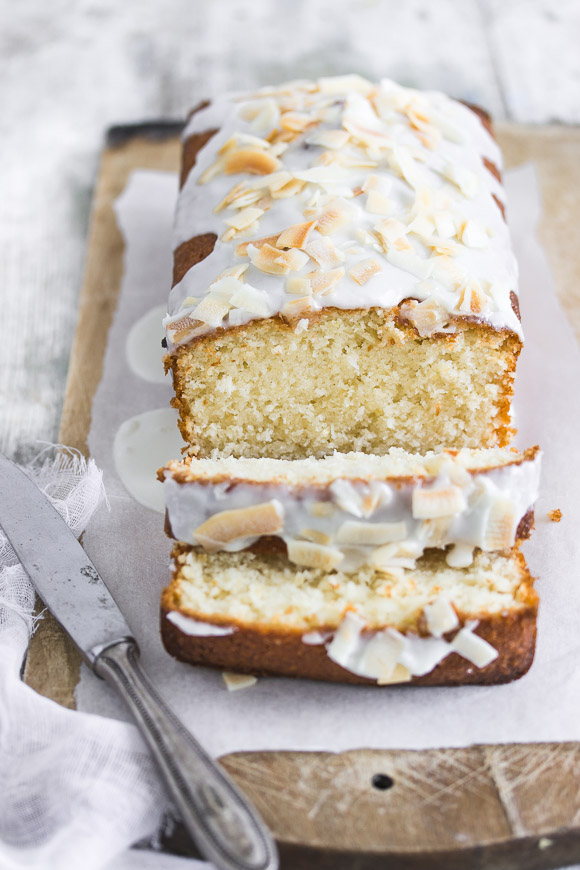 Along with chocolate chips and peanut butter cups, I used to keep toasted coconut flakes in a secret spot in the kitchen. Much like all of us, Erez has some of his own weaknesses, and crunchy coconut happens to be one of them. I say 'used to keep' because apparently that spot is no longer hidden. When I went to look for the coconut flakes, they were nowhere to be found. This is also why I'm posting this coconut cake recipe today instead of last week as promised. Erez sends his deepest apologies (but doesn't seem to regret it one bit). He is absolutely smitten with this coconut cake, along with my coconut cookies and coconut cream pie.
This coconut cream cake is the kind of cake that you can't help but sneak a bite of throughout the day. It has a light and tender crumb with a subtle coconut flavor that you simply won't be able to get enough of. With both coconut cream and flakes in the batter, you get a moist, sweet cake with a crunch of coconut in each bite.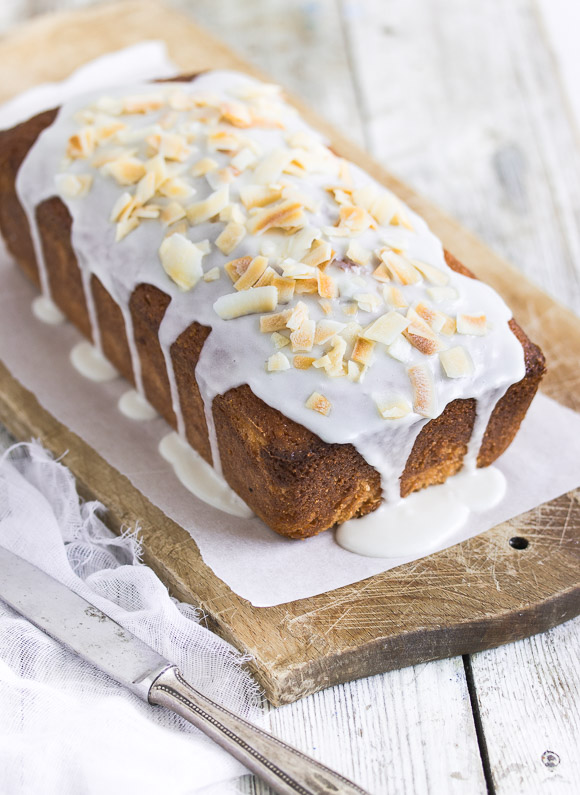 How to Make Coconut Cake
Just like a basic white cake, the best coconut cake starts with creaming your butter and sugar. This is such an important step for any cake recipe. When creamed properly, butter and sugar become light and fluffy. This gives your final cake a tender crumb.
By beating the two ingredients together, the sugar aerates the butter. This creates fine bubbles in your batter that adds lightness and volume to the coconut cake. Start by using room temperature butter, not melted and not straight from the fridge. Once beaten for several minutes, the mixture will be fluffy, pale yellow with almost all of the sugar dissolved. 
What makes this coconut cream cake unique is the lemon/lime zest beaten in with the butter and sugar. The oils from the lemon or lime infuse the sugar with flavor and add bursts of fresh citrus throughout the cake. Save the juice for some lemon curd to put on top of a slice of this easy coconut cake.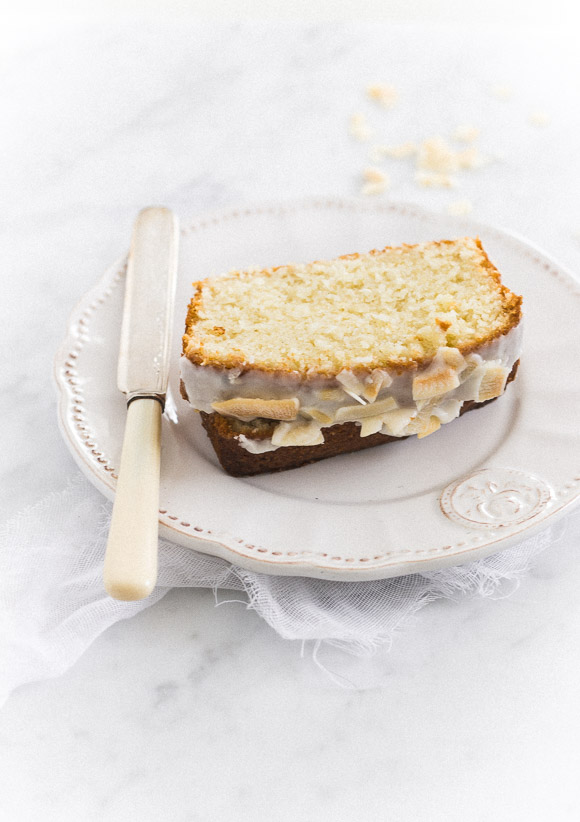 Tips for the Best Coconut Cake
To get a light and fluffy cake, follow these tips to be sure not to overmix your batter:
Scrape down the bowl when beating together the butter, sugar and lemon/lime zest.

Alternate between adding the flour mixture and coconut cream to your batter.

Fold in the shredded coconut.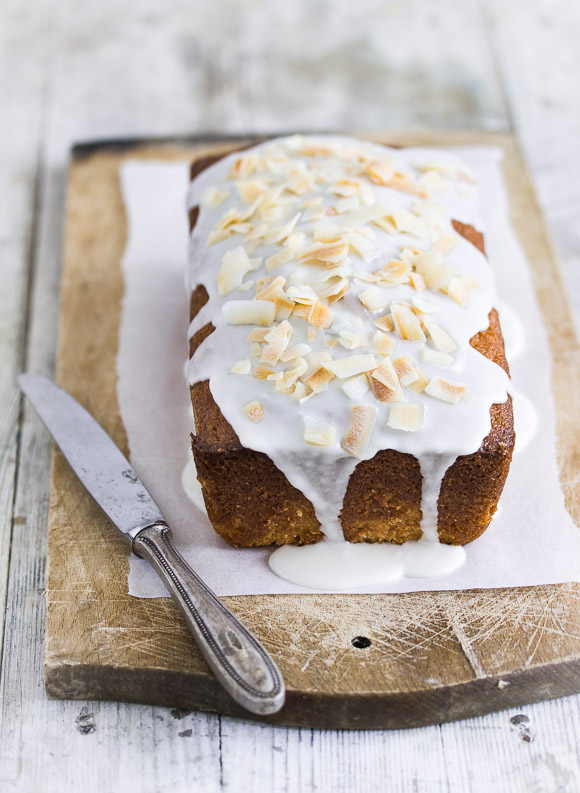 Optional Flavor Variations
This easy coconut cake is versatile, and I know how much you guys love that! Since the coconut flavor isn't overwhelming, it gives plenty of room to play around with other ingredients that compliment it.
Here are a few suggestions:
Add zest of one lime or lemon (tossed with the sugar) and 2 tablespoons of juice (adding it along with the coconut cream).

Replace half of the coconut cream with orange juice.

Add the zest of one orange.

Add ½ cup raisins that have been soaked in ¼ cup dark rum (folding it into the batter).

For the glaze, instead of using just coconut cream, replace part of it with lime juice, lemon juice, or rum. I LOVE dark rum, but it's not what you think, I promise. Start with just a little unless you want a strong flavor—I usually use 1 teaspoon.
While the glaze is optional, I love that it adds more coconut flavor and some crunch to contrast the tender coconut cake.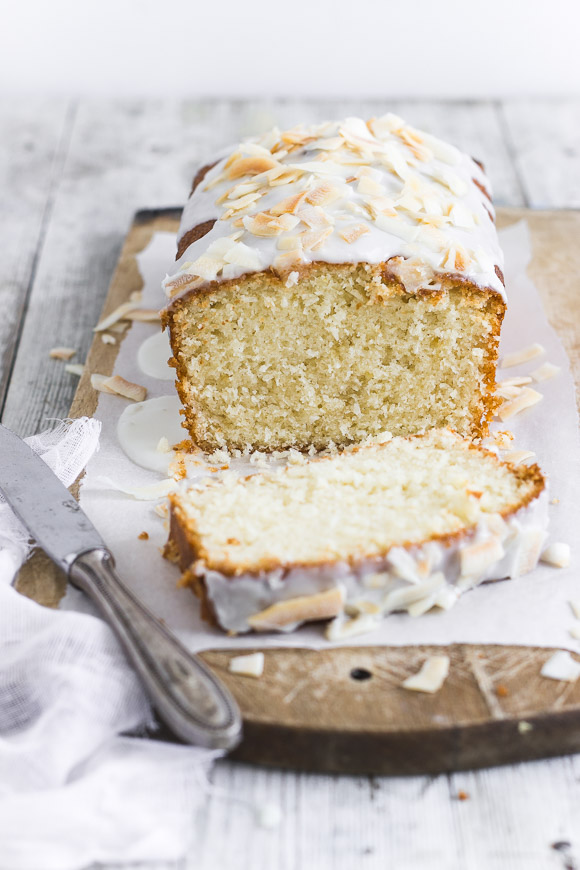 More coconut recipes: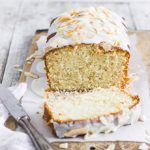 Coconut Cake
YIELD
1
loaf cake (See notes for other pan sizes)
Ingredients
1 ½

cups

(210 g/7.5 oz) all-purpose flour

1 ½

teaspoons

baking powder

¼

teaspoon

salt

½

cup

(1 stick/113 g) butter, softened

1 ¼

cups

(250 g/8.8 oz) granulated sugar

zest of 1 lemon or lime

3

large eggs

1

teaspoon

vanilla extract

1

tablespoon

dark rum

(optional)

1

cup

(240 ml) coconut cream (unsweetened)*

1

cup

(100 g/3.5 oz) shredded (sweetened or unsweetened) or desiccated coconut
Glaze:
¾

cup

(85 g/3 oz) powdered sugar

2

tablespoons

coconut cream

, plus more as needed

1

teaspoon

dark rum

(optional)

½

cup

flaked or shredded coconut

, for topping
Instructions
Adjust oven rack to middle position and preheat oven to 350F/180C. Grease a 9x5-inch loaf pan.

In a medium bowl, sift together flour, baking powder, and salt.

In a mixer fitted with the paddle attachment, beat together butter, sugar, and lemon/lime zest on medium speed for 3 minutes, until light and fluffy. Occasionally scrape down the sides and bottom of the bowl. Add eggs, one at a time, beating well after each addition. Beat in vanilla extract and rum. On low speed, beat in flour mixture in 3 additions, alternating with the coconut cream in 2 additions, starting and ending with the flour. Do not overmix. Fold in the shredded coconut.

Scrape batter into prepared pan and smooth the top. Bake for 45-60 minutes or until a skewer inserted into the center of the cake comes out clean. If the top is browning too fast while baking, cover pan loosely with aluminum foil. Allow cake to cool completely before adding the glaze.

To make the glaze: In a small bowl, whisk together sugar, coconut cream, and rum until smooth. Add more coconut cream as necessary until you reach a thick yet pourable consistency. Pour over top of cake and let drizzle down the sides. Sprinkle flaked coconut on top. Allow glaze to set, 15-30 minutes.

Store cake in an airtight container at room temperature for up to 3-4 days or in the refrigerator for up to 5 days. Cake can be frozen without glaze for up to 2 months. Thaw overnight in the fridge.
Recipe Notes
- You can substitute coconut cream with coconut milk.
- I find that the cake improves, both in taste and texture, a day after it's made.
- This cake can also be baked in an 8x8-inch square or a 9-inch round cake pan, although the baking time will decrease to 35-40 minutes.