If I had to pick just one scone recipe to use forever, these fluffy, flavorful cream scones would be the winner.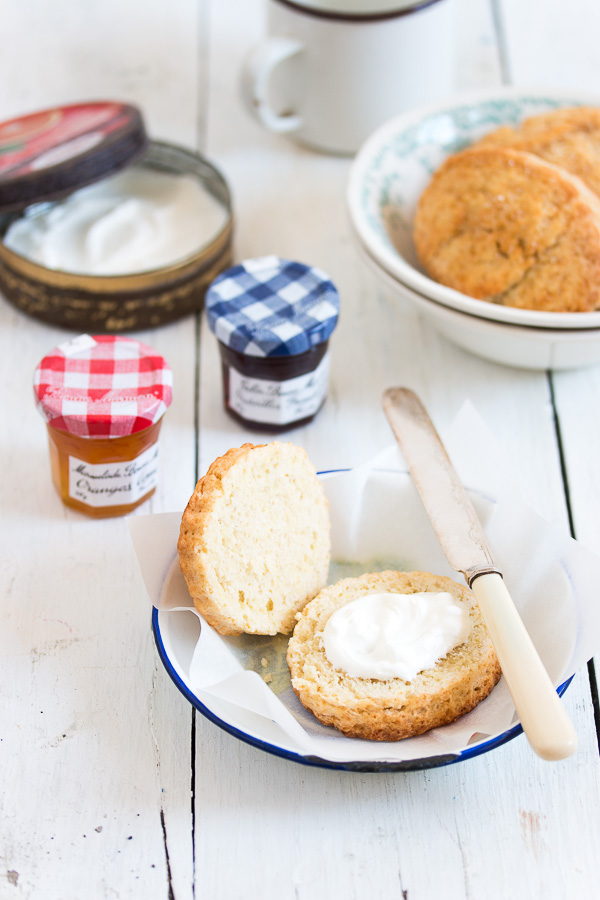 What are scones anyway? Are you really asking me this? Ok, some of you are, and I forgive you for not knowing. Scones are quick breads with just the right amount of sweetness. They are crunchy on the outside and soft on the inside, and are made from just a few simple ingredients: flour, butter, a liquid such as heavy cream or buttermilk, sugar (usually a small amount), and sometimes eggs. Eggs make scones richer in flavor but heavier in texture. Today's recipe uses heavy cream as the liquid, which gives the scones a wonderfully subtle and sweet taste with a rich texture.
I know that some people don't get the fascination with scones, and for a long time I was among them. I think it's just because some of the scones out there don't do justice to a real, traditional scone as they're too dense and flavorless, but trust me that this recipe is the one. They are perfect either plain or with your favorite add-ins such as chocolate chips, nuts, dried fruit, or fresh berries.
There are 2 common methods for cutting scones. The first is traditional rounds, which are made by patting the dough into a 3/4-inch thick circle, then cutting out pieces using a biscuit cutter. This method will leave you with some extra dough that you'll then need to press back into another piece and repeat the process.
The second method leaves you with no leftover dough. Simply tap the dough into a circle, then cut it into 8 wedges, like a pizza. This yields 8 large scones. For 12 smaller scones, you can cut the dough into two, then pat each half into a circle and cut into 6 wedges. The only rule is that each circle should always be 3/4-inch thick.
If the dough doesn't come together easily or if it's too dry and crumbly, add a bit of water. If the dough is too wet and sticky, making it hard to handle, add a bit of flour. It's super important to avoid overworking the dough as much as possible, though, because the less mixing you do, the softer the scones will be.
Use cold ingredients when making scones, otherwise the butter will melt fast and the dough will be messy and hard to work with. I place both the flour and sliced butter in the freezer for 15 minutes, and use cold heavy cream.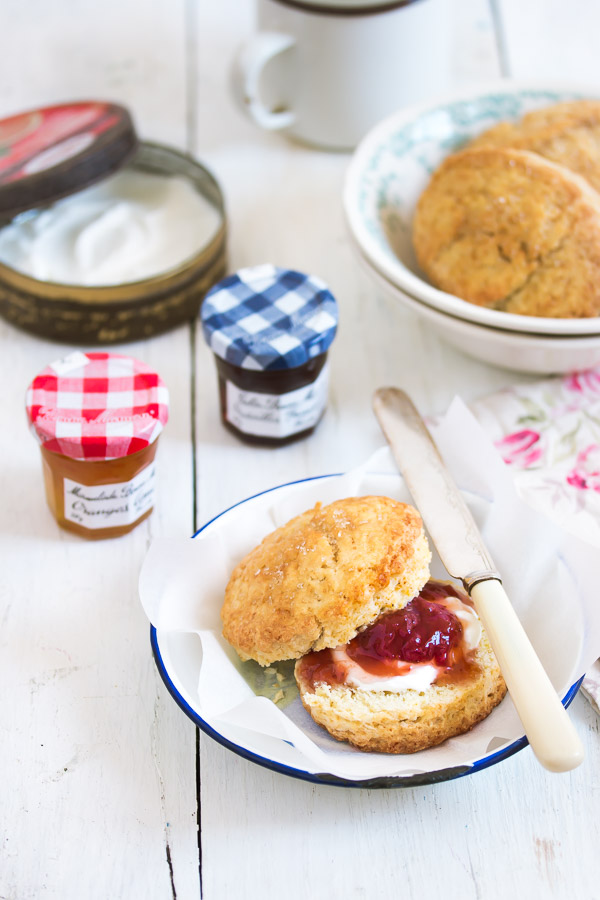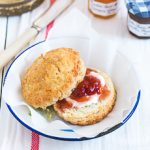 Cream Scones
YIELD
:
8
-9 (quite large) scones
If I had to pick just one scone recipe to use forever, these fluffy, flavorful cream scones would be the winner.
---
Ingredients
2

cups

(280 g/10 oz) all-purpose flour, sifted

1

tablespoon

baking powder

1/4

cup

(50 g/1.7 oz) granulated sugar

1/2

teaspoon

salt

1/3

cup

(75 g/2.6 oz) cold butter, cut into 1/4-inch pieces

1

cup

heavy cream

, plus 1 tablespoon (for brushing the tops)

1/2

teaspoon

vanilla extract

1/2

cup

add-ins of your choice

(see post for ideas), optional

Coarse/turbinado/demerara sugar

, for sprinkling
Instructions
Preheat the oven to 400F/200C. Line a large baking sheet with parchment paper or a silicone baking mat. Set aside.

In a large bowl, whisk together flour, baking powder, sugar, and salt. Cut in the butter using a pastry blender or your fingers. Alternatively, you can pulse the ingredients in a food processor. Mix until mixture resembles coarse meal and there are uneven pieces of butter throughout.

Add most of the cup of heavy cream, leaving a bit for adding if needed. Add vanilla extract and stir with a spatula or fork until dough begins to form. If dough is too crumbly, add more heavy cream as needed—up to 1 cup in total. Don't overmix. Gently fold in your add-ins, if using.

Transfer dough to a floured surface and knead gently, about 5-6 times, until a ball forms.

For round scones: Pat dough into a 9×6-inch rectangle about ¾-inch thick. Using a 2.5-inch (6.5 cm) biscuit cutter, cut out 6 rounds. Press the leftover dough into another ¾-inch thick piece and repeat the process to get 2-3 more biscuits.

For triangular scones (easier method): Pat dough into a 9-inch (23 cm) circle about ¾-inch thick. Cut circle into 8 even wedges.

Place scones on prepared baking sheet. Brush the tops with heavy cream and sprinkle with coarse sugar. Bake for 15-18 minutes, or until golden brown. Transfer baking sheet to a wire rack and allow to cool for 10 minutes. While scones are still hot, sprinkle again with coarse sugar for extra crunchiness.

These scones are delicious either warm or at room temperature.

Scones are best eaten the same day they are made, but can be frozen for up to 1 month. If you want to serve them warm, reheat in the oven before serving.