These amazing pumpkin scones are full of warm fall flavors and topped with gooey, maple glaze. They have a delicate, crispy crunch on the outside and are cakey yet crumbly on the inside. They're the perfect fall treat!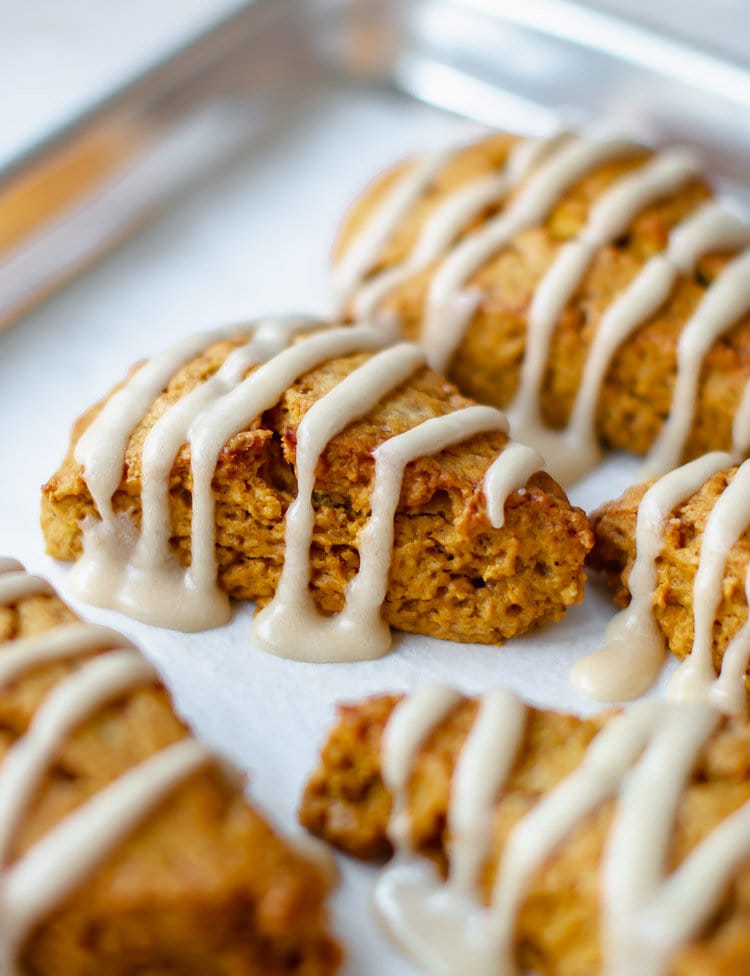 Now that fall is just around the corner, its all about pumpkin. Pumpkin cupcakes, pumpkin muffins, pumpkin crème brulee – you name it. While it's still pretty warm here, I like to live vicariously through my American friends, family, and readers and imagine the leaves are changing colors and I can start pulling out my sweaters from storage while sipping on mulled apple cider or even a homemade pumpkin spice latte.
I've been a huge fan of scones for as long as I can remember. But the first time I went to London and went to afternoon tea at the Langham Hotel, I think my life was forever changed. The scones were perfect, and my love affair with this delicate pastry grew. Then, one trip when I was visiting family in the States, I tried the Starbucks pumpkin scone, and I LOVED it.
So, it was only natural for me to create a pumpkin scone recipe. I wanted to create a recipe that had a slightly crisp exterior, similar to the classic Langham scones, but was also a bit cakey yet crumbly on the inside, similar to the Starbucks pumpkin scone.
And after many attempts, I finally found the winner and am sharing it with you all today. And while the Starbucks pumpkin scone is topped with a vanilla and a pumpkin spice glaze, this version is topped with real maple syrup glaze (which I personally think tastes better).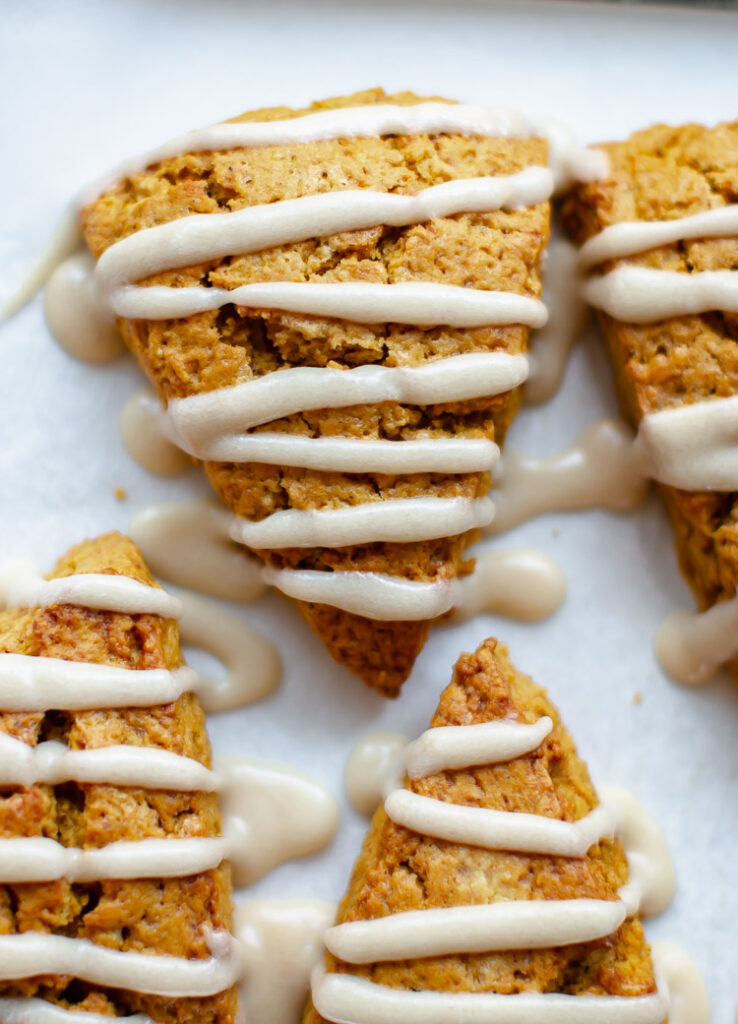 How to make perfect pumpkin scones
While scones are simple to make, they do require a particular method and some technique to achieve that delicious, crumbly consistency. Here's how to make them perfect:
Start by combining all of the dry ingredients in a large bowl, including flour, baking powder, salt, brown sugar, and pumpkin spice mix.

The next step requires cutting cold butter into your dry ingredients until they appear like small crumbs. There are few ways to do this:


Use a pastry cutter. This baking tool allows you to press the cold butter cubes into the dry ingredients by hand until they are tiny pieces.

Use a food processor. Add the dry ingredients and cubed, cold butter to the food processor and pulse gently until the butter is cut up into small pieces. Pour the mixture back into your bowl before moving on to the next step.

Grate the butter. Yes, you heard that right. You can actually place the butter in the freezer, grate it right into the dry ingredients, and mix together.

Use two forks. If you don't have the kitchen tools listed, you can use two forks to press the butter into the dry ingredients by hand. Just be sure to get the butter pieces as small as you can.


In a small bowl, combine the cold heavy cream, egg, pumpkin puree, and vanilla. Pour over the dry ingredients combined with butter and gently mix together just until the dough comes together. It may seem a bit dry, but this is how scone dough should be.

While it's not required, I recommend forming the dough into an 8-inch circle or disc and placing it in the refrigerator, covered or wrapped, for a minimum of half an hour. This allows the butter to get as cold as possible, helping the scones keep their shape and develop the optimal texture. When you're ready to bake them, use a knife or bench scraper to cut eight triangles out of the disc of dough, using the center as the point of each.

Bake the pumpkin scones on a large sheet pan lined with parchment paper or a silicon baking mat. Before putting them in the oven, I like to brush them with heavy cream which makes the scones golden on top and a bit crispier.

While the scones are baking, prepare your maple glaze. Once the scones are out of the oven and have cooled, drizzle each one with the delicious maple goodness using a spoon or a piping bag.
*Note: This recipe calls for 2 teaspoons of my premade pumpkin spice mix recipe. If you don't want to make an entire batch, you can replace it with the following spices:
1 ¼ teaspoon ground cinnamon
¼ teaspoon ground ginger
¼ teaspoon ground nutmeg
⅛ teaspoon ground allspice
⅛ teaspoon ground cloves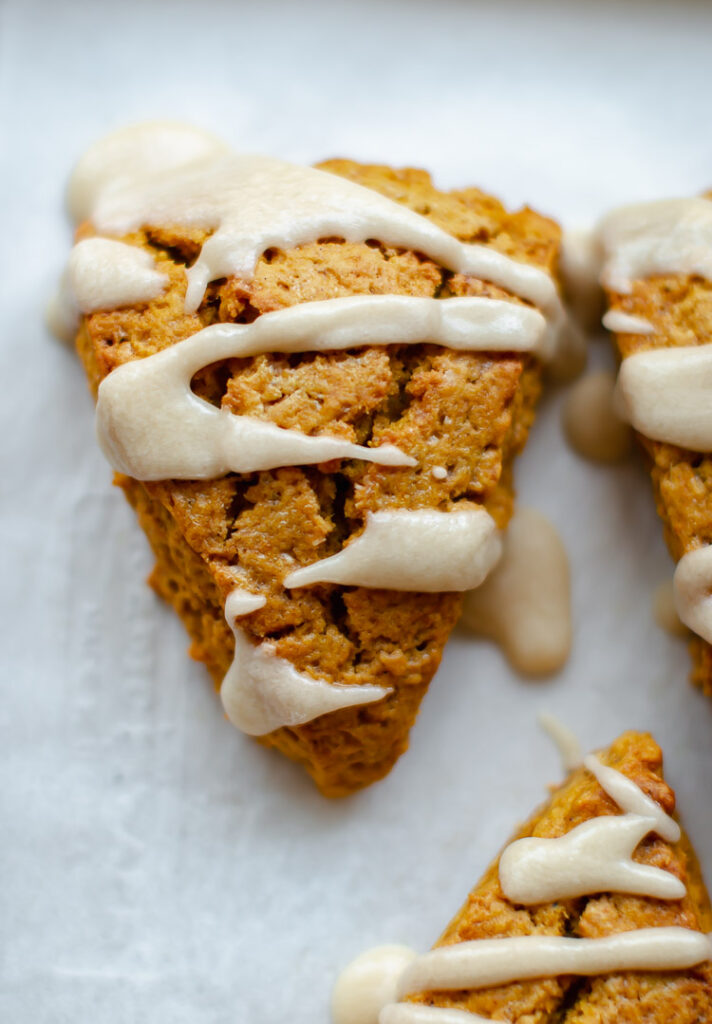 Tips for making perfect pumpkin scones
Use cold butter. When the cold butter bakes, it releases steam which creates tiny pockets in the scones. This is what gives them their distinct, crumbly texture.

Chill your pumpkin scone dough before baking. This helps the scones keep their shape and ensures the butter is cold before baking.

Do not overmix your scone dough. Overmixing your dough will produce excess gluten, producing tougher, denser scones.

Cut the butter in until the pieces are very small. When cutting the cold butter into the dry ingredients, you want them to become very small. It's okay to have some larger than others, but try to make sure the majority looks like course crumbs.

Wait for the scones to cool before glazing. It can be temping to glaze your scones immediately, but doing so will cause the glaze to thin out from the heat and absorb into the hot scones.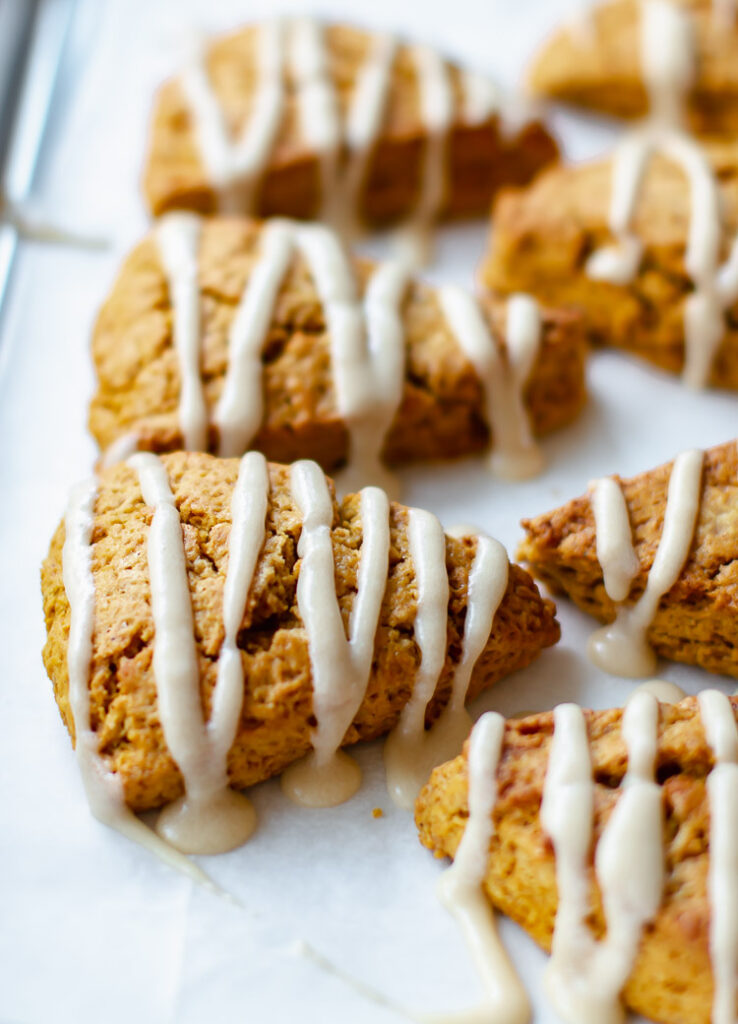 More delicious scone recipes you'll love: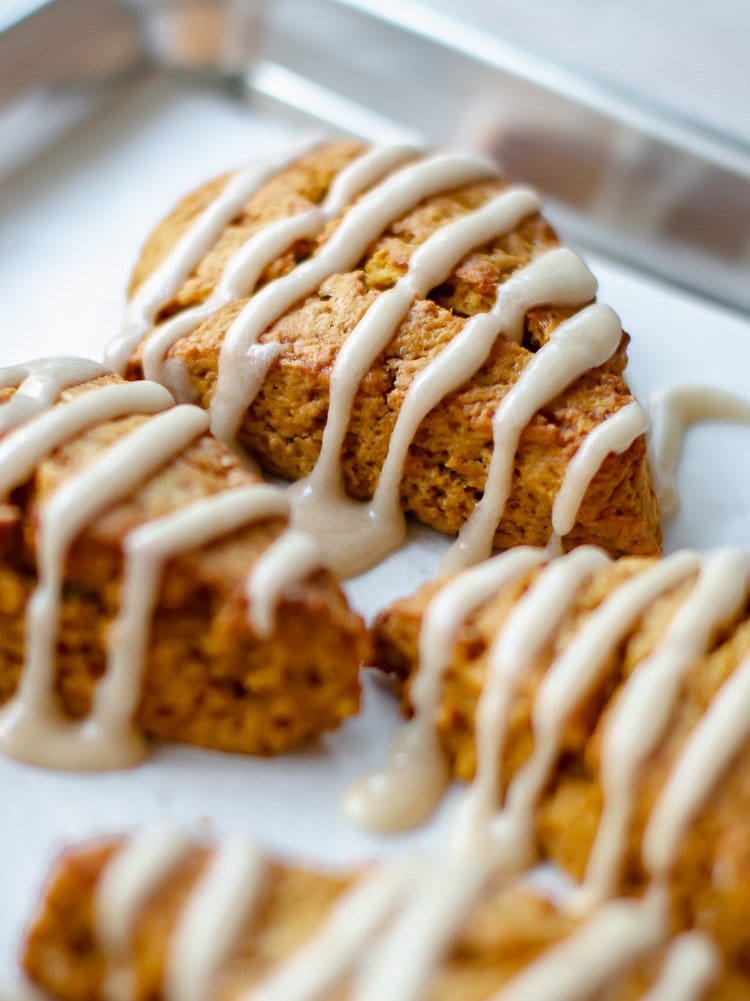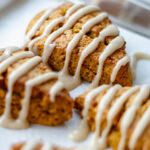 Pumpkin Scones With Maple Glaze
Soft and crumbly pumpkin scones full of autumn spices, topped with sticky, delicious maple glaze.
Total Time
1
hour
10
minutes
Ingredients
For the scones:
2

cups

(280g) all purpose-flour

2 ½

teaspoons

baking powder

⅓

cup

(65g) light or dark brown sugar

2

teaspoons

pumpkin spice mix

½

teaspoon

salt

½

cup

(115g) cold unsalted butter, cut into cubes

1

large egg

¼

cup

(60 ml) heavy cream, plus 2 tablespoons (30 ml) for brushing

½

cup

(115g) canned pumpkin

1 ½

teaspoons

pure vanilla extract
For the maple glaze:
¾

cup

(90g) powdered sugar, sifted

¼

cup

(60 ml) maple syrup

2

tablespoons

(30g) unsalted butter, melted

1

teaspoon

pure vanilla extract, optional

Pinch

salt
Instructions
Preheat the oven to 390°F/200°C. Line a baking sheet with parchment paper or a silicone baking mat. Set aside.

To make the scones: In a large bowl, mix together flour, baking powder, brown sugar, pumpkin spice, and salt. Using a pastry cutter, cut in the butter until the mixture resembles fine crumbs, and there are small uneven pieces of butter throughout. Alternatively, you can pulse the ingredients in a food processor.

Combine the heavy cream, pumpkin puree, egg, and vanilla extract in a bowl, and pour into the dry ingredients. Mix with a rubber spatula or use your hands to make a firm dough. Don't overmix.

Transfer dough to a floured surface and pat dough into a 8-inch (20 cm) circle. If the dough is ery soft, chill it before baking and place in the refrigerator for a minimum of 30 minutes (I recommend doing this regardless).

When ready to bake, cut circle into 8 even wedges. Place scones on prepared baking sheet, 2-inches apart. Use a pastry brush to brush them with heavy cream and bake for about 20 minutes until the golden, cooked through, and springy to the touch. Transfer scones to a wire rack and leave to cool.

To make the maple glaze: Combine all ingredients in a bowl and mix together with a whisk or fork. The glaze should be quite thick. If it's too thick, add a bit more maple syrup. Drizzle over cooled scones using a spoon or piping bag. Let the glaze set for 30 minutes.

Scones are best eaten the same day they are made, but leftovers can be frozen for 2 months.