Creamy cheesecake mousse with a deep caramel flavor, a touch of salt, and a caramel corn crunch.

If you're one of those that hope the salted caramel trend will never go away, then this is the recipe for you. The salty caramel, sweet whipped cream, and tangy cream cheese make the perfect combination for this mousse. And if that doesn't convince you, then just imagine crunchy caramel corn on top. This is what heaven tastes like!
I tried to keep a balance between the flavors so both the caramel and cream cheese are noticeable, but you can play with the amount of caramel, adding more or less to your liking. Same with the salt—just ½ teaspoon is enough for me, but you can play with the amount. Just add it to the caramel until you like the result. If you only have fine sea salt instead of coarse, than you'll have to use much less than the ½ teaspoon suggested.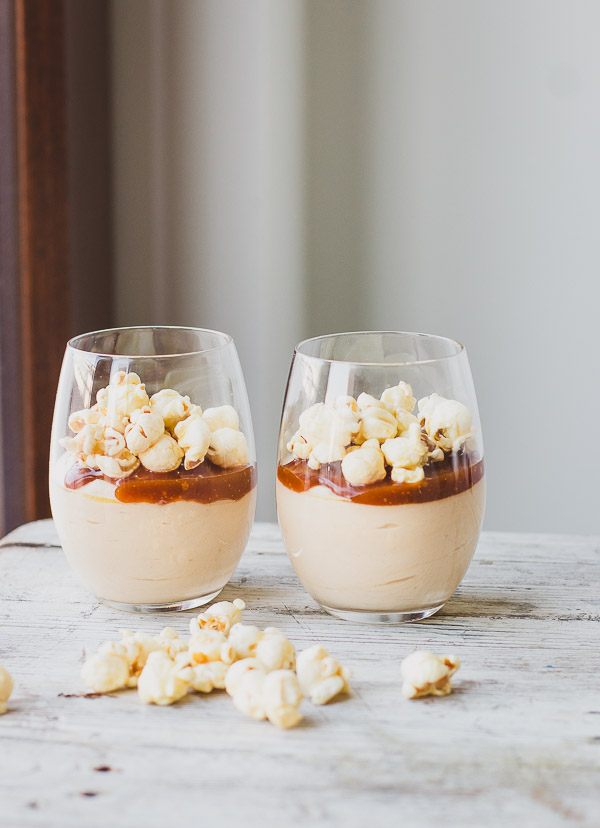 If you want to learn more about making caramel, check out my caramel guide. There are a few things to keep in mind when making caramel:
Have all of your ingredients measured, ready, and close to the pan so that they can be added immediately when it's time. Also, keep a constant eye on the stove; caramel can burn quickly!
The temperature of the caramel will be very high, so keep your face and body away from the pan.
Slightly warm the heavy cream before adding it in, either in the microwave or on the stove, because a high difference in temperature can cause the caramel to bubble up.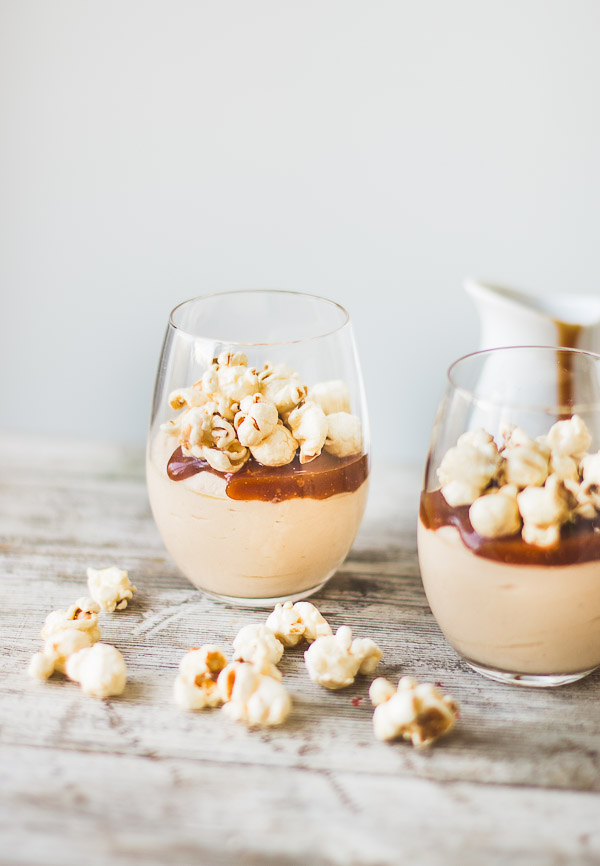 Salted Caramel Cheesecake Mousse (with Caramel Corn)
Creamy cheesecake mousse with a deep caramel flavor, a touch of salt, and a caramel corn crunch.
---
Ingredients
For the salted caramel sauce:
1/2

cup

(100 g/3.5 oz) granulated sugar

2

tablespoons

water

3

tablespoons

(40 g/1.4 oz) unsalted butter

¼

cup

(60 ml) heavy cream, slightly warmed

¼ - ½

teaspoon

sea salt flakes

(or leave out for regular caramel mousse)
For the mousse:
8

oz

(225g/1 cup) cream cheese, at room temperature

1/2

cup

caramel sauce

1

cup

(240ml) heavy cream

Caramel popcorn

(homemade or store-bought), to serve
Instructions
Make the caramel: In a medium heavy-bottomed saucepan heat sugar and water over medium heat. Swirl and shake the pan occasionally (but not too much) to cook evenly and prevent the caramel at the edges from burning. Let the mixture bubble away until the sugar turns into a deep golden caramel. Add the butter very carefully, keeping your face away from the pan, and whisk vigorously until butter has melted and fully combined. Immediately remove from heat and carefully add cream. Whisk until combined. Transfer to a heatproof bowl and let cool before using. Add sea salt flakes, to taste.

Make the filling: In a large bowl, combine cream cheese and caramel, and whisk well until combined and completely smooth (if grainy, beat with an electric mixer until smooth).

Using an electric mixer fitted with the whisk attachment, whisk heavy cream until soft peaks form. Avoid overbeating. Using a spatula, gently fold half of the whipped cream into the cream cheese mixture, then fold in the other half. Divide mixture evenly between 6 serving cups/dishes.

Before serving, top with caramel popcorn and a drizzle of caramel if you have leftovers.

Mousse will keep for 3 days in the fridge, covered with plastic wrap.