Creamy and light white chocolate mousse made easy with only 2 ingredients.
As much as I love to impress my guests with complicated, show-stopping sweets, the reality is that I don't always have the time (or motivation) for it. Getting too lazy to bake something fancy seems to be my most common excuse, and those are the times when desserts like these save me.
5-minute preparation plus chilling time. Although quick to make, you should plan ahead and keep in mind that this mousse needs some chilling time. After melting the chocolate with the cream, let the mixture sit until it reaches room temperature, which should take around 15-20 minutes. Then, when the mousse is ready, it should be refrigerated for at least 2 hours, until firm.
This mousse is egg-free. A "real" mousse may include eggs in the recipe, but since they're used raw, I usually tend to avoid them. This only makes the recipe easier for you, though!
The recipe is made from only 2 ingredients: white chocolate and heavy cream. This means the texture is creamy, light, and airy, but thanks to the chocolate, it's still denser and firmer than whipped cream.
The chocolate to cream ratio varies greatly between different recipes.
Some suggest adding much more chocolate than I do. You can add more chocolate if you like, but I love this ratio because there's plenty of white chocolate flavor yet the mousse isn't too dense or heavy.
To spice things up you can add lemon zest from ½ of a small lemon or a tablespoon of a fruity liqueur such as Grand Marnier to the cream before whipping. You can also add 1-2 tablespoons of instant vanilla pudding mix to the cream to stabilize it slightly. When it's done, you can top the mousse with delicious fresh strawberries or raspberries, berry sauce, or grated chocolate.
Note that this mousse becomes softer once it reaches room temperature. It should be served in cups, and is not suitable for cakes that should hold their shape.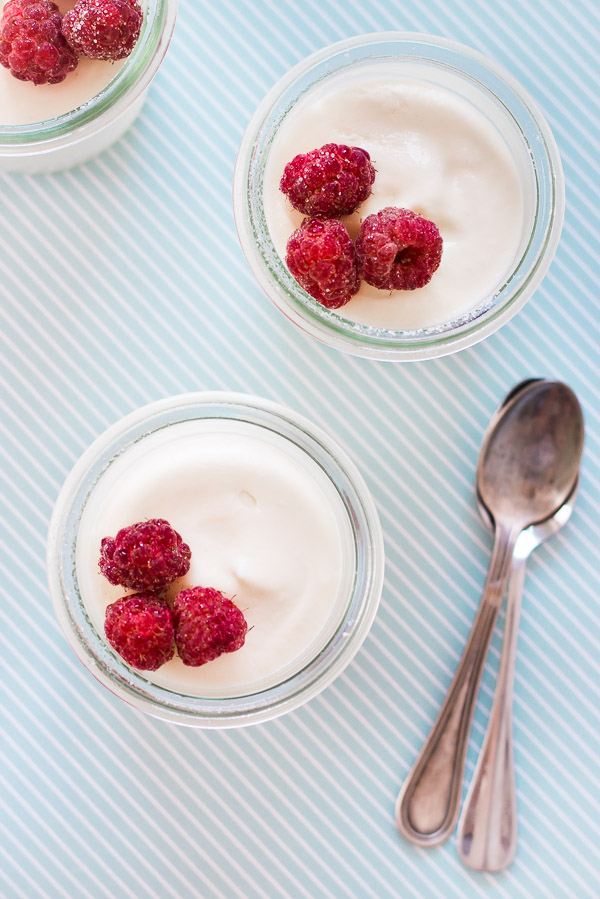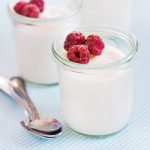 2-Ingredient White Chocolate Mousse
YIELD
:
6
servings (about 1/2 cup each)
Creamy and light white chocolate mousse made easy with only 2 ingredients.
---
Ingredients
6

oz/170 g white chocolate

, coarsely chopped

1 1/2

cups

(360 ml) heavy cream, cold
Instructions
Place white chocolate in a large heat-proof bowl. Add 1/3 cup heavy cream and microwave until melted and smooth. Heat gently in 20-30 second intervals, stirring in between. Allow to cool on the counter for 20 minutes or until the mixture reaches room temperature.

In the bowl of an electric mixer fitted with the whisk attachment, whisk the rest of the heavy cream until soft peaks form. Add 2 tablespoons whipped cream to the white chocolate mixture and whisk by hand until smooth. Add half of the remaining whipped cream and fold gently until combined. Add the remaining whipped cream and fold until combined and smooth.

Divide the mousse between 6 individual cups. For exactly 6 servings, each should measure 1/2 cup/120 ml. Chill the mousse for at least 2 hours, until set.

If desired, garnish with fresh berries, berry sauce, or grated chocolate.

Store mousse in the fridge, covered with plastic wrap, for up to 3 days.