The ultimate flourless chocolate cake – fudgy, rich and super chocolat-y! Simple and fast to make with only 5 ingredients.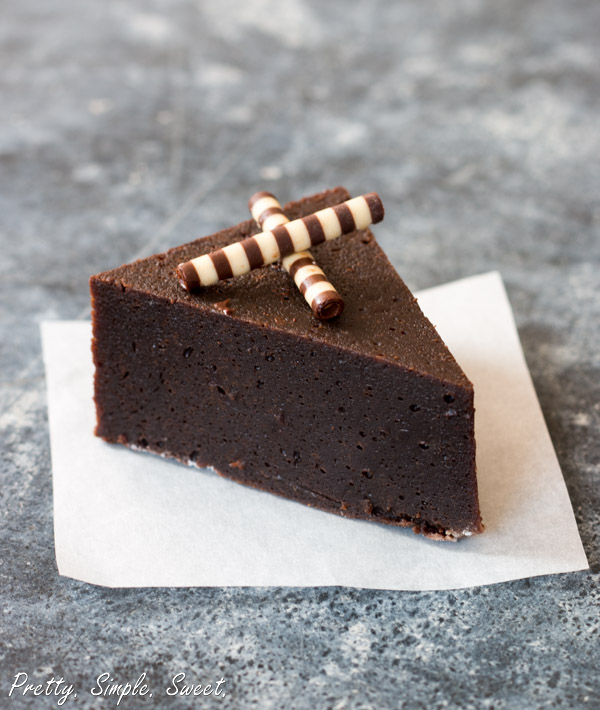 I'M MARRIED. That's crazy. I mean, exciting.
Actually, I've been married for 3 months already, but only now that I'm back from my honeymoon, it is starting to sink in. And babies? I mean they're cute, but not so fast.
So let's get back to my honeymoon… If you follow me on twitter or facebook, then you've seen a glance at the magical month I had in Australia. Australia always seemed to me like a place disconnected from the world we live in. I had no idea what to expect from it. I dreamt about visiting there for years, but Australia is huge (huge!) and it takes about 24 hours to fly there (Ahhhh), so I was waiting for the opportunity to go for an extended period. So when we decided on a 4-week vacation for our honeymoon, Australia was the frontrunner. Erez had other ideas in mind, but now that we're married, he understands that when I'm happy, he's happy. And that's how we found ourselves in the marvelous land of Oz. I will post about highlights from our trip separately.  If I start talking about it now, we'll never get to the chocolate cake. And trust me – you want to get to the chocolate cake.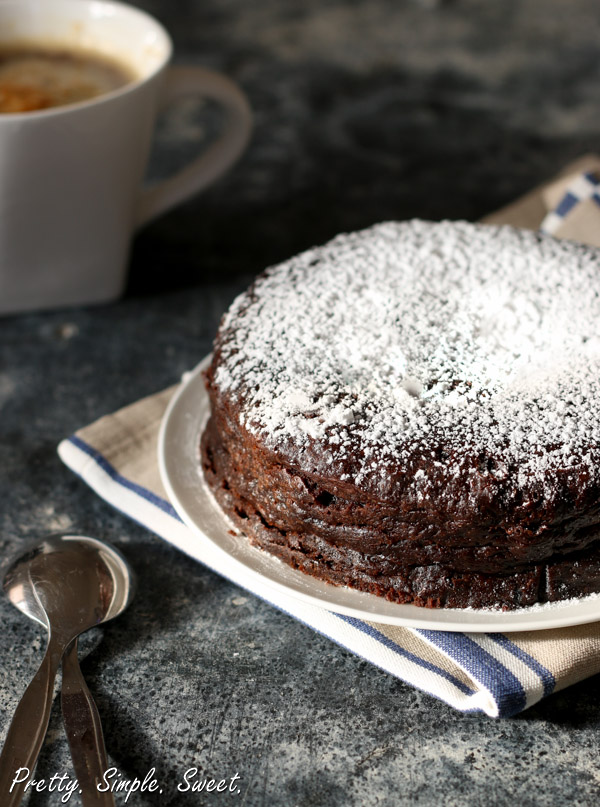 This flourless chocolate fudge cake is creamy, fudgy, and insanely chocolatey. I made it yesterday and half the cake is already gone. But I made a smaller cake than usual and I have the photos to prove it, so that's ok. I'm normal.
With Passover coming up next week, I was looking for the perfect flourless dessert. Passover or not, this dessert will make you go wow.
The cake consists of very few ingredients: chocolate, butter, sugar, eggs, instant coffee and water.
The cake is fast to make, and even if something goes wrong (been there) or you mistakenly overbake it (been there too), it still turns out delicious.
To make the cake, melt together chocolate, butter, instant coffee and water in a bowl in the microwave for 20 seconds. Take it out and stir. Repeat until the mixture is melted and smooth.
In a separate mixer bowl, put the eggs and sugar and whisk for about 5 minutes together on medium-high speed, until doubled in size, and the consistency is light and foamy. This step makes the cake more airy, and what gives it its height. Then, fold the egg foam gently into the chocolate mixture in 3 additions until the mixture is homogeneous.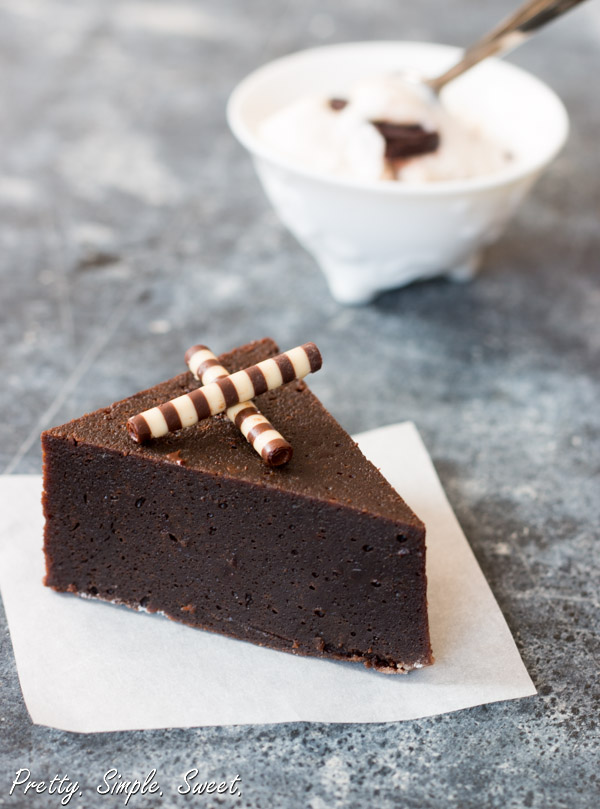 Baking time takes about 20-25 minutes. My cake was ready in 23 minutes, but each oven is different. The cake will rise slightly, and the edges of the cake will begin to set. The center will still look undone but it will set once the cake has cooled (similar to cheesecakes).
After the cake has cooled to room temperature, refrigerate it for a few hours until completely set. If you cut the cake too soon, you'll end up with fudge soup, which sounds good to me, but not what we had in mind.

Flourless Chocolate Fudge Cake
The ultimate flourless chocolate cake – fudgy, rich and super chocolat-y! Simple and fast to make with only 5 ingredients.
Ingredients
10½ ounces or 300 grams semisweet chocolate, roughly chopped
12 tablespoons (1½ sticks or 180 grams) unsalted butter
2 tablespoons water
1 teaspoon instant coffee
6 large eggs
¼ cup (50 grams or 1.8 ounces) sugar
Instructions
Preheat oven to 325F/160C degrees. Grease an 8-inch springform pan. Wrap the outside (bottom and sides) of the pan with aluminum foil to prevent leaking.
Put chocolate, butter, water and instant coffee in a large heat-proof bowl and microwave in 20-second increments, stirring between each, until melted. Do not overheat.
In a mixer bowl fitted with a whisk attachment, whisk eggs and sugar on medium-high speed until light and fluffy and doubled in volume, about 5 minutes.
Using a spatula, fold one-third of egg foam into chocolate mixture until mixed. Fold in remaining foam in 2 additions until the mixture is combined.
Pour batter into prepared cake pan and smooth the top. Bake for 20-25 minutes, until the cake has risen slightly and the edges are just beginning to set. Let the cake cool to room temperature. Cover and refrigerate for at least 3 hours until completely set (don't skip this step).
Keep cake in the refrigerator for up to 4 days.