Homemade granola bars are a deliciously healthy snack, and these particular bars are made even better by the fact that you can add your favorite ingredients!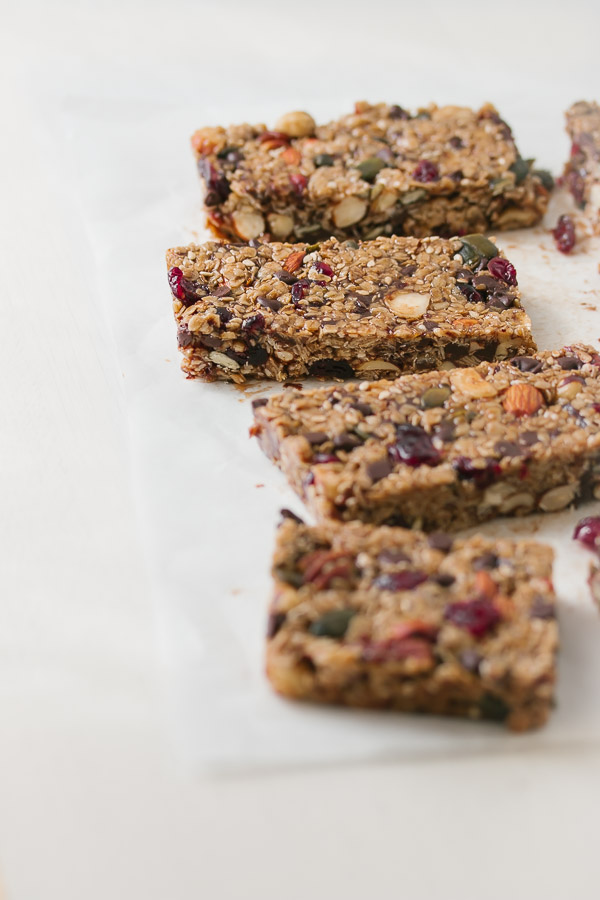 Healthy snacks and I have become best friends lately. I'm not quite sure how that happened. Maybe it's because of the crazy weather that's once again changed from cold and stormy to hot and humid, curbing my sugar cravings (not by that much less, though). Or maybe it's because I always promised myself that once I got near my 30's, I'd watch my not-so-wonderful eating habits more carefully. Or maybe… it's because I gained 3 pounds. Yea, that's probably it.
Either way, these granola bars are a perfect morning or afternoon snack for you, your kids, outdoor picnics, road trips, your neighbors, your dog… You get the point. It's good for you. With tons of options to add anything you may want, they're perfect for anyone anywhere.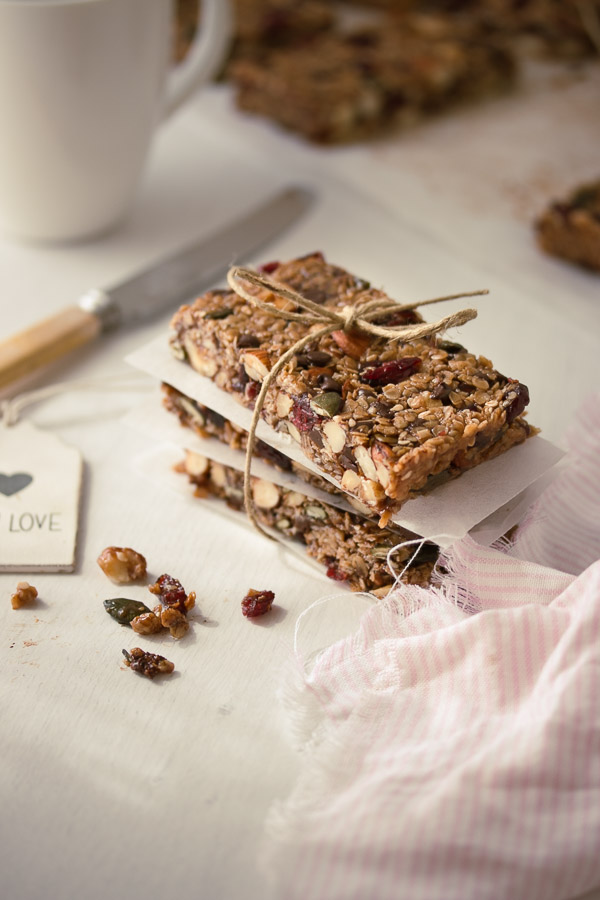 Let's go over the ingredient list:
Oats: Use 2 cups of old-fashioned rolled oats. While recipes usually don't call for quick oats due to the difference in texture, it's ok to use them as well (the result will be less crisp). You can try using both to see which kind you prefer. Do not use instant oats.
Another version you can try is replacing 1/3 cup of the oats with 1/3 cup ground oats (simply process oats in a food processor until finely ground) or flour (either all-purpose or whole-wheat). The flour will help everything stick together better and will act as a binder. By the way, you can do the same with a regular granola recipe – the flour will help create lovely, crunchy clusters.
Add-ins: This refers to nuts, seeds, dried fruit, chocolate chips, coconut, etc. You can play with the amount of add-ins (2 – 2 1/2 cups total) as much as you like, but make sure to add a nice variety; if you add, for example, just dried fruit, the bars will be too sweet and chewy. Here are a few ingredients ideas:
Nuts: Either sliced or whole almonds, hazelnuts, pecans, pistachios, walnuts. Chop them coarsely.
Seeds: Sesame seeds, poppy seeds, flaxseeds, sunflower seeds, pumpkin seeds.
Dried fruit: Apricots, figs, apples, cranberries, blueberries, cherries, raisins. There's no need to chop smaller fruits such as raisins, but do chop the bigger ones.
More: Dark chocolate chips, coconut – either shredded or desiccated, rice cereal, pretzels, wheat germ.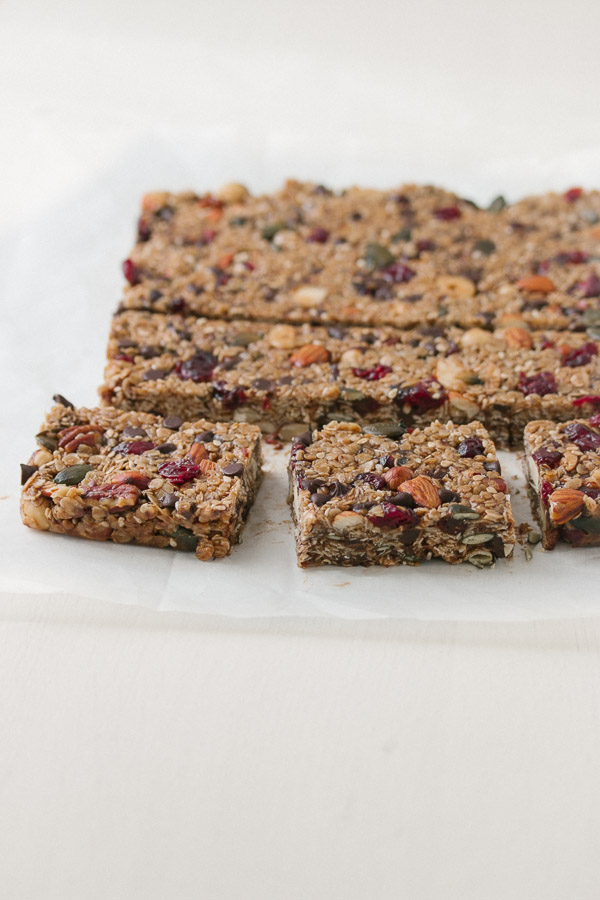 Sweeteners: This is the bar's glue. There are 2 types of sweeteners: liquid, such as honey, and sugar. My original recipe called for ½ cup honey, but that was too sweet for me. I reduced it to 1/3 cup, which is as low as you can go without the bars becoming crumbly. There are many kinds of honey, but it's generally better to use a mild one so that it doesn't overpower the other ingredients. If you don't care for honey, you can replace all or part of it with date honey, maple syrup, agave, brown rice syrup, or golden syrup. Additionally, brown sugar caramelizes nicely and produces crunchier bars than if you're just using a liquid sweetener; use up to 1/4 cup. Granulated sugar is ok, too.
Spices: Ground nutmeg, cardamom, ginger, cinnamon. Use 1/4 -1/2 teaspoon.
Fat: Fat helps to produce less sticky, crunchier, and more delicious bars. I like the taste of butter, but a neutral oil, such as canola, can be used instead. In addition to the butter, I like to add either peanut butter or another nut butter, coconut oil, or tahini, but these are optional, and you can simply replace them with more butter/oil.
Egg whites: Although not included in this recipe, I wanted to give you this as an option. An egg white can replace some of the fat in the recipe (about 2 tablespoons). It will act as a binder and make crispier bars.
Toasting: While some recipes skip this step, I highly recommend toasting the oats, nuts, and seeds. I know it's an extra step, but your oven is already hot and the nuts will taste so much better after toasting! Although it's usually better to toast each of the ingredients separately (since they each take a different amount of time), I'm brave enough to toast them all together. If you choose to do it my way, you'll need to pay careful attention to the mixture, occasionally mixing it to prevent burning as it bakes.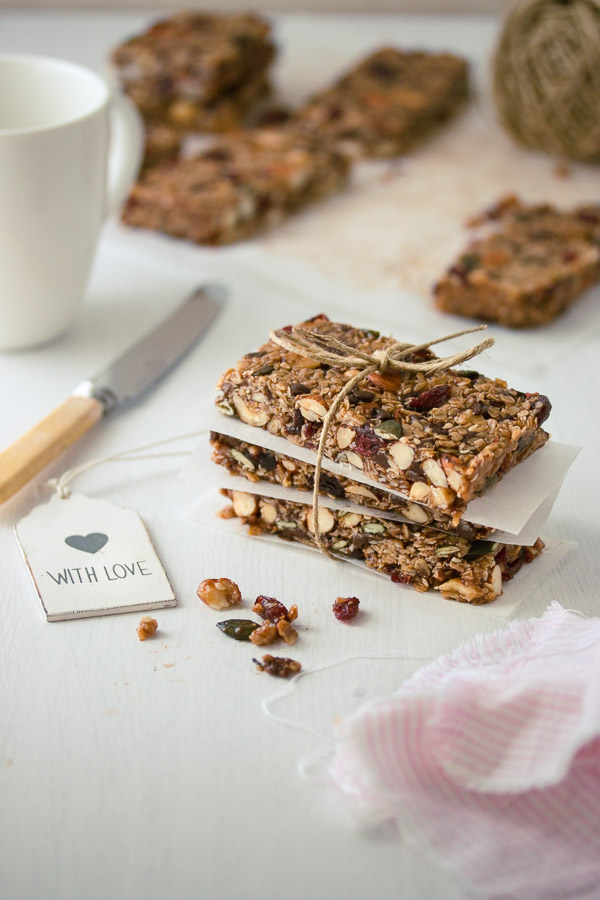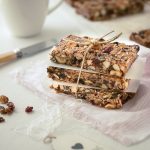 Versatile Granola Bars
---
Ingredients
2

cups

(180g/6.3 oz) old-fashioned rolled oats

1

cup

nuts

, coarsely chopped

1/4

cup

seeds

1/4

cup

(1/2 stick/56 g) butter

1/4

cup

peanut butter

, almond butter, tahini, or coconut oil

1/3

cup

(113g/4 oz) honey

2

tablespoons

brown sugar

1/2

teaspoon

salt

1/2

teaspoon

ground cinnamon

1

teaspoon

pure vanilla extract

(optional)

1/2

cup

dried fruits

, coarsely chopped

1/3

cup

chocolate chips
Instructions
Note: Please make sure to read the entire post, which is filled with information and substitutions not mentioned in the recipe itself.

Preheat oven to 350F/180C. In a large bowl, toss together oats, nuts, and seeds for toasting. Spread them in an even layer on a pan lined with parchment paper or a silicone baking mat. Bake for 8-10 minutes, until golden brown, stirring once or twice while baking to prevent burning. Scrape mixture back into bowl.

Reduce oven temperature to 300F/150C. Line an 8x8 or 9×9-inch pan with parchment paper, leaving enough overhang on the sides for lifting the bars after baking.

In a medium heatproof bowl, place butter, peanut butter, honey, and sugar, and heat it in the microwave or in a saucepan over medium heat until butter has melted and mixture is warm. Stir in salt, cinnamon, and vanilla.

Pour butter mixture into oat mixture and toss until evenly moistened. Add dried fruits and chocolate chips, and mix until incorporated (make sure mixture isn't too warm before adding the chocolate chips or they will melt).

Pour mixture into prepared pan, pressing down evenly and firmly for 1 minute (this will help create less crumbly bars). Bake for 20-25 minutes, until golden brown. The mixture shouldn't be hard, but rather soft and elastic when lightly pressed. Allow to cool to room temperature, then cover with plastic wrap and refrigerate for at least 2 hours before cutting into bars.

Store bars in an airtight container at room temperature for up to a week. For crunchy bars, store them in the fridge.
Recipe Notes
- You can double the recipe and use a 9x13-inch pan, although baking time may be longer. Bake until golden brown.