French toast meets grilled ham & cheese sandwich in this classic American Diner staple. The Monte Cristo sandwich encompasses everything good in the savory-meets-sweet world. Melty, delicious brie cheese, smoked ham slices, dijon mustard, and strawberry preserves on brioche bread. This sandwich is my all-time favorite way to use up leftover ham & maple bourbon glaze for the dipping sauce!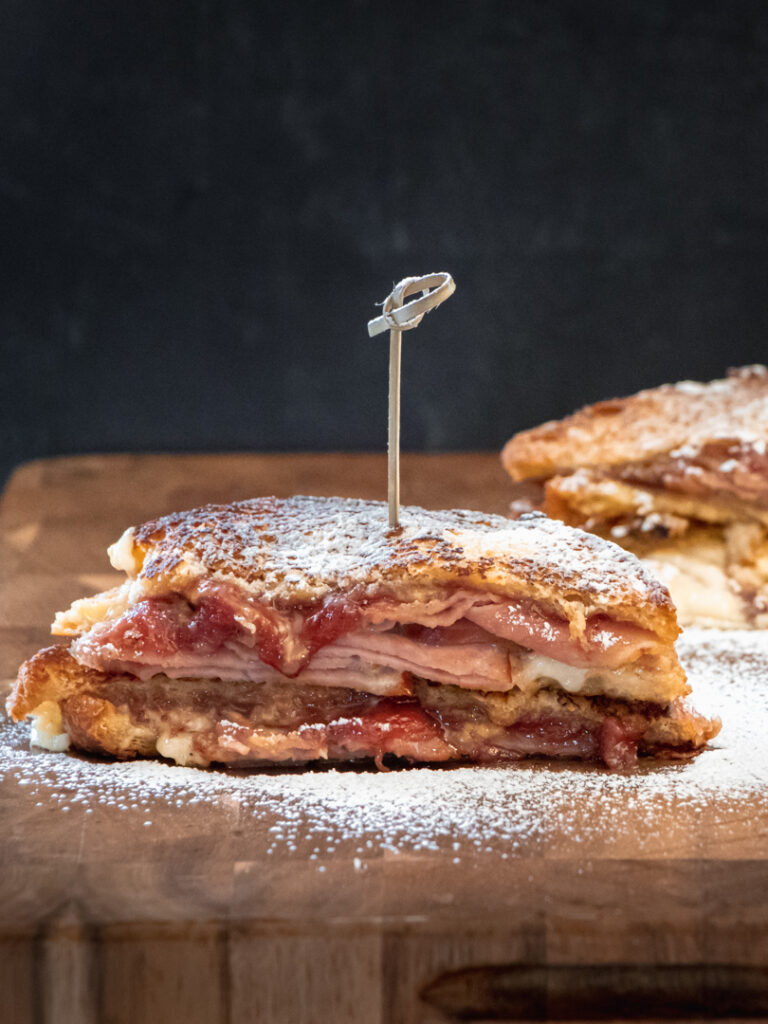 There are so many versions of this drool-worthy sandwich out there, but I like this one best! By switching out the type of bread, cheese, meat, and fruit preserves, the options for your Monte Cristo Sandwich are endless. Traditionally it is made with ham, turkey, gruyere, and cheddar with a fruit jam dipping sauce on the side. I prefer the sophisticated combination of brie cheese, smoked ham, and strawberry preserves. It's simple and always delicious.
Ingredients in Monte Cristo Sandwich Recipe
To assemble the Monte Cristo Sandwich, you will need butter, bread (sourdough, white bread, or brioche), dijonnaise spread (equal parts mayonnaise and dijon mustard), fruit preserves, cheese, ham, and oil for frying. To create the french toast batter, I use my classic French Toast recipe. This simple batter requires 5 ingredients: eggs, sugar, heavy cream, whole milk, and vanilla. To serve, you can top it with powdered sugar and dip it in the fruit preserve, maple syrup, or leftover maple bourbon ham glaze (my FAVORITE). This glaze has notes of cinnamon, mustard, bourbon, and pineapple – it's incredible with this sandwich!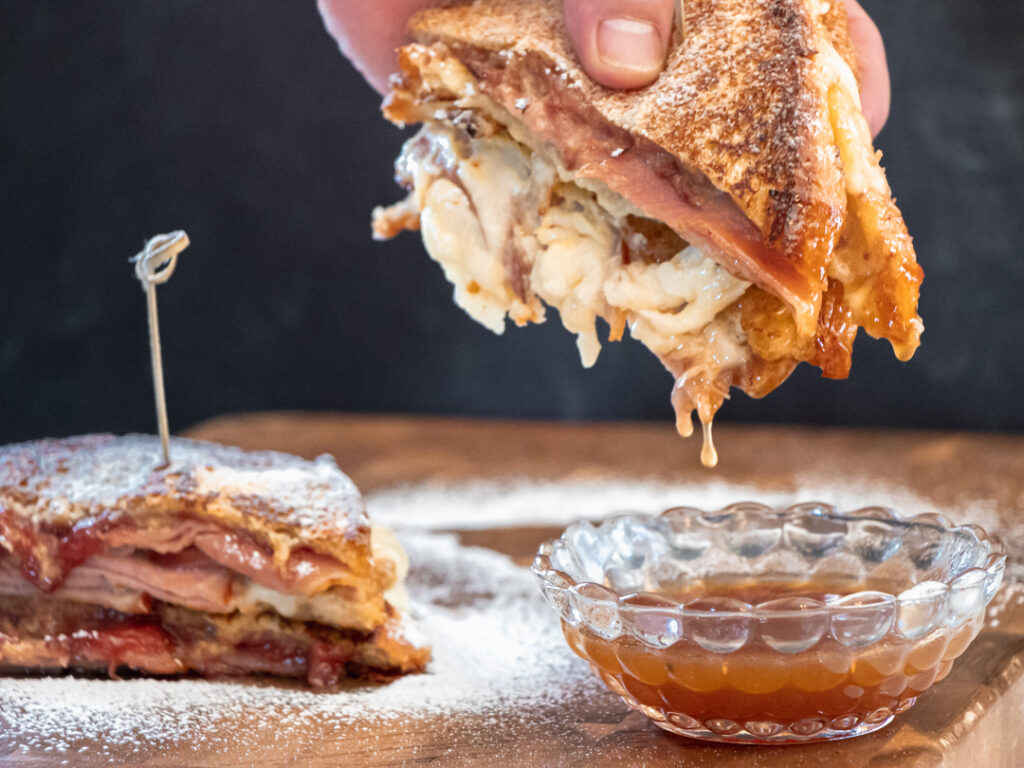 How to make the best Monte Cristo Sandwich
First, assemble your sandwiches. Butter the outside of your sandwich bread and then flip it over to create the filling insides. Layer the inside with fruit preserves on the top slice and dijonnaise on the bottom slice. Cover the dijonnaise with cheese, add a layer or two of ham, and place the fruit preserve bread slice on top. Last, I place strip of parchment paper over the sandwiches and place a heavy cast iron skillet on top of the parchment for about 5 minutes. This will seal your sandwich to hold the ingredients in place. While the sandwich is flattening, make your french toast batter to save time.
In a shallow, wide bowl, whisk together the eggs, sugar, cream, milk, and vanilla. Dip the sandwich into the batter, flip it to cover both sides, and remove immediately. This step only takes about 5 seconds so the bread doesn't get too soggy.
Cooking process
Preheat your oven to 350F/165C and preheat a skillet on medium temperature. Place a pad of butter and approximately 1 tablespoon of canola oil in the skillet. Once the temperature is hot enough (you'll see a few bubbles), place the the sandwich in the pan and cook on medium. Flip after about 1-3 minutes to create a perfectly golden french toast crust. Once each side of the sandwich is perfectly golden, transfer to a parchment-lined sheet pan.
Once all sandwiches have been cooked on the stovetop and placed on a sheet pan, put the sheet pan in the oven for 15-20 minutes or until the cheese is perfectly melted and gooey. Baking the sandwiches might not be as necessary if your cheese melts quickly, but brie cheese takes a little longer to melt. Baking the sandwiches prevents burnt bread on the stovetop.
Be sure to serve your sandwiches with powdered sugar and a delicious dipping sauce on the side – maple syrup, fruit preserves, or leftover ham glaze are amazing with Monte Cristo Sandwiches!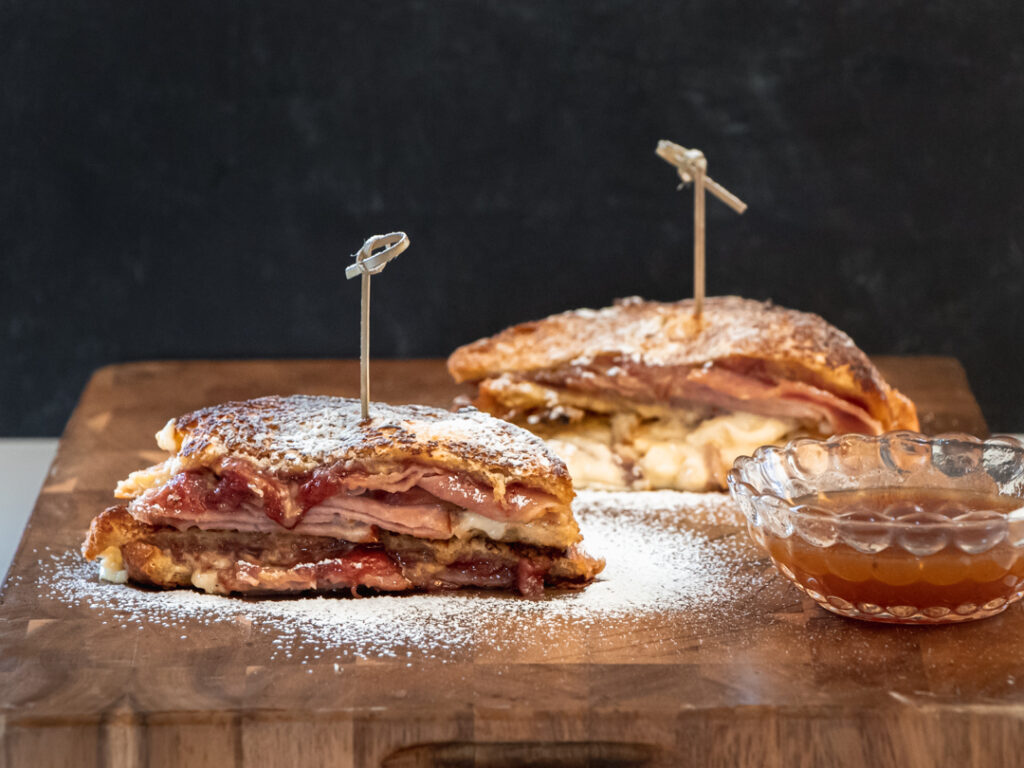 Tips to make the best Monte Cristo Sandwich recipe
The whole sandwich is only as great as its individual parts, so use quality ham, cheese, and bread!
Peel your brie cheese wheel before slicing into it. The rind on the cheese is very bitter. I use a vegetable peeler for the round edge and a chef's knife for the top and bottom.
Just like making a grilled cheese sandwich, don't skip out on buttering the exterior of the sandwich. It is key to that golden, delicious crust on the outside.
Adding canola oil or vegetable oil to the butter in the skillet prevents the sandwich from burning.
Quick breakfast: Make the sandwiches and batter ahead of time to make the cooking process fast for breakfast. Omit the fruit preserves and dijonnaise spread until ready to cook the sandwiches or they will get soggy. Sandwiches can be stored in any airtight container for up to 12 hours in advance. Whisk the batter ingredients and transfer to an airtight container, storing in the refrigerator until needed.
More delicious breakfast recipes
Disclaimer: As an Amazon Associate, I earn from qualifying purchases. I endorse products that I love and use daily.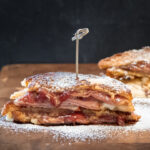 Monte Cristo Sandwiches
---
Ingredients
Sandwiches
6

slices

of preferably day-old bread sliced ¾ inch (2cm thick)

*I used Brioche

4

tablespoons

(1/2 stick) unsalted butter, softened for easy spreading

6

tablespoons

(90g) dijonnaise

(half dijon mustard, half mayonnaise)

1/4

Jar

Fruit Preserves (Jam, Jelly, etc.)

1

wheel of brie cheese, cut into strips

9

thin slices of ham

or 6 thick slices

1-2

tablespoons

(25g) unsalted butter, for frying

1-2

tablespoon

canola or vegetable oil, for frying
French Toast Batter
2

large eggs

3

tablespoons

(37g) granulated sugar

1/2

cup

(120 ml) heavy cream

1/2

cup

(120 ml) whole milk

1/2

teaspoon

pure vanilla extract

1/2

teaspoon

ground cinnamon

(optional for added flavor)
Serving Options
Powdered sugar, sifted over top

Fruit preserve (jam, jelly, etc.)

Syrup (Maple, berry, etc.)
Instructions
Assemble the sandwiches
Lightly butter one side of each slice of bread and leave it butter-side-down on the plate while you assemble the sandwich.

For each sandwich, spread fruit preserves on one slice of bread, dijonnaise on the opposite slice of bread, add a layer of cheese to the dijonnaise, add a few slices of ham on top of that, and place the fruit preserve slice on top so the buttered side is on the outside of the sandwich.

For best results, place a layer of parchment paper over the sandwiches, place a cast iron skillet on top of the parchment paper to press the sandwich together. Leave this on the sandwich for about 5 minutes. Remove pan and parchment paper when finished.
Assemble the batter and coat the sandwiches
In a medium shallow bowl, whisk together eggs, sugar, heavy cream, milk, vanilla (and cinnamon, optional) until combined. Dip the sandwich in the batter, soaking it for only a few seconds on each side.

Preheat oven to 350F/175C.

Preheat the skillet over medium heat. Melt about 1 tablespoon of butter in a skillet pan (swirl it around so it coats the pan bottom evenly) along with 1 tablespoon of oil.
Cook the sandwiches
Transfer sandwich to the hot skillet, cooking each sandwich one at a time. Cook until golden brown, 1-3 minutes on each side. You may need to add a little more butter and oil before cooking each additional sandwich.

Once each sandwich has been cooked to golden perfection on both sides, place it on a parchment-lined sheet pan. Once all sandwiches have been cooked on the stove, place them in the oven at 350F/175C for 10-20 minutes or until desired gooey, cheese-y insides have been achieved.

Cut sandwiches diagonally and serve immediately with your favorite toppings and dipping sauces: maple syrup, jam, powdered sugar, fruit, etc.