Insanely chocolaty and fudgy, these are the richest cocoa brownies you will ever taste. Serve warm with ice cream for pure indulgence.
Yes, yes, I know. I post brownie recipes all the time and it's confusing, but posting this specific recipe is for your own good. You'll just have to trust me. Besides, there is no such thing as too many brownie recipes, right?
Yesterday, at a dinner party, I tasted a delicious brownie. It took me a while to figure out that it tasted somewhat similar to Ad Hoc brownies, which I've tried many times before. I couldn't wait to get home and make them myself. When I did, I was reminded of how amazing they are, and why this is a must have recipe in my life… and yours.
Thomas Keller is the talented man behind Bouchon Bakery and Ad Hoc. I never miss a trip to this bakery when I am in New York. It is that good. When the Bouchon Bakery Book and Ad Hoc at Home Book were published, I was probably the first person to purchase them. Everything I have tried from these books is amazing. Sometimes all I want to do is call Thomas just to say thank you.
Just to set the record straight and help you understand the difference between the brownie recipes I've posted so far (but eventually make all 4 of them… ok?):
Fudgy brownies – classic brownies with shiny crackly tops that are made of chocolate bars and are almost like fudge. They are made of a few simple ingredients, therefore this is my go-to recipe for brownies. I also use them as a base for multi-layer desserts, such as in my cheesecake brownies.
Baked bakery brownies – not too sweet, but dense and fudgy. Made from chocolate bars and a bit of cocoa. They are also a favorite in my family – please don't make me choose!
These cocoa brownies – Cocoa brownies are different in texture than brownies made with chocolate bars (at least I think so). They are more cakey. Still, they are incredibly fudgy and moist and are considered brownies (as opposed to cake). For many people I know, these are what they consider to be their ultimate brownies.
Ad Hoc cocoa brownies – This recipe might look similar to the previous recipe (cocoa brownies), but in baking every gram makes a difference. They are similar in texture but the taste is different. These brownies are rich in butter and when served warm they almost taste like a flourless chocolate fudge cake and melt your mouth. They have intense chocolaty flavor and a gooey texture. The melted chocolate chunks make them even more chocolaty and perfect. At my next dinner party, I will definitely serve them warm with chocolate sauce and ice cream – that's just how good and fancy they are. They do take a bit more time to make, and as I've said – rich in butter, so I suggest making them on special occasions (isn't today a special occasion?).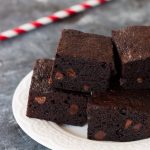 Ad Hoc Brownies
Insanely chocolaty and fudgy, these are the richest cocoa brownies you will ever taste. Serve warm with ice cream for pure indulgence.
---
Ingredients
3/4

cup

(100 grams or 3.5 ounces) all-purpose flour

1

cup

(100 grams or 3.5 ounces) dutch-processed/alkalized cocoa powder

3

sticks

(340 grams or 12 ounces) unsalted butter, cut into 1-tablespoon pieces

1/2

teaspoon

salt

3

large eggs

1 3/4

cups

(350 grams or 12.3 ounces) granulated sugar

1/2

teaspoon

vanilla extract

6

ounces

(170 grams) chocolate, chopped into chip-sized pieces (1 cup when measured after chopping)

Powdered sugar for dusting
Instructions
Preheat the oven to 350F. Butter a 9-inch square pan. Set aside.

Sift together the flour, cocoa powder, and salt; set aside

Melt half the butter in a medium bowl in the microwave. Add the remaining butter to the melted butter and stir. The butter should look creamy, with small bits of unmelted butter, and be at room temperature.

In a bowl of a stand mixer fitted with the paddle, mix together the eggs and sugar on medium speed for about 3 minutes, or until thick and very pale. Mix in the vanilla. On low speed, add about one-third of the dry ingredients, then add one-third of the butter, and continue alternating the remaining flour and butter. Add the chocolate and mix to combine.

Spread the batter evenly in the pan. Bake for 40 to 45 minutes, until a cake tester or wooden skewer poked into the center comes out with just a few moist crumbs sticking to it. If the pick comes out wet, test a second time, because you may have hit a piece of chocolate chip; then bake for a few more minutes longer if necessary.

Cool in the pan until the brownie is at room temperature. Run a knife around the edges, and invert the brownie onto a cutting board. Cut into 12 rectangles or 16 squares. Dust the tops with powdered sugar just before serving.

The brownies can be stored in an airtight container for up to 3 days.