My favorite recipe for a healthy, rich, and delicious fresh veggie quinoa salad.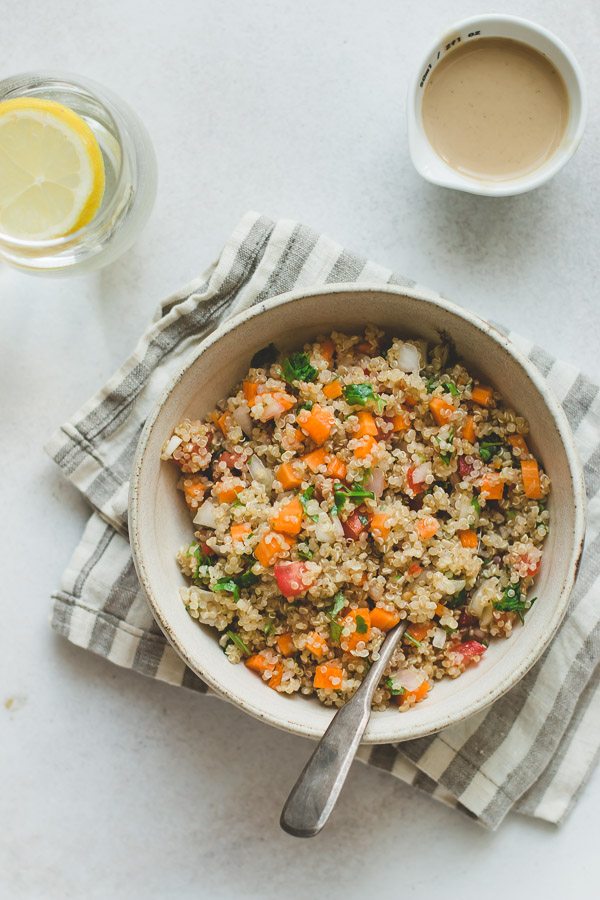 I bake cakes pretty often (as you know), but I also eat them. So every now and then it's necessary to balance that out with some nutrient-dense food such as this quinoa salad! This salad is proof that healthy food can also be delicious.
The Salad
Start by cooking the quinoa, and then allowing it to sit. Once it's cooled, chop the ingredients and mix everything together in a large bowl. I love the combination of fresh vegetables, herbs, nuts, and dried cranberries. Each ingredient gives a different texture and flavor to the salad. You can adjust the quantities or play with the ingredients to suit your taste.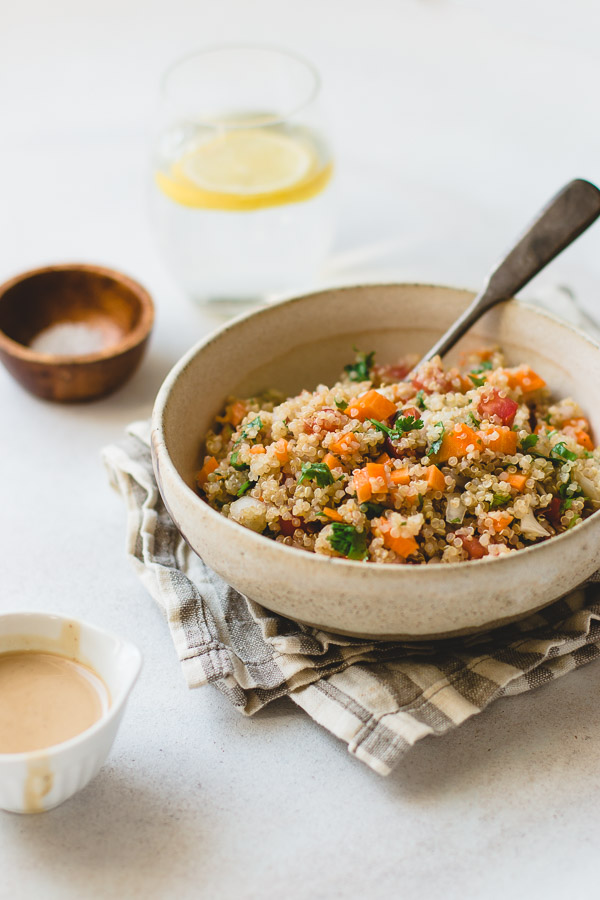 What else can be added to the salad?
This is my favorite version of quinoa salad, but many other ingredients can go into it such as red bell pepper, cucumber, scallions, mushrooms, chickpeas, edamame, sweet potato, etc. Just add in your favorite ingredients!
The dressing
Tahini dressing pairs perfectly with this salad, and as a bonus, it's also very healthy. For those of you who aren't familiar with tahini, it's a Middle Eastern sesame paste that's surprisingly easy to come by in many places around the world. The dressing is optional, though, and the salad is tasty enough without it. I usually season this salad with olive oil, lemon/lime juice, salt, and pepper anyway, so you don't need to use any additional dressing if you don't want to. Instead, just increase the amounts of those ingredients to keep it from feeling dry.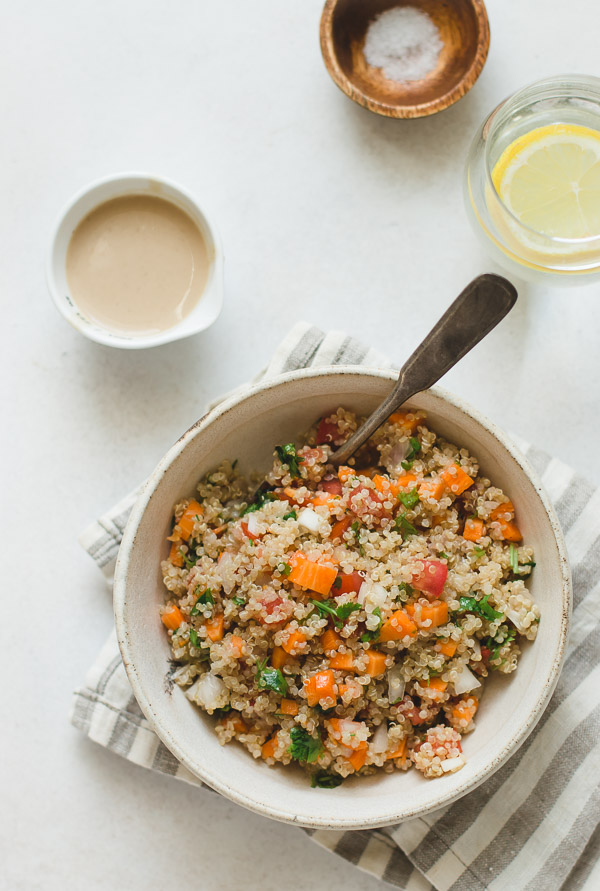 If you serve it with the dressing, be sure to taste test before adding additional salt to the salad. You may find that you need less than the suggested amount.
More delicious Salad Recipes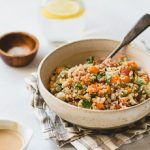 My Favorite Quinoa Salad (With Vegetables and Tahini Dressing)
My favorite recipe for a healthy, rich, and delicious fresh veggie quinoa salad.
Ingredients
Salad:
1

cup

quinoa

2

cups

water

¼

teaspoon

salt

½

red onion

, finely chopped

1

large carrot

, finely chopped

1

large tomato

, finely chopped

¼

cup

chopped fresh cilantro

¼

cup

chopped herbs of your choice

(parsley/mint leaves/basil)

½

cup

dried cranberries

¼ – ½

cup

walnuts

, preferably toasted, chopped

2

tablespoons

olive oil

1

tablespoon

lemon or lime juice

½

teaspoon

salt

¼

teaspoon

black pepper
Tahini Dressing:
¼

cup

tahini

¼

cup

water*

1

garlic clove

, minced

Freshly squeezed lemon/lime juice from ½ small lemon/lime

½

tablespoon

olive oil

2

teaspoons

honey or date honey

(optional)

⅛

teaspoon

salt

, or more as needed

Pinch

of freshly ground pepper
Instructions
In a medium saucepan, bring quinoa, water, and ¼ teaspoon salt to a boil. Reduce heat to low, cover, and cook for about 15 minutes until the water has been absorbed and the quinoa is tender. Allow to cool to room temperature.

Transfer quinoa to a large bowl. Add onion, carrot, tomato, herbs, dried cranberries, and nuts and mix to combine. In a separate small bowl, combine olive oil and lemon juice, then pour over salad and toss to coat. Season with salt and pepper (less salt may be needed if serving with tahini dressing).

To make the dressing: Whisk all ingredients vigorously until well combined. Cover and refrigerate until ready to serve.

Just before serving, drizzle dressing over the top and toss to combine, or serve dressing on the side for each serving to prevent the salad from becoming soggy.

*Water is added to thin out the sauce, so you can add as much as you want of it, a bit at a time, until you reach the desired consistency. ¼ cup always works perfectly for me.
SaveSave
SaveSave