Easy and simple creamy cheesecake swirled with Nutella to make it both pretty and delicious.
There it is, the Nutella swirl cheesecake I've been wanting to make for a long time now. I intended to make it last week, but remember the little accident I told you about? It wasn't pretty, but it all worked out for the best since I made these amazing mango muffins then and the cheesecake today.
Since I'm going on a trip tomorrow with a friend who adores Nutella, I figured today would be the best time to make this cheesecake. She actually booked the trip for her and her boyfriend (soon to be husband! How exciting!), but something came up at the last minute for him and he couldn't go. And as always in life, when one is losing, another is winning. Guess who won this time? Yep, me! So tomorrow we're going to a distant retreat to spoil ourselves completely. We'll focus on food, massages, and gossip all day long in the Jacuzzi, all while nibbling some cheesecake bars, of course.
Since I make quite a few cheesecakes (I even have a signature one that's known for winning everyone's hearts over and over again), I usually process a large amount of wafers and keep them in a sealed bag. It saves me time whenever I'm making a cheesecake. I'll tell you another secret: When I'm short on time, I whisk all the filling ingredients together by hand. I do prefer using the mixer for a smoother texture, but when I simply don't have the time, I skip it.
The ingredients for the cheesecake are as simplest as can be. I usually try not to overcomplicate things unless I have to for more flavor. If you want the cheesecake to be creamier and richer, you can add up to 1/4 cup whipping cream to the filling without changing anything else.
To swirl the Nutella on top, you'll need to pour the cheesecake filling over the crust, then spoon dollops of Nutella on top of it. Finally, run a toothpick or knife through it all to get that pretty marble effect.
I find 1/3 cup of Nutella to be enough. More than that, and the top will start looking messy. You'll taste the Nutella in each bite without it overpowering the taste of the cheesecake. If you prefer the cheesecake to be loaded with Nutella dollops, you can do the following instead. Layer 1/2 of the cheesecake batter over the crust, then spoon dollops of Nutella over it. Pour the rest of the cheesecake batter on top and again spoon on Nutella. Then swirl it all. This way, you're actually making 2 layers instead of 1. I would recommend using no more then 1/2 cup of Nutella in total so that your batter won't turn into a big mess.
For the best results, slightly warm up the Nutella to soften it. Either microwave it for a few seconds or put the bowl with the Nutella inside of another bowl with warm water. If it's too thick, it will be hard to spoon and swirl.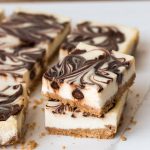 Nutella Swirl Cheesecake
YIELD
:
8
x8-inch pan (9-16 bars)
Easy and simple creamy cheesecake swirled with Nutella to make it both pretty and delicious.
---
Ingredients
Crust:
100

grams

(about 1 cup) vanilla wafer crumbs (pulse in a food processor or blender until finely ground, then measure)

2-4

tablespoons

raw and skinned hazelnuts

, finely ground (optional)

2

tablespoons

(30g/1 oz) unsalted butter, melted
Filling:
16

ounces

(450g) full-fat cream cheese, room temperature

1/2

cup

(100g/3.5oz) granulated sugar

2

large eggs

1

teaspoon

pure vanilla extract

1/3

cup

(100g) Nutella, slightly warm
Instructions
Preheat oven to 350F/180C. Line an 8×8-inch baking pan with parchment paper, leaving enough overhang on the sides for lifting the cheesecake out after baking.

In a medium bowl, stir the crumbs, hazelnuts, and melted butter together. Put mixture in the lined pan and gently press with your fingers until crumbs form an even layer. Bake for 8-10 minutes, until golden brown. Allow to cool on a wire rack while you prepare the filling.

Reduce oven temperature to 300F/150C.

In a mixer fitted with the paddle attachment, beat cream cheese on medium-low speed until smooth, about 1 minute. Add sugar and beat for another 2 minutes. Scrape down the sides and bottom of the bowl as necessary. Add eggs, one at a time, until fully combined and smooth. Beat in vanilla.

Pour batter over cooled crust and spread evenly. Spoon dollops of Nutella on top of cheesecake batter. Using a knife or skewer, gently swirl the two batters together to get a marble effect. Be careful not to touch the bottom crust while swirling. Bake for about 40 minutes, until the sides are set but the center is still slightly wobbly (it will set once cooled). Allow the cake to sit at room temperature for 1 hour, then refrigerate for at least 4 hours until completely set. Lift the cake out of the pan using the parchment paper and cut into squares.

Store cheesecake bars in an airtight container in the refrigerator for up to 5 days.

*You can double the recipe and bake in a 9×13-inch pan for 45-60 minutes.