This classic New York cheesecake recipe yields a rich, creamy and dense cake, and doesn't require a water bath like in many other recipes so it's also easy to make. It's one of the best cheesecakes I've ever had – it tastes amazing! To learn how to make it perfect, read all my tips in the post below.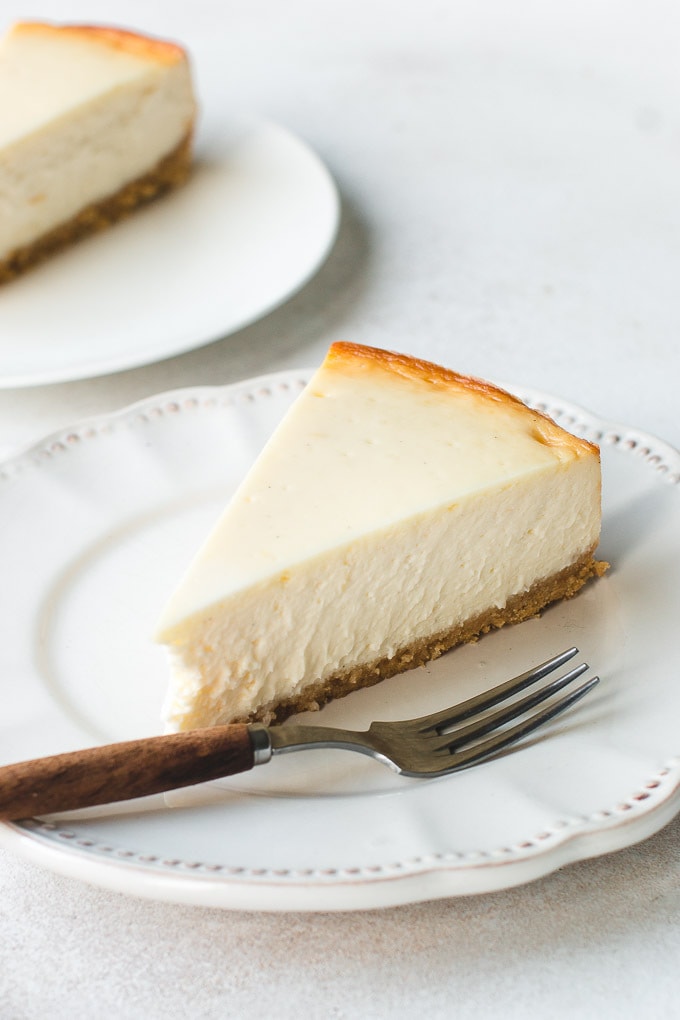 If you've been searching for the most rich and creamy cheesecake, this New York style cheesecake might just be it! It completely took me by surprise at first bite. The texture is dreamy creamy, and the flavor is crazy good.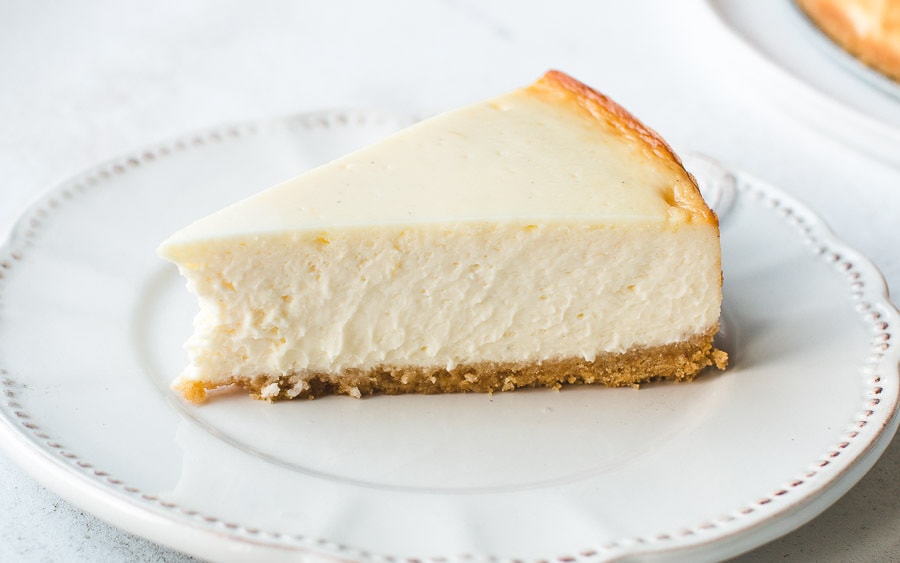 This cake is very similar to my classic cheesecake recipe I posted a while back, but this one uses extra egg yolk and cornstarch and is baked without a water bath (I've now added this option in the instructions to my other recipe as well).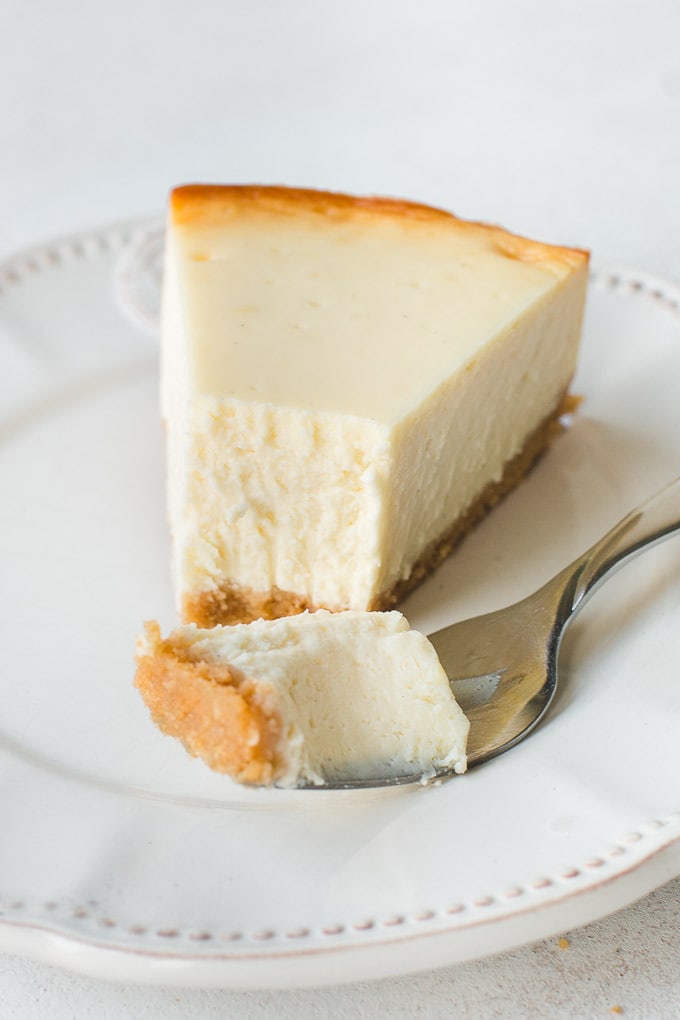 What is New York cheesecake
New York cheesecake is known for its creamy, satiny texture. It's rich, dense and tall with a flat top – exactly how I like my cheesecake. It's made with cream cheese, eggs, egg yolks and heavy cream or sour cream, to add richness and a smooth consistency. Sometimes it's flavored with lemon to add freshness.
The cheesecake is not baked in a water bath, but instead, it's baked at a high temperature for several minutes, and then at a low temperature to ensure it stays creamy inside.
Some say that you can't eat more than a small slice of this cheesecake because it's quite heavy, but not me. I'll take 2 large ones, please!
How to make homemade New York cheesecake
Crust
The crust is easily made with a mixture of cookies, sugar, and melted butter. It's baked for a few minutes before adding the filling so it's crisp and not mushy.
Use graham crackers if they're available, or vanilla wafers or digestive biscuits which are more common in Europe. Even if you use sweet biscuits, don't leave out the sugar because it acts as a glue and gives the crust a firm texture and holds its shape.
Filling
The filling is made of cream cheese, sugar, eggs and egg yolk, cornstarch, lemon zest (which I recommend not to leave out), and heavy cream. If you like cheesecakes with sour cream, you can use sour cream instead of the heavy cream. I'll choose heavy cream over it every single time because of the texture it gives to the cheesecake.
You don't have to use brick-style cream cheese. Cream cheese spread that contains about 30% fat (or a little less) is ok to use. The cheese should have a thick consistency. Low fat cheese is more thin, and if you use it, the cheesecake won't be as rich or dense.
The ingredients are mixed in a mixer in a low-medium speed. The goal is to mix the ingredients well without incorporating too much air into the batter.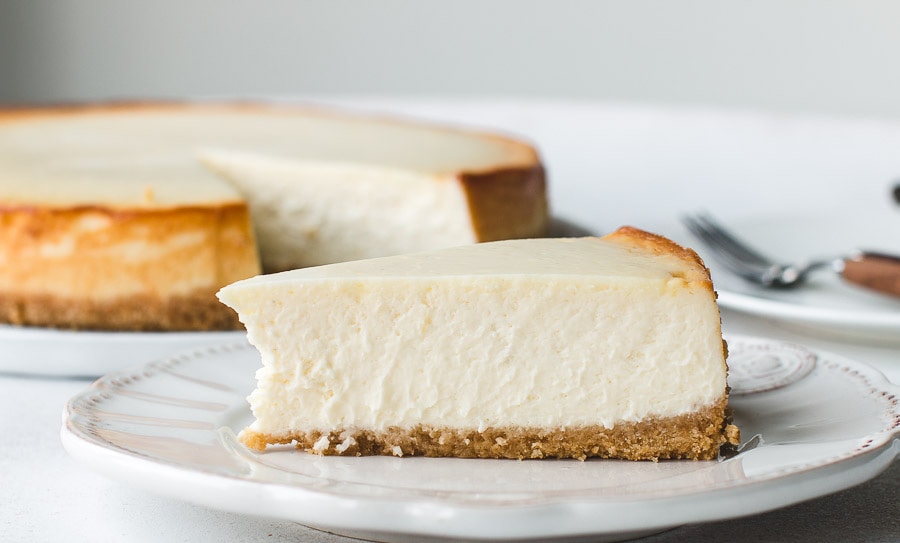 Baking 
The cake is baked at 425°F/220°C for 10 minutes, then for 60 minutes at 225°F/110°C. The center should be slightly wobbly. Don't open the oven door while baking because it encourages cracks. Then turn off the oven and open the oven door slightly, and leave the cake to cool inside without touching it for about an hour. This will also prevent the cake from cracking. Transfer the cake to a wire rack and allow to cool completely. Place in the fridge for at least 12 hours until set. It tastes best after 24 hours. It keeps well in the fridge for several days.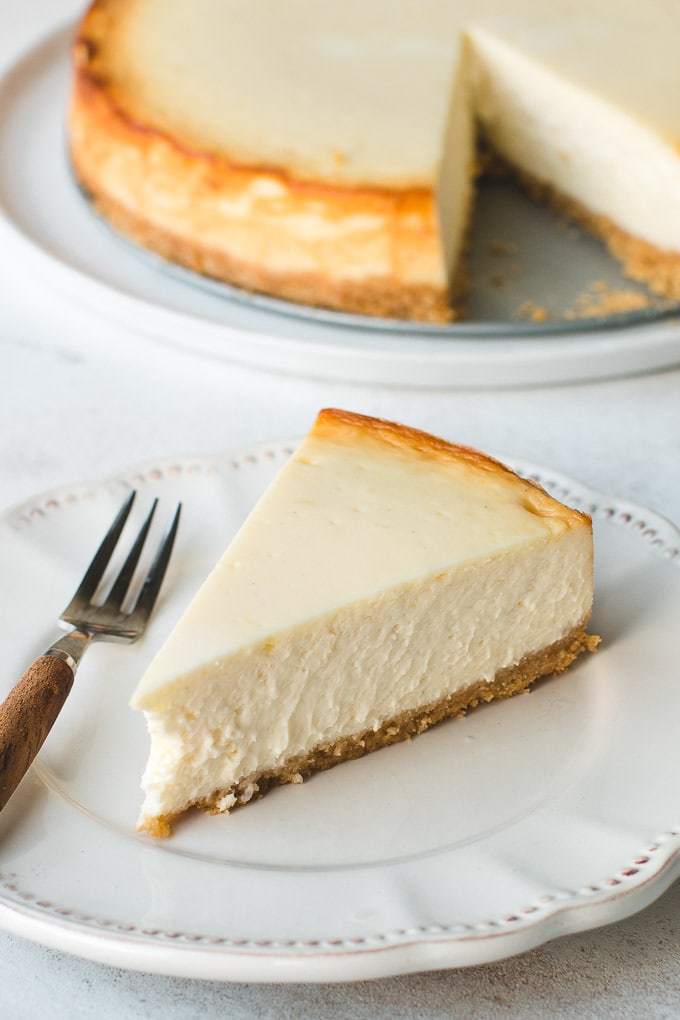 More Cheesecakes: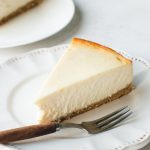 New York Cheesecake
---
Ingredients
Crust
1 and 1/2

cups

(150 g) graham cracker, digestive biscuits, or vanilla wafer crumbs (pulse in a food processor until finely ground)

2

tablespoons

granulated sugar

4 and 1/2

tablespoons

(65 g) unsalted butter, melted
Filling
32

ounces

(900 g) full-fat cream cheese, at room temperature

1 and 1/8

cups

(225 g/8 oz.) granulated sugar

2

tablespoons

cornstarch

4

large eggs plus 1 egg yolk

, at room temperature

1/2

cup

(120 ml) heavy cream

1 and 1/2

teaspoons

pure vanilla extract

Grated lemon zest from 1 small lemon (1 teaspoon)
Instructions
Preheat oven to 350°F/180°C. Wrap the outside of a 9-inch springform pan (bottom and sides) with a large piece of foil.

In a medium bowl, mix together crumbs, sugar, and melted butter and mix until combined and moistened. Press mixture into the bottom of prepared pan to form an even layer of crumbs. Bake for 8-9 minutes until golden brown. Allow to cool completely on a wire rack. Meanwhile, prepare the filling.

Increase oven temperature to 425°F/220°C.

In a mixer fitted with the paddle attachment, beat cream cheese on medium-low speed until smooth and lump-free, 1-2 minutes. Add sugar and beat until blended. Scrape down the sides and bottom of the bowl as necessary. Add cornstarch and mix until blended. Add the eggs and beat until fully combined. Add cream, vanilla extract, and lemon zest and beat just until combined and smooth. Pour batter over cooled crust and spread evenly.

Bake cake for 10 minutes, then lower temperature to 225°F/110°C and continue to bake for 60 minutes until the sides are set but the center is still slightly wobbly (some comments suggested this was not enough baking time. I baked this so many times and it works. If you're not sure if your oven temperature is accurate or if your baking time is usually longer than those called for in a recipe, you can add an additional 10-20 minutes, and avoid opening the oven door too many times). My cheesecake always gets golden brown around the edges but if yours doesn't, that's ok, just trust the recipe 🙂 Turn off oven, open the oven door slightly or halfway to let in cold air, and leave the cake in the oven for 60 minutes. This will help prevent the cake from cracking and the cake will remain creamy. Transfer the cake to a wire rack and allow it to cool to room temperature. Cover the cake with plastic wrap and refrigerate overnight or for at least 12 hours.

Cheesecake will keep in the refrigerator for up to 5 days.