Lightly sweet and dairy-free, this beautiful braided challah has a pillowy texture that no one can resist!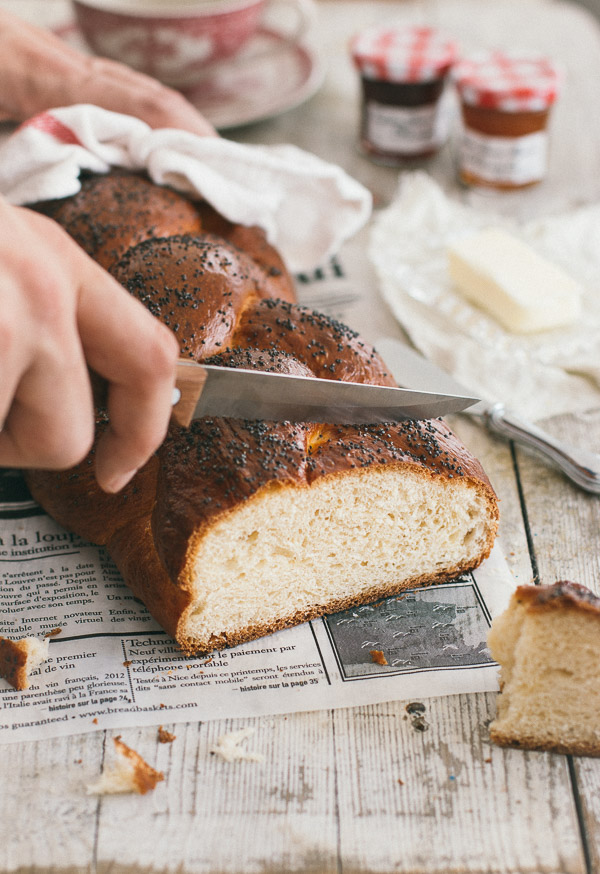 I always say that one of the best parts of being Jewish is that you get to eat A LOT of really good food. Or maybe it's just in my big Jewish family? Either way, this is especially true at Shabbat dinner—an intimate family feast that always starts with a huge homemade challah, and ends with unbuttoning your pants so you have just a little more room for dessert.
What is Challa?
Challah is a soft braided bread that's slightly sweet and tastes similar to dinner rolls. It's enriched with eggs and is traditionally dairy-free, which means you use oil instead of butter and water instead of milk, although newer recipes may call for different substitutions.
Making Challah is Pretty Straightforward
You need to mix the ingredients for 10 minutes until you get a soft dough that doesn't stick to the sides of the bowl but still sticks to the bottom. Start by combining the dry ingredients in your mixer bowl, then adding the wet ones. Make sure to add the salt last, after all the other ingredients are well combined, as it tends to "kill" yeast. Once ready, the dough should feel soft, flexible, and just slightly sticky.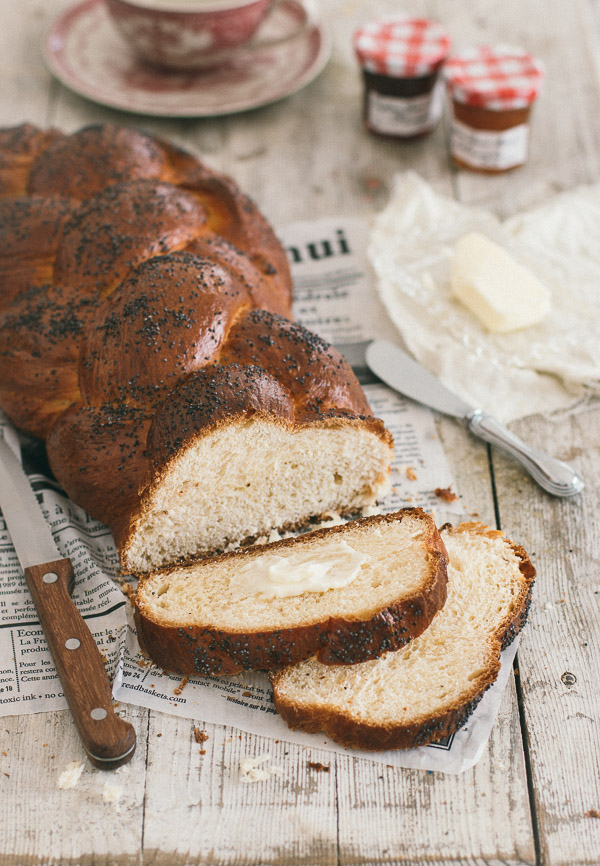 Like Any Traditional Bread, Let It Rise Twice
The first rise will take about 1-2 hours, depending on the weather. A great trick for letting dough rise in a warm environment is to preheat the oven to 200F/90C, then turn it off and let the dough rise inside. The second rise should be after shaping the Challah, and takes about 45-60 minutes. Let the bread sit on the counter to rise at room temperature as you preheat your oven to 350F/180C. Once done, it's time to bake it.
The Braiding
There are many ways to braid challah. You'll need to start by dividing the dough into balls, then rolling or shaping them into strands. You can watch this helpful video or look for other videos depending on the shape you want. The easiest way would be braiding with 3 strands, but I recommend using 4 (like mine) since it makes for a taller, less flat bread. Also, avoid braiding too tightly as doing so may prevent the bread from rising well and may cause it to tear apart during baking.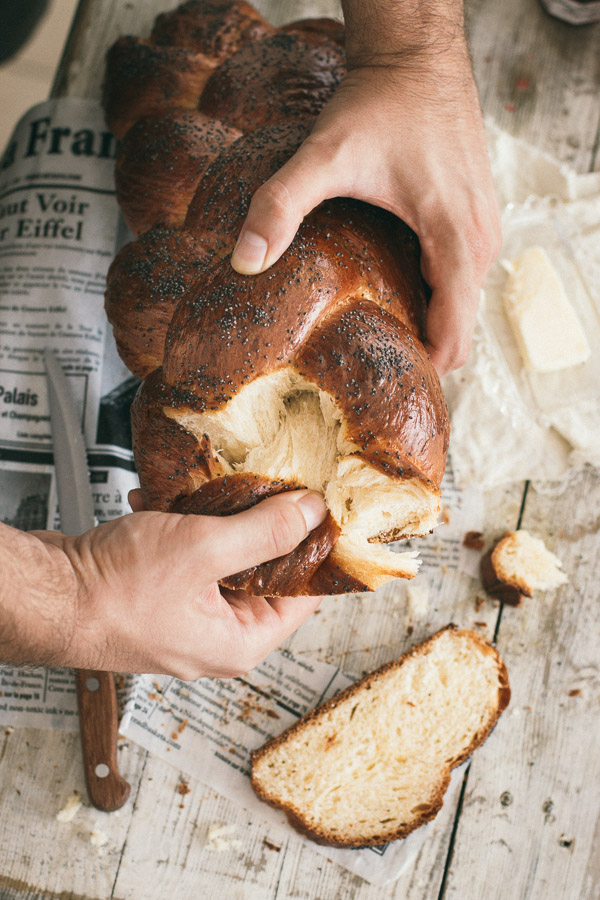 If you love yeast bread, then you'll LOVE these:
Best cinnamon rolls ever—and I mean ever
Monkey bread, which is probably even better than cinnamon rolls if made for sharing
My favorite soft and fluffy dinner rolls

Perfect Challah
Ingredients
3½ cups (500 g/17.5 oz) all-purpose flour
¼ cup (50 g/ 1.7 oz) granulated sugar
2¼ teaspoons (7 g/ 0.25 oz) instant dry yeast
1 large egg
¼ cup (60 ml) vegetable or canola oil
¾ cup (180 ml) lukewarm water (110F-115F)
1½ teaspoons salt
1 egg plus 1 tablespoon water, for brushing the tops
Sesame or poppy seeds, for sprinkling
Instructions
In a mixer bowl, combine flour, sugar, and yeast and mix well, then add egg, oil, and water. Fit the mixer with a dough hook and mix on low speed until the dough comes together, about 1-2 minutes. Add salt.
Keep kneading for about 8 minutes on medium-low speed, until the dough is soft and elastic and pulls away from the sides of the bowl but sticks to the bottom. If while kneading the dough feels too dry, add a bit of water.
Place dough in a lightly greased bowl and cover with plastic wrap. Let rest in a warm place for 1-2 hours or until doubled in size.
Line a baking sheet with parchment paper. When the dough has risen, shape it into braided challah. Check the post for more information on how this is done. Place challah on prepared baking sheet, cover loosely with plastic wrap, and let rise for 45-60 minutes or until it has again nearly doubled in size.
Preheat oven to 350F/180C.
Brush challah with an egg wash (1 egg mixed with 1 tablespoon water) for a shiny top, and sprinkle with seeds. Bake in the oven for 30 minutes or until golden brown. A skewer inserted into the center should come out clean. If you have an instant thermometer, the center of the loaf should register 200F/90C. Allow to cool completely on a wire rack before slicing.
Challa is best the same day it's made, but can be frozen for up to 2 months.