I was thinking of giving these wicked little balls a different title at first, something like secret ingredient donuts, because I feared that by mentioning potatoes you'd run the other way and miss out on ever trying them. But I hope that the use of potatoes has made you curious enough to end up here anyway because these donuts taste unbelievably good. They are quite different from any other donuts I've tasted so far, and you'd never guess there are potatoes in there. I believe they are mostly there for texture because they make the fluffiest, most tender, melt-in-your-mouth donuts that make you want to eat the entire batch at once.
I really thought there's no way I would ever prefer anything over classic yeast donuts, but I am changing my mind. Yeast donuts are great when you have the time for it. For all other times, these are even better. They have no yeast, but they are fried, so it's the real deal.
This recipe is from the new cookbook Our Sweet Basil Kitchen by Carrian and Cade. Carrian was very kind to me when I was just a newbie in the blogging world and I couldn't be more excited for their beautiful book. All the recipes look super easy, which is perfect for lazy ladies like myself. I took a quick look through the recipes but quickly found myself in the dessert section, and (of course) I wanted to make everything! But there was this recipe and it was calling my name. The book promised these would make the fluffiest donuts ever, and as you already know, it delivered big time. Next I'm making the cream-filled berry crepes and mango chicken salad.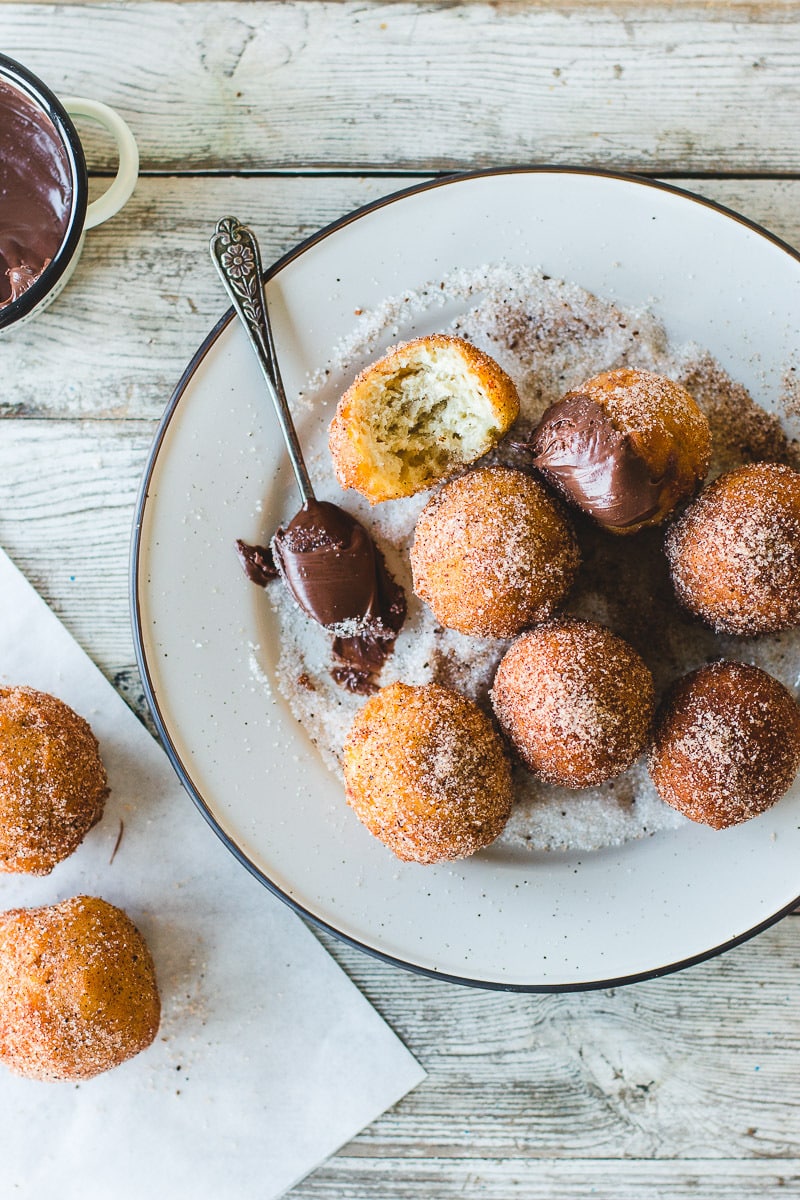 This recipe makes about 40 smaller or 50 larger donut holes. I used a 5 cm round cutter and got something in between. This should serve about 8-10 people, depending on the family. In my family, it would be enough for 6.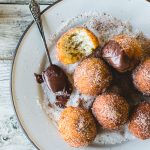 Potato Donuts (Spudnots)
YIELD
:
8
-10 servings (40-50 5cm in diameter doughnuts)
---
Ingredients
8

tablespoons

granulated sugar

1

tablespoon

ground cinnamon

2-3

medium Yukon gold potatoes

2

large eggs

, beaten slightly

1

cup

(240 ml) whole milk

1

cup

(200 g/7 oz) granulated sugar

5

teaspoons

baking powder

1

teaspoon

salt

3

tablespoons

(40 g) shortening or butter, melted

2

teaspoons

pure vanilla extract

3-4

cups

(420-550g) all-purpose flour (I used all 4 cups)

canola oil

, or another oil that's good for frying
Instructions
Make the cinnamon sugar mixture: Place 8 tablespoons sugar and 1 tablespoon cinnamon in a small bowl and toss to combine. Set aside.

Make the donuts: Bring a saucepan of water to boil over high heat and add the potatoes with the peels still on. Cook for 20 minutes or until tender. Let potatoes cool slightly and then mash in a large bowl with skins on until no chunks remain. Measure mashed potatoes. Keep 1 cup in the bowl and discard any extra (i.e. eat any extra).

Add the eggs and milk to the potatoes and stir well to combine.

In a separate, smaller bowl, whisk together 1 cup sugar and baking powder to combine. Stir into potato mixture, followed by the salt, shortening/butter, and vanilla.

Add the flour, about 1 cup at a time, until a soft dough forms (I used all the 4 cups, but you may need to use less). The dough should be just slightly sticky, but easy to roll. Do not knead the dough.

Heat 5 inches/12 cm of oil in a cast-iron pot to medium-high, or about 350 degrees F.

While oil heats, roll out dough on a floured surface about ½-inch thick. Cut out donuts with a donut cutter, the size you want, and carefully add a few at a time to the hot oil. To prevent oil from splashing and burning you, do not drop the donuts on the oil from more than 1 to 2 inches above the oil. Once the bottom of donuts is golden brown, turn to the other side. Drain any of excess oil on a paper-towel lined plate and then immediately dredge hot donuts in cinnamon sugar mixture.