Satiny and shiny, airy and perfectly smooth, Swiss meringue buttercream is one of my all-time favorite frostings. Use it for cakes, cupcakes, and even cookies!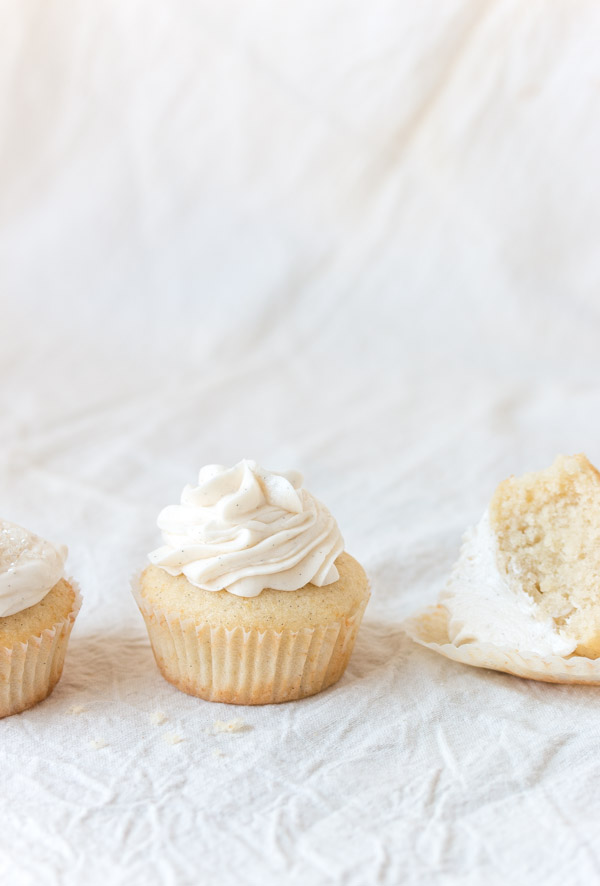 Does anyone else secretly eat cake just for the frosting? I mean, don't get me wrong, I LOVE cake; but I could eat an entire container of frosting on its own. It's just so delicious!
Or more specifically, I could eat an entire container of Swiss meringue buttercream on its own (my personal favorite). This type of frosting is so incredibly luscious, rich, and creamy. Made with a cooked meringue base, it's incredibly versatile because you can flavor it however you like.
Here's everything you need to know to make perfect Swiss meringue buttercream!
What is Swiss meringue buttercream?
In America, the term buttercream usually indicates standard butter and powdered sugar frosting. However, in classic French baking, there are 3 types of buttercreams: French, Italian, and Swiss. All three are made with whipped egg whites, sugar, and butter, but they vary in their cooking technique (in fact, French buttercream isn't cooked at all).
Today, we're talking Swiss meringue buttercream. Making this buttercream involves whipping cooked egg whites and sugar into a meringue, then gradually adding butter as you whip the egg whites to make a beautiful frosting. For flavor, I always add vanilla extract to the base, but you can add other extracts, liqueurs, and even melted chocolate.
How to make Swiss meringue buttercream
Swiss meringue buttercream involves some technique to get right, but not to fear: I'm going to explain exactly how to make it! One of the most important things to note is making Swiss meringue buttercream is all about emulsifying ingredients at the right temperature.
Cook the egg whites and sugar. The first step is to combine the egg whites and sugar in a stainless steel or glass bowl that fits over a saucepan. Fill the saucepan a third of the way with water and place the bowl on top on the stovetop creating a double boiler. Keep the flame on medium to low, allowing the heat to gently cook the eggs and melt the sugar. While you don't need to constantly whisk the eggs, whisk them every minute or so to prevent them from scrambling. Once the sugar is completely melted and the egg whites feel smooth and warm between your fingertips, you'll know it's ready for whipping.
Make a meringue. Pour the cooked egg white mixture into an electric mixer fitted with the whisk attachment. Add the salt and turn the mixer on high and whip until the egg whites form a meringue. It will appear silky and shiny, but continue whipping until the meringue has cooled down to room temperature. This can take awhile, around 10 minutes or so.
Add room temperature butter. Once the meringue has cooled to room temperature, slowly add room temperature butter to the mixture, a few pieces at a time, as the meringue continues to whip. Do not turn off your mixer. Allow the butter to gradually emulsify and turn into magical buttercream frosting. This can take a few minutes as well, so allow it to whip for 3-5 minutes. Don't be surprised if it appears curdled – this is just the process of the buttercream emulsifying.
Add vanilla extract, or any other flavorings or extracts. Once the buttercream is made, you can flavor it however you like. Extracts, liqueurs, and melted chocolate are all great options!
Tips for making perfect Swiss meringue buttercream
Cook the egg whites on a low flame. Using a double boiler protects the eggs slightly, but too much heat will cause them to scramble or burn. Keep the flame on a medium-low heat to prevent this.
Keep your egg whites away from fat. Fat inhibits egg whites from whipping into meringue, so if any yolk or butter gets into your egg white-sugar mixture before being whipped, it won't whip up properly.
Use room temperature butter. This ensures the butter incorporates completely into the room temperature meringue.
Allow the meringue to cool completely before adding the butter. If your meringue is still warm when you add the butter to it, the butter will melt and your buttercream will appear soupy (although you can fix this).
Keep whipping. It can take several minutes for the butter to completely emulsify into the meringue, so allow it to whip for at least 5 minutes before exploring any troubleshooting options.
More of my favorite frostings
Having issues with your buttercream? Check out the Troubleshooting section of my white chocolate Swiss meringue buttercream post to learn how to fix any problems that arise.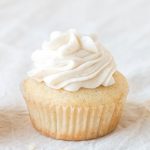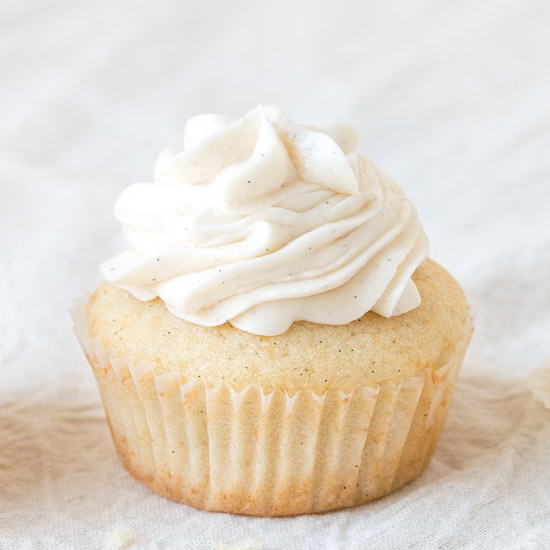 Swiss Meringue Buttercream
Rich, creamy, and satiny smooth, this Swiss meringue buttercream is perfect for decorating all types of cakes and cupcakes.
---
Ingredients
5

large egg whites

1 1/4

cups

(250g) granulated sugar

Pinch

of salt

(optional)

1

pound

(4 sticks/450 grams) unsalted butter, softened to room temperature

1-2

teaspoons

pure vanilla extract
Instructions
In a heatproof bowl, combine egg whites, sugar, and salt, and set mixture over a saucepan of simmering water, keeping heat on low. Constantly yet gently whisk mixture by hand until warm to the touch and smooth, and sugar has completely dissolved. If you have a thermometer, the temperature should reach 150F/65C. Remove from heat.

Using an electric mixer fitted with the whisk attachment, whisk egg white mixture until stiff peaks form and meringue is thick, glossy, and room temperature, about 10 minutes (start with low speed and gradually increase to medium-high). Make sure the bowl isn't warm before adding the butter, otherwise it will melt.

On low speed, add a few tablespoons of butter at a time, beating well after each addition until incorporated. Once all butter has been added, keep beating until very smooth. If at some point the mixture curdles, keep beating until smooth again. Add vanilla and beat on low speed until combined. At this point, you can add any additional flavor (such as extracts), then beat until smooth.

Frosting can be kept in an airtight container in the fridge for up to a week, or in the freezer for up to 2 months. Before using, bring to room temperature and whisk by hand for a few seconds until satiny and smooth.