Dark chocolate cookies made with cocoa powder and loaded with white chocolate chunks. They are fudgy on the inside, slightly crunchy on the outside, chewy, dense and very chocolaty.
I'm having a very good morning today because I have these chocolate cookies by my side. In fact, I have 3 dozens of them. I'm at the point of deciding whether I'm sharing some of them, but I'm tending towards no. I did share my red velvet cookies with my neighbors yesterday, so I'm not completely selfish. I think.
These cookies are a chocolate lover's dream. They turned out much better than I even remembered. The dough is made with a generous amount of cocoa powder to give the cookies a deep chocolate flavor and very dark color. I recommend using dark or Dutch-process cocoa powder.
Last time I made these chocolate cookies was just before my wedding, meaning way too long ago. I always used dark chocolate chips before, but with my new addiction to white chocolate, I now use it instead. You can use chocolate chips or chunks for this recipe. If you use a chocolate bar and cut it into chunks, the white chocolate bits will be super melty if the cookie is warm, and I like it that way. If you prefer the chocolate to be more solid, use chocolate chips.
I recommend chilling the dough for at least one hour so that the cookies won't spread too much while baking. If the dough is too hard to handle when you take it out of the fridge, let it sit at room temperature for 15 minutes.
Baking time is important! Bake the cookies just to the point when the edges start to set. I like to slightly underbake my cookies for extra fudginess and softness. Overbaking will make them dry. Baking time in my oven is 9-10 minutes, don't bake them more than 11-12 minutes. Keep in mind that baking time is different if you bake bigger or smaller cookies than what the instructions suggest.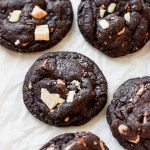 White Chip Chocolate Cookies
---
Ingredients
1

cup

(130 g/4.6 oz) all-purpose flour

½

cup

(50 g/1.7 oz) unsweetened cocoa powder

½

teaspoon

baking soda

¼

teaspoon

salt

½

cup

(1 stick/113 g) unsalted butter, softened to room temperature

½

cup

(100 g/3.5 oz) brown sugar

½

cup

(100 g/3.5 oz) granulated sugar

1

large egg

1

teaspoon

vanilla extract

200

g/7 oz

(1 and 1/8 cups) chocolate chips or chunks
Instructions
In a large bowl sift together the flour, cocoa powder, baking soda and salt. Set aside.

Using a mixer fitted with the paddle attachment, beat butter and sugars for 3 minutes on medium speed until fluffy. Scrape down the sides and bottom of the bowl as needed. Beat in the egg and vanilla extract. Add the dry ingredients and beat on medium-low speed just until combined. Fold in chocolate chips. The batter will be thick and sticky.

Optional: Chill the dough in the refrigerator for at least 1 hour or overnight. This will help the cookies stay thick and spread less while baking.

Preheat oven to 350F/180C degrees. Line two large baking sheets with parchment paper. Set aside.

Take cookies out of the fridge. If the cookie dough is hard to handle, leave it at room temperature for 15 minutes.

Drop rounded balls of dough, the size of 2 tablespoons, onto prepared baking sheet, spacing them 3 inches (8 cm) apart. Bake for 9-10 minutes, just until the edges start to set. Leave to cool on the pan for 10 minutes and then carefully transfer to a wire rack to cool completely.

Store cookies in an airtight container for up to 4 days. They can also be frozen for up to 2 months.