A rich, creamy smoothie made with a heavenly combination of strawberries and melted white chocolate.
People often ask me how I don't lose my mind working from home all day long by myself. The truth is, I'm not all by myself; there are cookies, chocolates, and cupcakes all around me, and they fill some of the loneliness. Another thing that keep me sane and helps me overcome the scary feeling of isolation that sets in every few days is making sure I schedule small guilty pleasure breaks throughout the day, like watching reality TV during lunch, listening to loud music while baking, taking a short walk to the beach or my favorite bakery, or just sitting down and forgetting about whatever hectic thing is going on for just a moment while enjoying a huge strawberry smoothie—but not the healthy kind, the white chocolate kind.
The best thing about this smoothie is that you can easily adjust it to your liking:
White chocolate
The amount of white chocolate you add is really up to you. Using less will sweeten the drink, but you probably won't be able to taste the chocolate, while using more gives a deeper flavor. Can you guess what I prefer?
Strawberries
Use 1 to 1.5 cups of strawberries depending on how intense you want the taste to be. Either way, you'll have plenty of strawberry flavor.
Using frozen fruits in smoothies is usually the secret for a perfectly thick and creamy consistency, so I recommend using frozen strawberries. If you go this route, you can omit the ice.
If you're more in the mood for a milkshake than a smoothie, then try replacing the yogurt with vanilla ice cream.
You can use low fat milk or yogurt if you prefer, just keep in mind that the smoothie will be thinner and less rich.
If you don't have a blender, a food processor will work.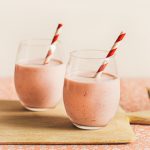 White Chocolate Strawberry Smoothie
A rich, creamy smoothie made with a heavenly combination of strawberries and melted white chocolate.
---
Ingredients
2

oz/50 g white chocolate

, finely chopped

1/2

cup

(120 ml) milk

1/4

cup

(60 ml) yogurt

1-1.5

cups

strawberries

, preferably frozen (if using fresh, hull and halve them)

10-15

ice cubes

(leave out if you use frozen strawberries)
Instructions
Place milk and white chocolate in a heat-proof bowl and microwave for 15 seconds. Stir and repeat until chocolate has melted. White chocolate is sensitive to heat, so be careful not to burn the mixture. Alternatively, you can use a bain-marie (that is, place a heatproof bowl over a saucepan of simmering water) to melt it. Let cool to room temperature.

Place white chocolate mixture, yogurt, and strawberries in a blender, and blend until creamy and smooth. Taste and make any wanted adjustments. Add ice cubes and blend until smooth.

Pour into glasses and serve immediately.