With its buttery, flaky crust and creamy caramel filling, this is a perfect apple pie that's sure to please year after year.
There's something magical about apple pies. They provide an inherently cozy, homey, relaxing feeling. It's like I can take a bite and instantly forget about all my problems – which is exactly what I'm doing right now, by the way.
I didn't like apple pie in my childhood. In fact, I didn't really like any fruit-based desserts. Instead, I was (and always will be) a chocolate loving girl. Still, my mom never gave up and kept letting us try her caramel apple pies while the younger, more stubborn version of me kept telling her that apple pie was simply for old people. I guess that I was right on some level, because now that I'm older (older, not old – but depends who you ask), I love apple pie like a sister.
The day I really fell in love with apple pie was when I was on a tour to the Amish country with my family. My mom ordered one, and when she took a bite, her eyes were filled with such joy that it made me curious. So curious, in fact, that I had to try it myself. And I mean.. It was unbelievable!
Making an apple pie requires a few steps, so make sure to read the recipe and the entire post before you start in order to keep yourself organized.
Here are the steps:
First, you'll need to make this pie crust. All the information you need is in that post. Allow the crust to chill for about an hour, as directed in the recipe.
Roll out both crusts to circles. Place one in the pan, and the other on a baking sheet. Cover and place in the fridge. This step can also be done after you make the apple filling.
Cut the apples. Here's a post on how you should cut them (See? I've got you fully covered!).
Make the filling, then let it cool to room temperature for about 30 minutes.
Spread the apple filling into the pan, on top of the crust, then place and arrange the other crust on top of the filling. You can make a lattice top if you prefer (I've got a post for that one, too).
You can use either sweet or tart apples for the filling, or a combination of both. I like to use Granny Smith, but I sometimes combine them with another sweet red kind such as Pink Lady for more dimension and flavor.
Why pre-bake the apples? This will help them to release their juices now rather than while baking, which will result in a firmer, less soggy crust. The cooking will also create a thick caramel sauce that coats the apples (and makes the pie irresistible!). Need one more reason? Apples shrink when cooked, so without precooking, there will be a large gap between the filling and the top crust. It only takes a few minutes and, as you can see, the rewards are tremendous.
As for the crust, to get a good browning, brush the top with egg. Then bake the pie in the lower third of the oven, placing the pan on a baking sheet layered with parchment paper to catch any liquid that may leak from the filling. Starting at a high temperature also helps the pie to achieve a perfectly browned crust. After a while, the temperature should be reduced to let the apples cook thoroughly without risking burning the crust. If you find that the top crust is browning too much while baking, cover it loosely with aluminum foil.
The pie is done once the apples are tender (but not mushy) and the juice bubbles. Let the pie sit for at least four hours to let the filling thicken. Honestly, the waiting time was the hardest part of the recipe for me!
Now, I'll stop talking so you can make some delicious pie, okay?
Before you start, make sure to check out my step-by-step photo tutorials:
How to make a pie crust
How to make a lattice pie crust
How to slice an apple for pie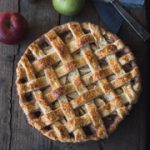 Perfect Caramel Apple Pie
With its buttery, flaky crust and creamy caramel filling, this is a perfect apple pie that's sure to please year after year.
---
Ingredients
6

large apples

(about 2.5 pounds/1.1 kg), peeled, cored, and sliced into 1/4-inch thick slices

1

tablespoon

freshly squeezed lemon juice

1/2

cup

(100g/3.5oz) granulated sugar

1/2

cup

(100g/3.5oz) light brown sugar

1/4

cup

all-purpose flour

1/4

teaspoon

salt

1

teaspoon

ground cinnamon

1/4

teaspoon

ground nutmeg

(optional)

1/4

cup

(1/2 stick or 56g) butter

1/4

cup

heavy cream

1

teaspoon

vanilla extract

1

egg or egg white

, beaten, for brushing the top crust

Coarse or granulated sugar

, for sprinkling (optional)
Instructions
Roll out the dough: Take one disc of dough out of the fridge and let it sit on the counter for a few minutes to soften slightly for easy rolling. On a floured surface, roll the dough out into a 12-inch circle. Place the dough gently into a 9x2-inch pie pan; you can do this by flouring a rolling pan and rolling the dough loosely around it, then unrolling it into the pan. Brush away any excess flour on the surface. With a sharp knife, trim the edges of the pastry to fit the pie pan. Cover pan with plastic wrap and place in the fridge. Roll out the other disc in the same fashion, then transfer to a baking sheet lined with parchment paper. Cover with plastic wrap and place in fridge.

Make the apple filling: In a large bowl, toss together apples and lemon juice. In a small bowl, mix together sugars, flour, salt, cinnamon, and nutmeg, then add to the apples and toss to combine. Add heavy cream and vanilla, and mix again.

In a large heavy skillet over medium-low heat, melt butter. Add apple mixture and cook, stirring occasionally, until the apples are just slightly tender and coated with a caramel-like sauce, about 8-10 minutes. Remove from heat, transfer to a large bowl, and let cool to room temperature for about 30 minutes.

Preheat oven to 425F/220C. Line a baking sheet with parchment paper and place in the lower third of the oven.

Spread apples and sauce in an even layer onto pie crust. If you choose to make a lattice pie,

this is how you do it

. Otherwise, place the other crust (the one you put on the baking sheet) over the apples. Tuck any excess overhang pastry under the bottom crust, then crimp the edges using your fingers or a fork. Make 4 slits in the center to let steam escape while baking. Brush the crust with egg (a very thin coating), then sprinkle with sugar if you like.

Bake for 15 minutes, then reduce heat to 375F/190C and continue baking until the crust is golden brown, the apples are tender (not mushy) when you insert a knife, and juices are bubbling through the slits – about 40-50 minutes longer. If the top is browning too much while baking, cover loosely with aluminum foil.

Allow pie to cool for at least 4 hours before serving so that the filling can set. Store pie in the fridge for up to 3 days.

Serve warm or at room temperature.