These indulgent white chocolate blondies are made with nutty brown butter, creating a rich and decadent caramel flavor in every soft and gooey bite. The best part is they don't require a mixer and take just a few minutes to prepare!
Fall has me craving all kinds of warm and cozy treats, like warm apple crumble with ice cream and mulled apple cider. One of my favorite ingredients to bake with this time of year (besides pumpkin, of course) is brown butter. Why? It has such an amazing, caramel flavor that pairs perfectly with all things fall. You simply cannot beat the decadent flavor of brown butter!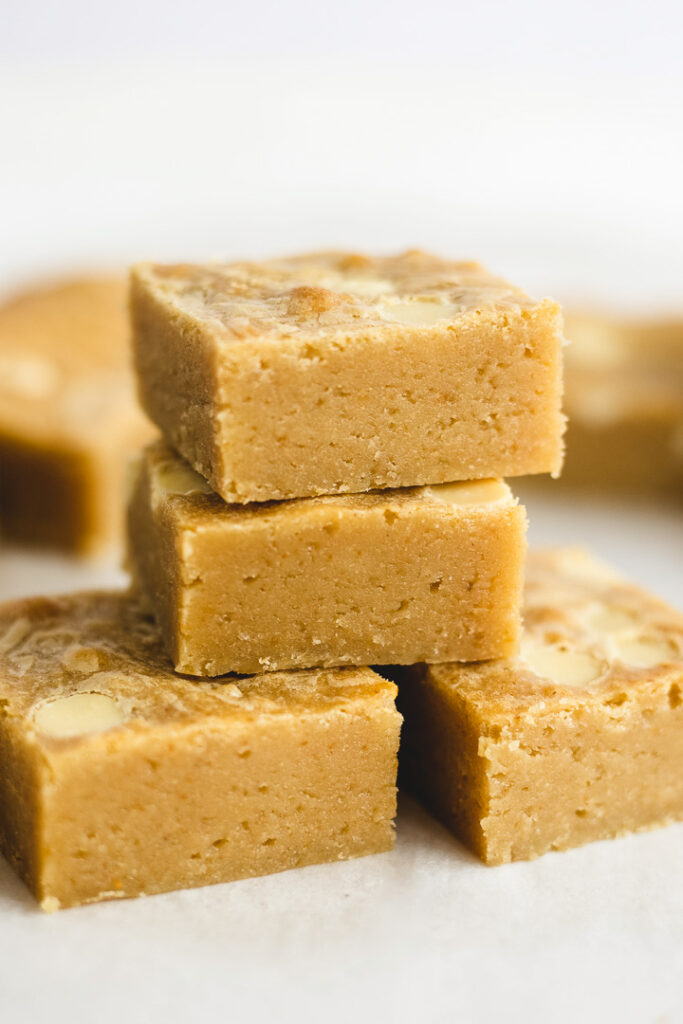 What is brown butter?
Personally, I think brown butter elevates any dessert it's added to. It involves melting and cooking butter on the stovetop until the milk solids caramelize, resulting in a wonderful decadent, nutty, and caramel flavor. You simply cook the butter beyond it's melting point, without burning it. It just so happens to pair perfectly with white chocolate, creating an amazingly rich flavor that you just don't get from regular butter.
So it was only natural for me to develop a recipe combining two of my favorite flavors. And what better way to do that than in soft, gooey blondies?
Pro tip: Don't walk away from the butter as it's cooking. It only takes a few minutes to brown, so it's best to keep an eye on it and stir occasionally to reduce the risk of the butter burning and evaporating too much.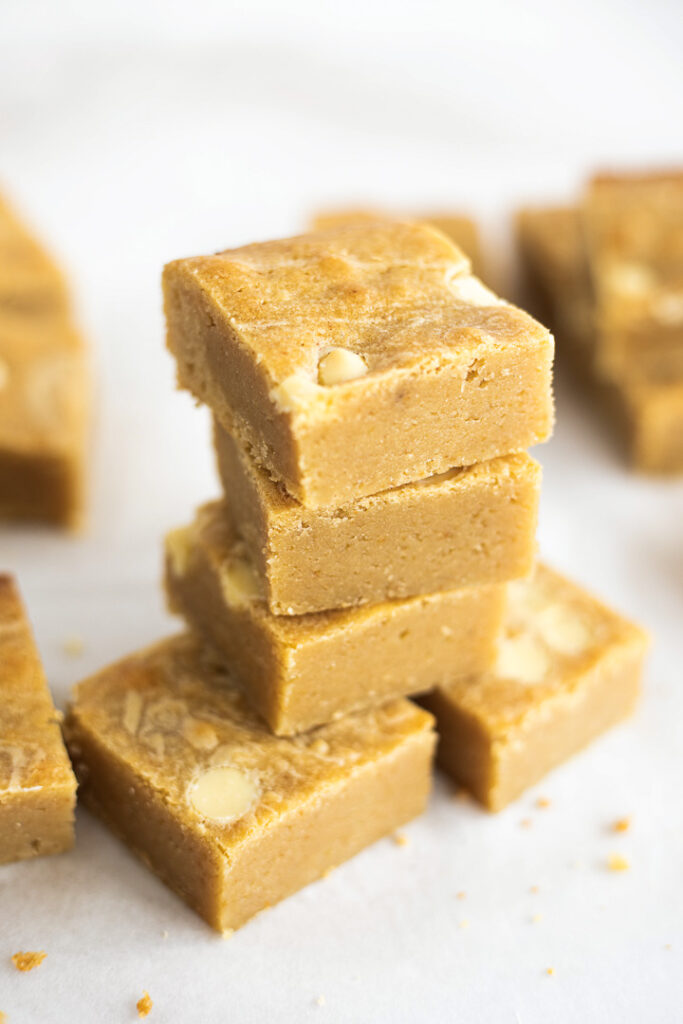 How to make brown butter white chocolate blondies
The first time I made these, I thought I died and went to heaven. They have such a warm, caramel, almost fudge-like texture and flavor that's perfectly balanced with the white chocolate.
Here's how to make them:
Brown the butter. Place your butter in a medium-sized saucepan on medium heat. Once it melts completely, stir it every 30 seconds or so to equally distribute the heat. The butter will start to bubble and foam slightly. Once you see tiny brown bits at the bottom of the pan, you'll know it's ready. It will start to smell like toasty caramel in your kitchen, another sure sign that your butter is done. Immediately pour it into a bowl to cool slightly.

Melt the white chocolate. Melt the white chocolate in the microwave on thirty seconds increments or over a double boiler. I prefer the double boiler method for white chocolate because it's sensitive to heat and tends to burn easily.

Combine the eggs and sugar. Whisk eggs and sugar together in a bowl for one minute. Add the vanilla and stir.

Temper the butter into the melted chocolate. While whisking the white chocolate with one hand, use the other to slowly pour the butter into the white chocolate until it's all combined.

Mix together the dry ingredients. In a separate bowl, combine the flour and salt.

Mix it all together. Combine the white chocolate-butter mixture with the eggs and sugar, then fold in the dry ingredients, being careful not to overmix. I like to use a spatula to help combine all the ingredients because it's more gentle on the batter and helps prevent the blondies from becoming tough and dense.

Bake. Pour the batter into a greased 8×8-inch pan lined with parchment paper. Pour the batter into the pan and top with a few pieces of white chocolate before baking.
The secret to making them perfect
The best piece of advice I can give when making these brownies is not to overbake them. This will result in a more cakey texture, and we're going for chewy and fudgy here. In fact, I prefer to slightly under bake them because they continue to cook from the residual heat even after you pull them from the oven.
Tips for making brown butter white chocolate blondies
Keep an eye on the butter as it browns. I find that the best way to prevent the butter from burning is not to walk away from it. Stay by the stove and stir it every 2-3 minutes as it cooks. Once you see bits of brown flecks in the pan and the butter smells like delicious caramel, turn off the heat and remove from the pot.

Let the brown butter cool slightly before combining with the white chocolate. This ensures that the mixture isn't so hot that it starts cooking the eggs before the blondies go in the oven.

Don't overmix the batter. Overmixing the batter will produce excess gluten and combine more air than necessary, creating tougher, more dense blondies. To ensure a soft, gooey texture, mix the ingredients together just until they are combined. You can also use a spatula to fold everything together, which is more gentle than whisking.

Be careful not to overbake the blondies. The blondies should bake for 20-25 minutes. I highly recommend removing them from the oven after 25 minutes, even if you test them with a knife and there is a bit of batter on it. The blondies will continue to bake from residual heat even after you pull them out. This ensures they are gooey and amazing instead of cakey once you cut into them!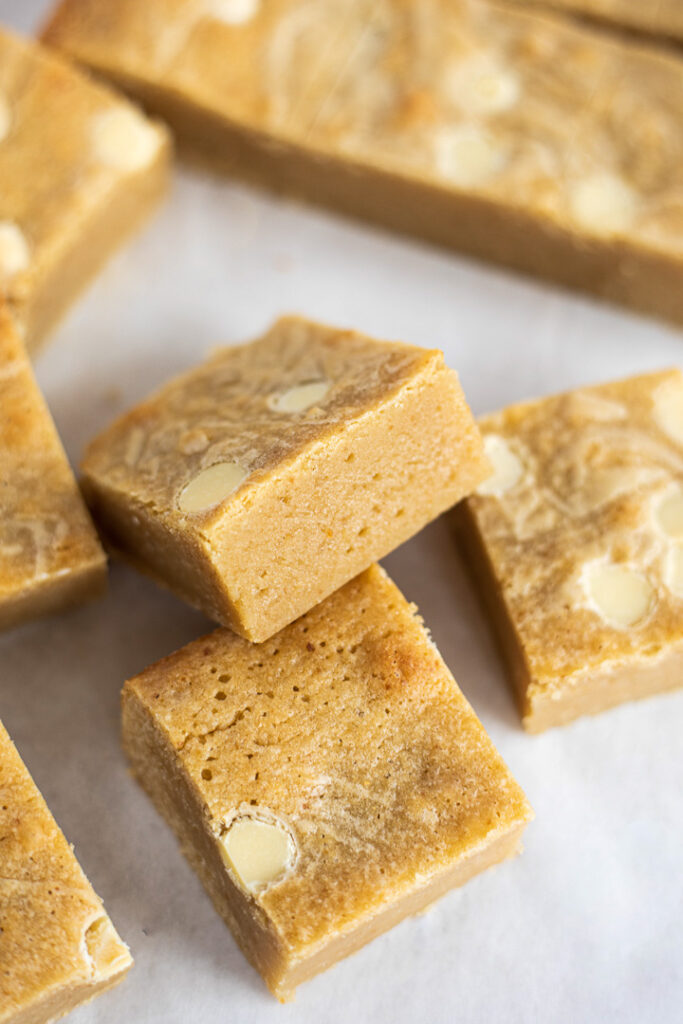 More of my favorite blondie recipes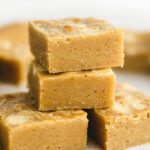 White Chocolate Brown Butter Blondies
Gooey and decadent white chocolate blondies made with brown butter for a nutty, caramel flavor. These blondies are almost fudge-like!
Ingredients
14

tablespoons

(200g) unsalted butter

1

cup

(170g) white chocolate chips or chunks (reserve 1-2 tablespoons of this amount for topping)

1

cup

(200g) light or dark brown sugar

3

large eggs

1 ½

cups

(200g) all-purpose flour

¼

teaspoon

salt

1

teaspoon

pure vanilla extract
Instructions
Preheat oven to 350°F/180°C. Line the base and sides of an 8×8-inch baking pan with parchment paper, leaving enough overhang on the sides for lifting the blondies out after baking.

In a medium bowl whisk together flour and salt. Set aside.

To brown the butter, place butter in a medium, heavy-bottomed saucepan over medium heat and melt. Keep heating just until small golden bits start to appear at the bottom, and the butter smells nutty and caramely. Watch it carefully because the butter can burn quickly. Remove from the heat and immediately pour melted butter into a large bowl and allow it to cool slightly.

Put the white chocolate, minus 1-2 tablespoons that you'll reserve for topping, in a medium heat-proof bowl. Place bowl over a saucepan of simmering water and stir occasionally until the chocolate has melted. You can also melt the chocolate in the microwave by heating it in 30 second increments, mixing chocolate between each and being careful not to overheat and burn it.

Temper the slightly cooled brown butter into the melted chocolate by whisking the white chocolate constantly and slowly pouring the brown butter into it until combined.

In a separate bowl, whisk together eggs and brown sugar. Combine this with the white chocolate butter mixture. Then, fold in the dry ingredients.

Pour batter into prepared pan and smooth the top. Sprinkle the leftover white chocolate over the top. Bake for 20-25 minutes (mine baked closer to 20) until the top is golden and a toothpick inserted into the center comes out with a few moist crumbs. Avoid overbaking, which will make the blondies dry. Let blondies cool completely on a wire rack, then lift them out of the pan and cut into squares (or refrigerate until completely set for perfect cutting).

Blondies can be kept at room temperature or in the refrigerator in an airtight container for up to 3 days. Alternatively, they can be frozen for up to 2 months, then thawed overnight in the fridge.