These caramel apple blondies are fall's version of a brownie. Sweet, chewy and full of warming spices, they are perfect with a cup of hot apple cider.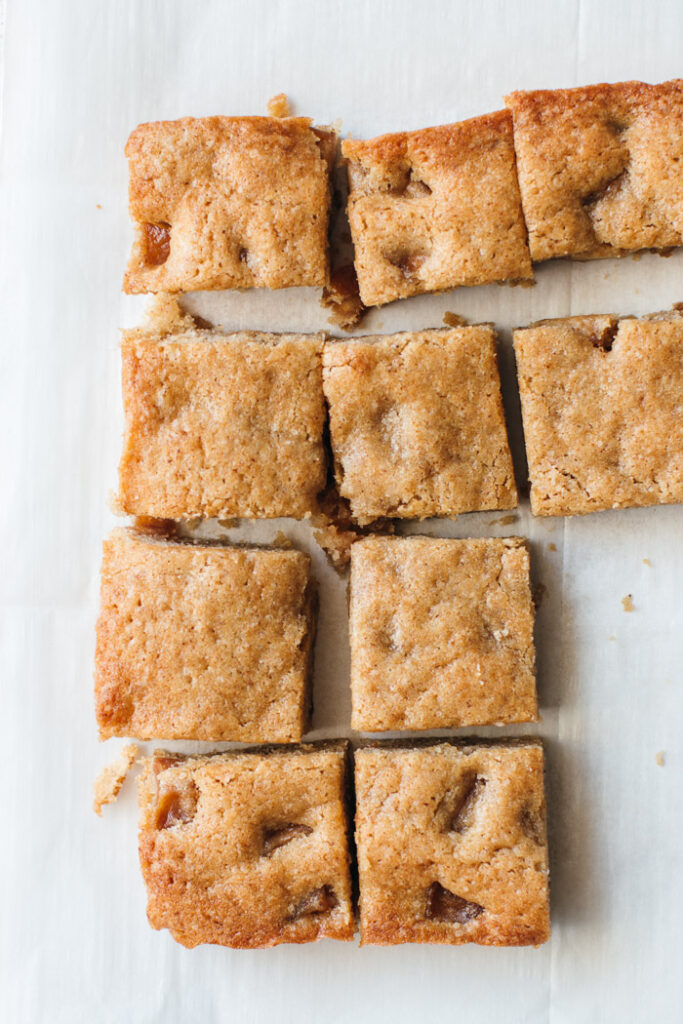 According to Instagram, fall has arrived. While we've been experiencing a heat wave, I've seen your photos of colorful leaves, apple picking adventures, and of course baking fall favorites like pumpkin muffins and apple cider donuts.
Seeing all these fall festivities got me inspired to bring some fall into my own kitchen with spiced apples. Nothing smells more amazing than a hot skillet of buttery, cinnamon-sugar apples, besides the aroma of fresh-baked chocolate chip cookies.
I love blondies since you can put just about anything into them. When playing around with putting caramel in my blondies recently, I thought that spiced apples would be a great addition as well.
These caramel apple blondies are the perfect fall treat when you're tired of pumpkin spice. They're the best apple blondies I've yet to try — sweet and sticky like a caramel apple and full of apple cinnamon spice.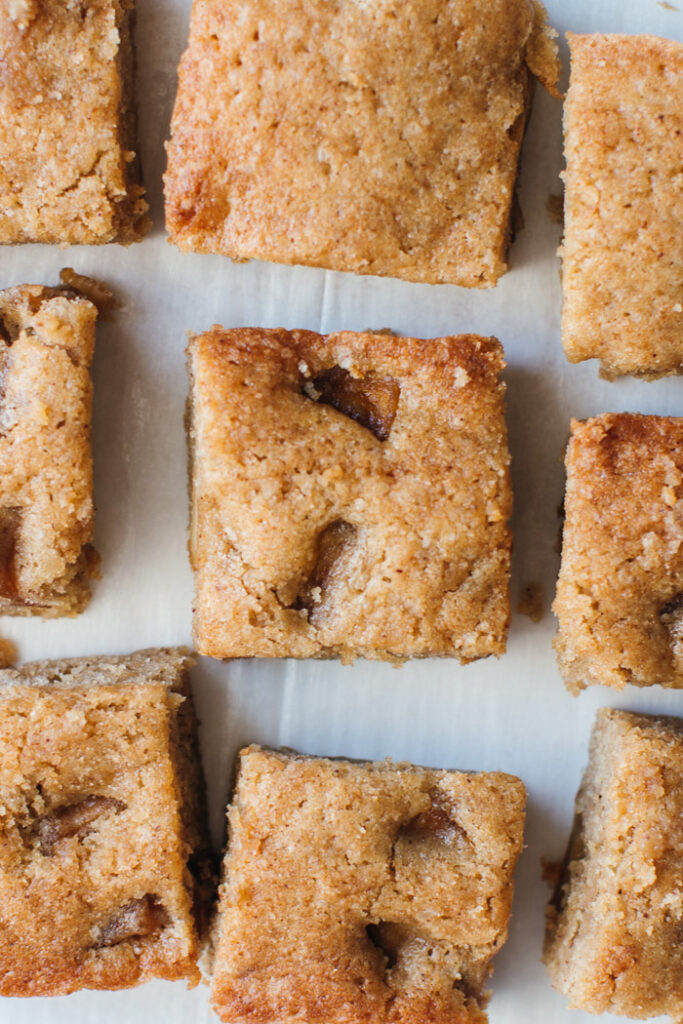 Making the Apple Filling
Unlike apple pie, apple blondies don't cook long enough for the apples to fully soften. To fix that, you need to make a cinnamon apple filling on the stovetop that gets folded into the blondie batter.
Peel and core your apples (you can use either sweet or tart apples, or a combination like one Granny Smith and one Pink Lady) and cut them into 1/4 inch squares. Unlike pie, this apple blondie recipe uses cubed apples instead of slices.
Toss the apples with the cinnamon-sugar mixture and add heavy cream, if using. The heavy cream adds extra richness to the blondies but isn't necessary.
Sauté the apples in a large skillet over medium-low heat with butter. Add the apples and cook until they are slightly tender and have released enough juice to create a caramel-like sauce (about 10 minutes). Remove from the heat and let them cool to room temperature while you prepare the rest of the apple cinnamon blondies.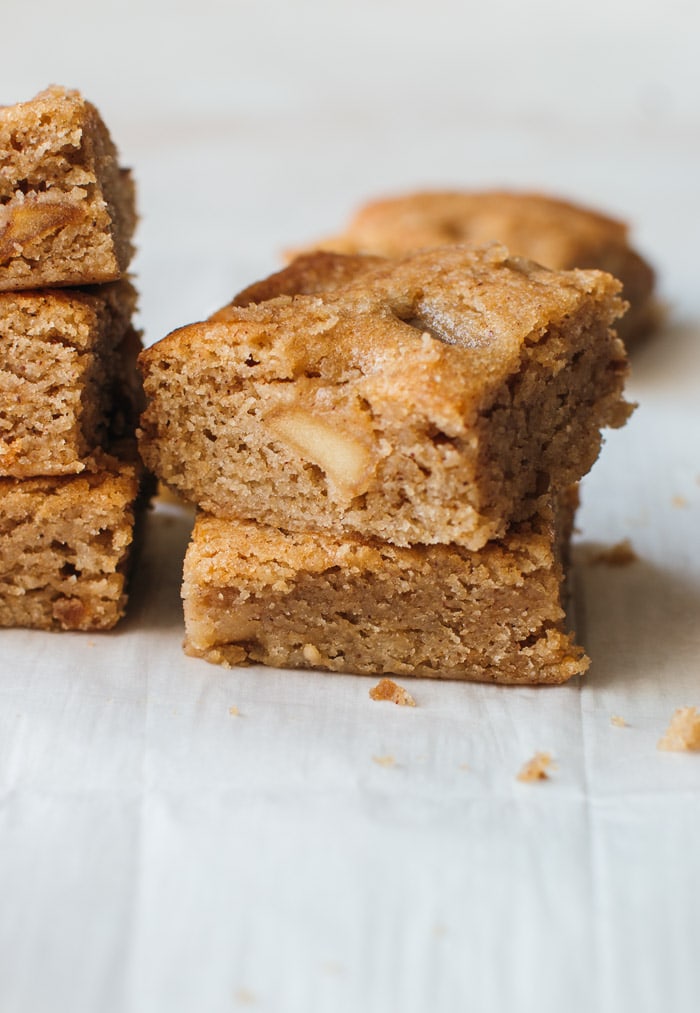 How to Make Caramel Apple Blondies
Preheat your oven to 350°F/180°C and line a 9×13-inch pan with parchment paper. I like to use a long enough piece of paper so that there is some hanging over the sides. This helps lift the apple blondies out onto the cooling rack after baking.
Whisk together the dry ingredients in a bowl and set this aside. In a large bowl, combine the melted butter and brown sugar with a whisk until smooth. Add in the eggs and vanilla extract, stirring until combined. Fold in your flour mixture using a spatula or a wooden spoon. Be careful not to overmix the batter as this will result in dense blondies.
Finally, fold in the apples but make sure not to include the juice they are sitting in. You can either strain the apples with a fine mesh sieve or pour off the extra liquid using the back of a spoon into another bowl. These apple blondies are already moist, so you want to be careful to not add any extra liquid.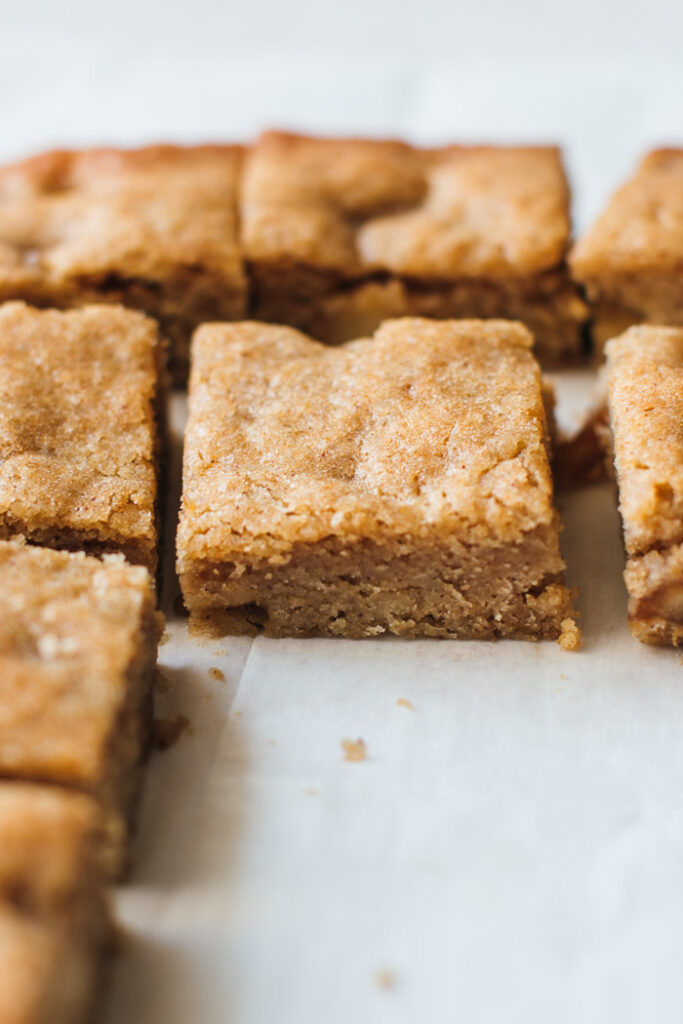 Transfer the batter to the pan and smooth down the top, pushing down any apple lumps. Bake for 20-25 minutes, until the top is golden and a toothpick comes out mostly clean (there will be a few crumbs attached). I prefer my blondies on the chewier side, but if you like them cakey just bake them for a few more minutes. Don't go any longer, since overbaked blondies become dry.
Let the caramel apple blondies cool in the pan to room temperature, giving them time to firm up before lifting out of the pan. I like to place my blondies in the refrigerator for a couple hours before cutting, as this helps get clean edges.
These brown sugar apple blondies are best enjoyed at room temperature along with a nice cup of hot apple cider or a pumpkin spice latte. Even if it doesn't feel like fall, at least my kitchen is starting to smell like it!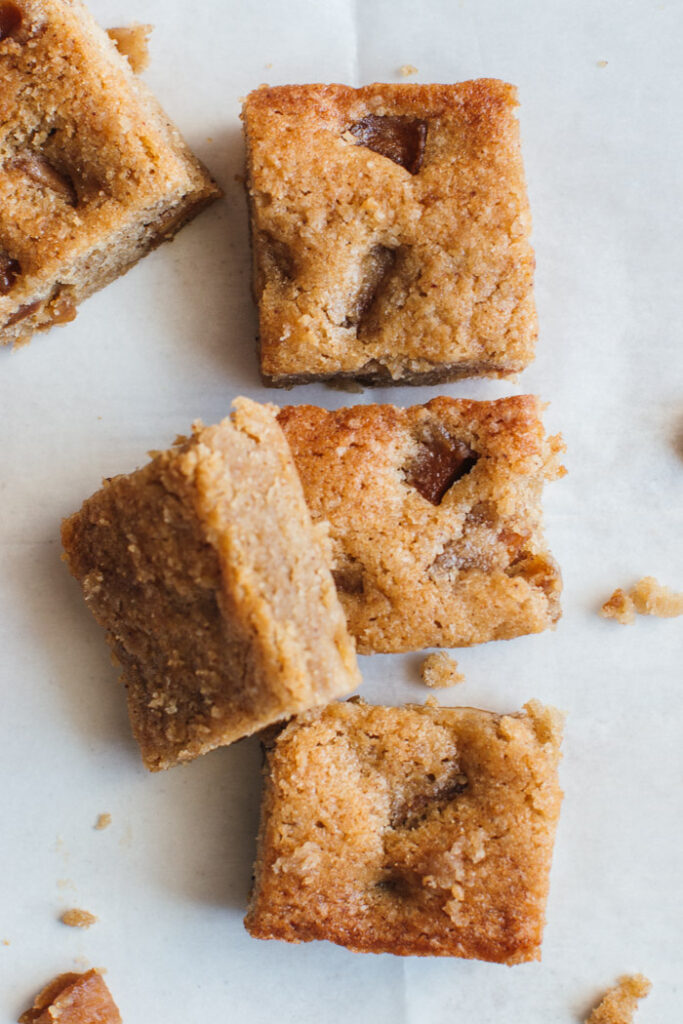 Other blondie recipes: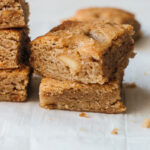 Caramel Apple Blondies
---
Ingredients
Apples
2 1/2

tablespoons

(30g) light or dark brown sugar

1/8

teaspoon

ground cinnamon

2

medium/large apples

, peeled, cored and cut into 1/4-inch squares

1

tablespoon

heavy cream

, optional

2

tablespoons

(30g) unsalted butter
Blondies
1 1/2

cups

(210g) all-purpose flour

1

teaspoon

baking powder

1/2

teaspoon

ground cinnamon

1/2

teaspoon

salt

1 1/2

sticks

(170g) unsalted butter, melted and cooled

1 1/4

cups

(250g) light brown sugar

2

large eggs

2

teaspoons

pure vanilla extract
Instructions
Make the apple filling:
In a medium bowl mix together sugar and cinnamon. Add the apples and toss to combine. Add heavy cream, if using, and mix to combine.

In a large skillet over medium-low heat, melt butter. Add apple mixture and cook, stirring occasionally, until thickened and apples are slightly tender and coated with a caramel-like sauce, about 10 minutes. Remove from heat, transfer to a bowl, and allow to cool to room temperature.
Make the blondies:
Preheat oven to 350°F/180°C. Line a 9×13-inch pan with parchment paper, leaving enough overhang on the sides for lifting the blondies out of the pan after baking.

In a medium bowl, whisk together flour, baking powder, cinnamon, and salt. Set aside.

In a large bowl, place the melted butter and brown sugar and whisk until well combined. Whisk in the egg and vanilla extract. Add flour mixture and fold, using a rubber spatula or wooden spoon, just until combined. Do not over mix. Fold in the drained apples, leaving out the extra caramely liquid at the bottom of the bowl.

Transfer to prepared pan and smooth the top. Bake for 22-25 minutes (I like it more on the raw side. The longer you bake it, the more cakey it would be), until the top is golden and a toothpick inserted into the center comes out with a few moist crumbs attached. Over baking will make the blondies dry. Allow to cool to room temperature on a wire rack, then lift out of the pan and cut into bars (or, for perfectly cut bars, refrigerate for at least 2 hours before cutting). Serve at room temperature.

Keep bars in an airtight container in the refrigerator for up to 5 days, or freeze for up to 2 months.